There are two things which I love most about Melbourne.
Firstly, we have an abundance of quaint little cafes which are slightly off the beaten track, but are so worth the time and effort once you find them.
Secondly, I love that no matter how many new speciality coffee places that open up in Melbourne, that no one ever tires of them. Everyone in Melbourne loves a good cup of coffee.
So in this breakfast run post, we are going to show you just that. Both of these loves combined into one post. A cute little gem in North Melbourne and yet another cafe in Fitzroy specialising in coffee and good grub.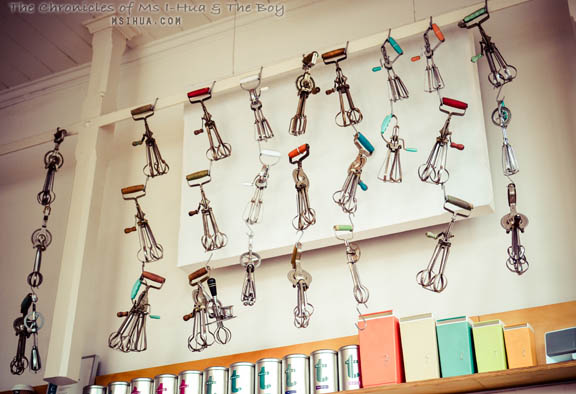 Beatrix – North Melbourne, VIC
As you drive up and down the street which this little cafe is situated, it's pretty easy to pass it by. Unassuming, yet inviting.
Once you enter Beatrix and shut the door behind you, it's like you've entered another world. A world where everyone is lovely and sweet and you've sped into another world. A tiny world for that matter, as Beatrix is superbly tiny with space to cater for about 10 people, a cake counter and a tiny kitchen enclosed at the back of the shop.
It's beautiful.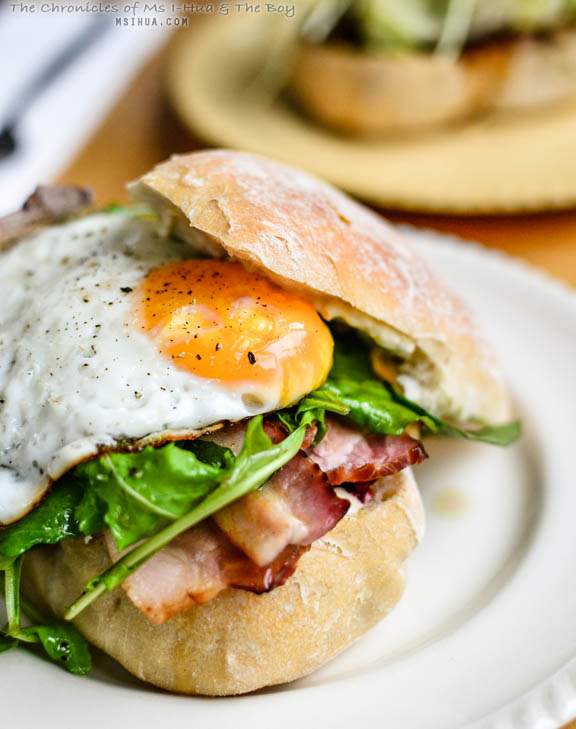 Their menu is simple and features specials on their chalk board (advertised on their Facebook page as well). The Boy ordered the Beggbie which consisted of a Free Range Fried Egg, Grilled Bacon, Roast Beetroot, Roquette and an Apple Aioli ($13.50; without bacon 0_0 $10.50).
It was essentially a pimped up version of a bacon and egg brekkie roll. Delicious!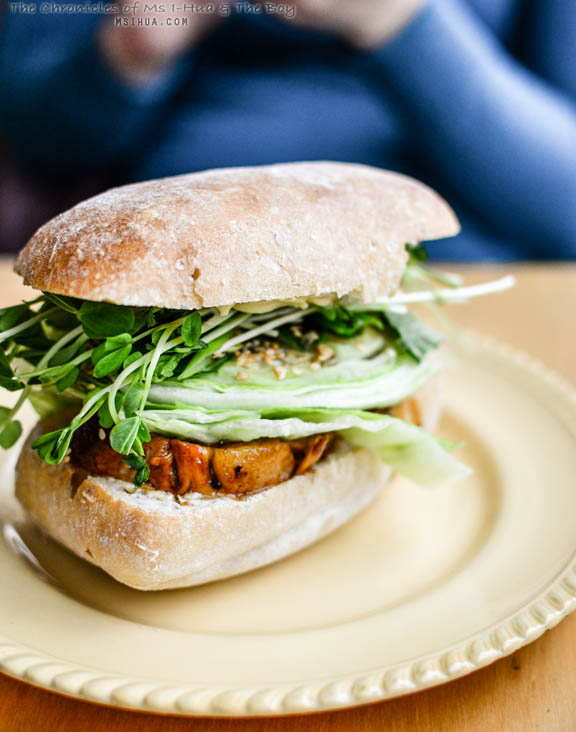 I on the other hand, made a mental note to attack when I saw that they had The Chairman (Ciabatta) on their Facebook page. This was because it was Slow Roasted Pork Belly in Char Siew Sauce with Iceberg, Sesame Oil Aioli, Mint, Snow Pea Sprouts and Szechuan Pepper Salt ($15.50 Large; $14.50 Small)
I just had to! It was amazeballs.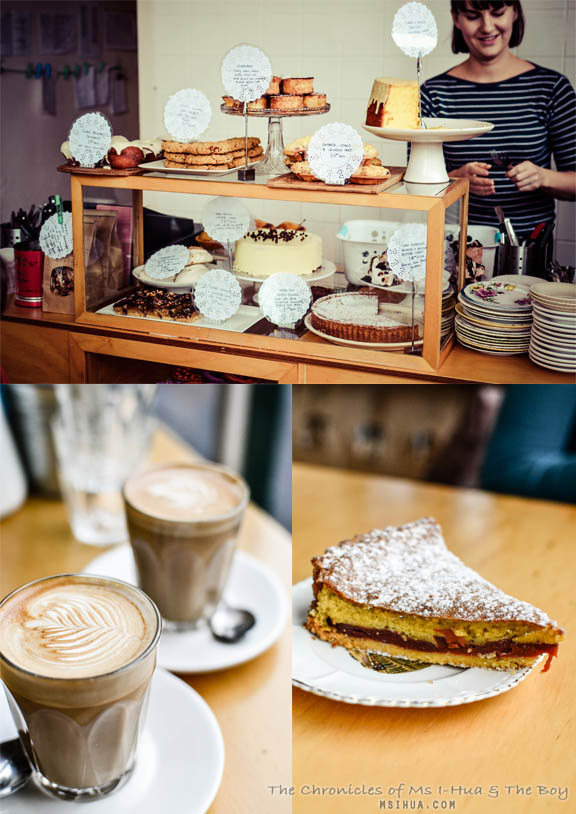 We had decent Allpress Lattes $3.80 (you get a 50 cents discount if you BYO cup).
You don't visit Beatrix without trying something from their baked goods area, and we most certainly didn't want to come away with that faux pas. So we ordered the Quince Tart ($5) and shared it. It was good. Very worthy from a non-dessert person like myself.
We definitely need to find time to make a return visit to Beatrix soon, it's just so lovely.
Space is really tight indoors, so if you have a pram, you might not be able to bring it inside!
*Disclaimer: All food ratings & review are purely based on my own experiences and how I feel about the service, food and quality at the time of visit
Food/ Cuisine: Breakfast, Lunch & Cakes
Dining Style: Cafe
Opening Hours:
Tuesday to Saturday, 9:00am – 4:00pm
Address:
688 Queensberry Street
North Melbourne VIC 3051
Phone: (03) 9090 7301
Website: https://www.facebook.com/BeatrixBakes

Twitter: @BeatrixBakes

How to get there: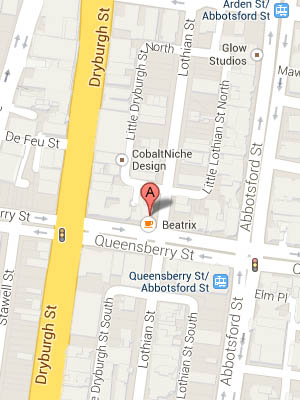 _______________________________________________________________________
Industry Beans – Fitzroy, VIC
We discovered Industry Beans when Maz wanted to eat mushrooms.
No, not the happy inducing kind of mushrooms.
Just regular good ol' mushrooms. On its own. On toast. In an omelette. Just good ol' delicious mushrooms. So we accompanied her and went a foraging (in a cafe).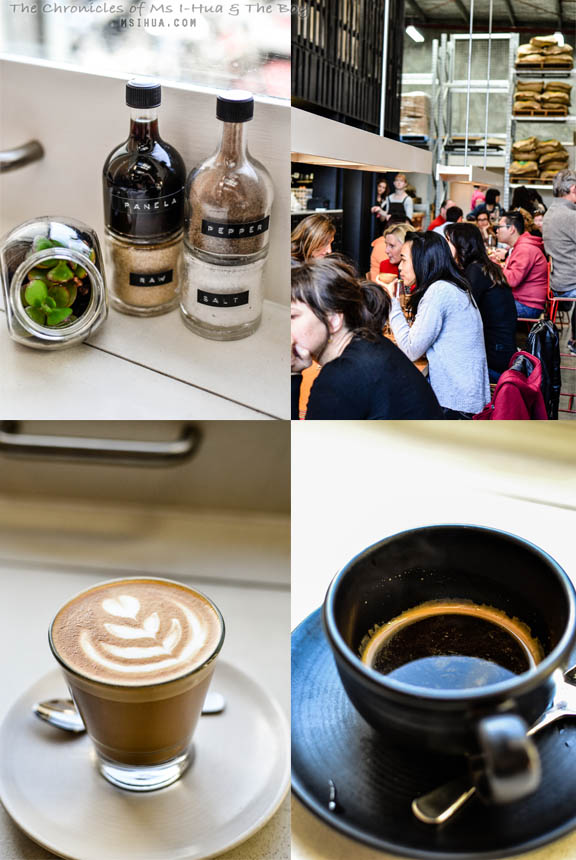 From the team that brought you Penny Farthing Espresso up in Northcote, Industry Beans is not to be trifled with and they take their coffees seriously. Maz and The Boy enjoyed a lovely Latte from their Winter Roast blend, whilst I knocked back a long black (the special Brazilian blend as a long black), Celso Minussi.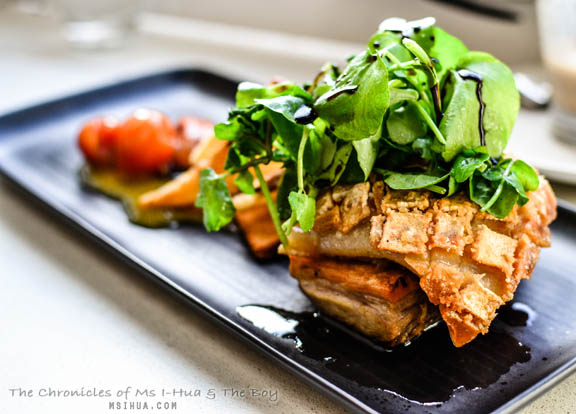 The Boy ordered the Slow Cooked Pork Belly ($18.00) – Served with Brioche Crisps on a Maple, Bourbon & Peach Puree, with Watercress, Mixed Cherry Tomatoes & Super Crisp Crackling.
Crackling for breakfast. This should be in the doctrine. It's amazing.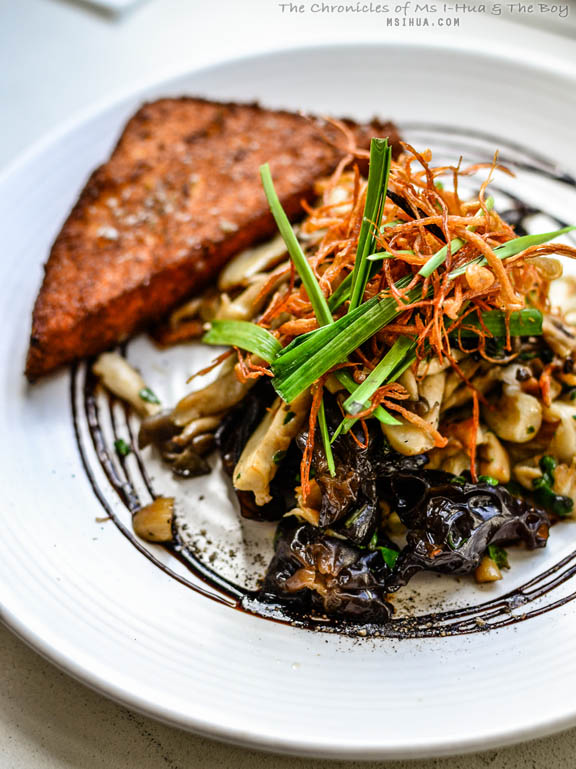 Maz had the mushroom dish to satisfy her cravings of mushrooms. Polenta & Mushrooms ($18.00) – Wild Mushrooms tossed with Majoram Butter & White Wine served with a Fried Polenta Cake, Crisp Enoki Mushrooms & Garlic Chives.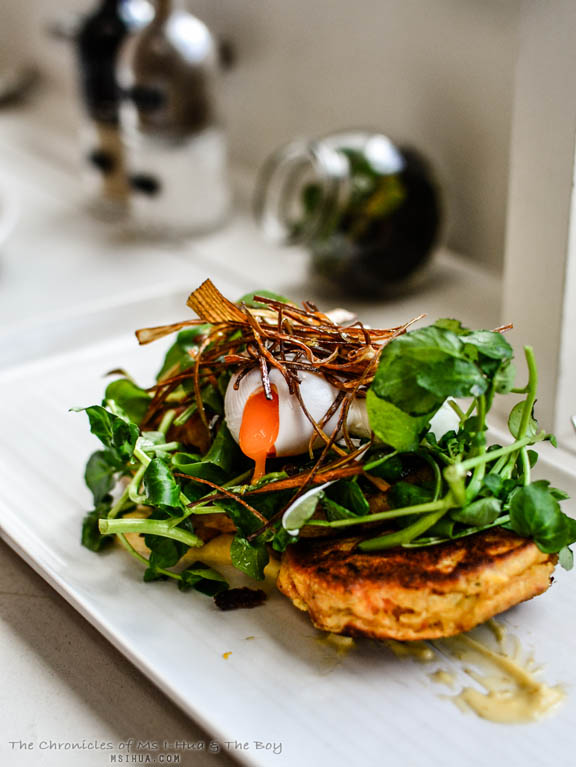 Whilst I enjoyed the Corn & Chorizo Fritters ($19.00) – Minced Chorizo & Corn Fritters served with Crispy Leeks, Chamomile Mayonnaise, Watercress, Date Relish & Poached Egg.
I laughed as The Boy styled this egg for his yolkporn shot. It just looked as if the egg was sticking its tongue out going, "Nyeh!"
I liked Industry Beans. I also liked that we had bar seats at the front window to ogle the hot half naked men fit and trendy cross fit individuals from the gym next door.
It's wide enough for prams, so come one, come all. Bring the whole family down or have some breakfast coffee with girlfriends enjoying eye candy.
*Disclaimer: All food ratings & review are purely based on my own experiences and how I feel about the service, food and quality at the time of visit
Food/ Cuisine: Breakfast, Lunch & Coffee
Dining Style: Cafe
Opening Hours:
Monday to Friday, 7:00am – 4:00pm
Saturday & Sunday, 8:00am – 5:00pm
Address:
Warehouse 3
Cnr Fitzroy & Rose Street
Fitzroy VIC 3065
Phone: (03) 9417 1034
Website: http://www.industrybeans.com/

Twitter: @IndustryBeans

How to get there: