With this interesting summer we have been having here in Melbourne (think 41 degrees Celsius one day and down to 25 the next), the weather has been hot topic in the last few weeks.
You know what else is hot?
These amazing (if I do say so myself) pepper snacks The Boy made for us a couple of weeks ago.
They are just so good to eat, incredibly addictive and finger licking good.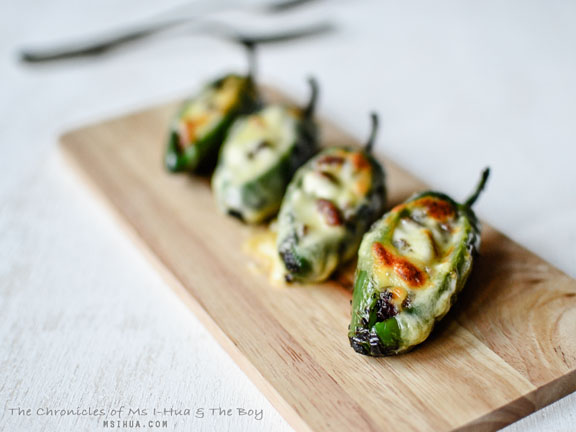 These fiery little buggers would make the perfect entrée or TV snack to munch on.
Spiciness from jalapeño combined with the saltiness from the chorizo, balanced with the sweetness of the Kewpie mayo, matched with the juiciness from the mushrooms create a wonderful bang of textures and flavours in your mouth.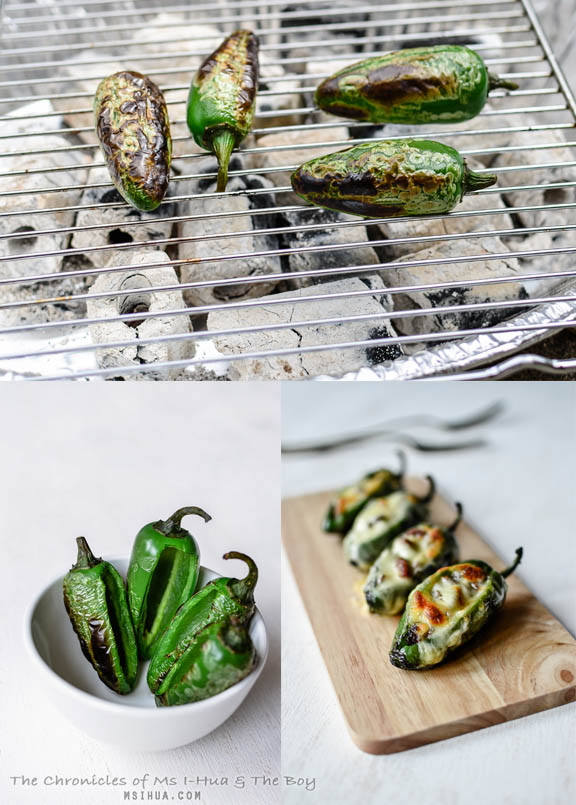 Here is the simple recipe (adjust amount of ingredients accordingly if serving for more). Believe me, you'll be enjoying these a lot!
Chargrilled Stuffed Jalapeno Recipe
Ingredients
4

Jalapeno (large sized) - unripen/green

1/2

of a Chorizo Sausage (chopped into cubes/chunks)

3-4

Button Mushrooms (chopped into cubes/chunks)

Kewpie Mayonnaise (Japanese mayo)

Mozarella Cheese (shredded)

1

Tbsp

Olive Oil
Instructions
Make a lengthwise opening on each jalapeno with a paring knife. The opening should be around 1 to 2 cm depending on the jalapeno size.

Hollow out the seeds and membrane.

Grill over hot charcoal or your gas stove's flame until the chillies have some nice char. Try not to grill them too much as you still want the crunchy texture when biting into them.

Once done, remove them from the heat and set aside.

Heat a small pan over medium heat and add a tablespoon of olive oil. Add in chopped chorizo and fry for a few minutes.

Add in mushrooms and fry for a few more minutes. Transfer to a bowl.

Stuff the jalapenos with the chorizo/mushroom mixture.

Squeeze enough Kewpie mayo from the botttle to cover the jalapeno's opening.

Sprinkle a generous amount of shredded mozarella cheese over each jalapeno.

Place stuffed jalapenos under an oven broiler to melt the cheese.

Serve while cheese is still nice and gooey.
Notes
You may have left over stuffing which can be used for other things.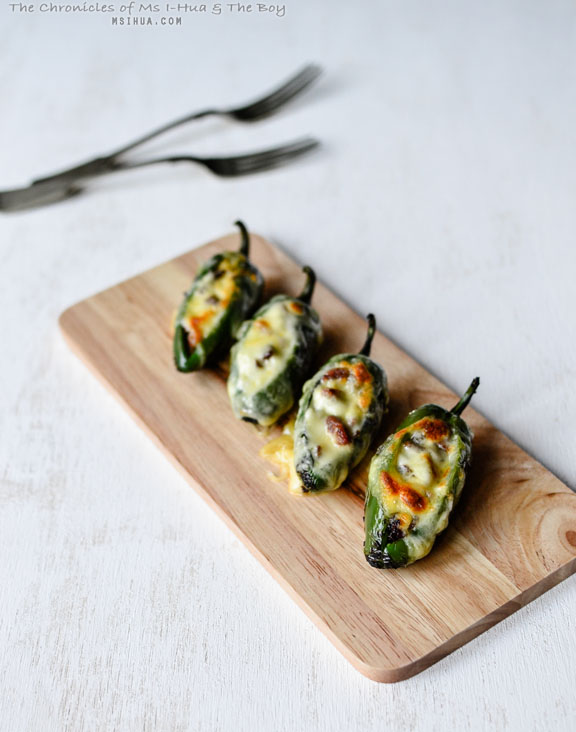 So tell me, what would you pair this entrée/dish with if you were to serve it up? Also, what music would you be having in the background? I hear the clap, clap, clap of Spanish music!