When The Boy and I heard there was a new district in town serving up breakfast/brunch fare in a Melbourne suburb nearby, we showed up with camera in tow and eager empty bellies.
Tucked behind Nepean Highway, hidden behind the sea of cars and motorbike big names of Bentleigh, on Brewer road, is District Brewer.
Sophisticated, modern, sleek, you would be forgiven if you had thought you had just walked into a bustling cafe located in North Fitzroy. Such were the palpable hipster vibes.
Inside, a bunch of attractive looking wait staff and baristas were waiting ready to pounce and serve with a smile to hungry punters coming through the door.
Or maybe it was because it was the first week of operation and they were eager to please? Nevertheless, I was happy for breakfast with a view and positioned myself to face the interior whilst The Boy happily gazed out at the window view in front of him. How doth goes the saying? Happy Wife, Winning Wife? Or something like that!
Be ready to dine with affluent members of the Bentleigh/Brighton crowd out as they relax from their morning jog/walk/run gear loudly chatting amongst themselves whilst ordering hot coffees! Truth be told, a lady in the group next to us was exclaiming rather loudly that the coffees were never hot enough for her.
To which, I really wanted to respond to her in my best Braaaghton accent, "Dahhh-link! You just don't understand the cawfeeessss!"
Luckily I only did so in my head, and giggled for a moment to myself whilst The Boy stared at me in astonishment.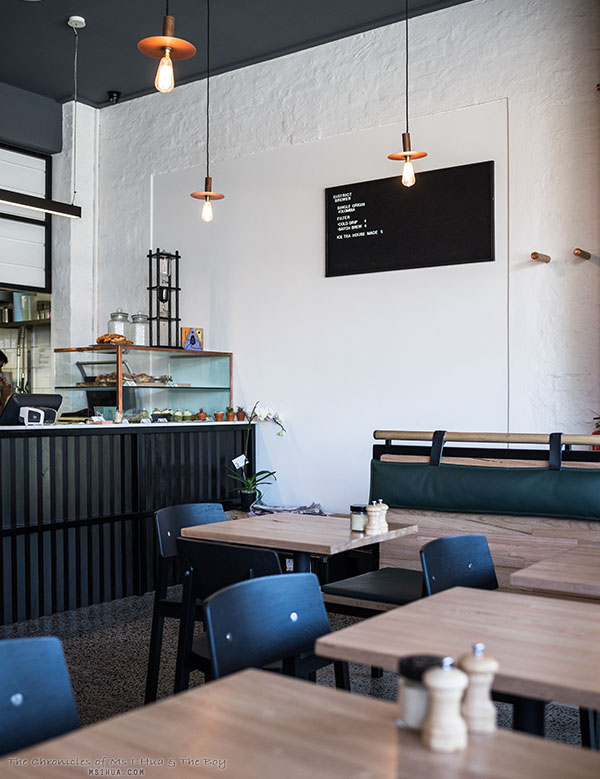 The menu was simple yet intriguing enough to pique our curiosity. Black Forest Bircher? Stuffed Fig French Toast? Crispy Soba Noodle? Yes, yes, tell me more!
But first, we had to order our coffees. Hot off the La Marzocco espresso machine was Maling Room's latte (the day we tried, it was the Symmetry Blend) $3.80, which The Boy tried.
I, on the other hand, had the very delicious Cold Drip $4 which I forgot to ask about the blend, as I was so enthralled with its presentation in a perfume/potions bottle!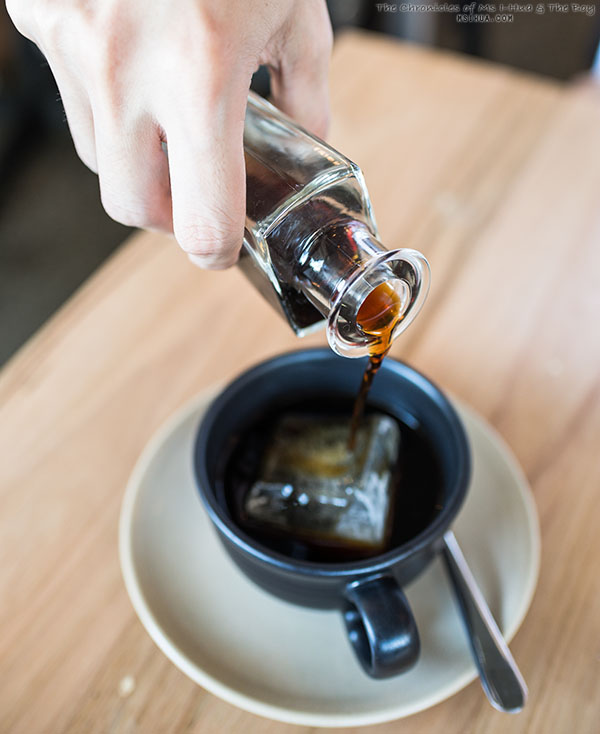 Looking through the menu, I was torn! There were just so many interesting items I wanted to try and I wanted to eat them all.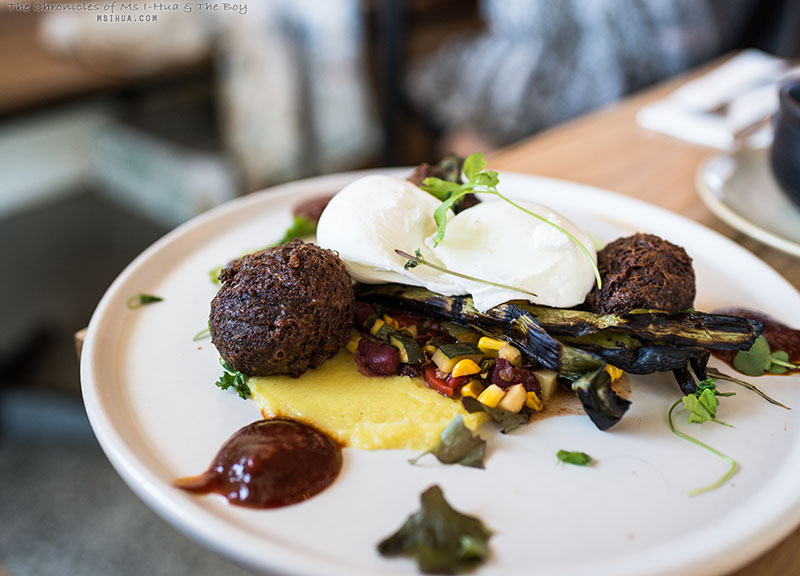 I settled for the Black Pudding Beignets $18 with grilled corn salsa, charred leeks, saffron parsnip puree, Sriracha jam and poached eggs. Oh man. This. Hands-down. No words.
Okay, maybe three words.
So. Damn. Good!
The beignets were so light and fluffy, whilst maintaining a wonderfully crispy shell. The Sriracha jam was spicy, yet sweet. The corn salsa. OH, SHUT UP AND TAKE MY MONEY!
Seriously, I've had a lot of black puddings in my life. All sorts of variations for breakfast, lunch and dinner. This had got to be one of the best ones I've had.
If I had to rank my top black pudding dishes, it'd be:
District Brewer
I rank this quite highly, and as you can see from that top 3 list, it's the only breakfast/brunch black pudding item in it. The other two were from a full restaurant lunch/dinner menu!
Enough of the bloodthirsty talk, but I thought you should know!
Whilst I was turning into a vampire-like fiend, The Boy was enjoying his rather large and messy D'Burger $19 of Wagyu pattie, mustard slaw, guinness & bacon chutney, Jack cheese, rocket and shoestring fries. You can go the extra mile for another $2.50 to have it with your choice of Nitro Coffee Brew, which The Boy sadly did not opt for.
He loved it so much, he didn't say a word as he continued eating his burger with a haste of being chased by a thousand men.
Luckily for me, I was in similar food heaven with my beignets.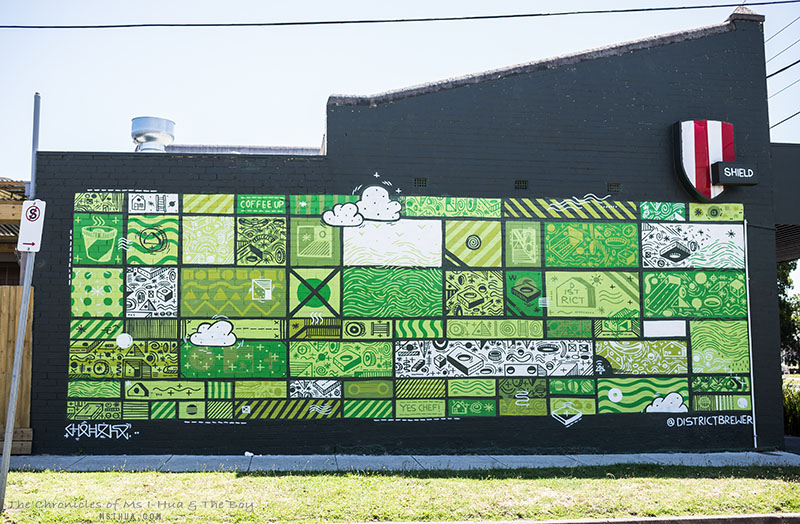 So what are you waiting for? Drive over to Bentleigh on your way to the nearby beaches and dine in for great food and coffee.
The only thing I would say about my dish, and you know how much I love it, is that it was a tad light on. I could have eaten another 3 beignets and been fine. The Boy's meal was perfectly portioned though and I even managed to steal a few fries from his board without being told off.
*Disclaimer: All food ratings & review are purely based on my own experiences and how I feel about the service, food and quality at the time of visit
Food/ Cuisine: Breakfast, Lunch, Coffee
Dining Style: Cafe
Opening Hours:
Monday to Saturday, from 7:00am
Sunday, from 8:00am
Address:
36 Brewer Road
Bentleigh VIC 3204
Tel: (03) 9972 3812
Website: http://www.districtbrewer.com.au/
Twitter: @districtbrewer
How to get there: