Everyone I know has an opinion about the Masterchef Australia judges. Love them or hate them, they have an opinion. Even if they aren't watching the internationally famous reality cooking show, they secretly are. In the closet under the staircase.
The one thing that is for certain is that Masterchef Australia is a big show. People I have met from different pockets around the globe all have good things to say about the Australian TV format.
When I recently asked a former Masterchef Chile contestant, if he watched Masterchef Australia, he looked at me as if I had asked him the stupidest question known to mankind!
"Of course I watch Masterchef Australia! And Masterchef Spain. These are the only two worth watching!".
So when we received an invitation to dine at Melbourne's Hellenic Republic at a very star studded (to us chef groupies) dinner event, we had to say yes!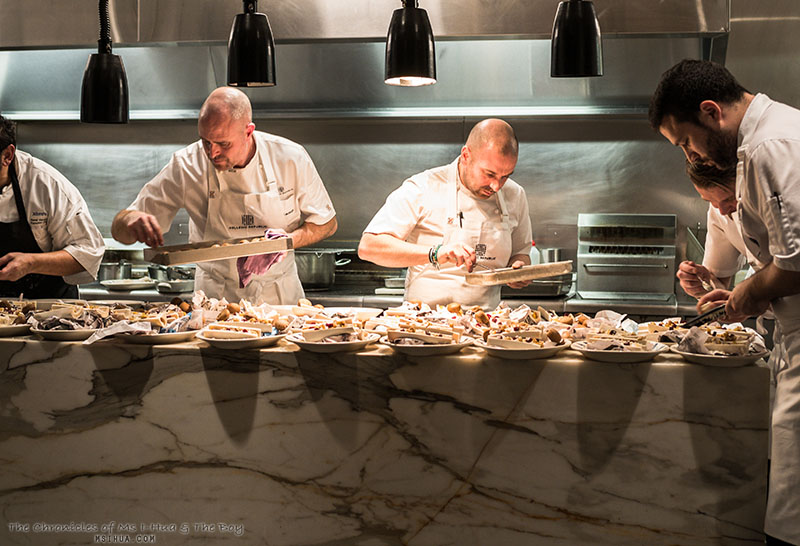 Love him or hate him, everyone admits that George Calombaris has talent in the kitchen. Watching him serve and cook up dishes for over 100 guests in the event, alongside his team and other chefs, you can't help but admire him.
[David Tsirekas with his concentration face]
In the Hellenic All Stars dinner event, we were lucky enough to eat food from the talented chefs from both Melbourne and Sydney. David Tsirekas (Sydney) together with George Calombaris combined their talents in hosting this 4 course Greek inspired dinner, together with Executive Chef Travis McAuley and head chefs Arron Lynch and Alex Xinis.
Little did we know that when the Greeks say 4 courses, they really mean 13 courses!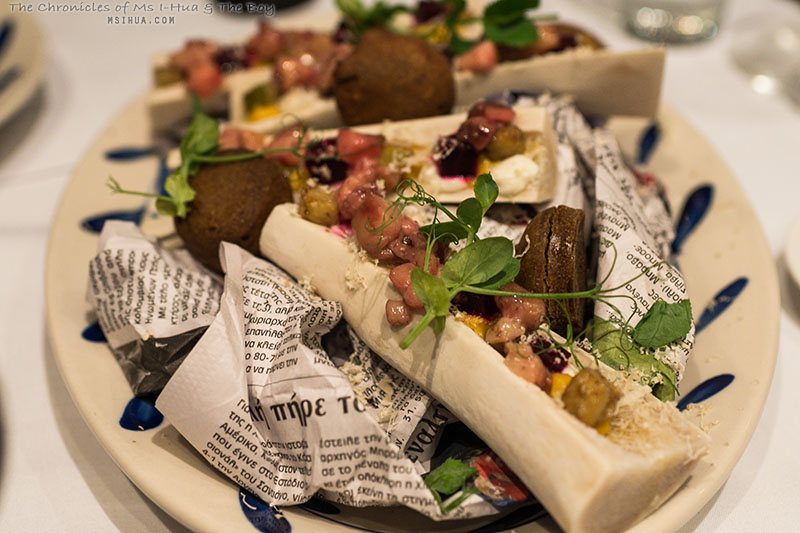 Starting with this stunner (which I didn't get to eat), of Smoked Bone Marrow, Beetroot, Feta and Horseradish from George Calombaris. We loved the playful presentation of this dish.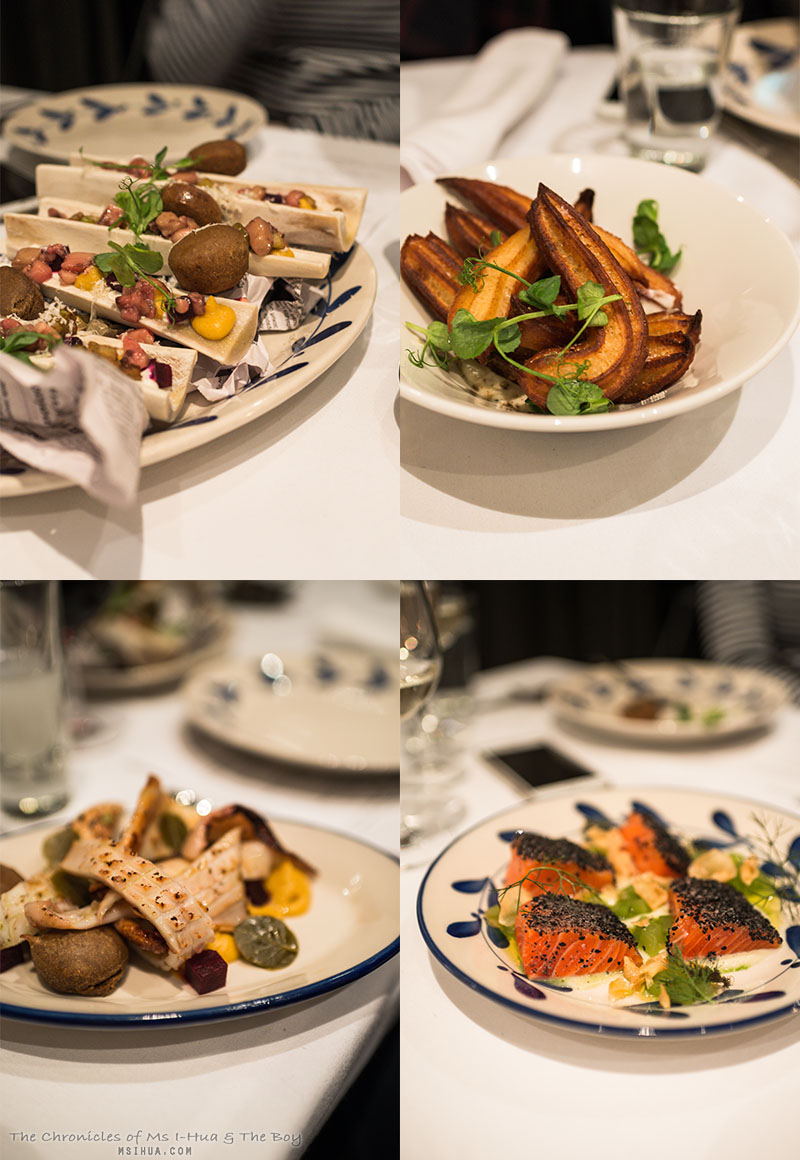 Also served in the Mezethes part of the meal were Tarama Churros with Latholemono by David Tsirekas, Ouzo Cured Ocean Trout, Jerusalem Artichoke and Cucumber by Arron Lynch. As there were some items that I was unable to have, I had my very own serve of Char-grilled Octopus, Marinated Baby Eggplant, Smoked Hummus.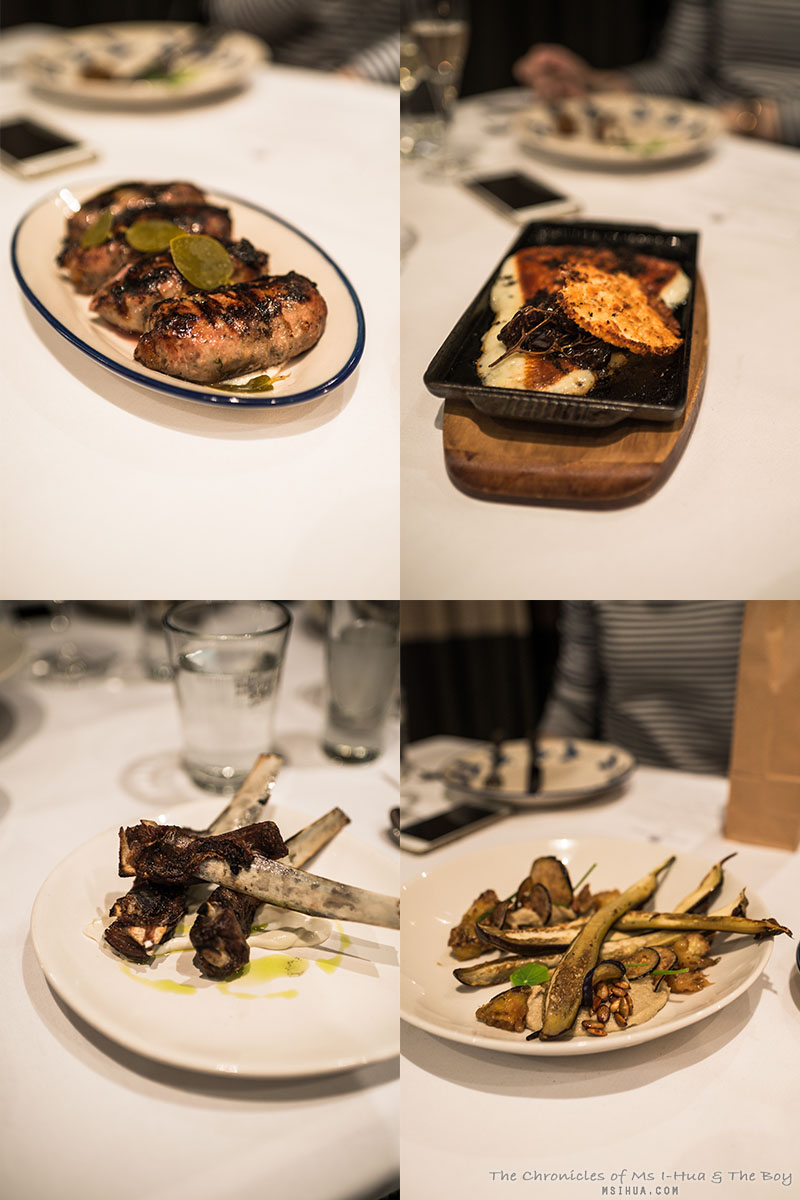 [Clockwise from Top Left: Sheftalies (Cypriot Souvlaki), Tahini Yoghurt, Caper Leaves by Travis McAuley; Kefalograviera Saganaki by Alex Xinis; Melitzanosalata by Alex Xinis; and Honey Mustard Glazed Lamb Ribs]
There was so much food at the entree and the whole table went wild. It was amazing to watch!
The saganaki was so amazing. It's quite similar to the saganaki at Gazi which they serve with cumquats! mmMmmmMm.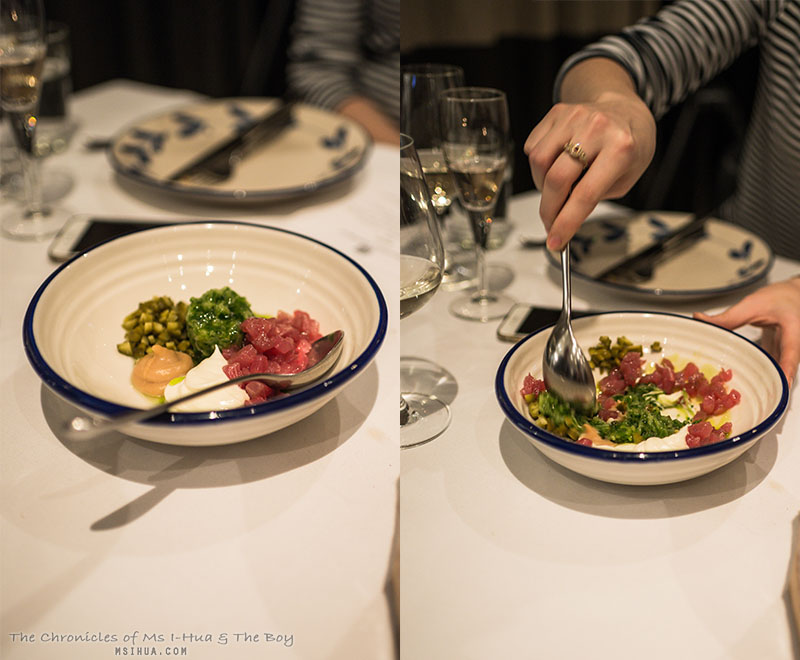 The next dish was our hands down winner for its execution, taste and ingenuity.
George Calombaris's Tartare of Tuna with all its frills, served with Prawn Crackers!
So clever and so god damn delicious!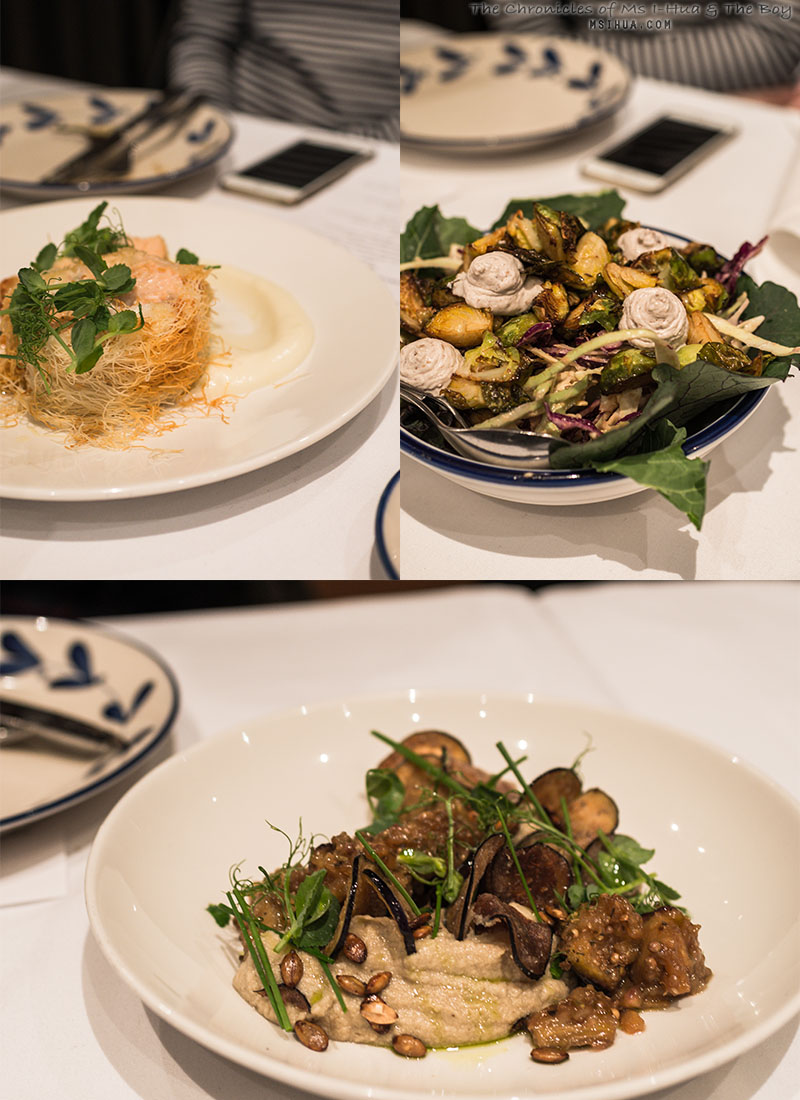 [Clockwise from Top Left: Seafood Kokoretsi, Skordalia by David Tsirekas; Lahanosalata by Arron Lynch;and Melitzanosalata by Alex Xinis (Second glance).]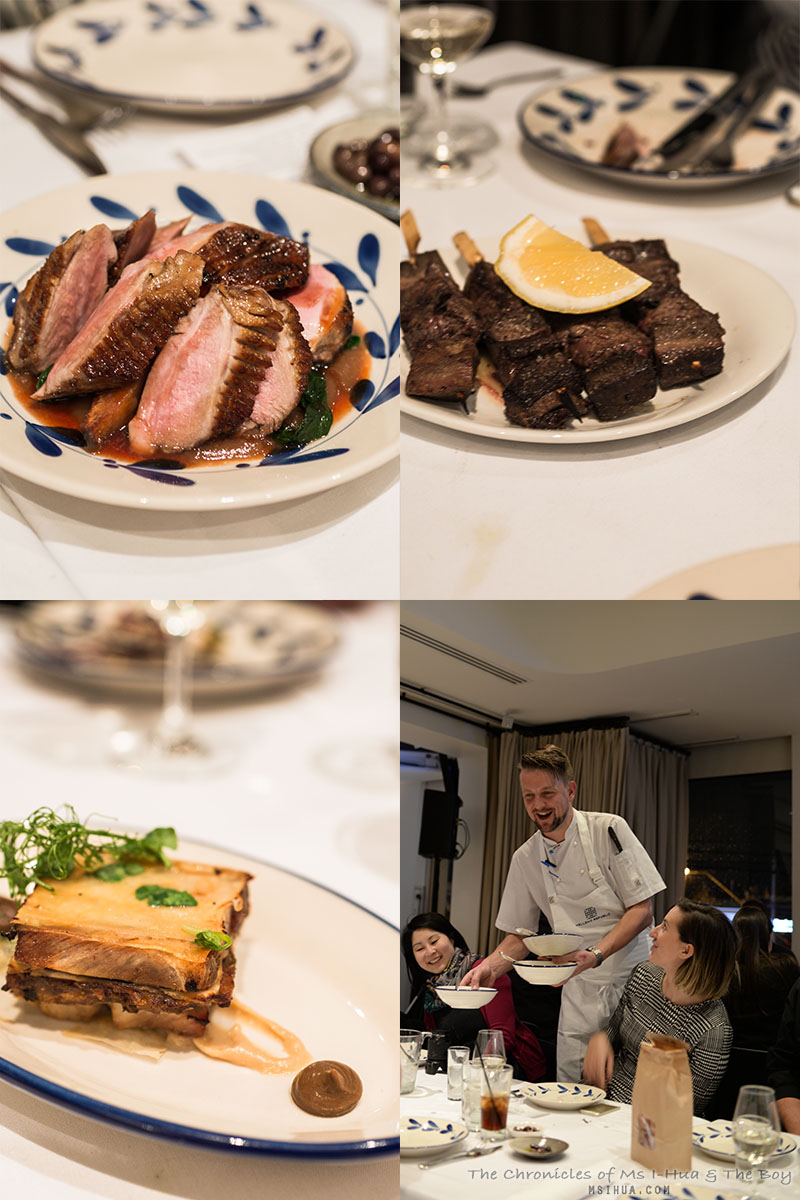 And then came the mains! At this point, a few of us at the table had food regrets of going too fast and too hard at the beginning, as we started loosening the belts on our trousers and dresses!
Beginning with Duck and Quince by David Tsirekas, followed by Wagyu Tongue and Flat Iron Kalamaki by Travis McAuley.
Because I couldn't eat the wagyu dish, I had a full single serve of an amazing pork dish. For some reason, I can't seem to find any information about this mystery pork dish. It was amazing. Almost like a savoury baklava in its presentation. I only wished I wasn't so full, so that I could fully appreciate the amount of work that went into that dish!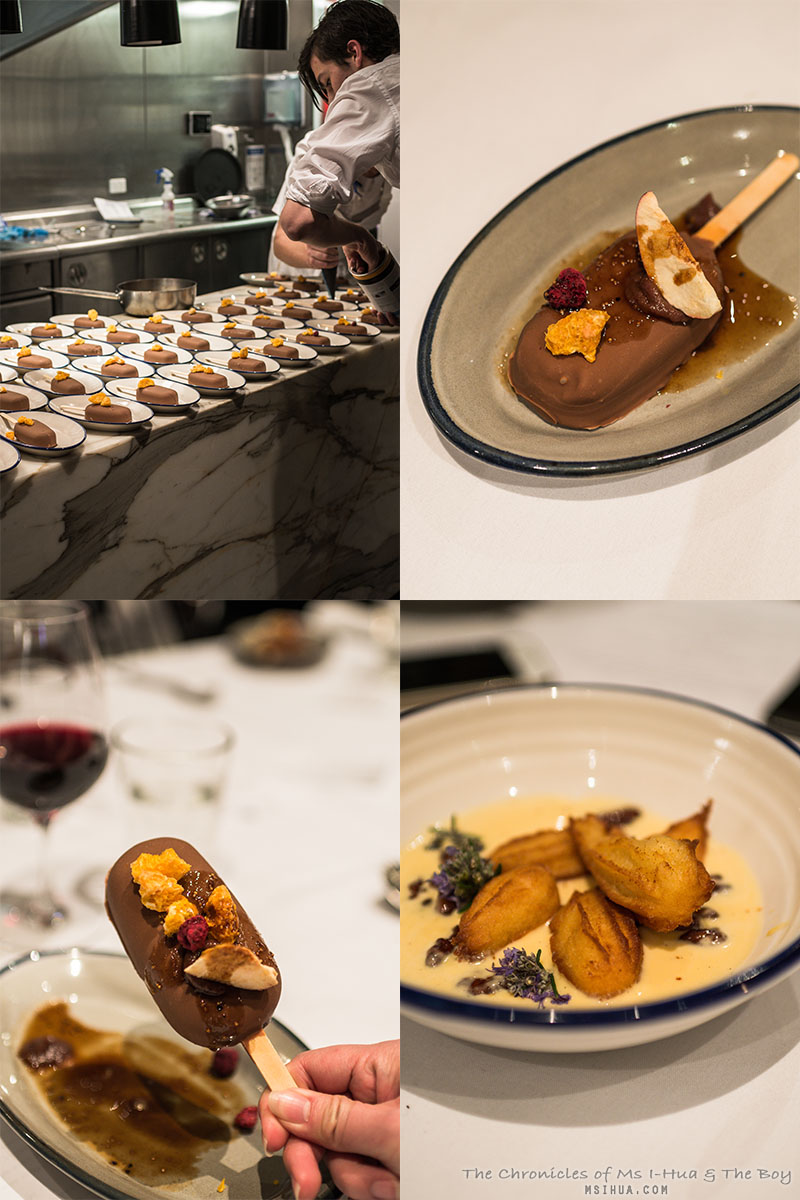 Did the meal stop there? Don't be absurd! Of course not.
We had to have a 'Magnamopolous' each! George Calombaris's version of the magnum ice-cream. Greek Yoghurt Ice-Cream with Caramelia, Fruits and Mastic. We also had from David Tsirekas a Touloumba, Warm Rosewater Custard, and Honeyed Walnuts.
It certainly was a night to remember. Almost like a Greek wedding, complete with cat calling and heckling from the many Greek relatives in the crowd.
If you are interested in attending similar like events, be sure to follow Hellenic Republic via their Facebook page (link below). If you can't wait for an event, you can also choose to go with their Banquet options (menu link on website).
[Ms I-Hua and The Boy were invited as guests of MAdE Establishment]
*Disclaimer: All food ratings & review are purely based on our own experiences and how we feel about the service, food and quality at the time of visit
Address:
Hellenic Republic Kew
26 Cotham Road (corner of Cotham Rd and High St)
Kew VIC 3101
Tel: +61 (3) 9207 7477
Opening Hours:
Lunch
Monday – Saturday 12pm – 3.30pm / Sunday 11am – 3.30pm
Dinner
Nightly 5.30pm – 10.00pm
Website: http://hellenicrepublic.com.au
Facebook: Hellenic Republic
Instagram: @hellenicrep