There are many things that are synonymous with the great New York City.
Mention the Big Apple, and people will exclaim back excitedly, "Broadway!", "Statue of Liberty!" and even the 9/11 memorial centre.
If you are thinking food, then there are more than 3 dozen Michelin stars in total in this big city. If you are thinking shopping, there is the famed Fifth Avenue with high-end luxury shops to knock your shoes off!
However, one of the most memorable places we visited does not have any Michelin star, nor does it bode any traditional historical significance to the city, but it is definitely a place that people associate their visit to NYC with.
Indeed, it is the one and only Shake Shack!
Madison Square Park Branch
The first ever Shake Shack branch, which literally started out from a hot dog cart in Madison Square. Recently undergone renovations and reopened in May 2015, this iconic spot has foodies from all over the world lining up for their burgers, shakes, dogs and sundaes. You name it, people are there lining up for it.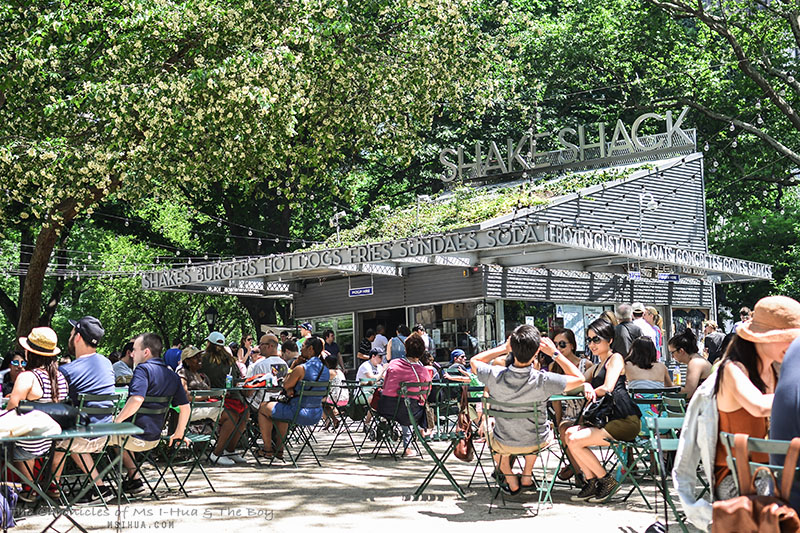 It's also one of the perfect spots to people watch and enjoy some sun if you happen to visit during the summer months.
People from all walks of life descend onto this Shake Shack.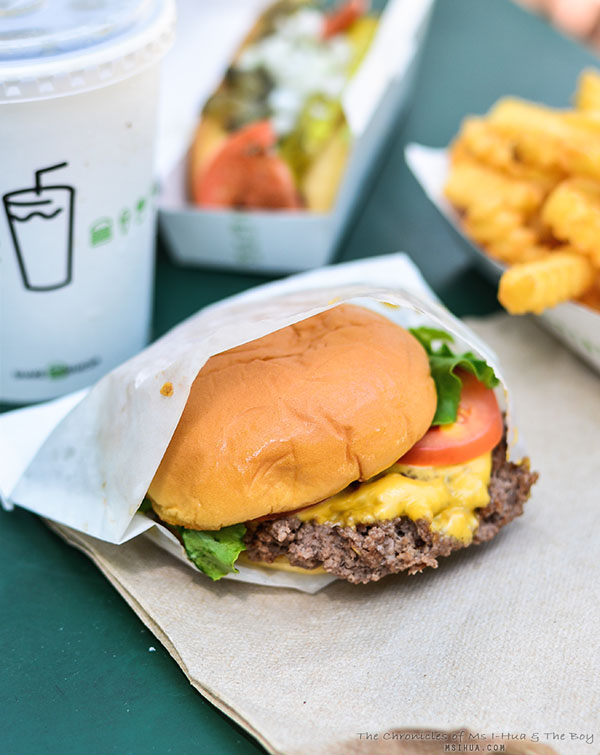 As the visit to the Madison Square branch was our very first Shake Shack experience, The Boy had to order the ShackBurger®, a cheeseburger topped with lettuce, tomato and ShackSauce (in a single) $5.19 (a double will set you back $7.99).
All of Shake Shack's burgers are made with 100% all-natural Angus beef. All their hot dogs are made with beef as well.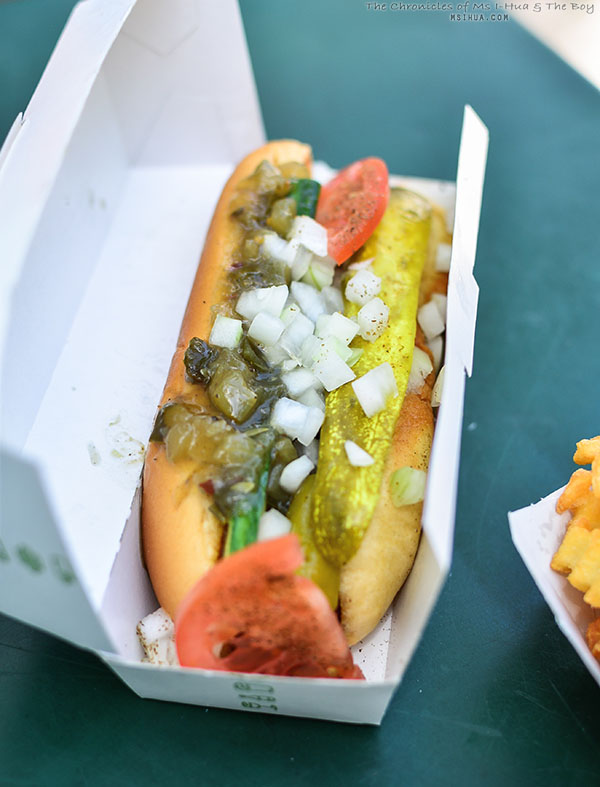 So with that in mind, I pretended the flat top dog I was eating was made out of pork and ordered the Shack-cago Dog® $4, topped with Rick's Picks Shack relish, onion, cucumber, pickle, tomato, sport pepper, celery salt and mustard.
If I was going to hell, I might as well make it worth the while.
Upper West Side Branch
The second branch opened in October 2008 and is located across from the American Museum of Natural History. Naturally, we had to pay a pit stop when we visited said museum.
Naturally.
This was also the branch where I finally discovered the most amazing burger ever. Ever.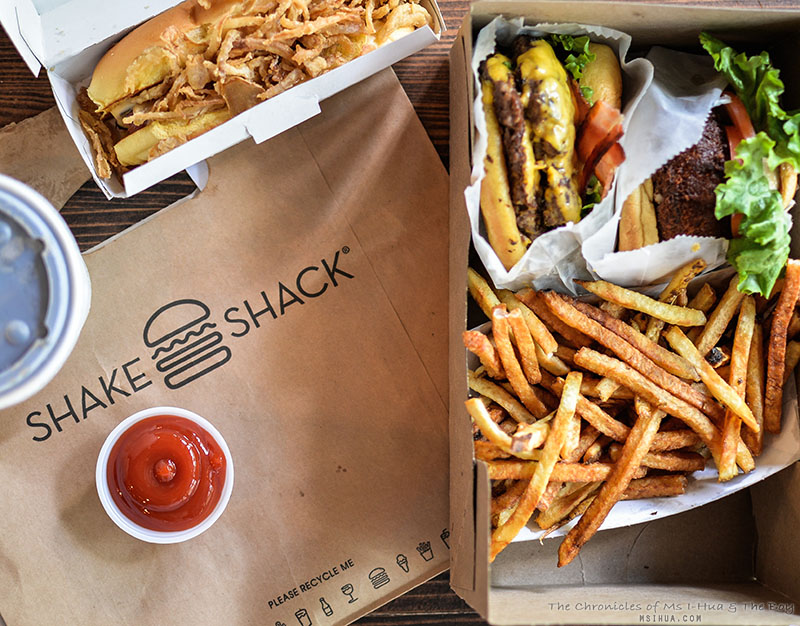 And I didn't even have to sin for it.
Sin city, you tried to trick me, but you didn't think I would find this out did you?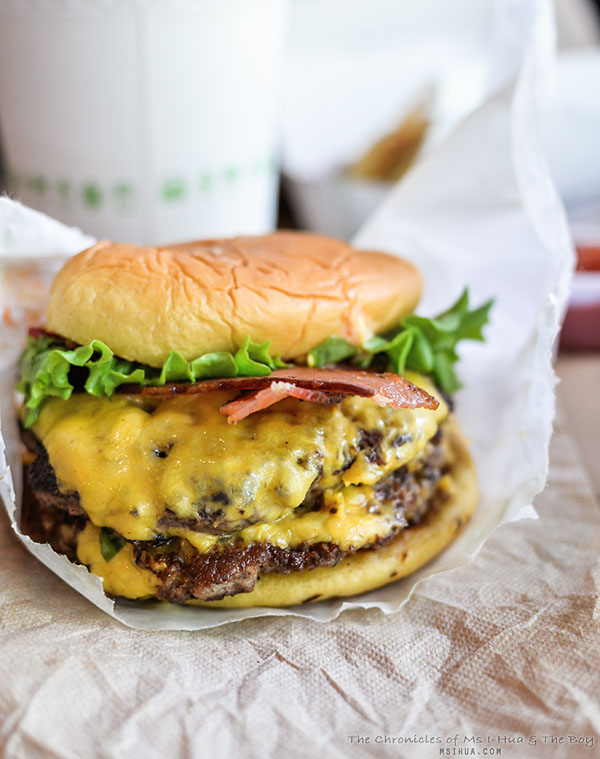 The second time round, The Boy had his ShackBurger as a double. Look at that! Big Mac ain't got no beef compared to this!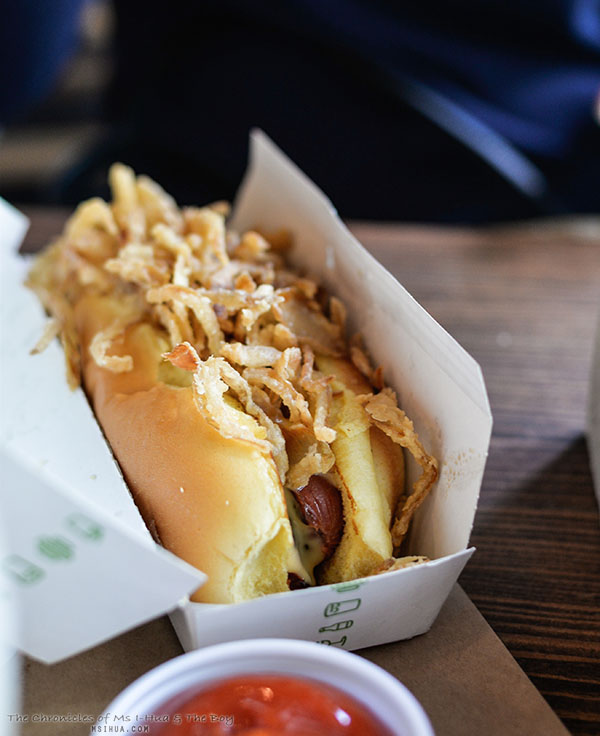 Because I am already going to hell, I shared the ShackMeister Dog® $3.25 topped with Shack cheddar and American cheese sauce and crispy ShackMeister Ale-marinated shallots. Kill me now. This was soooooo tasty.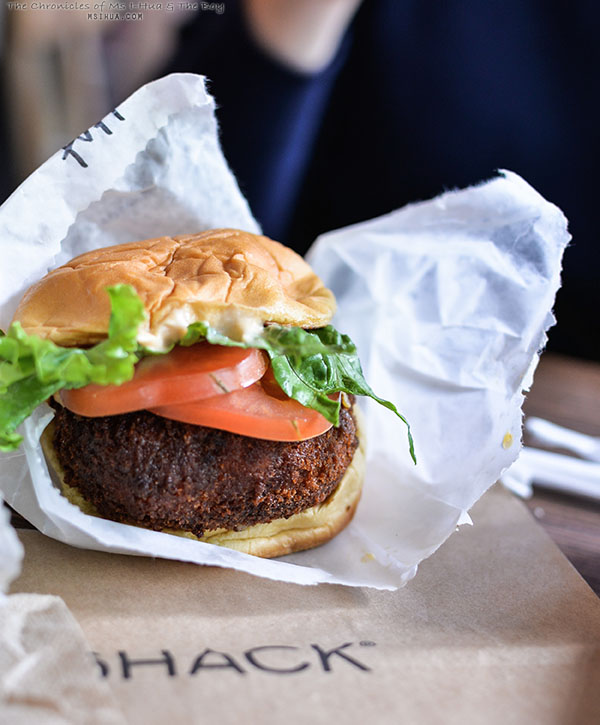 The best burger known to mankind (to me anyway), was the 'Shroom Burger (vegetarian) $6.99, crisp-fried Portobello mushroom filled with melted muenster and cheddar cheeses, topped with lettuce, tomato and ShackSauce.
Obviously, I hadn't completely lost my mind, and thus proceeded to confused the staff by ordering the one and only vegetarian burger and adding bacon into it.
Seriously, the cheesy mushroom literally oozed sex appeal. It was that sexy.
From that point on, every time we encountered Shake Shack, even The Boy would add the 'shroom into whatever burger he was ordering!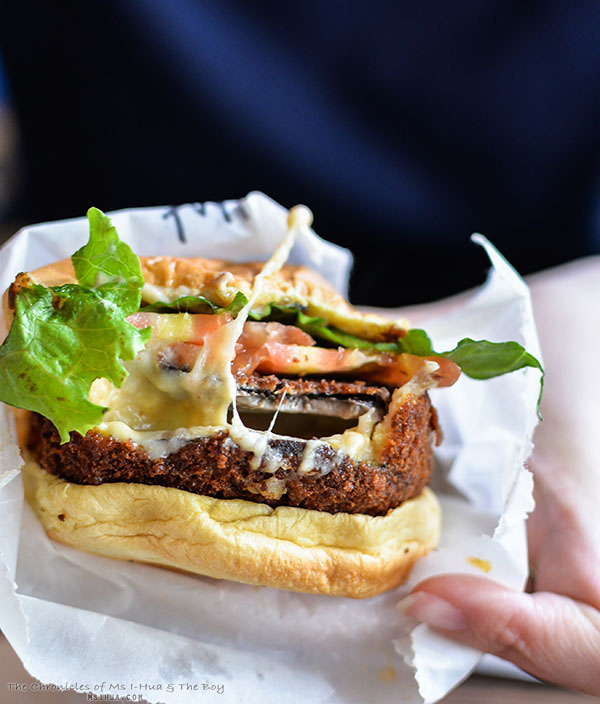 Look at that! Perfect ooze appeal. You must order the Shroom Burger, or better yet, add it to any of your burger choice. You won't regret it.
If you are lucky enough to find yourself in a New York airport flying out, walk like we did to find the Shake Shack in T4 (Terminal 4) in JFK airport. Seriously so worth it.
I also can't get over how affordable the burgers and hot-dogs were in Shake Shack! Compared to the exorbitant amounts we pay here in Australia, often for lacklustre burgers, it's no wonder people go all out and crazy for the Shack! Even when you add in tax and tips, it's so darn affordable!
Depending on the time of year you visit, you may even be lucky enough to try the limited additions they have in store (or collaborations with top chefs)! Just be prepared to stand in line for over 3 hours if that's the case :P.
*Disclaimer: All food ratings & review are purely based on my own experiences and how I feel about the service, food and quality at the time of visit
Food/ Cuisine: American
Dining Style: Casual
Website: https://www.shakeshack.com/
Twitter: @shakeshack
Instagram: http://instagram.com/shakeshack