How often have you sat in your inner suburban home or city abode and thought to yourself that it would be really great to get off that couch and venture out into the country side?
How often have you whilst dining in a restaurant wished that you were able to dine on delicious regional produce whilst sipping on a fine drop from a cellar door without having to make the trip to the nearest winery?
Well, I think your wishes have been granted. For the next 4 weeks, beginning Tuesday 5th of April, you will be able to dine at The Emerson Rooftop, conveniently located on Commercial Road, South Yarra (next to Prahran Market) and sample food and wine straight from Domaine Chandon in the Yarra Valley.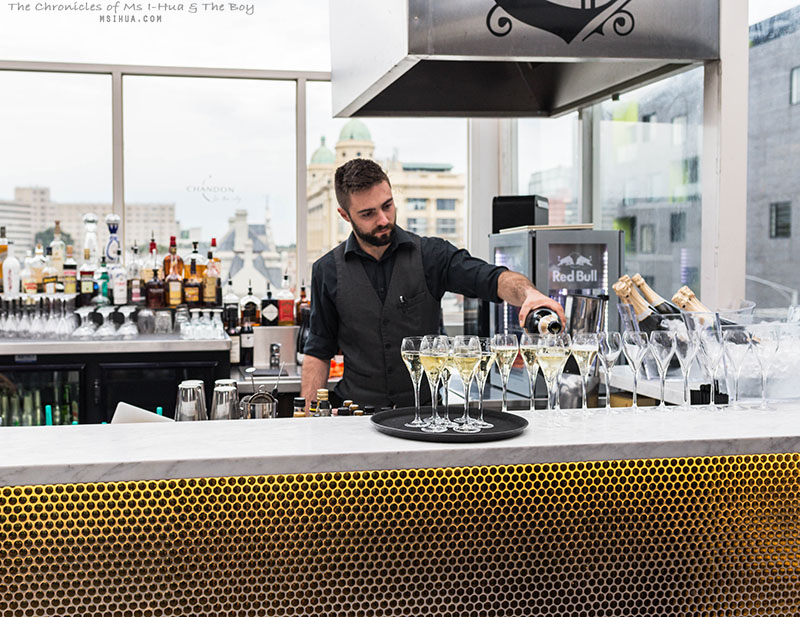 This pop-up at one of Melbourne's most sophisticated nightclub venues will be available from Tuesday to Thursday night throughout April from 5pm and you will be able to dine under the stars with a menu curated from Domaine Chandon's Yarra Valley winery restaurant, Greenpoint Brasserie, with wine pairings from Chandon's illustrious list of still and sparkling wines, particularly those only available at the Yarra Valley's cellar door.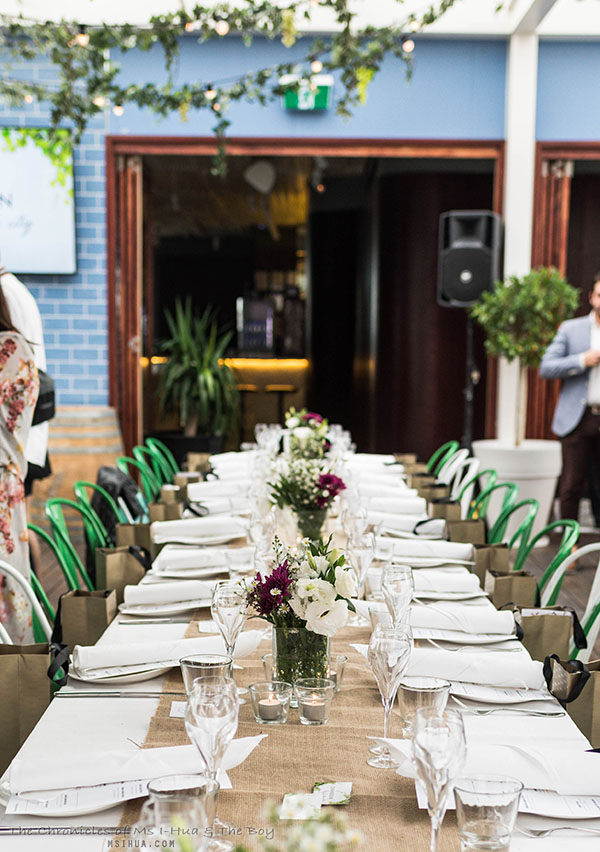 An A la carte menu will be available to those wishing to dine in to experience the Chandon menu, bookings essential, but walk-ins are possible, just ring ahead to avoid disappointment.
For a special vibe, a special Chandon Degustation menu is available on Monday nights only (11th, 18th and 25th of April 2016). A minimum booking for 30 guests will see the whole Emerson Rooftop booked out for you and your guests. Sounds ludicrous? Hear me out.
Imagine, booking an entire rooftop bar that will transform to a private degustation dinner complete with winery decor and matched wines. You just need to pull 30 friends together for a rendezvous on a Monday night. The minimum spend for the 30 guests would be around $5000 (the team at The Emerson will be happy to walk you through the details and tailor your event accordingly).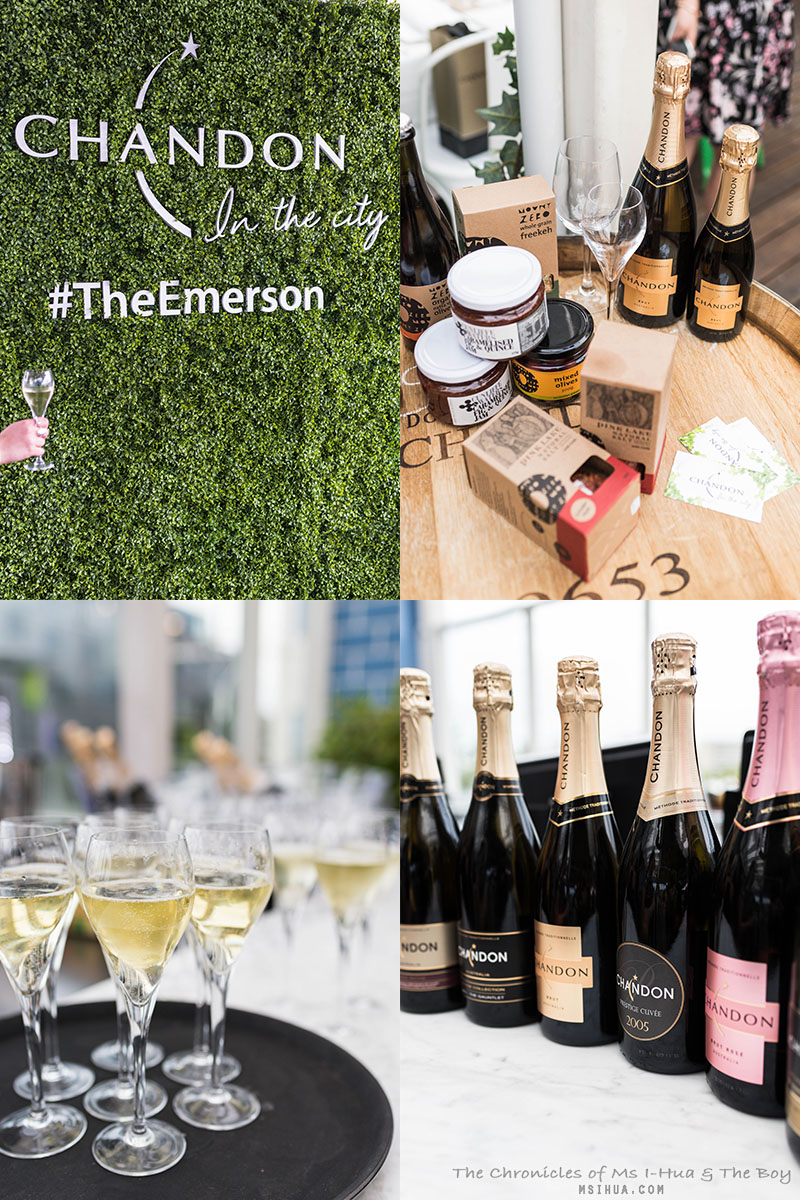 Just to show you how that is done, we share with you our time during the launch of the Chandon in the City pop-up event two weeks ago.
Our immediate impression upon coming out of the elevator onto the bright natural light-filled deck was one of surprise. We certainly weren't expecting such a clean and bright open space area of one of Melbourne's top night clubs. To be honest, I was expecting darker ambience and stickier flooring. I was pleasantly surprised and that set my mood for the rest of the evening!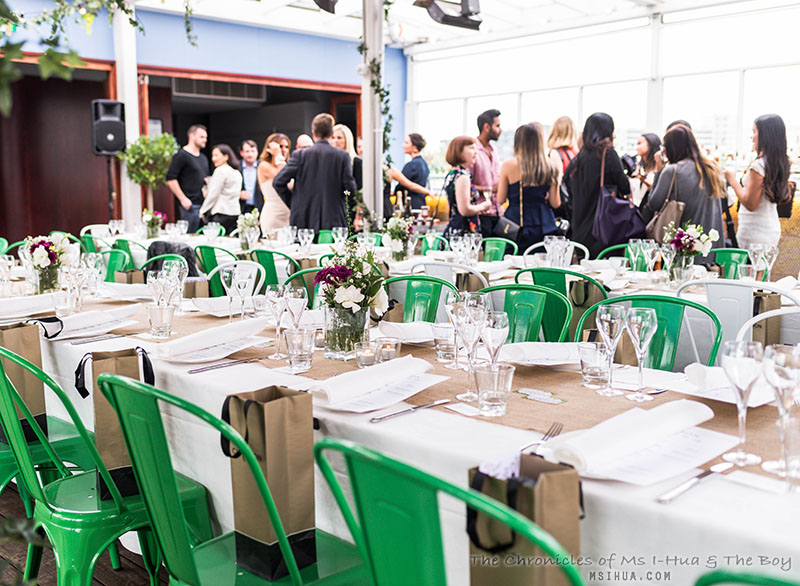 In attendance were Melbourne's top social influencers in the food and lifestyle scene as well as some local Melbourne celebrities, including a Melbourne Housewife, a prestigious news anchor, and a former cooking show contestant. Everyone was jovial and brimming with expectant excitement on being able to wine and dine under the stars and the convenience of being so close to home.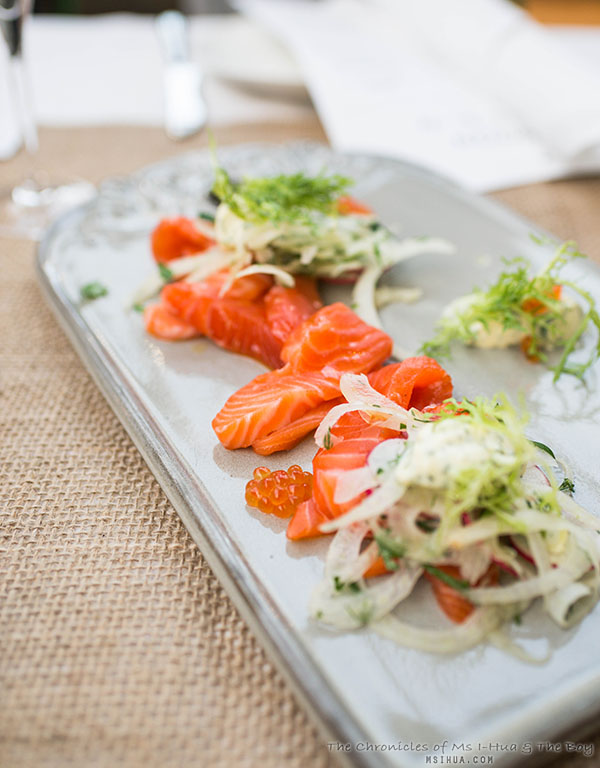 [Pictured: Cured Ocean Trout with fennel, radish & herbed creme fraiche matched with 'The Gauntlet' blanc de Noir, 2011]
The night pretty much consisted of shared small and large dishes in a long-lunch format.
As we arrived, we were each provided with a glass of 2012 Chandon Vinage Blanc de Blacs whilst the wait staff roamed around with House Chips (with spiced salt and aioli) and Shucked Oysters (with Yarra Valley salmon roe and lime).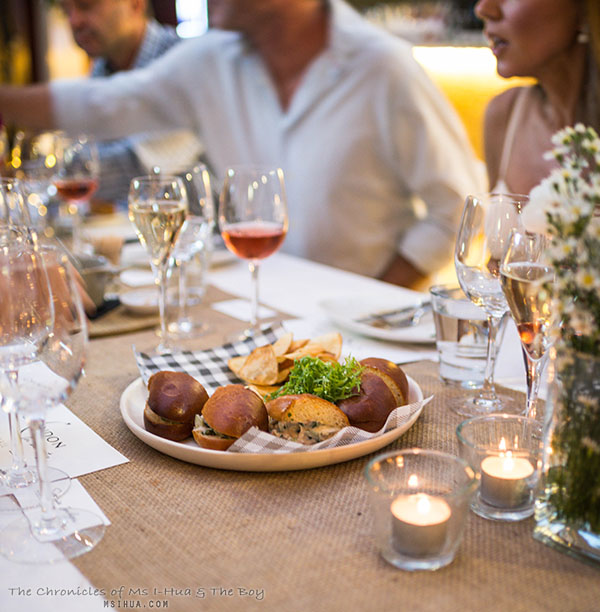 [Pictured: Slipper Lobster Roll  served with cucumber, spiced mayo & house crisps matched with 'The Gauntlet' blanc de Noir 2011]
As we sat ourselves down, the food kept a steady appearance and the wine was flowing well, we couldn't help but feel that we were indeed away from the stresses and the fast-paced environment of the city life.
We couldn't help but forget where we were for that night, and it felt as if we were out in Yarra Valley itself, dining at Domaine Chandon.
We had a delicious Burrata and heirloom tomatoes, basil & aged balsamic salad as well as some lovely Warmed Olives (Mount Zero olives with rosemary & garlic).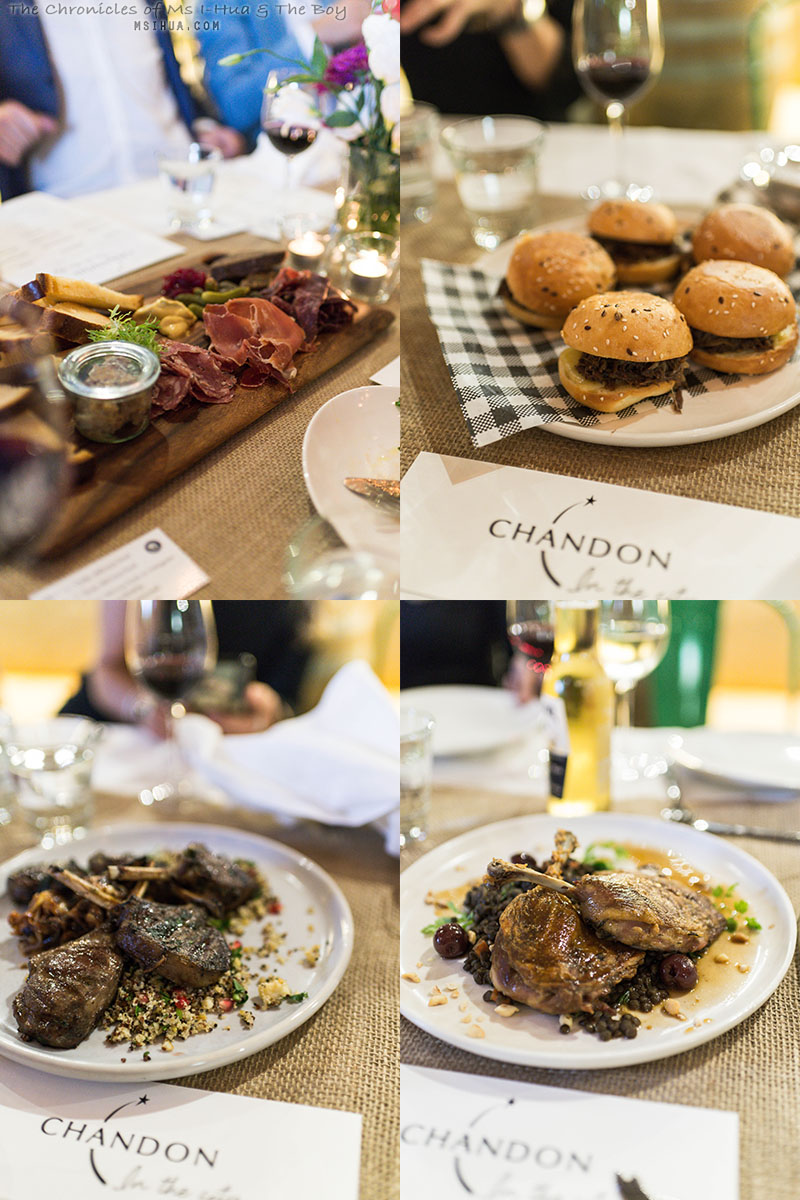 [Clockwise from Top Left: Charcuterie Board of terrine, rillettes, cured meats, mustards & pickles matched with a 2015 Chandon Pinot Noir Rose; French Onion Sliders (beef cheek with French onion & Gruyère cheese) matched with a 2014 Chandon Barrel Selection Shiraz; Confit Duck, braised du puy lentils, black cherry & hazelnuts matched with a 2013 Chandon Yarra Valley Pinot Noir; and Grilled Lamb Cutlet with eggplant, raisin, pine nuts & ancient grains matched with the 2015 Chandon Pinot Noir Rose]
The Charcuterie Board was fit for a whole village, and I'm even surprised that we finished the food and nothing went to waste! Such was the generosity of the portion size.
The definite winning wine for me that night would have to be the 2015 Chandon Pinot Noir Rose. I will be the first one to put my hands up and admit that there are two types of wines I dislike. That is a Chardonnay and a Rose. Call me an oddball.
However, that Pinot Noir Rose has now changed my perspective on all Roses'. It was so good, that I immediately wanted to go in and buy some. Silly me, I forgot we weren't actually at Domaine Chandon!
I was even more gutted to find out that it is also one of their more popular selling wines, and often sells out. OMG!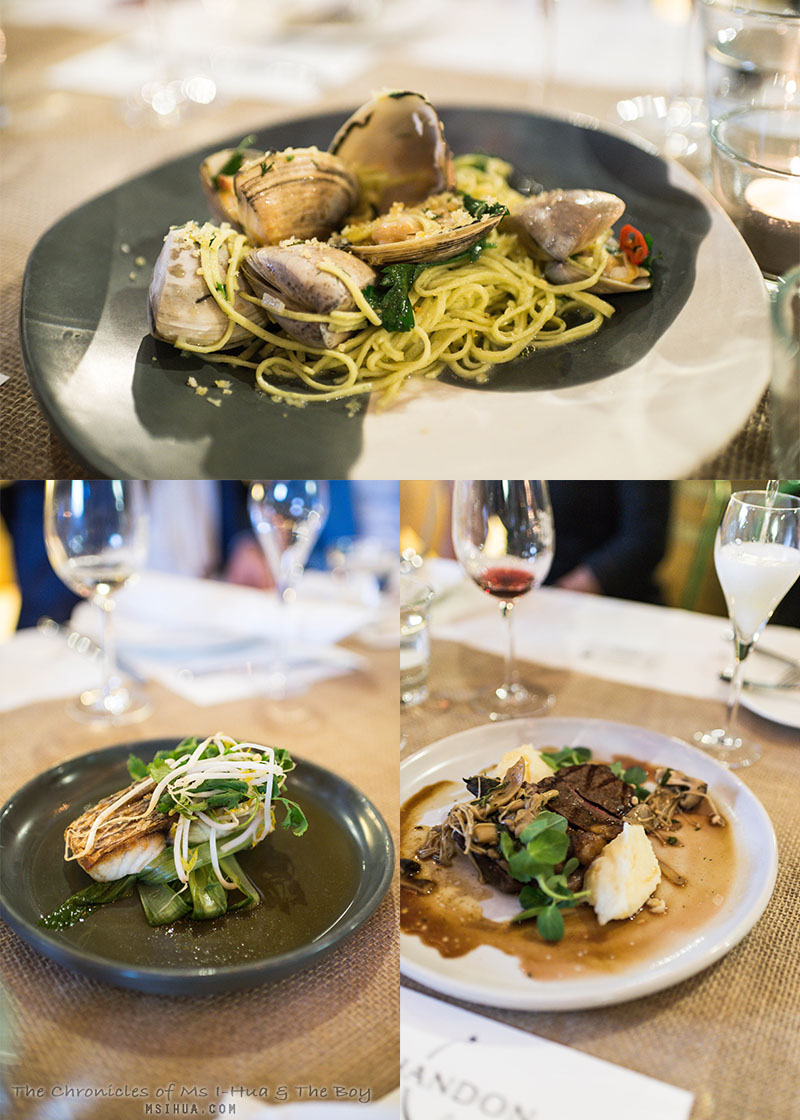 [Clockwise from Top: Lemon Parsley Linguini with clams, Chandon, chilli & olive oil matched with 2015 Chandon Yarra Valley Pinot Gris; 250g Grass Fed Sirloin, mushroom fricassee, potato mash, mustard & jus matched with 2014 Chandon barrel selection Shiraz; and Baked Barramundi served with master stock, bok choy, coriander & bean shoot salad matched with 'The Gauntlet' blanc de Noir 2011]
On and on the food came out. Each dish cooked to perfection, and wonderfully well balanced in terms of flavour. The chefs at The Emerson had been up to Domaine Chandon to learn the dishes from Joshua Smythe, Head Chef at the winery and did a mighty fine job picking up the flavours in such a short amount of time.
We finished the meal with a Cheese Board, 3 cheeses (local & imported) with caramelised fig & quince jam matched with the 2005 Chandon Prestige Cuvee, with very full bellies and delightful memories of the night.
[Ms I-Hua and The Boy dined as guests of The Emerson and Domaine Chandon during the launch event]
Details of the "Chandon in the City" Pop-Up event at The Emerson Rooftop
Ala Carte Menu: Tuesday to Thursday (5th-7th; 12th-14th; 19th-21st; and 26th-28th April 2016)
Curated Degustation: Mondays (11th; 18th; and 25th April 2016), Minimum 30 guests, pre-booking essential
Time: 5pm until late
Address:
143 – 145 Commercial Road
South Yarra VIC 3141
Phone: 03 9825 0900
The Emerson Website: The Emerson
Domaine Chandon Website: Domaine Chandon