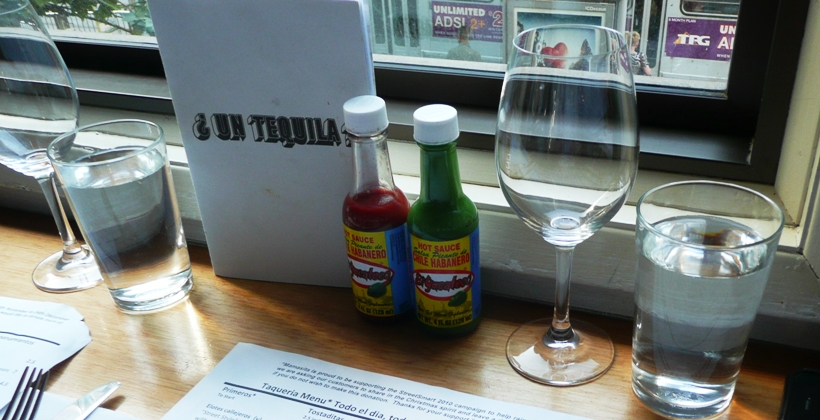 It had been a few months since I last caught up with Missy E… she was busy working, I was busy working… we are very busy girls… We were wondering where we'd go to catch up. At the time, the both of us had a craving for Mexican, and I had read many reviews (both good and bad) on Mamasita, and just knew that we had to go and check it out for ourselves.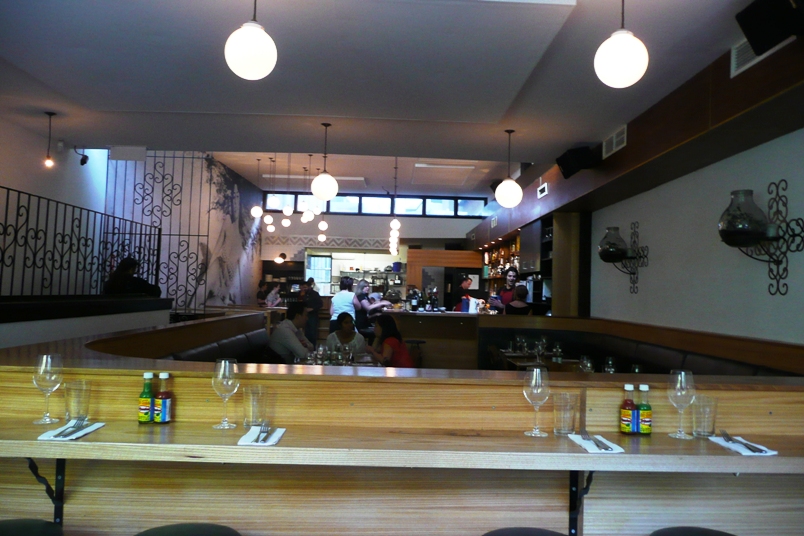 We'd been warned by many to arrive as early as possible (Mamasita does not do bookings). So one Tuesday evening after work, at around 5.45 pm, Missy E and I arrived and went straight up the stairs and was immediately greeted with big smiles and seated by the windows. What I loved were these little hook things at the bottom of the bench table where you could hook your handbags! (Little details people!)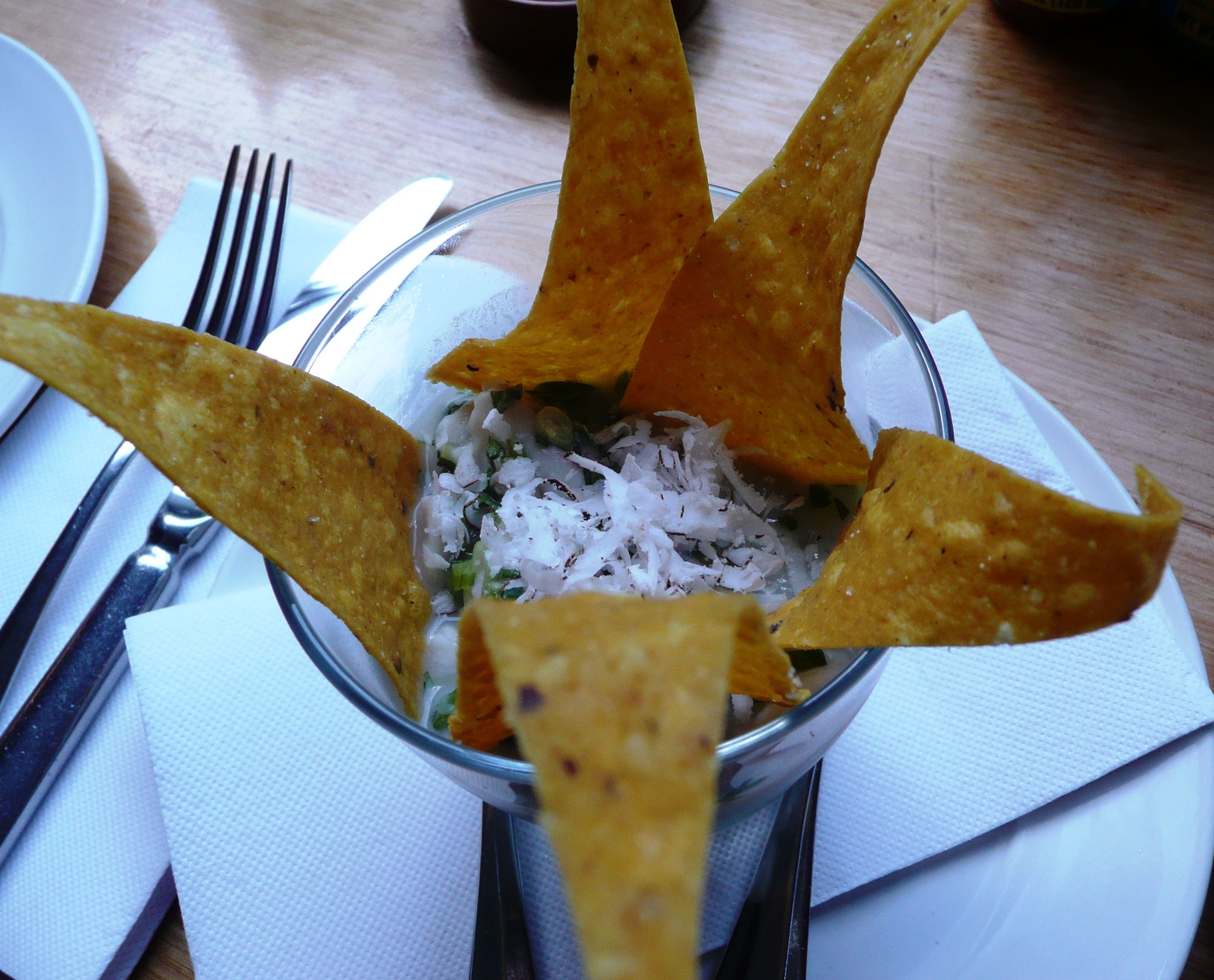 We scanned the menu and decided to order a few dishes to share… first, we started with a wonderful cold Ceviche de Yucatan $6/$15 (Single or main serve)… I think we had the single serve (we weren't told the sizing)… This was a delicious and refreshing mix of market fish with green tomato chilli, mint, lime & coconut milk… served with some Nachos, Missy E and I devoured this…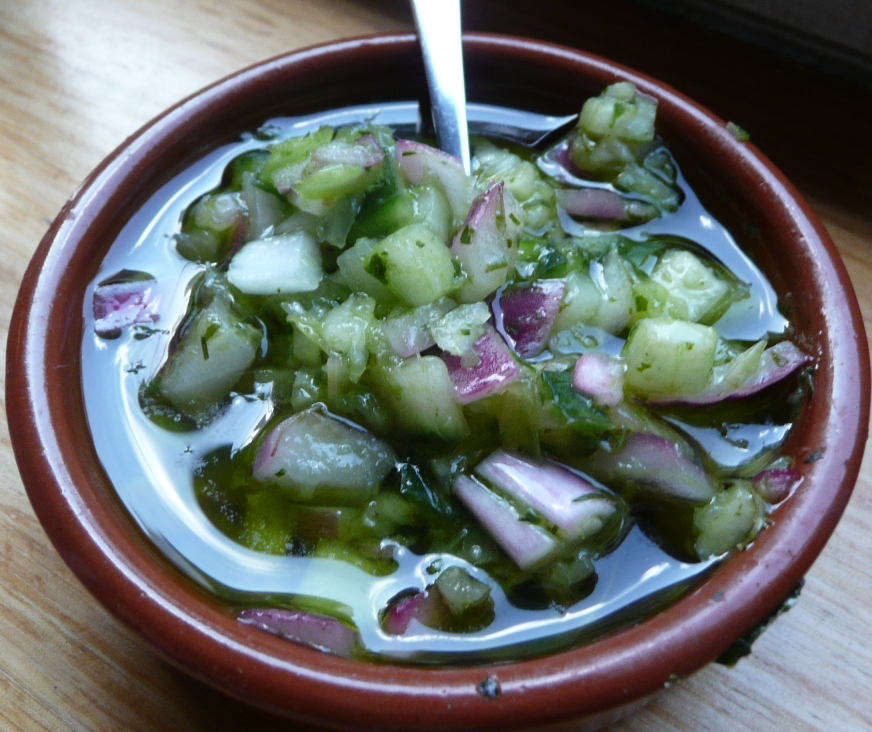 Then the waittress brought out some complimentary green salsa which I looked at suspiciously (I don't do green) … but ate happily anyway when our tacos arrived…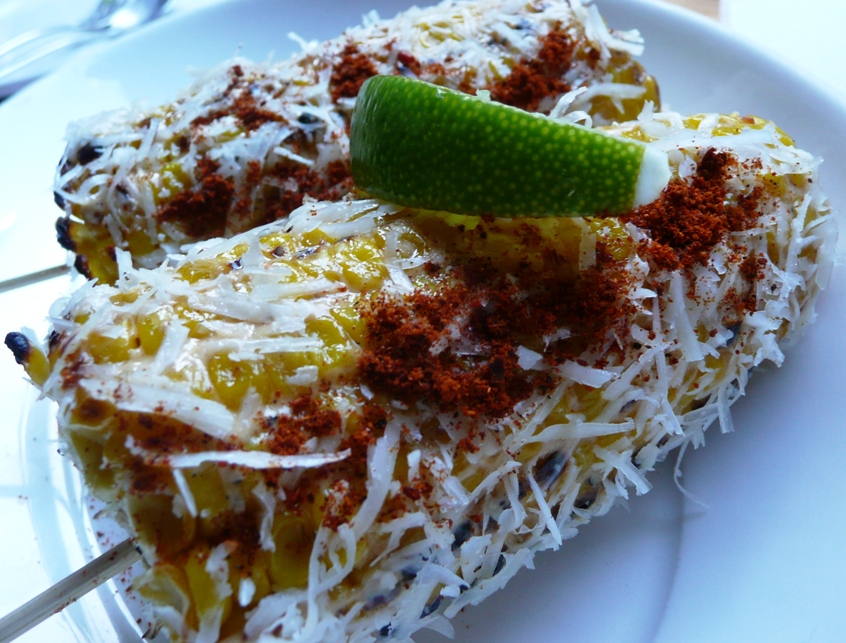 We also ordered their famous corn on the cob…Elotes Callejeros $4.40 each… which is a "Street-styled" chargrilled corn with queso, chipotle mayonnaise and lime… I think because this dish was so hyped up by everyone.. my expectation was extremely high. When the corn arrived, and when I did have a taste… somehow, I felt that it was a bit of a let-down.
It tasted good, but was disappointing in a way. From what everyone was going on about, I was expecting a superbly big taste explosion, that didn't really happen… I prefer the grilled peri-peri corn from Nando's (yes, I am a fast food freak)…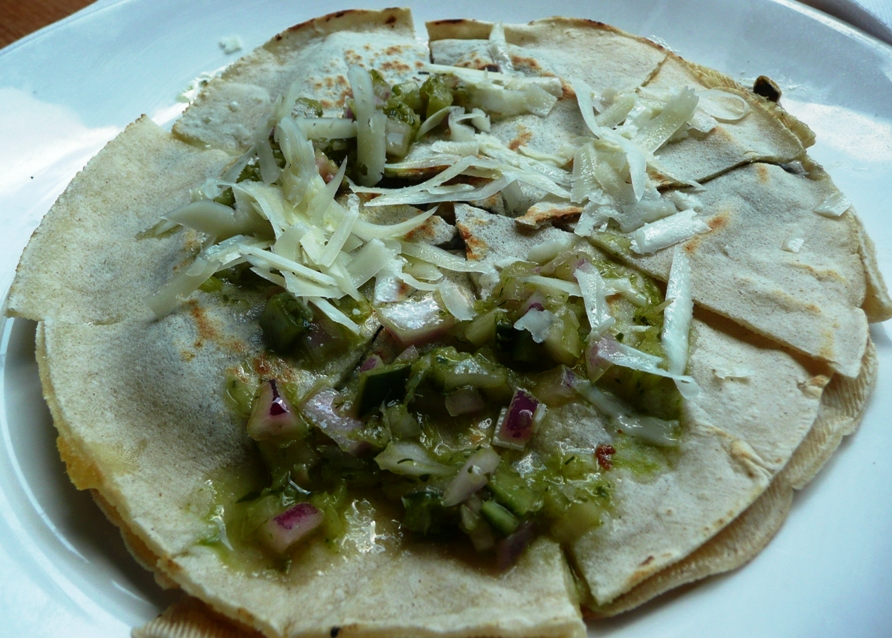 Missy E had the mushroom Quesadillas all on her own! (I shouldn't say much as I had 3 tacos all to myself!)… Her Quesadillas de Huitlacoche $14 was a tasty mix of Mexican truffle mushrooms topped with roasted corn, epazote, and queso fresco…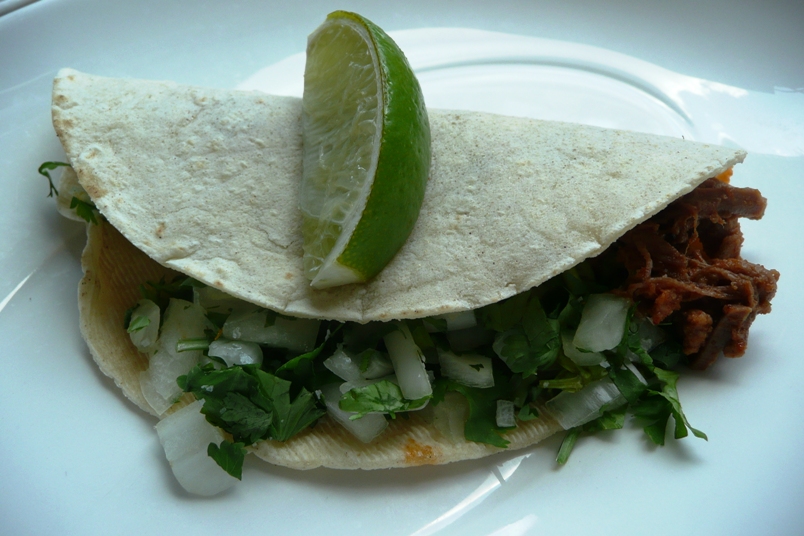 She also had the Taco de Res y Chorizo $5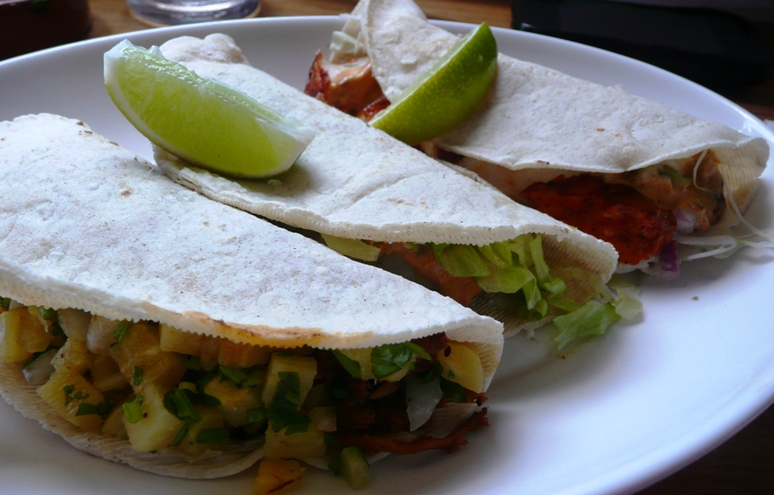 And as I mentioned, greedy 'lil 'ol me had the 3 amigos… (okay, so it's not called that… but I liked to think that I did)…
I had the rather odd Taco al Pastor $5, which flavours I didn't think suited for a taco… sounded really good on the menu, braised pork with pineapple, coriander and white onion… but no. Don't order this. And if you do, I told you so!
However, the next two tacos I had were delicious. They more than made up for the lacklustre pork tacos. I had the Taco de Pescado $6 which had grilled fish with lime, achiote paste and red onion salsa and the Taco de Camarones$7 which had marinated prawns with habanero chillies and chipotle almond salsa.
Who knew, seafood tacos would rock my world? I absolutely loved how wonderful and light the entire combination of the two fish and prawn tacos were.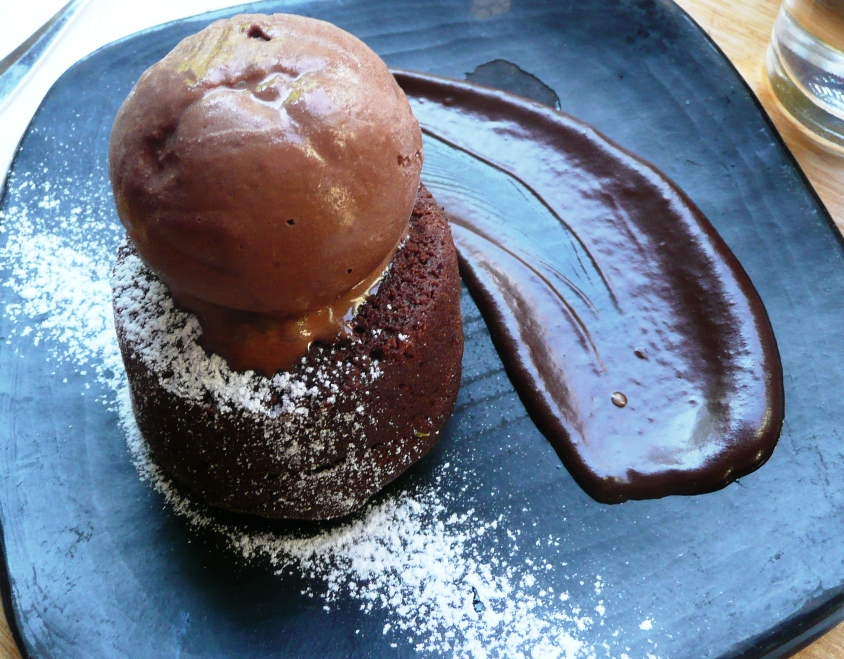 For dessert, I was advised to definitely try the chocolate souffle… so I obediently ordered the Torta de chilli chocolate $12… and gave thanks to good advice…
It was an absolutely smashing dessert. The chocolate and chilli pudding went so well with the chocolate and chilli sorbet… a little feisty sexy devil that plays with the hot and cold, sweet and spicy… definitely my kind of dessert.
If you go to Mamasita and just order the dessert along with some margaritas… you're definitely rocking the Mexican wave…
Is this place overhyped? God, yes!
Is this place worth a visit? Definitely!
Would I return? Yes.
Confused? You betcha.
There is something about Mamasita, I'm not too sure what it is, but I'll be happy to go back for that pudding and more seafood tacos with you if you would like to find out.
And that tip about arriving early? Take it. As we were leaving an hour later, there was a long line all the way down the stairs through the front entrance.
*Disclaimer: All food ratings are purely based on my own experiences and how I feel about the service, food and quality
Food/ Cuisine: Mexican
Dining Style: Restaurant
Overall Food Rating (Based on the Dining style): 7/10
Restaurant ambiance: 7/10
Service/ Attitude: 6/10 (it got a bit crazy in the end with the crowd and our waittress kept wanting to give us dishes and drinks that we didn't order)
Value for money: 6/10 (it was quite pricy, but it is on the Paris end of Collins…)
Address:
Level 1/11 Collins Street
Melbourne VIC 3000
Tel: (03) 9850 3821
Website: http://www.mamasita.com.au/
Mamasita is open from
Monday to Wednesday from 12pm-12am and
Thursday from 12pm to 12.30am
Friday 12pm to 2am
Saturday 5pm to 2am
Mamasita is closed Sunday and all Public Holidays
How to get there: