It's been a few years since The Boy and I visited Jaan. The last time we were there, Julien Royer was still at the helm. So when we visited late in 2018, we were a little excited but nervous at the same time.
Jaan is now led by Englishman, Kirk Westaway, and he has slowly transformed the once traditional French offering of Jaan, to a modern British fare.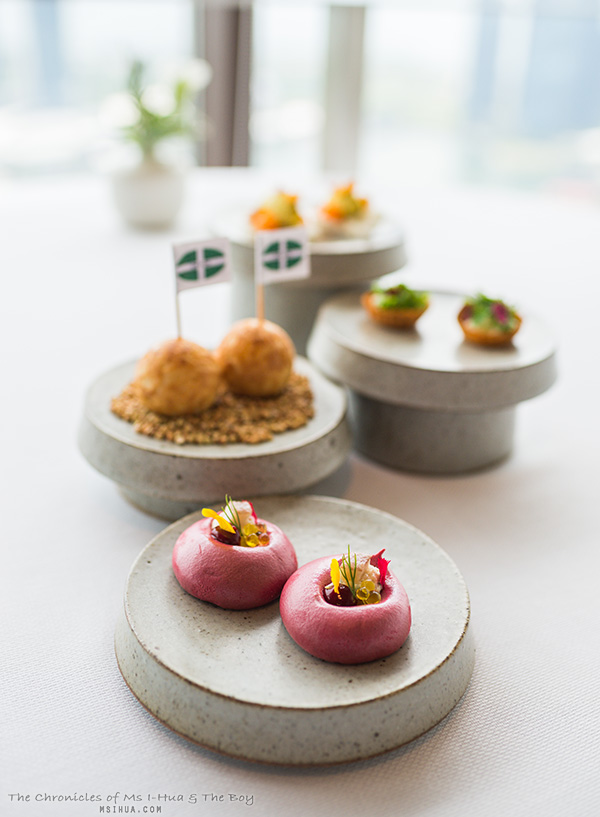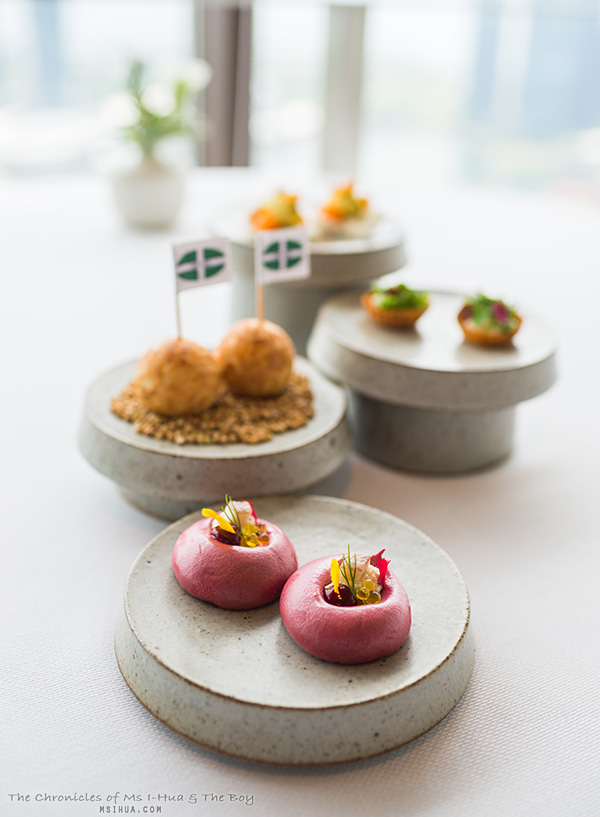 [Snacks: Beetroot Meringue, Smoked Eel; Devonshire Cheddar Cheese & Buckwheat Pancake; Fish & Chip Tartlet; Chicken Curry]
As we walked into the restaurant, which is located on the top floor of the Swissôtel The Stamford (where we were staying), we were just mesmerised by the fantastic panoramic view overlooking Marina Bay, and the rest of Singapore city. It happens to us each time we visit.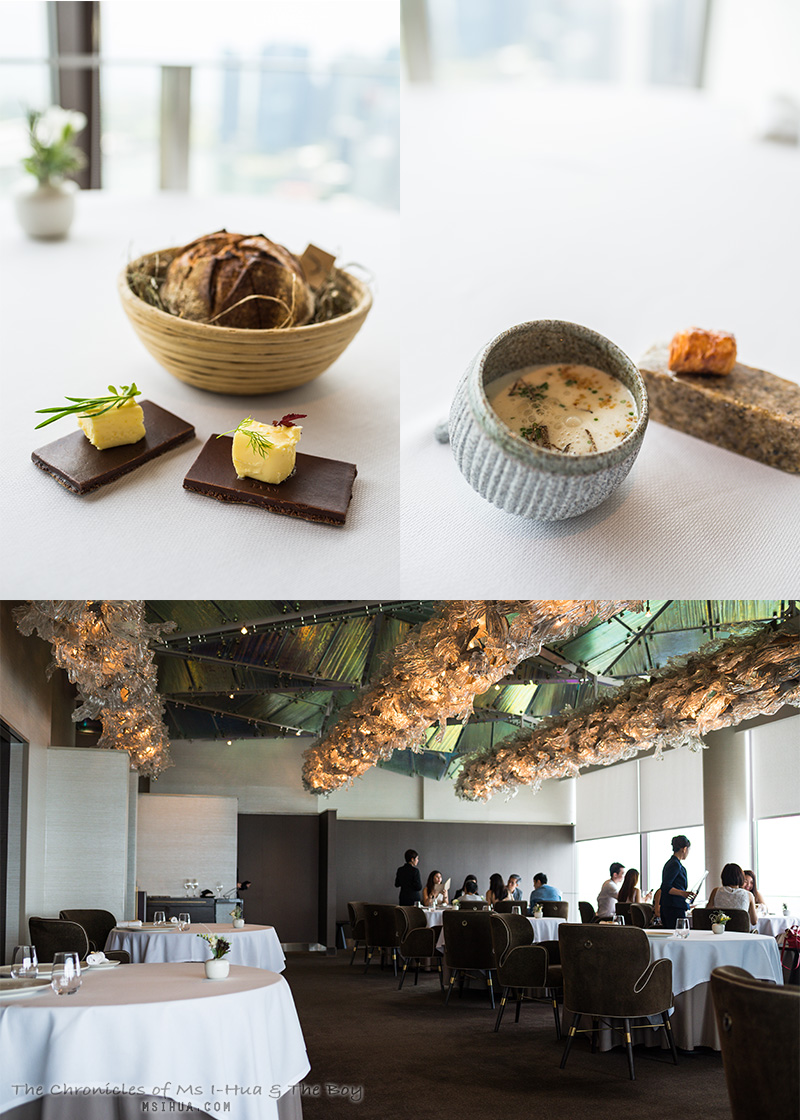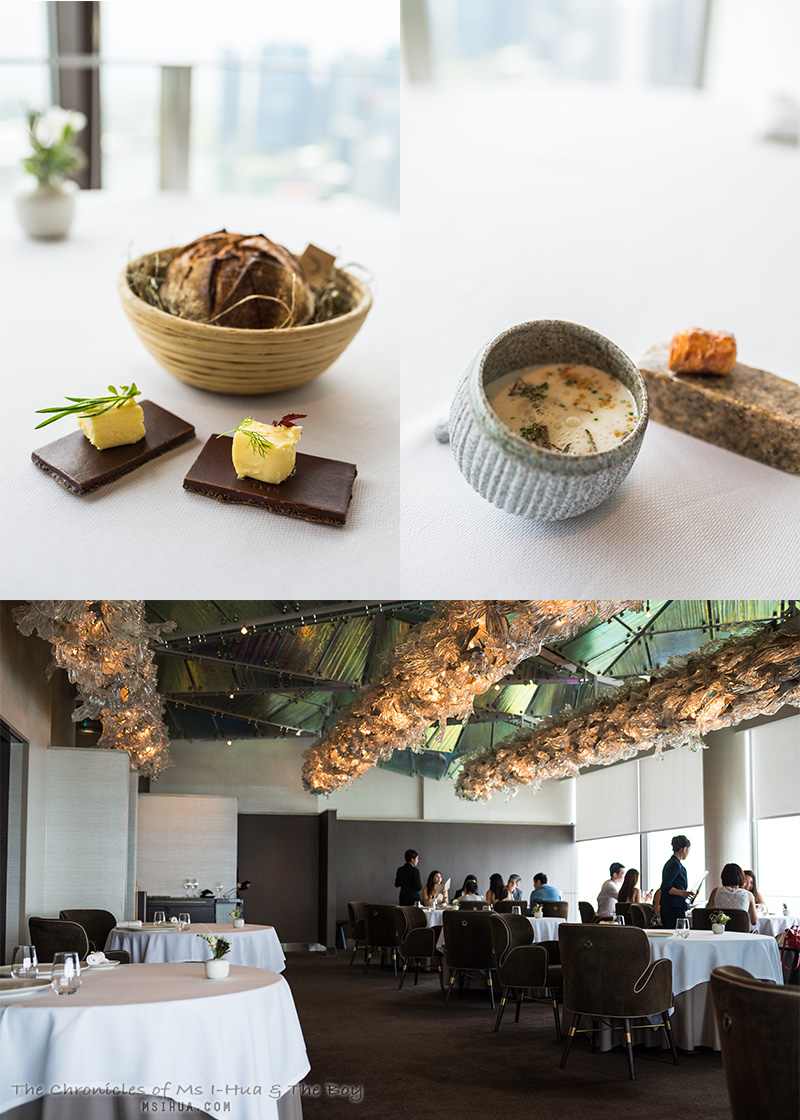 [Top Left to Right: Mini Loaf, Devon Butter; Roast Potato & Truffle Soup]
As the menu was explained to us, and as we listened intently on what Chef Westaway was embarking on, delicious snacks arrived on our table. Each morsel was smashing with flavours and each one had a component or an ingredient that herald from The Great Britain.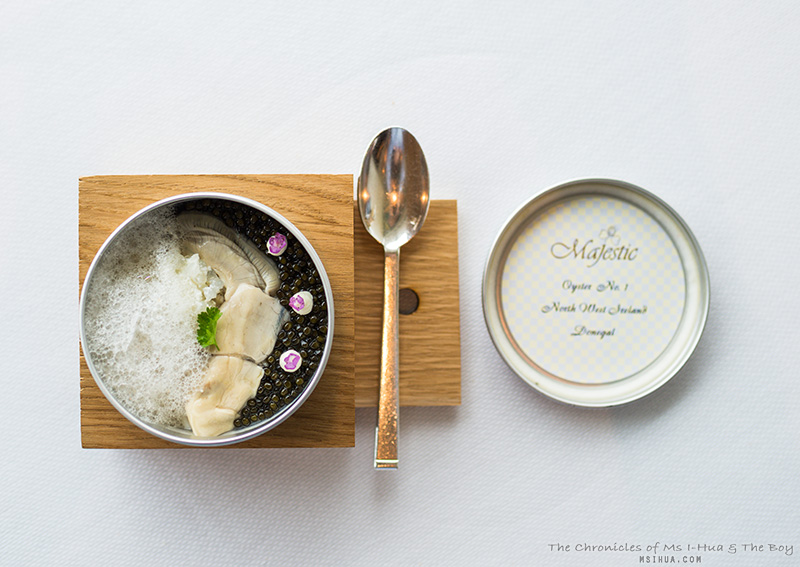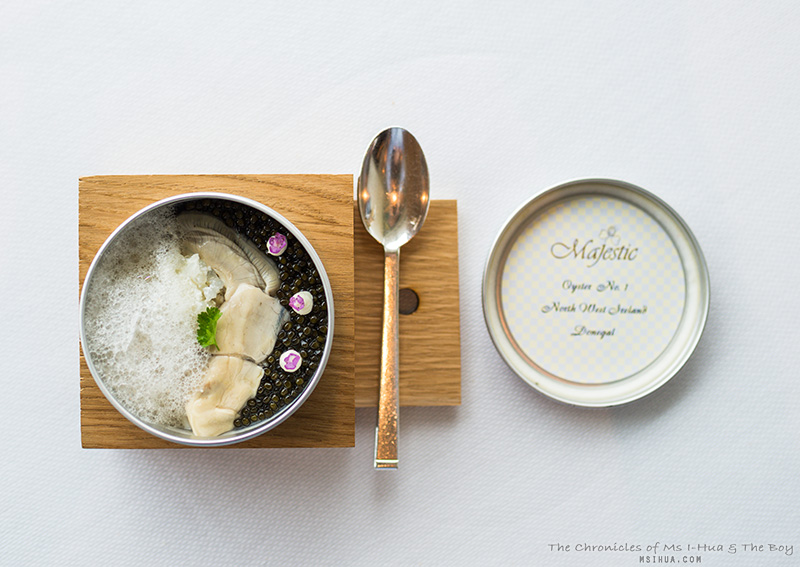 Majestic Irish Oyster, Caviar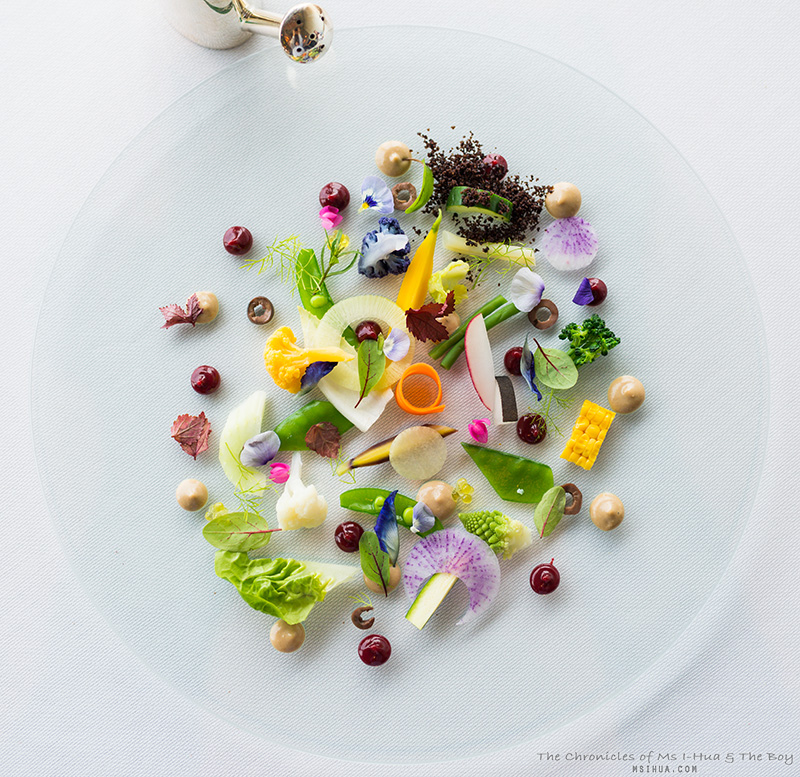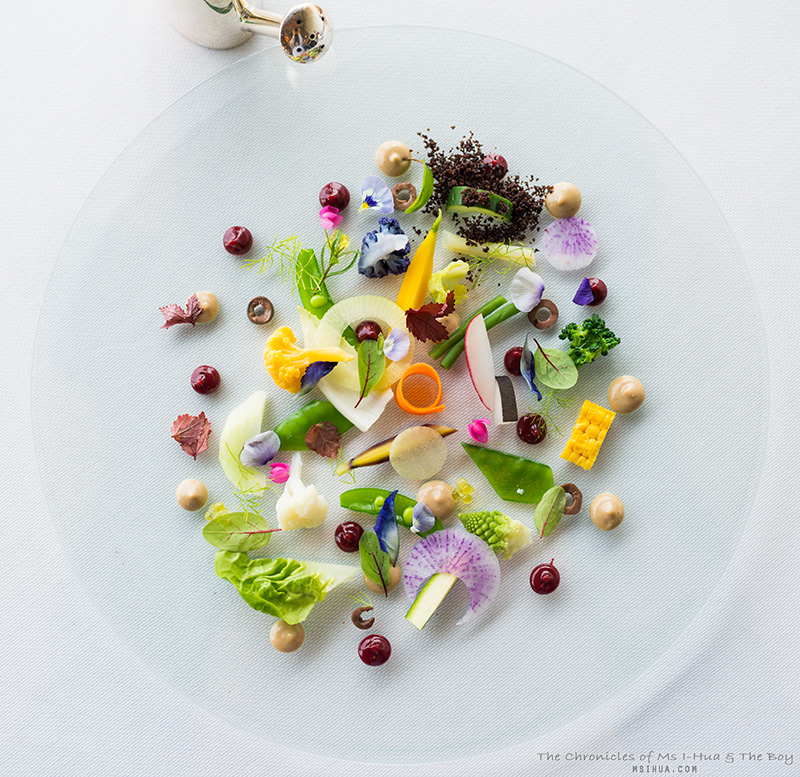 The English Garden: Looking simple, but consists of 11 cooked vegetables, 7 raw vegetables, 8 kinds of herbs, 5 variety of edible flowers and 5 different condiments. And to finish off, a custom made mini watering can of Scottish seaweed & herb broth to "water" their English Garden dish.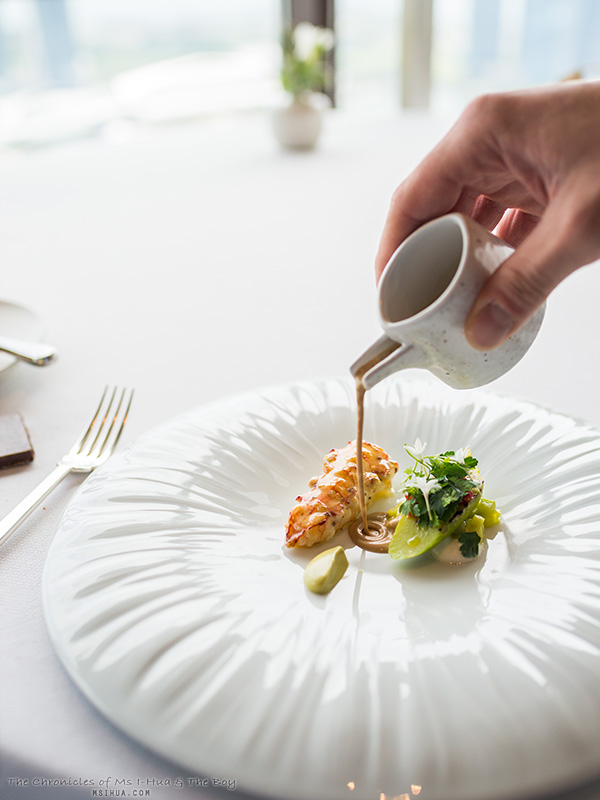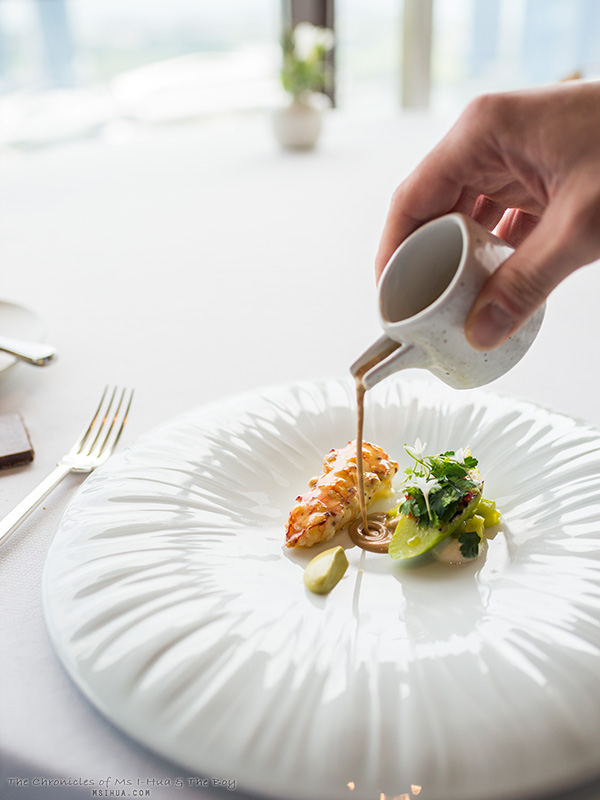 Alaskan Langoustine, Violin Courgette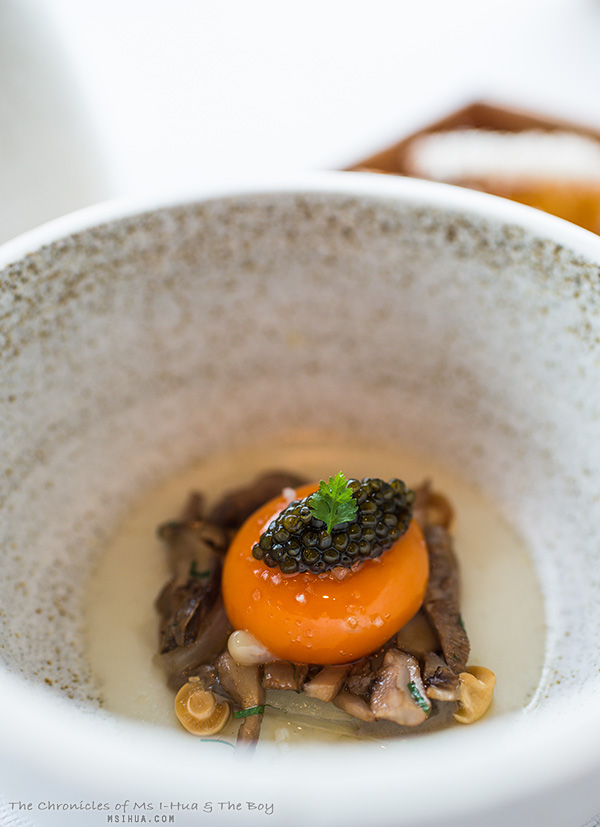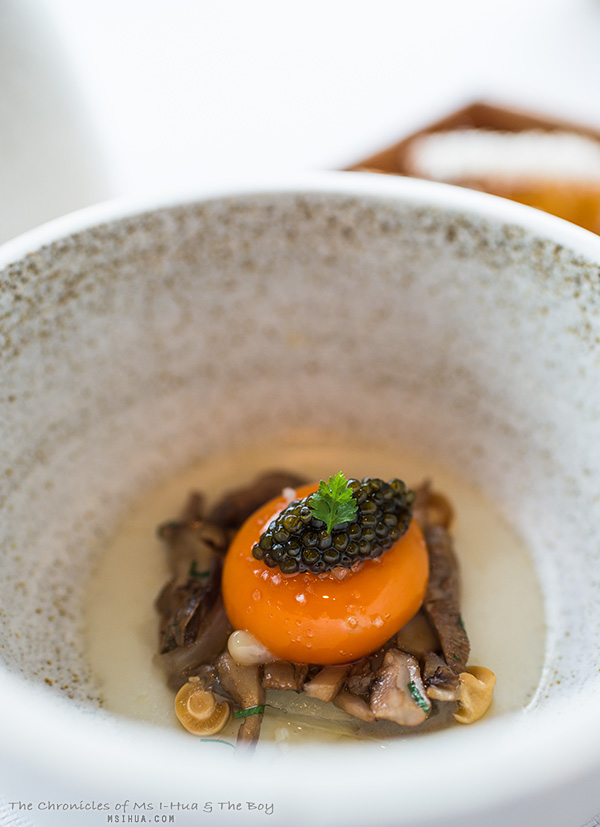 Eggs in an Egg… – Confit hens egg on celeriac custard, pickled shimeji mushrooms, pickled Cevennes onion and topped with caviar.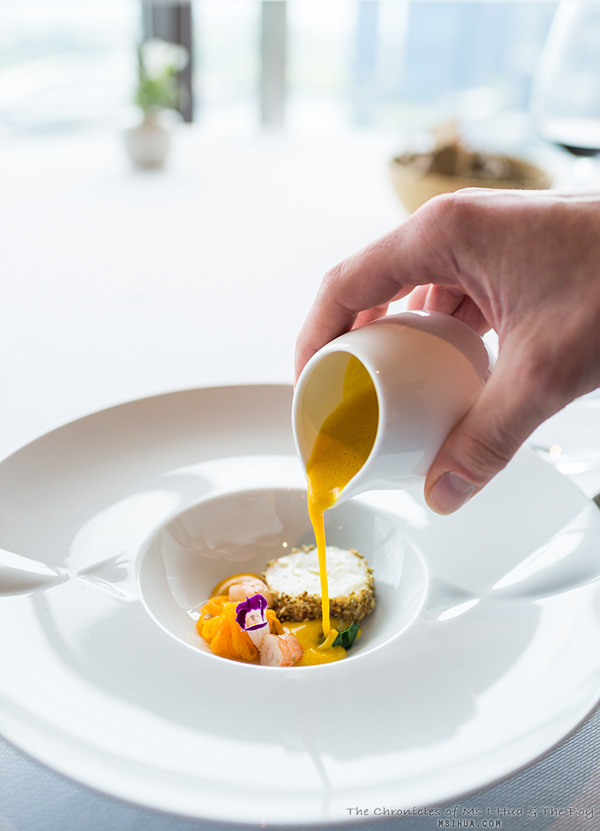 Line Caught British Isle Brill with Pumpkin – Brill coated in pumpkin seed granola served with pickled butternut squash & obsiblue prawns.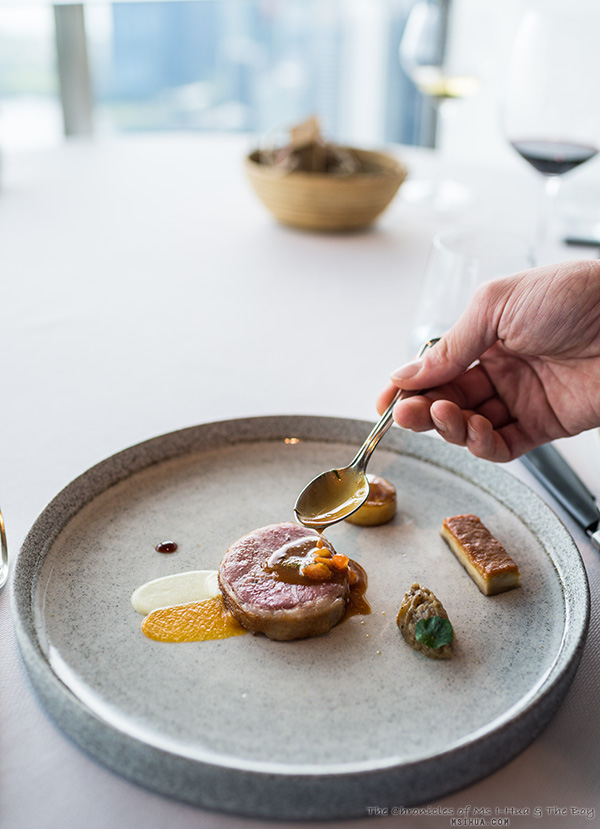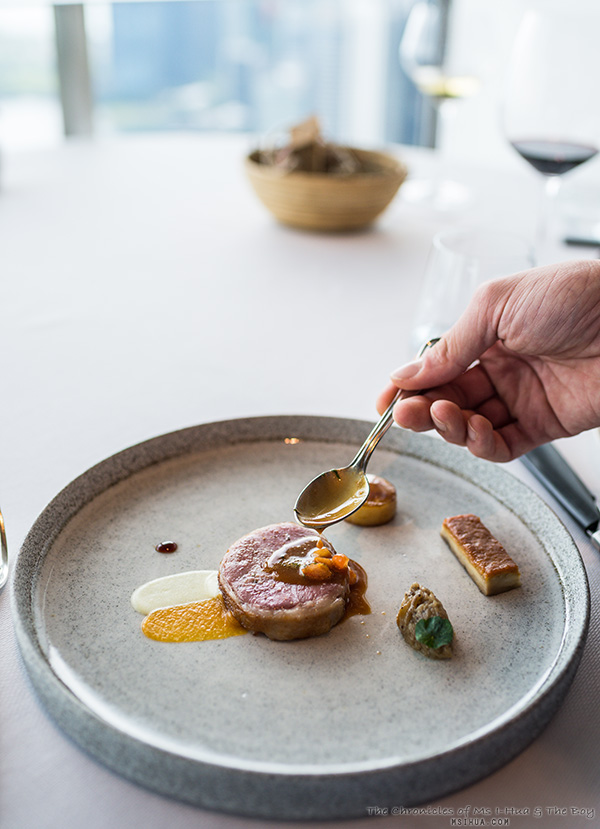 Welsh Salt Marsh Lamb with Aubergine, apricot & sweet lemon puree, coffee honey caramel & sauce made from lamb, tomato & basil.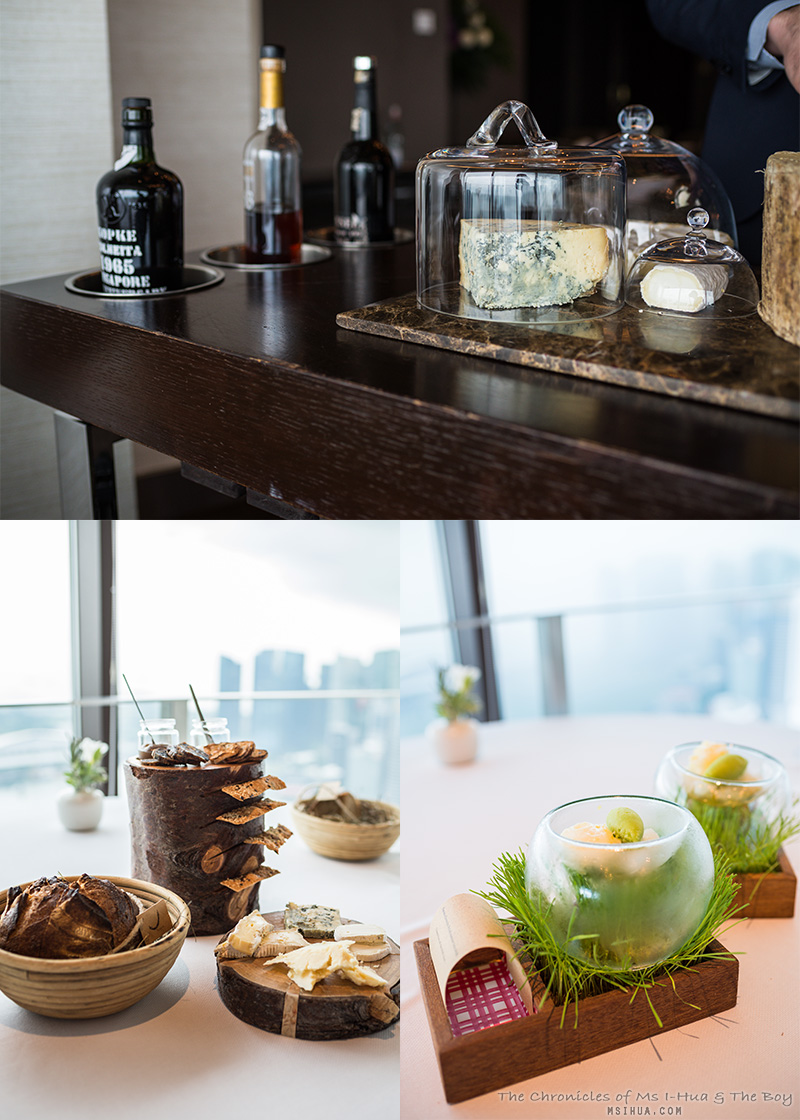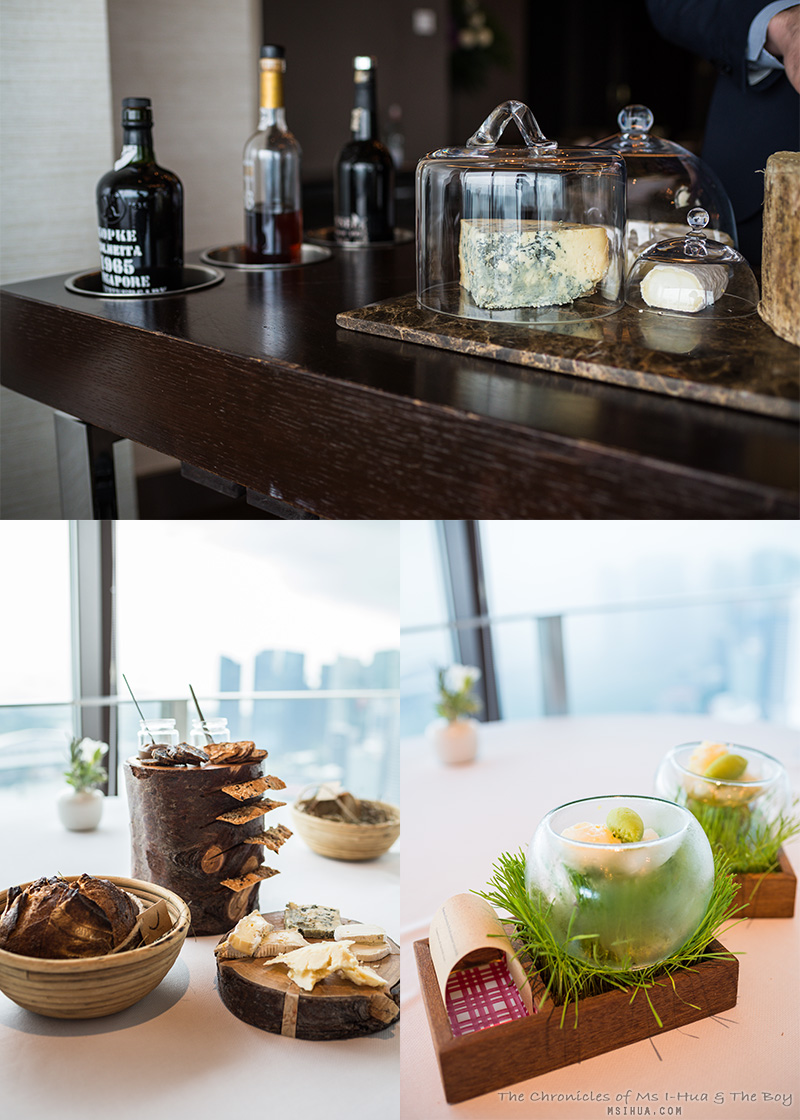 Cheese Course
Palate Cleanser: Pimm's in the Park – Pimm's infused pomelo with oranges, cucumber, lemon granita, lemonade foam & lemon verbena powder.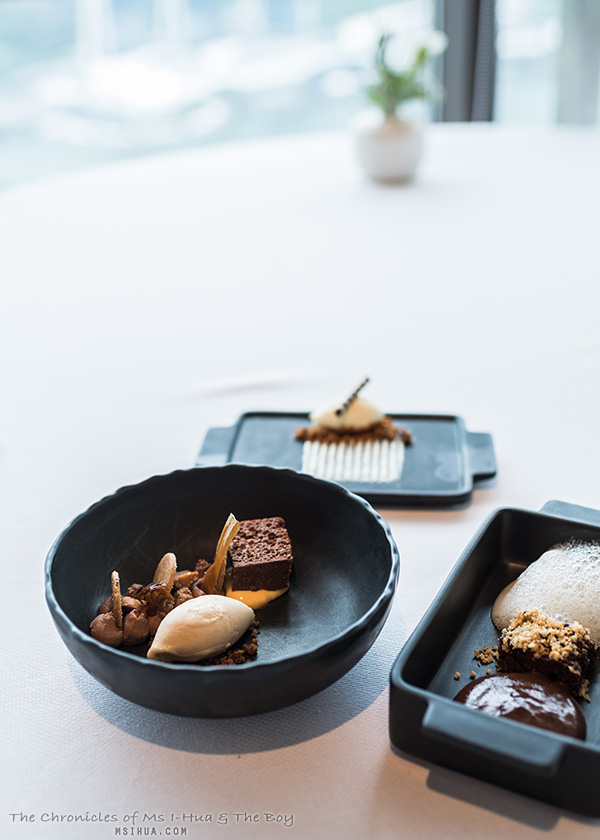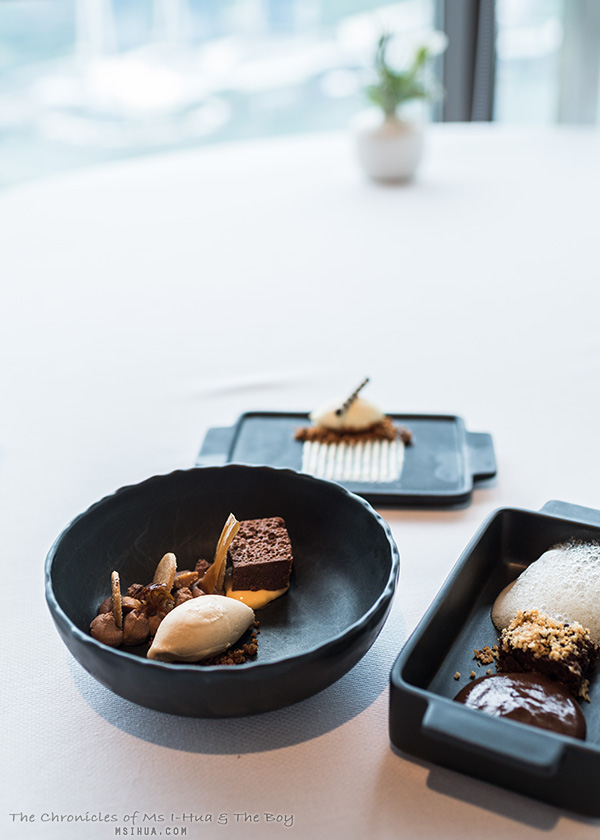 Textures & Flavours of Chocolate presented in 3 types of dessert:
[1] Chocolate Mousse, Dark Choc Croquant, Aero Dark Choc, Caramelised White Choc Ice Cream.
[2] Chocolate Brownie, White Choc Bubbles, Dark Choc Mousse.
[3] Caramelised White Choc Ice Cream, Chocolate Cigarette, White Choc Ganache.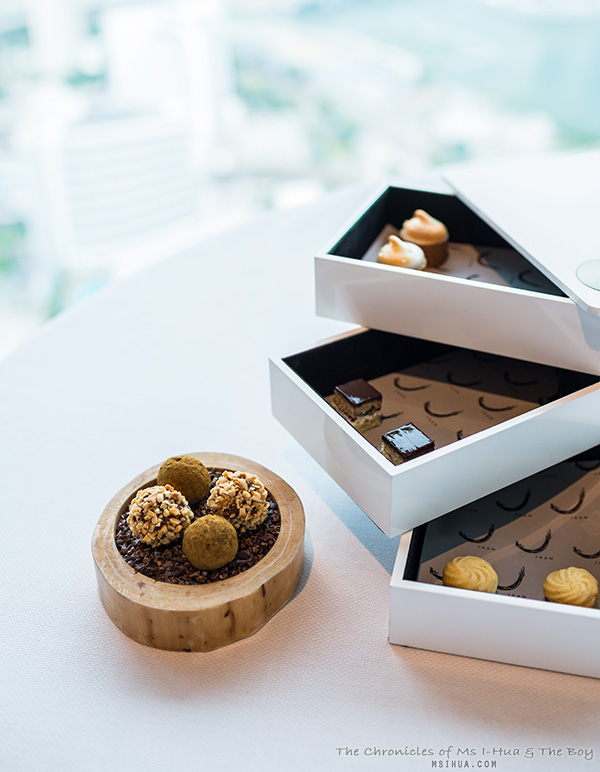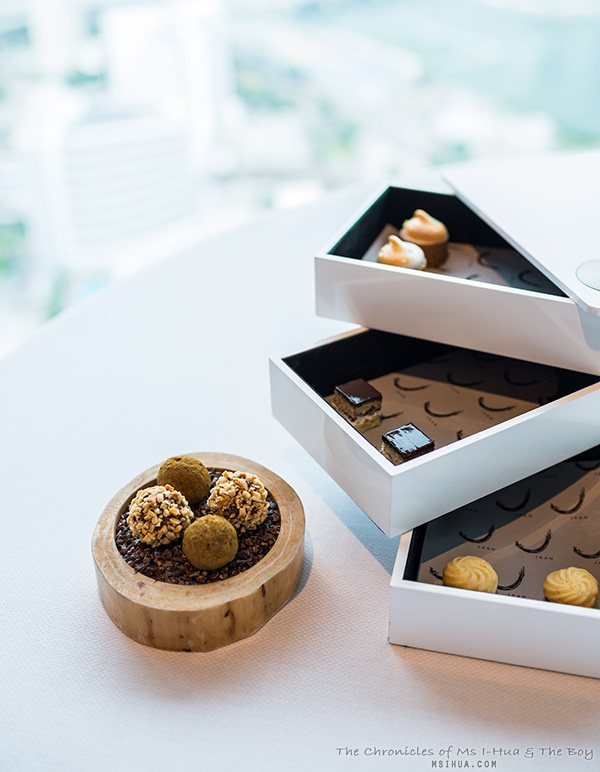 Petit Fours: Caramel Rocher, Lemon Meringue Tart, Coffee Cream Slice, English Breakfast Vanilla Bonbon, Devon Cream Tea
We loved how Chef Westaway has gone about Reinventing the British fare. Nothing was overly pretentious, keeping true to the flavours and freshness of the ingredients and taste of the food. Each course was balanced perfectly, and most importantly, there was fun in both the plating, and ideas presented on the plate. The tiny nervousness we had as we walked in were completely replaced with joy and positivity.
Everything was delicious, and we couldn't have left happier. Fills my heart with joy that they are now ranked 32 on the prestigious Asia's 50 Best Restaurants 2019 ranking. Well done Kirk and team!
JAAN
2 Stamford Road
Level 70, Equinox Complex
Singapore 1788822
Singapore
Website: https://www.jaan.com.sg/
Phone: +65 6837 3322
Email: [email protected]