Simon's Peiking Duck… those in the know, shiver in fear when they hear his name mentioned. Famously famous for being a Duck Natzi, Simon is very particular when he is serving up his signature dish.
Upon entering his domain, you're subjected to his rules. The way he chooses to serve, to the way the dish should be eaten, are all dictated by Simon. He misses nothing and sees everything. Not hard when he is the main server at your table. He carves all Peking Ducks in front of his guests. 15 pieces of duck carved from one bird. Simon reckons he does about 80 ducks a night. You do the math. We complimented him on his big guns 🙂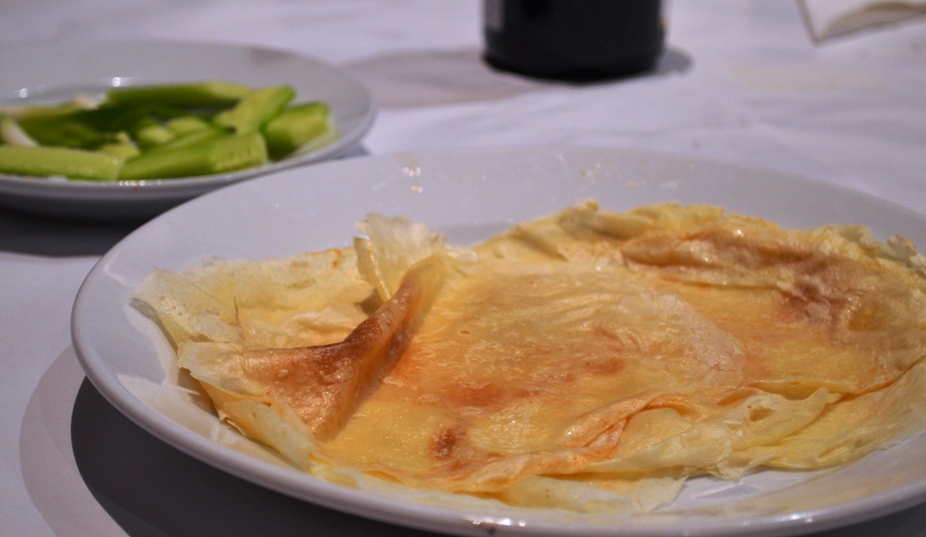 The pancakes/crepes that wrap the beautifully succulent flesh is amazingly soft and paper-thin. Absolutely perfect in their form.
The Peking Duck itself? Absolutely, Hands-Down, Perfectest, Best Peking Duck I've ever had to eat here in Melbourne. Heck! I'd throw it out there… Best Peking Duck I've ever eaten. Full Stop. I know… Big call.. and you'll only have to have a taste of it to believe me.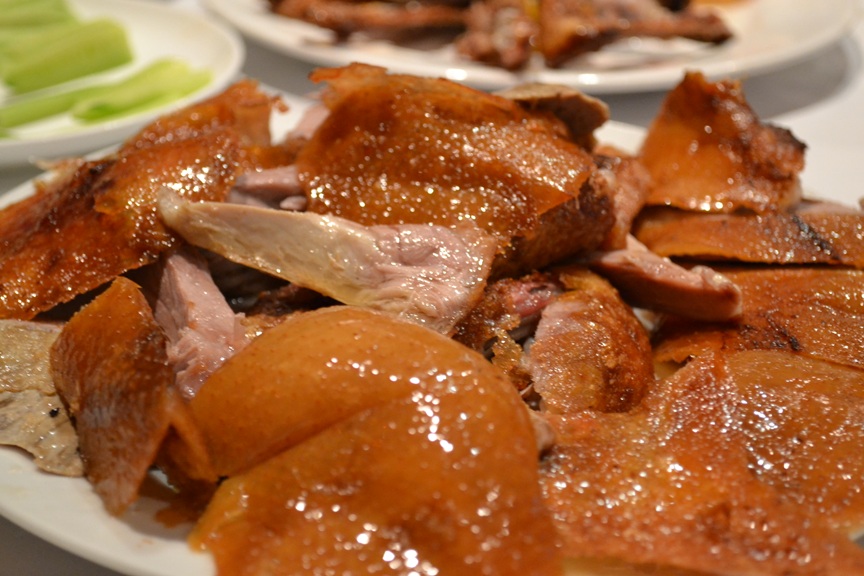 The crispy duck skin was amazingly crisp. We were later informed by Simon that he uses relatively young ducks, hence the flesh isn't that tough, and the fat under the skin isn't that much.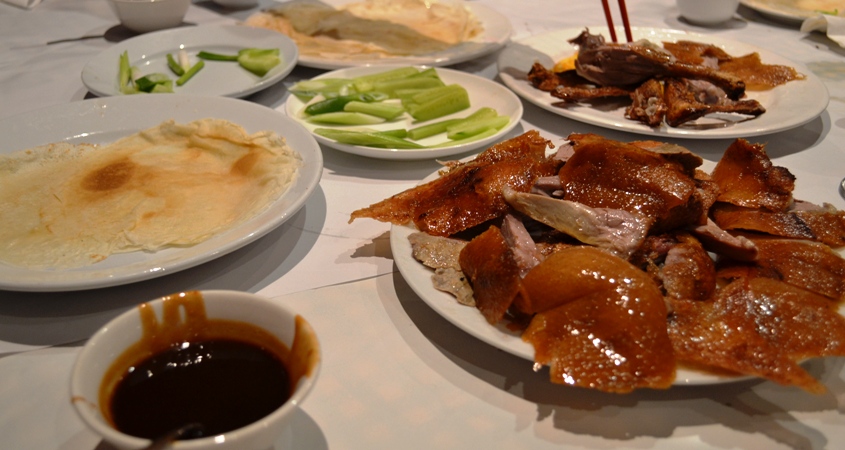 To eat it, we were instructed to place a piece of cucumber and spring onion at the middle top end of the pancake. Then to place a piece of Peking Duck in the centre and drizzle with Hoi Sin sauce. To fold, a simple 9 o'clock, 3 o'clock and 6 o'clock fold (left , right, bottom). Too easy.
We ordered 3 ducks for a group of 9 people. Which to my mind, wasn't enough. The ratio is usually 1 duck to 2 people. However, given that the duck banquet is followed up with noodles (or a stir-fry) and soup, we thought otherwise.
However, I'd happily gobble down a whole duck all to myself. Yes, I'm greedy that way. Quack.

The next two follow-up dishes were mediocre. However, no one I know comes to Simon's to eat his noodles or drink his soup. Not sure what else is available on the menu. I came for Peking Duck, I ordered Peking Duck and I ate Peking Duck.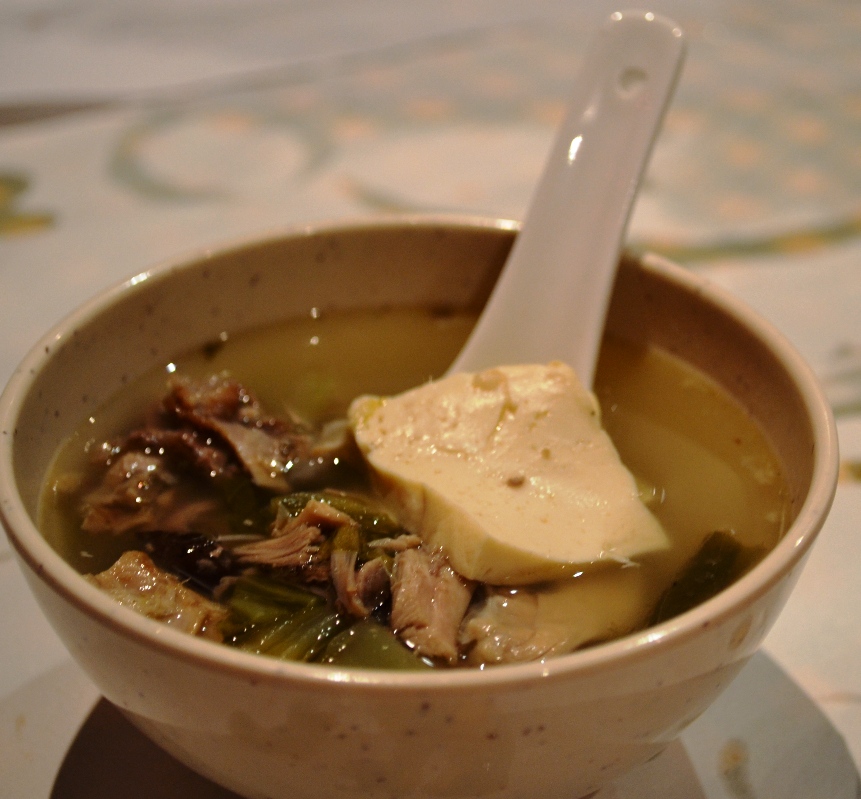 Mission accomplish. Can I die a happy woman? Not quite, I'm going back for Round 2 in March 🙂
Do visit Berrytravels.com for another version to this review 🙂
*Disclaimer: All food ratings are purely based on my own experiences and how I feel about the service, food and quality
Food/ Cuisine: Chinese
Dining Style: Restaurant
Overall Food Rating (Based on the Dining style): 9/10 (Just on Peking Duck)
Restaurant ambiance: 7/10 (Typical noisy Chinese restaurant)
Service/ Attitude: 6.5/10 (Not sure why, but it took a long time for us to be served and we spoke to 3 different wait staff… not good. Simon himself was an absolute gem!)
Value for money: 8/10 (I think we paid about $27 each?) We went for Option 2 (which is 15 pieces of duck for $63 per duck)
Address:
197 B Middleborough Road
Box Hill South VIC 3128
Tel: (03) 9898 5944
Website: http://simonpeikingduck.com/
Simon's Peiking Duck is open for dinner from
Monday to Thursday from 5.00pm – 10.30pm
Friday to Sunday – 5.00pm to 11.30pm
and for lunch from
Tuesday to Friday – 12.00pm to 2.30pm
How to get there: