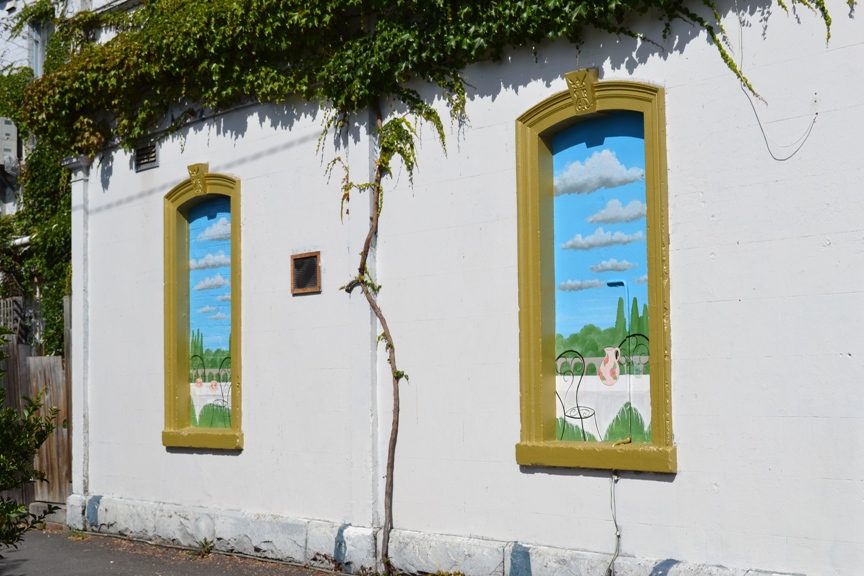 The people of Spotswood have certainly found a wonderful ruler to oversee it's duchy. She not only seems cheery, friendly and inviting… she serves up an excellent fare just as any good hostess would. The duchess is certainly out to impress.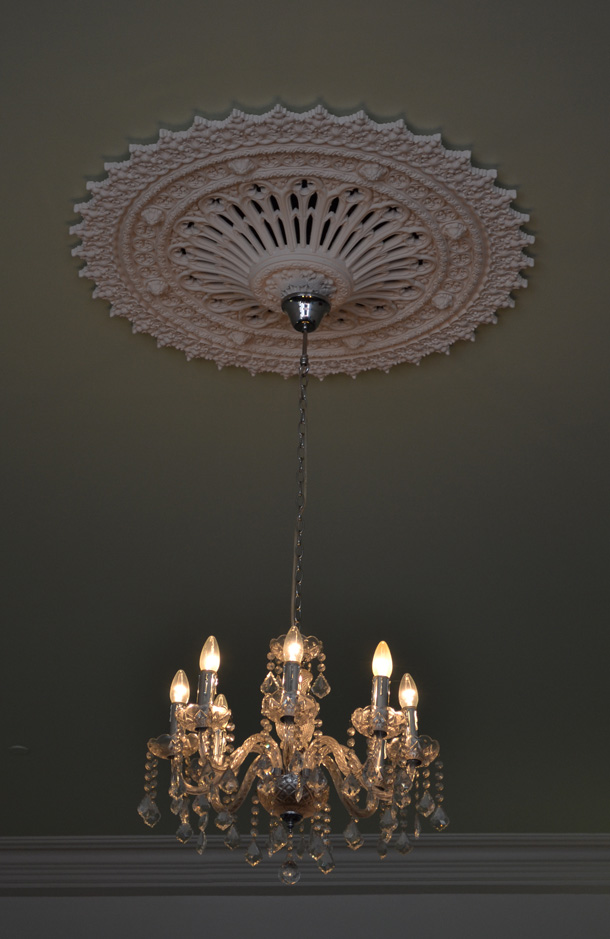 A classy chandellier hanging high above the heads of us in her royal parlour…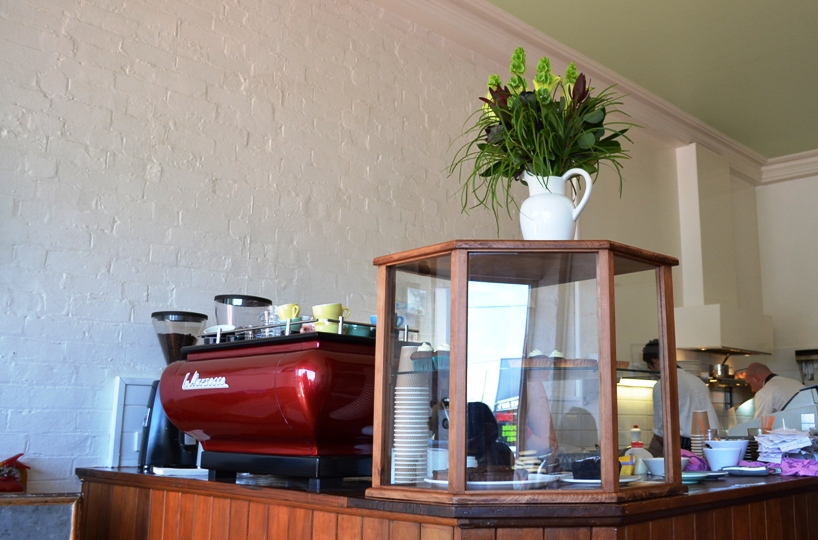 Bright and airy, much of its 1890's building has been revamped with an inviting feel … Care for a cup of tea?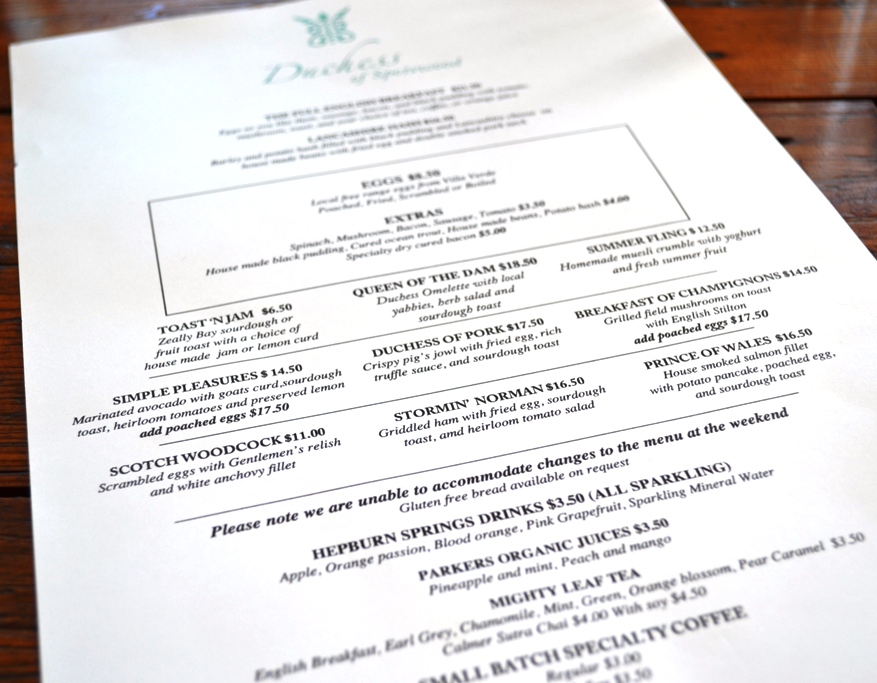 The menu itself makes me feel as if I've fallen down the rabbit hole. Either that or I've woken up in the Land of Tea Parties (cue Moonface and Silky and the Angry Pixie)…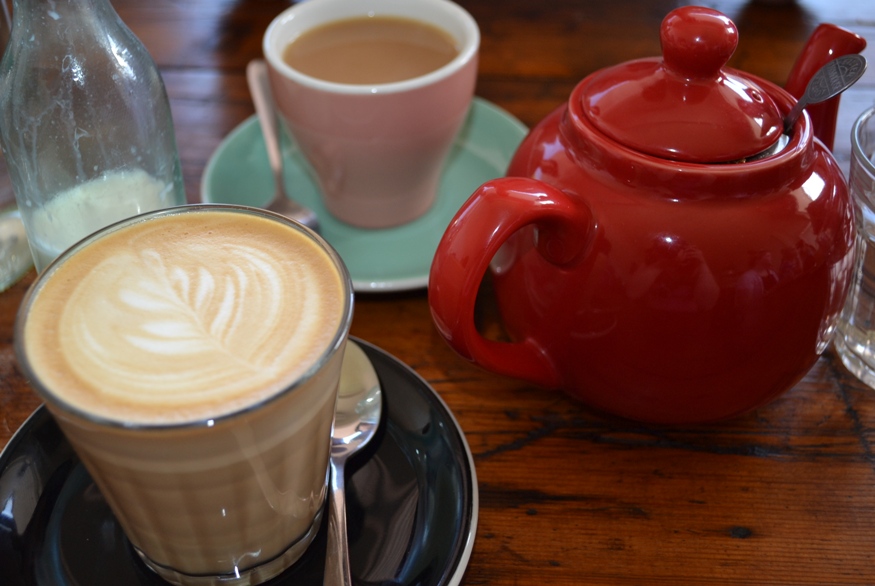 The Boy ordered the usual English Breakfast Tea and I a smoothly brewed Cafe Latte… so smooth that I ordered two glasses!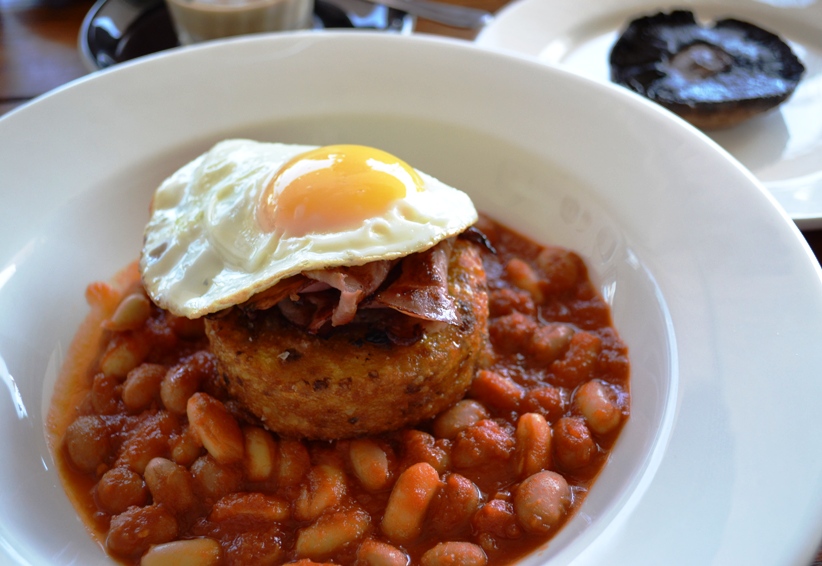 The Duchess loves her pork and I couldn't decide between the Duchess of Pork and the Lancanshire Hash $16.50. The latter won. I also ordered an extra mushroom $3.50 (it's the petite little fungus sitting on the background of the picture… note.. petite)… severely dissapointed in the size of serve of the mushroom.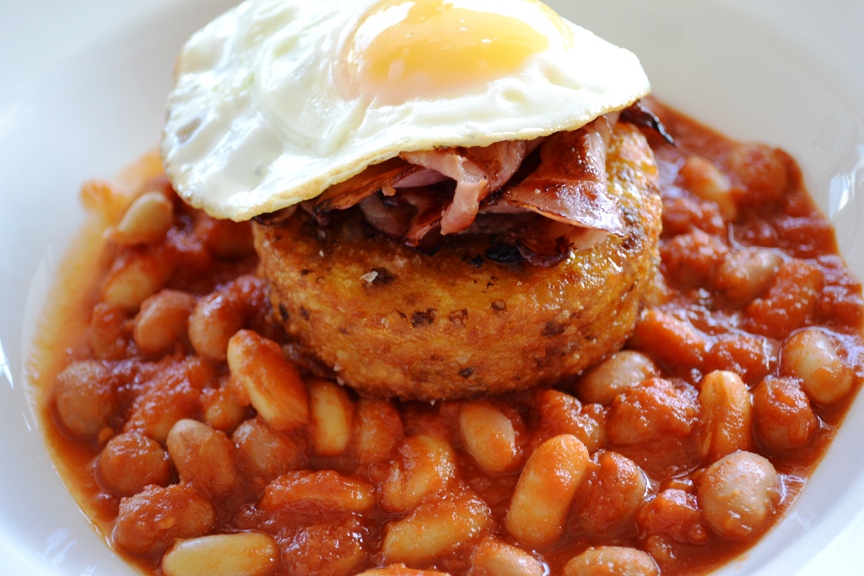 Mushrooms (or the lone mushroom) aside, the Lancanshire Hash was everything I had envision and more! Barley and potato hash, filled with black pudding and Lancanshire cheese, home made baked beans with fried egg and double smoked pork neck. One of the chefs' came by and handed me a plate of buttered sourdough and said, "for your hash!"… to which I giggled, as I must have had a confused expression written all over me.
I absolutely adored this dish. The only griped that I had was that the crispy hash was served on top of the baked beans, making it a soggy ending…
If black pudding is not the thing for you or you would rather opt for a lighter meal, seriously consider the Queen of the Dam $18.50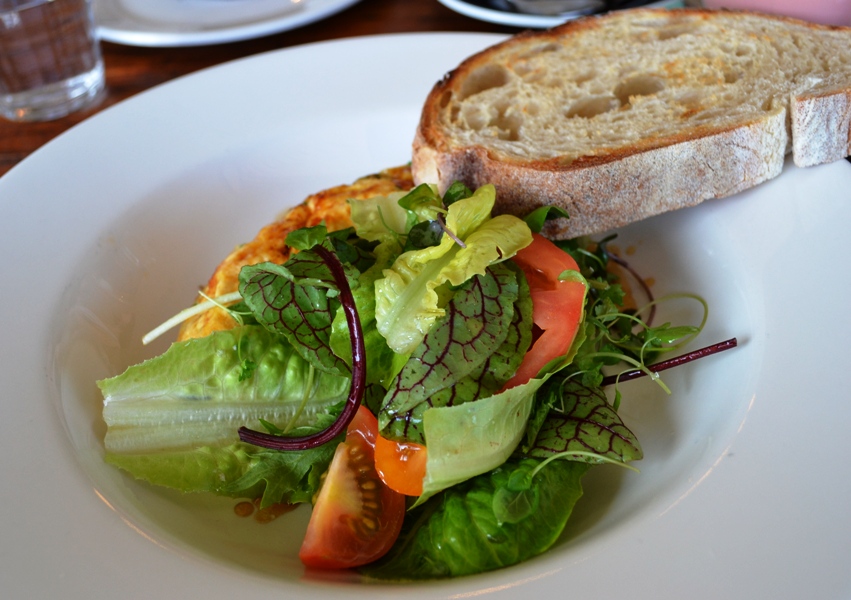 A delicious omelette of yabbies served with a fresh salad and a piece of sourdough, it will definitely not disappoint.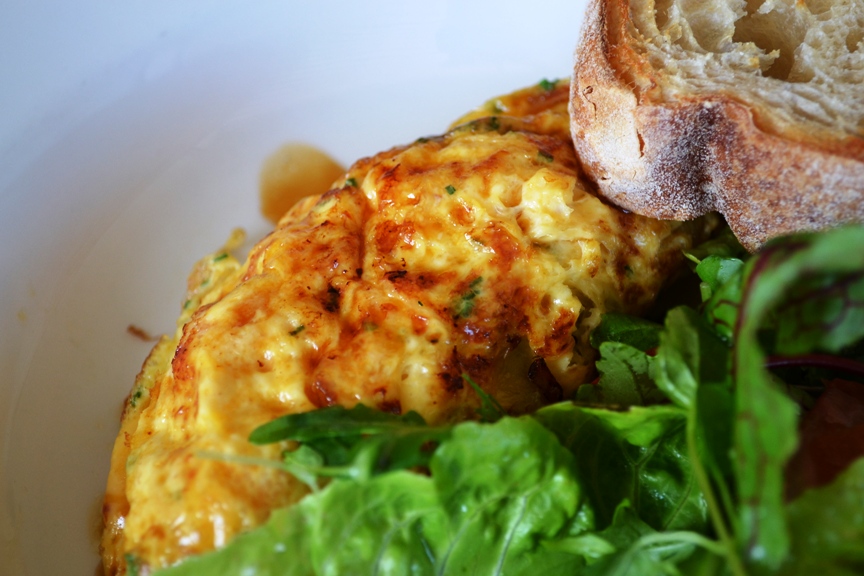 It was my birthday and the Boy was extremely generousand offered me a piece of his omelette with a precious piece of yabbie on it. A huge sacrifice on his part. A delicious mouthful for me 🙂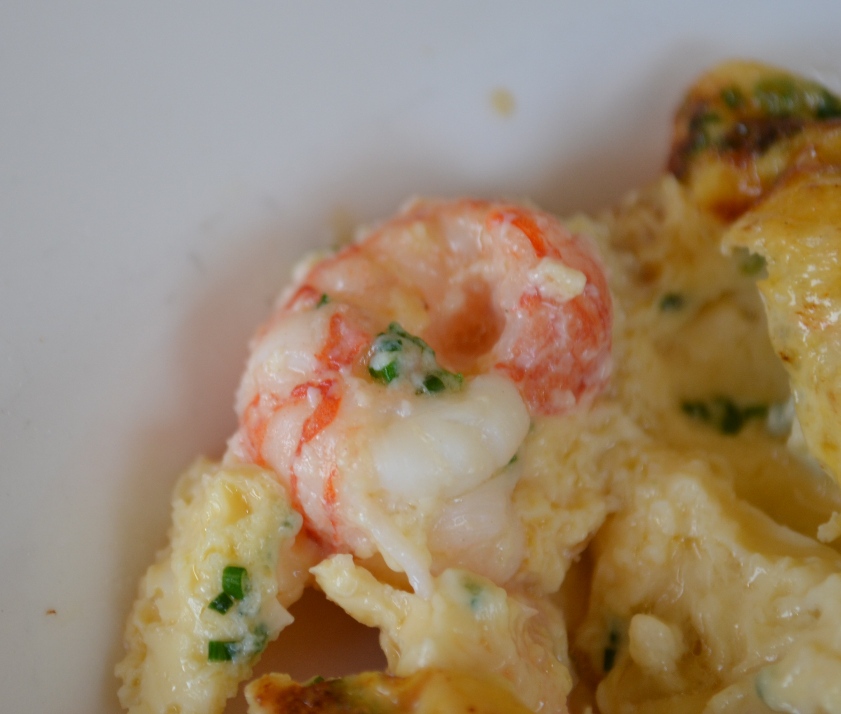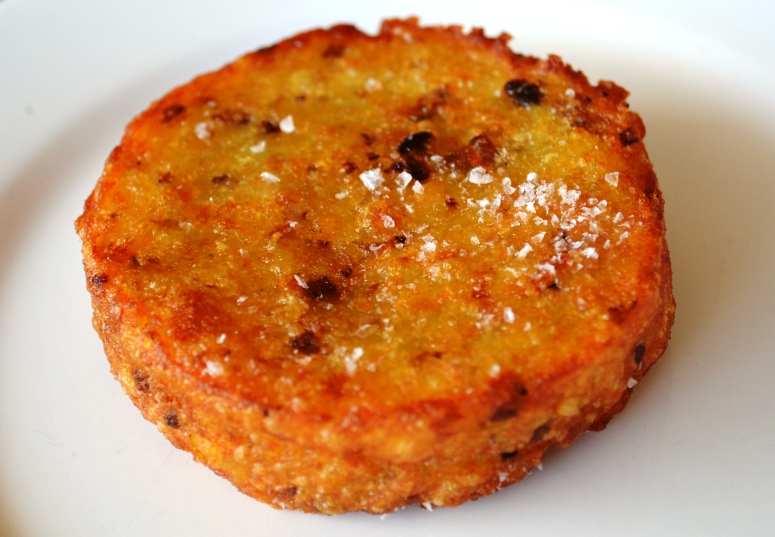 He also had a side order of Potato Hash for $4.00 (which was a better deal compared to my mushroom… I can't move on).
The service was great considering that there were only two front of house serving everyone. We actually had to wait 10 minutes and left our name and number as the place was full when we got there at 10.30am.
The chefs, Andrew Gale and Shane Donelly would make any dukedom fight over their prowess in the kitchen. The Duchess has definitely impressed its guests.
*Disclaimer: All food ratings are purely based on my own experiences and how I feel about the service, food and quality
Food/ Cuisine: English
Dining Style: Cafe
Overall Food Rating (Based on the Dining style): 7.5/10 (because of said mushroom). The Boy gives it an 8/10.
Restaurant ambiance: 7.5/10
Service/ Attitude: 8/10 (very friendly they were 🙂 )
Value for money: 7.5/10
Address:
87 Hudsons Road
Spotswood VIC 3015
Tel: (03) 9391 6016
Twitter: http://twitter.com/duchesscafe
The Duchess is open from
Monday to Friday 7.00am to 4.30pm and
Saturday and Sunday 8.00am to 4.00pm
How to get there: