Anybody that knows or has heard of Gumbo will surely associate it with the Creoles in New Orleans.
I usually envision a beautiful big gigantic pot, filled to the brim, with women all around it, tossing in herbs and spices as the gumbo cooks.
Covered head to toe in beautiful white French laced dresses, trying to replicate the beautiful bouillabaisse of their mixed ancestry, adding to it, the flavours and ingredients of the New World.
Gumbo is the essence of a multicultural society in a dish. Even the name, some might say, derives from the African word, ki ngombo.
Think about it, a dish deriving from so many ingredients, tossed together in one big melting pot (or so the song goes), is bound to be delicious! You know you want to, so sing it with me!
"What we need is a great big melting pot
Big enough enough enough to take
The world and all its got
And keep it stirring for
A hundred years or more
And turn out coffee coloured people by the score"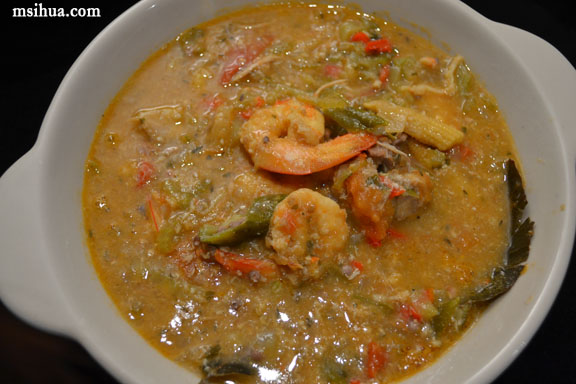 *Ahem*
So, it would seem appropriate to say, that when Penny said that this month's International Incident Party would be Gumbo, I had the song above playing on an endless repeat in my head 🙂
And with no further ado, the recipe for our Mumbo Jumbo Gumbo is as follows:
Mumbo Jumbo Gumbo
(Based on a modified version of Rick Stein's Seafood Gumbo)
Ingredients (For Gumbo)
40g of Pork Lard/Vegetable Oil
40g of Plain Flour
1 large Onion (chopped)
1 large Celery stick (sliced)
1 Capsicum (seeded and chopped)
1 Red Chilli (seeded and chopped)
1 large Sweet Chilli (a large chilli, pale yellow in colour)
220g Okra/Lady Fingers (thickly sliced)
3 medium sized Tomatoes (cut into wedges)
1 Bay Leaf
2 sprigs of Thyme
2 Spring Onions (chopped)
1 Tbsp of chopped Parsley
200g of Chicken (cut into bite sizes)
100g of White Crab Meat
Salt and Pepper
Ingredients (For Stock)
300g of Pork Belly
500g of Large Prawns (with Shell and Head intact)
2 Chicken Thighs
1 large Carrot (sliced)
1 large Onion (quartered)
1 large Celery stick (sliced)
1 Tbsp of chopped Parsley
1 sprig of Thyme
1 Bay Leaf
2 litres of Water
2 Tbsp of Oil
Procedure
Start by peeling the prawns and keeping the shells and heads aside for the stock. Heat 2 Tbsp of oil in a pan and add the shells and heads. Fry on low heat for about 10 minutes till fragrant. Add prawn shells, heads and oil into your stock pot along with the other stock ingredients and bring to a boil. Reduce heat to a gentle simmer for about 1 hour. Take the pork belly & chicken thighs out and keep aside. Strain stock through a mesh strainer into another pot.
To make the gumbo, you'll need to first make the roux. Start by heating the lard in a large heavy-bottom saucepan. Add flour and cook on low heat while continuously stirring until you achieve a golden biscuit brown colour (this may take a while). Now, gradually at the stock while stirring.
Add onions, celery, capsicum (the Holy Trinity of Creole cooking), chilli, sweet chilli, okra, tomatoes, bay leaf and thyme. Let simmer for 25 minutes.
Take the pork belly (used earlier in the stock), and cut into bite-size chunks. Peel the meat from both chicken thighs. Add pork belly, meat from chicken thighs and the 200g of uncooked chicken (that were cut into bite-sizes) into the gumbo. After 5 minutes, add the prawns, crab meat, spring onions and parsley. Keep it on simmer for another 5-10 minutes. Season to taste with salt and pepper.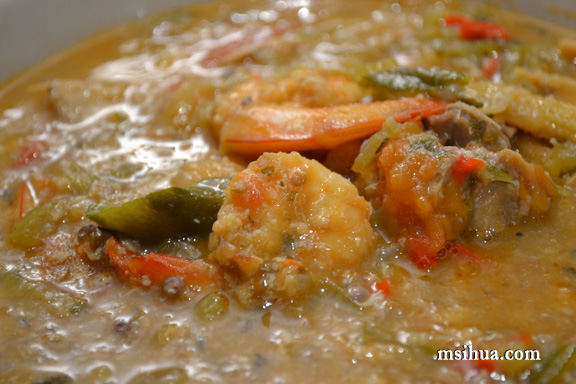 Issues: Roux wasn't quite done, hence the lighter colour and watery appearance. We were afraid that it might burn. Taste-wise? It had a good rich taste but felt that it needed a little more ooomph to it. It needed Andouille Sausages which is common in Cajun cooking or even Chorizo Sausages might have given it that extra kick.
But it was still mighty tasty! So tell me, what dish makes you think of multiculturalism and a beautiful society with no wars or misunderstandings?