One of the highlights in my day is the walk to the train station to get to work.
It's not because I am a fitness junkie or that I actually enjoy the weather or the thought that I actually am going to work.
Far from that. What I actually do enjoy is the smell of freshly baked bread.
Whilst I walk down the pavement pass the houses, breathing in the smell that is wafting down the road gives me a sense of peace, calm and a warm fuzzy feeling.
Am I prone to hallucinations? Oh very much so. I do believe it is due to all the fantasy novels I read.
But this is not a hallucination. You see my friends, right on the main road (of which I walk at the back off), is a little bakery outlet that caters to bread shops and patisseries.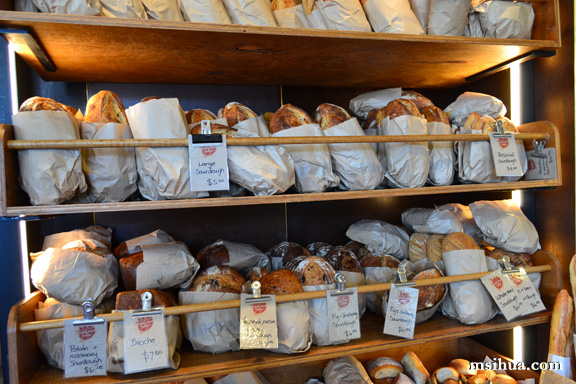 So I've always been prone to having an excellent morning with my coffee in hand and the free smell of freshly baked.
Warm inviting bread makes me a very happy (and less grumpy person) on a working day.
Hence, you should be able to better understand how I have soft warm spots in my heart for bakeries.
And this famous bakery known as Bourke Street Bakery in Sydney is no exception.
On our recent Easter holiday, the Boy and I popped over to visit Big Sis and Big Bro in Sydney.
They in turn, as all good Big Sisters and Big Brothers do, chauffeured us around, sheltered us, fed us and herded us to the right spots for food.
I was a happy pig and the Boy was a full and mellow sheep.
After hearing (and reading) such great reviews on this bakery, we definitely had to make a stop over for their goodies.
So began our extravagant feast on Easter Sunday (I know, I know… not very pious.. but oh well!)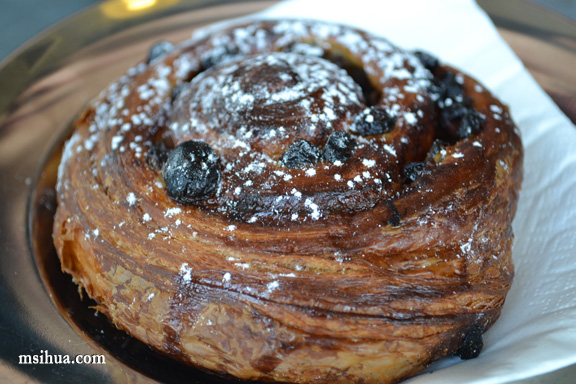 We started off with a few pastries (duh!) and ordered three to share. Big Sis chose the Pan Au Raisin $3.65 which was quite flaky and sweet (due to the raisins). Oh and I do think powdered sugar will make any form of pastry and/or dessert look pretty!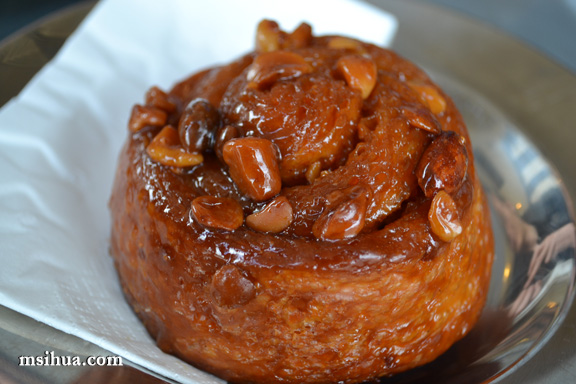 Big Sis also chose the Macadamia & Honey Sticky Buns $4.40 which was delicious! The honey wasn't sickeningly sweet. It was extremely sticky and fun to eat. I love macadamias.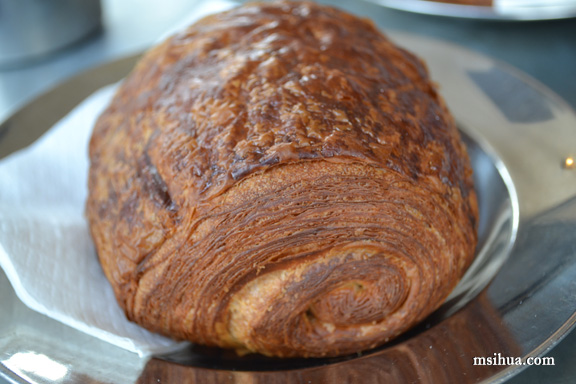 I chose the rather plain looking Pan Au Chocolate $3.65 which was no more exciting after cutting it open. This was such a let down for me. I was expecting tons of chocolate akin to that of the one I had at Campos. But sadly, this was very much lacking in the cacao department.
So disappointing that I refuse to leave the place without having some other option pick the pace and expectations back up!
Big Sis mentioned that the hot foods were quite good, so we ordered a Chicken Pie $5.50 and Lamb, Harrisa & Almond Sausage Roll $4.95.
OMG… like seriously, Oh Em Gee (blond speechless moment)
The Lamb Roll was to die for! The pastry was flaky, the lamb was patiently seasoned. The harrisa and almonds just wove around the texture of the lamb mince so well. It was such a condensed roll. No air pockets anywhere. I fell in love.
The Chicken Pie was a favourite for the Boy. He absolutely loved the taste and freshness of the pie. The chicken was soft and tender, the filling was creamy yet light.
For drinks, we ordered a Mocha and a Cappuccino. Not the best coffees I've had, but not the worst either.
Would I come back? I'm not a big fan of pastries, but for their hot pies, I would die for it. Absolutely craving a lamb sausage roll as I write this.
*Disclaimer: All food ratings are purely based on my own experiences and how I feel about the service, food and quality at time of visit
Food/ Cuisine: Bakery
Dining Style: Cafe
Overall Food Rating (Based on the Dining style): 8/10
Restaurant ambiance: 7.5/10 (much more space compared to their original shop)
Service/ Attitude: 7/10
Value for money: 7/10 (sort of on par with bakeries around here. I mean, they do use good quality ingredients and don't stinge [apart from the chocolate])
Address:
474 Gardeners Rd
Alexandria NSW 2015
Tel: (02) 8339 1001
Website: http://www.bourkestreetbakery.com.au
Bourke Street Bakery Alexandria is open
Mon to Fri from 7am to 4pm
Sat & Sun from 8am to 4pm
How to get there: