You know the saying, "love at first sight?"
I usually discount that theory with a big fat groan. That is definitely too much romantic mush for me.
I'm a much more practical person. I have to get to know the person before I can open up to them. I have to build that trust and love before giving them my heart.
My point is, I'm a tough cookie. I do not judge a book by its cover and I do not fall in love in a heartbeat (unless it involves puppies, or kittens or anything small, cute and furry 😛 )
I think I can honestly say I'm about the last blogger to visit The Hardware Societe.
But once I finally did, I went there two weekends in a row! I absolutely fell in love with it.
The last time I felt so strongly about a breakfast joint was at Pope Joan and the Duchess of Spotswood.
There's just something special about it. Something unique. Something I want to wrap in velvet and keep right next to my heart. I'll take it out whenever I'm sad to brighten up my day.
So we made our very first maiden voyage on Mother's Day. We got there early, around 9.00am on a cold Sunday morning (we'd heard they are packed out once it hits 10.00am).
We were greeted and asked to step right in! There were macarons hanging from the ceiling. Breads were on display as well as lollipops on an actual lollipop stand! I was entranced!
We were seated right next to the bar/prep area, where we could watch Will (& Di) do their thing with magic and love.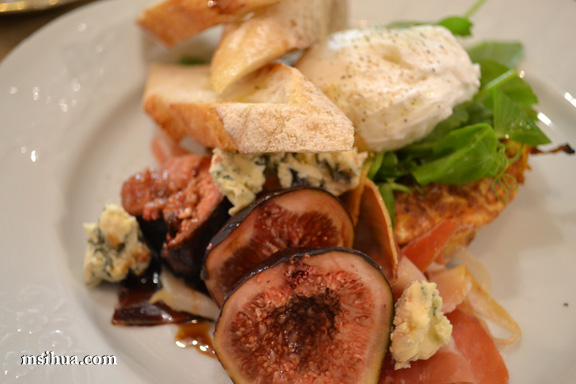 I decided to order the Mother's Day Special: Tortilla, Figs, Jamon and Eggs which was deliciously healthy in my opinion. It had figs and jamon. It had delicious lashings of balsamic vinegar (I didn't catch what it was, but I spotted Will showing the bottle to a regular customer and I was too busy enjoying my breakfast to pay attention to what he was saying).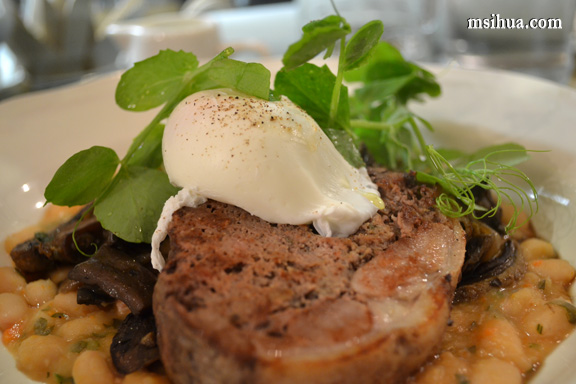 The Boy had Poached Eggs – Duck and Chestnut Roulade, Wild Mushroom and Sage Ragout, Braised Beans ($16) and declared it DELICIOUS!
Now that's a big call, as he doesn't really like duck at all (which makes me wonder why he ordered it in the first place), but he did and he loved it.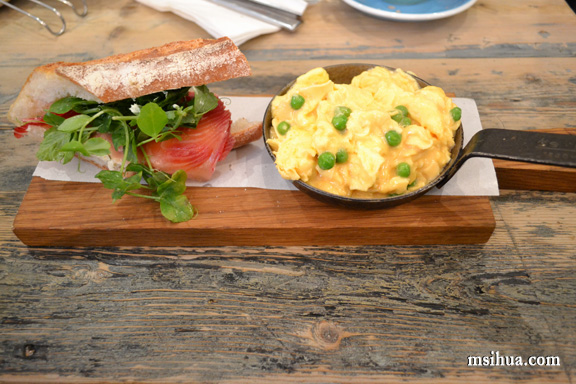 On our second visit back, we brought my dear BFF and her Bubbly Hubbly (that's what she calls him!) here for their first taste of delicious Melbourne breakfast. They immediately fell in love with it too (once we were seated inside, away from the queue and the rain 😛 ).
BFF ordered the Scrambled Eggs – Beetroot Cured Salmon, Herb Creme Fraiche, Peas ($16).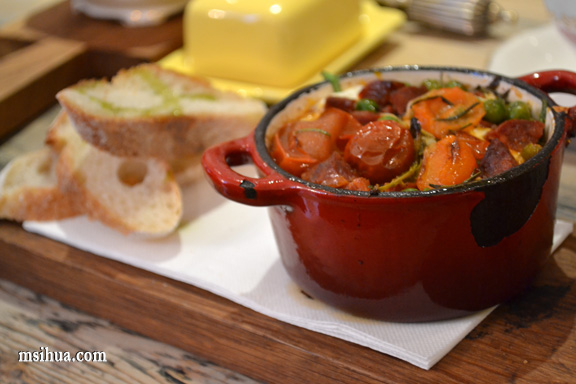 BFF's Bubbly Hubbly ordered the Baked Eggs – Chorizo, Confit Tomato, Peas ($15). I stole some of his chorizo, and discovered that this dish was really full of flavour.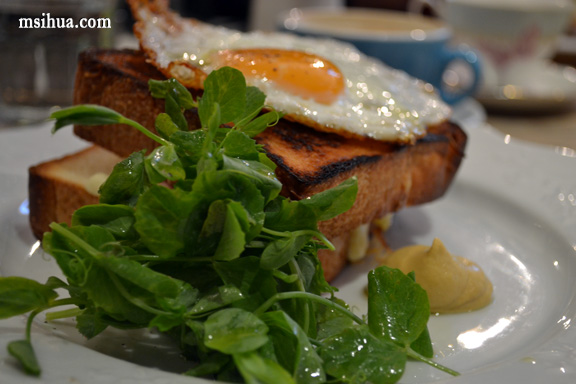 I had the Croque Madame – Brioche, Ham, Gruyere, French Mustard, Fried Egg ($15) and thought the brioche was the tastiest I've had in a long time.
Such a stark contrast to the Croque Madame I had at Cafe Vue Melb Airport!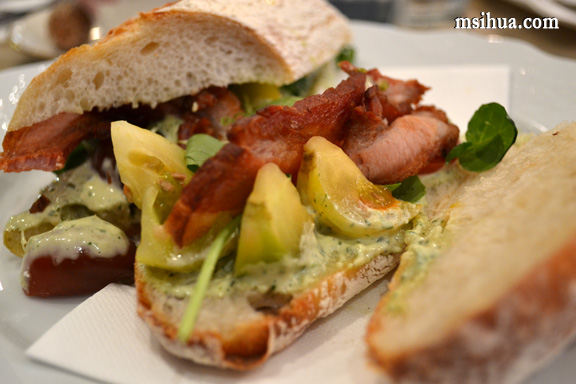 The Boy decided to skip the duck and go with the PWT Baguette – Pork Belly, Watercress, Tomato, Aioli Verde ($12), which we knew was a crowd favourite from the many similar orders whizzing past us!
The boys shared a pot of English Breakfast Tea between the two of them whilst the BFF and I had a Cafe Latte and a Cappuccino each.
So, would I go back? Hell yeah! I've already been back… and will definitely be back again. It's right in the CBD, so really not much excuse there. Will be my new breakfast haunt on the weekend 🙂
*Disclaimer: All food ratings are purely based on my own experiences and how I feel about the service, food and quality at the time of visit
Food/ Cuisine: Breakfast/Brunch (Spanish & French)
Dining Style: Cafe
Overall Food Rating (Based on the Dining style): 8/10
Restaurant ambiance: 8/10
Service/ Attitude: 8.5/10
Value for money: 7.5/10
Address:
120 Hardware Street
Melbourne VIC 3000
Tel: (03) 9078 5992
Twitter: http://twitter.com/#!/hardwaresociete
The Hardware Societe is open
Monday to Friday, 7:30am to 3pm
Saturday & Sunday, 8:30am to 2pm
How to get there: