I'm always on the lookout for new places and restaurants.
Especially those that try to reinvent the wheel.
But the ones that I always truly want to have a taste from, are those that are no longer found.
Places that leave the strongest memory, only for you to walk down memory lane to find that it has long moved on without you.
And sadly, whilst you long for that beautiful taste once more, it can no longer be found.
Unless…
Unless of course, it had shut for a year and moved its premises further down along the river to a much cosier and smaller location.
Which restaurant could I be talking about?
Bistro Guillaume (pronounced Gee-yoh-m), of course. With its bright green walls and signage (it's Midori Green!), it practically invites you in with its fresh appeal.
Behold! Upon entering, the light features that adorn ceilings past, in its previous location. On the night of my dinner, I mentioned on instagram that they looked like petticoats. (Do they not?)
I eagerly clapped my hands when I glanced at the menu. Not only was a plat du jour featured every day, but it was a Sunday and the dish of the day for me was LAMB!! My favourite form of meat other than pork… MMmmmMMmm…
So of course, when one of the fresh faced young French men bustling around in the workspace stopped by to take our order, I told him that I just had to have the lamb. What with my camera, crazy finger-pointing and happy jigs and claps, it was a wonder he didn't call the asylum instead 😛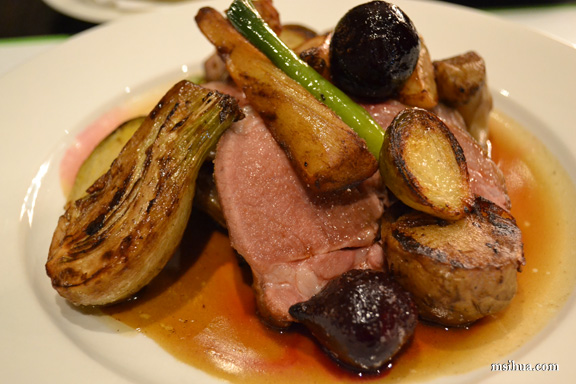 My Sunday's Plat Du Jour: Roasted Lamb Shoulder with Braised Vegetables and Lamb Jus ($34.00), which was ab-so-freaking-ly divine.
I've always said that the best lamb I have ever had was by Phillipe Mouchel, when he used to occupy this very same spot when it was The Brasserie.
And funnily enough, another lamb dish of superb quality and taste to match has just been served by the same kitchen with a different name, staff, and utensils. If I weren't in such a happy place, I'd be able to feel the goosebumps rise up my neck.
The Boy being the Boy, ordered his usual order of chicken. But what a great chicken it was. Incredibly tender and pliant, his Half a Roasted Chicken with Paris Mash and Chicken Jus ($35.00) was just heavenly. I had a piece of the chicken, just to be sure that it wasn't his imagination. I'm pedantic like that.
It really reminded me of our Sunday slow lunch at Embrasse. Same quality of meat as well as respect went into that dish. Not to mention the smooth and creamy Paris Mash was amazing as well.
It's no surprise really. In a recent interview with The Age, Guillaume Brahimi states that the chicken is of the same quality as the ones served in his Sydney Opera House located restaurant, Bennelong.
[Side of Ratatouille ($8.00) and Complimentary bread and butter]
And then, we were suddenly too full to move.
After such heavy mains, we were doing our best to wipe our dishes clean and keep our buttons from popping.
To nobody's  surprise, the Boy (who was staring at the specials board the whole night) and I (who was staring into the kitchen the whole night enjoying the cooking scene) decided that we could still fit dessert in.
After all, we do go by our motto of 70% mains and 30% desserts . That night, we were struggling, but most adamant, that we had to finish off the night with a sweet memory.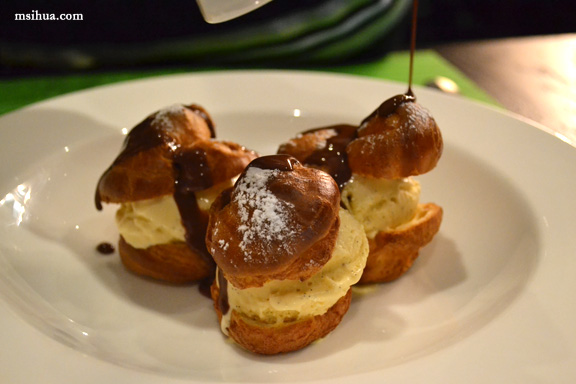 And so, I ordered the Profiteroles with Vanilla Bean Ice Cream and Warm Chocolate Sauce ($16.00) to share.
The warm chocolate sauce came in a little jug that never seemed to end. It just kept giving more and more. And I kept dribbling more and more onto my profiteroles. The Boy mentioned to me rather snarkily, that even if the kitchen gave me an endless supply of the chocolate sauce, I did not have to finish it all.
Yes, my dear readers, you would have been proud of me. I ignored him and continued on with my joy.
Such absurdity will stand no ground with I!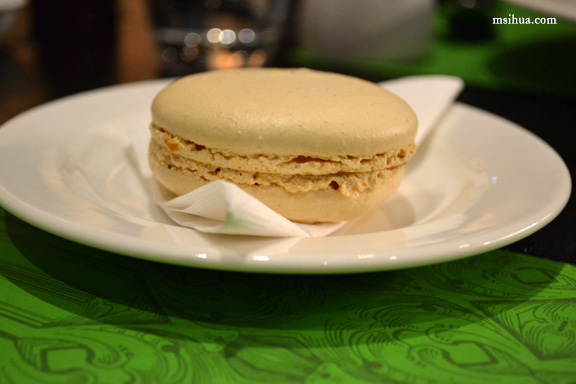 Methinks he was just jealous, as he ate his rather gigantic Board Special: Salted Caramel Macaron ($5.00). It was a fairly big macaron and the salted caramel within was quite nice. I just liked my pot of black gold more than his macaron.
Strangely enough, or maybe not, I've drawn comparisons to two of my favourite French dining restaurants with the main dishes. So it is saying a lot. I'm putting myself up for a mission this year, I'm going to go back and taste the plat du jour on the days which I can (i.e. non beef days), so all except for when it is Tuesday (beef bourguignon), Thursday (Braised veal tongue) and Saturday (Beef daube).
However, I'm still trying to convince the Boy to go with me on Tuesday, just so I can say beef bourguignon!
*Disclaimer: All food ratings are purely based on my own experiences and how I feel about the service, food and quality at the time of visit
Food/ Cuisine: French
Dining Style: Bistro
Overall Food Rating (Based on the Dining style): 8/10
Restaurant ambiance: 7.5/10 (during Winter, if you are seated within the vicinity of the outside door, be prepared to face a blast of cold wind coming through each time someone opens the door)
Service/ Attitude: 7.25/10 (given that we were there on the 2nd week of operation, service was still a bit slow and disorganised at times. Hopefully they would've picked up the pace by now)
Value for money: 7.5/10
Address:
The Riverside at Crown
8 Whiteman Street
Southbank VIC 3006
Tel: (03) 9292 4751
Website: http://www.bistroguillaume.com.au/
Bistro Guillaume is open
Monday to Sunday from:
12pm to 3pm (Lunch) and 5:30pm to 11pm (Dinner)
How to get there: