One reason in which I love Melbourne so much is that it has such a diverse mish mash of cultures.
Whatever you feel like eating, there will most likely be an authentic restaurant serving up good classic fare in Melbourne.
If you want Greek, you have it. If you want Chinese you can find it. If you're thinking Italian you can have it. We even have Cambodian and Ethiopian food, if you know where to go 🙂
With French food there are an array of restaurants to dine at, with the popular and famous being sophisticated, modern or 3 hatted. However there has been one original French brasserie serving up classic French cuisine since 1986.
This year marks the quarter of a century since the inception of France-Soir.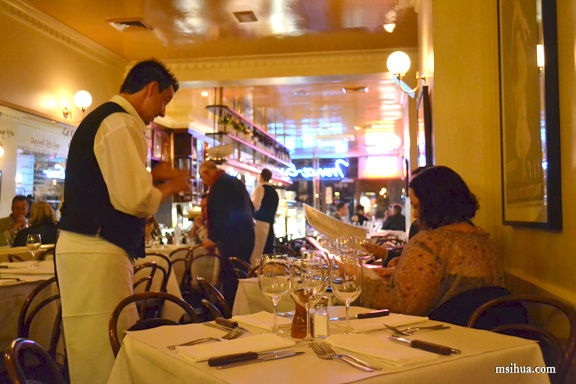 France-Soir is an institution known by many. Located on Toorak Road, it has drawn many locals, actors, politicians, athletes and musicians and has remained as charming as ever.
The very first time I dined at France-Soir, the Boy and I were celebrating one of our anniversaries (I think it might have been our 4th), and that made dining at this place very special. Firstly, it was highly recommended and secondly we were on student budgets, but I got all dressed up and we were ready for a night of good food and romance. Certainly we had a good time, and France-Soir has had a soft spot in my heart ever since.
Fast forward another 5 years, I could see that nothing much has changed with the style or service delivered by France-Soir. On a recent girl's night out with the BFF and Ms Tinymouse, we were taken out of Melbourne and into Paris for a few hours. We laughed, ate, joked with the waiters and had a great time.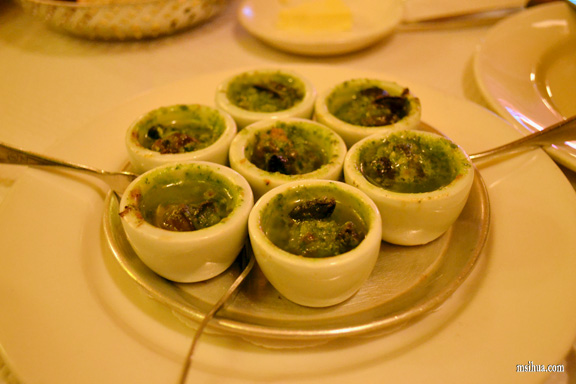 Somehow things always sound a tad classier in French. We had to order the Escargots de Borgogne a l'ail $19.50. Which essentially means snails in garlic butter. The aroma when this dish hit our table was heavenly which made us all extremely hungry. Wonderfully cooked (they have had 26 years of practice), us three girls fought over the last snail. Delicious!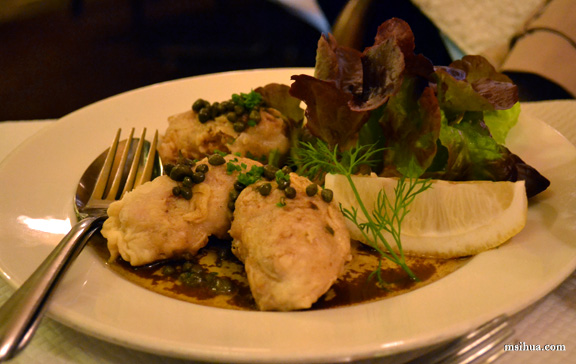 We decided to order the Cervelles d'agneau aux capres $18.50, as it was the French thing to do. If you haven't deciphered that by now, the picture above shows lightly battered lambs brain with capers. Now don't go "eewwww" on me just yet.
Neither of us have ever had lambs brain before, and we were expecting it to be a lot more visual than that. Texturally, it was creamy and soft. Taste wise? Delicious. You couldn't really tell it was brain. If we were told that it was a new creamy cheese tofu, we would have believed that too.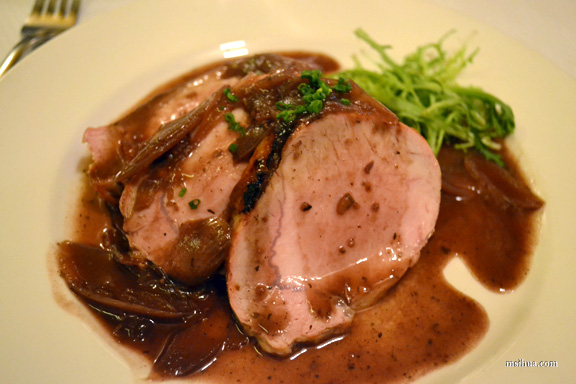 One of the best things about France-Soir is that they have a constant changing daily menu scribbled across their mirrors. That night, for some reason, all three of us ordered off the walls as we were looking for something different and special.
Please forgive me, as I can't seem to see what any of the French titles of the menu on the walls are. So my memory will have to serve 🙂
So, we each had our own version of meat du jour 🙂 I essentially had the Filet de porc au vin range which was a Pork Tenderloin with red wine $34. Delicious!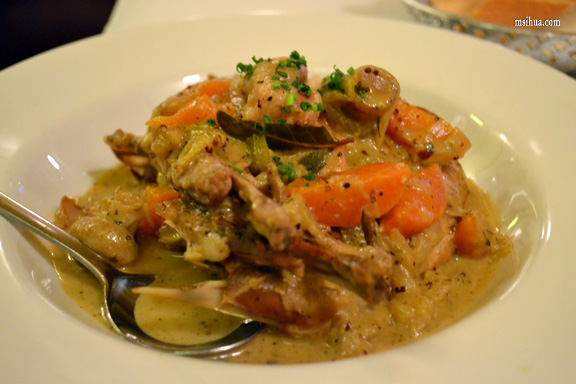 Ms Tinymouse had her very own Lapin du jour (Rabbit of the day) which was a Rabbit Stew. It was a pretty big serve and it was every bit as rich and flavourful as it was large.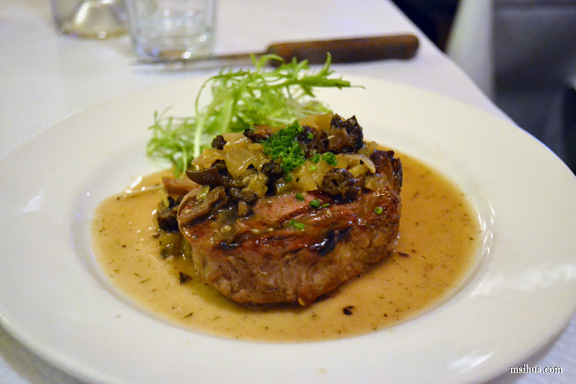 The BFF had the Filet Mignon which she said was good. I can't remember what the sauce was sadly 🙁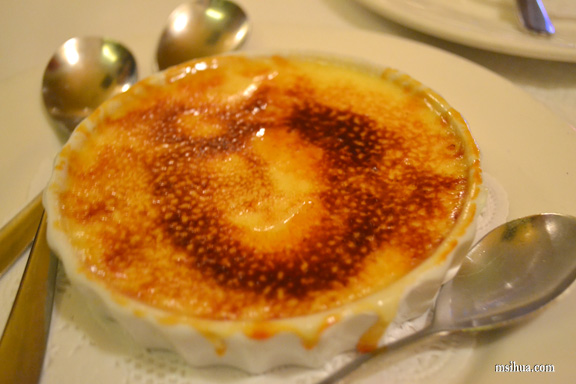 On to desserts!! Now, as I was excitedly telling everyone asunder that I'd be dining at France-Soir that day, I was under strict orders to try the Creme Brulee $13.50. I'm so glad we did. This is how all creme brulee should be served up. Creamy, smooth with a delightful light caramel shell. I want more!!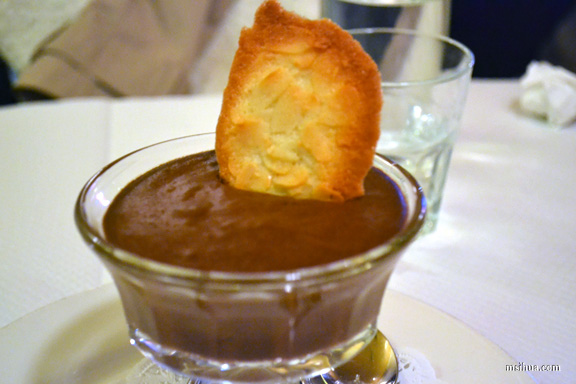 We also ordered the rather heavy Mousse au chocolat $13.50. Compared to the light and fresh creme brulee which we had before, we found the mousse a tad too rich. But I think it was also because we were quite full at this stage. Any other time, I would have happily devoured the mousse in its entirety on my own 🙂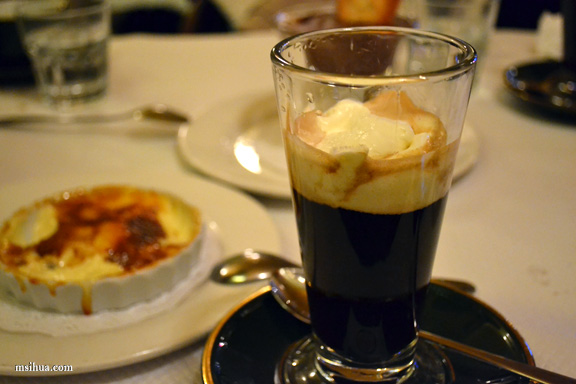 As we didn't want the night to end, we each ordered a strong Irish Coffee to end our night. Meanwhile, the boys were having their very own Boys Night Out across the road at Squires Loft. Unlike us girls, they had finished much earlier and were bugging us to hurry up and get out. Sheeesshhh …. boys will be boys.
It was a pleasant evening. The waiters were in a cheery mood. We had good food and good company. Warm, inviting and homely, I'll be sure to visit France-Soir a lot more. If you are inclined to do the same, remember to make a booking, as they get pretty crowded even on a Monday night 🙂
*Disclaimer: All food ratings are purely based on my own experiences and how I feel about the service, food and quality at the time of visit
Food/ Cuisine: French
Dining Style: Restaurant
Overall Food Rating (Based on the Dining style): 7/10
Restaurant ambiance: 7/10 (even though we were seated right at the back next to the kitchen doors, which can often be quite chaotic, we had a pretty quiet night and no loud interruptions)
Service/ Attitude: 7/10 (the service here can vary depending on your luck)
Value for money: 7/10
Address:
11 Toorak Rd
South Yarra VIC 3141
Tel: (03) 9866 8569
Website: http://www.france-soir.com.au/
France Soir is open
Monday to Sunday, LUNCH: 12pm to 3pm & DINNER: 6pm to Midnight

How to get there: