Towards the end of June, the Boy and I celebrated our 10th anniversary of being together.
Wanting it to be an extremely special weekend, I insisted that we had to drive out of Melbourne, away from the hustle and bustle of everyday life and just escape into an environment where I could relax and wake up breathing in fresh country air.
And so it was that I managed to book us in for a weekend at the Provenance located in a little town called Beechworth. Yes, the famous town with the famous bakery. It is located close to the border of North East Victoria and New South Wales.
Upon checking in and off-loading our gear in the beautiful luxury suites (a converted carriage house and stables, there are 4 suites in total at Provenance), Michael Ryan, owner and head chef of Provenance Restaurant and Accommodation, stepped out to greet us.
How do I know him? Why, through Twitter of course! Michael is a prolific twitterer and often engages in conversations and banter with food enthusiasts on the popular social media tool.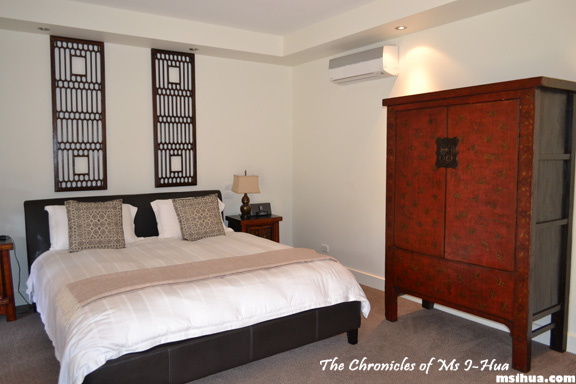 After a short break, we made a quick dash to Rutherglen to visit some of the local wineries. Whilst I was busy sampling the wines on offer, the Boy reminded me that we had a degustation dinner that night. As if I would have forgotten! That was one of my main reasons to visit Beechworth!
Of course, when we finally came back in the late afternoon, the Boy was exhausted as he had done all the driving, whilst I did all the chatting and drinking 😛
He took a nap on our beautiful King sized bed and snored peacefully on the soft Egyptian cotton sheets.
I on the other hand, toyed with running a bath in the luxurious spa. Instead, I took a refreshing hot bath with the L'Occitane products in the divine rain showers.
I have got to get me one of these!
What I really liked about the Provenance is that there is a slight Asian, Japanese-esque influence on everything.
The tea, the furniture and even with the food.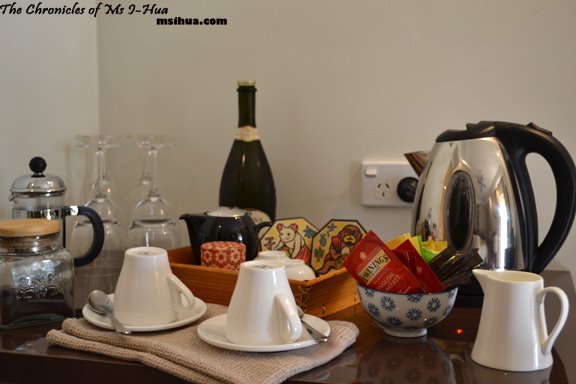 How cute are those little Japanese coasters?
We were provided with fresh milk for our hot drinks, and that little touch really made me feel comfortable and relaxed. No tiny milk packets or god forbid, sachets of creamer. Stella, we were in the country!
We were also provided with a bottle of sparkly 🙂
After dinner, we did have a little soak in the spa before heading off to the soft bed that was calling out to us.
To read about our dinner experience, you'll have to check my next post 🙂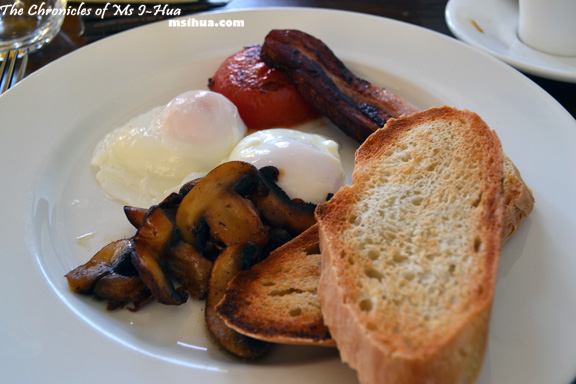 As we woke up to the bright sun rays, we were greeted once again by Michael at the dining room (situated in the restaurant) who took our preferred cooked egg option and walked back into the kitchen.
The dining room had been slightly rearranged from the night before and instead, had a spread of fresh bread, croissant, house-made muesli, marmalade on offer as well as milk, juice and water.
15 minutes later, as I was enjoying my warm croissant, Michael walks in with two plates of continental breakfasts.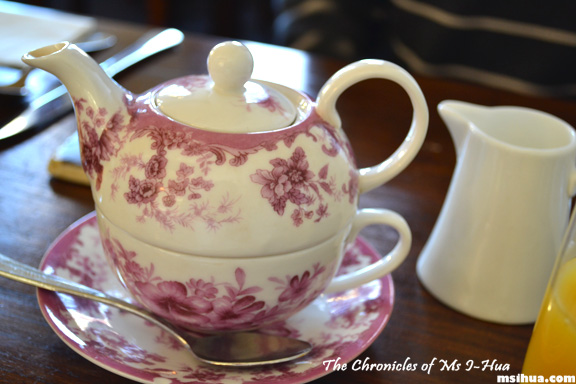 A pot of English Breakfast tea follows.
*sigh* I was truly in heaven. Absolutely spoilt, and truly rested, I didn't have a care in the world.
We sat, chattered and planned the rest of the day, which included a quick drive up to the Beechworth Asylum, a walk around Beechworth town, some shopping, and a little encounter with honey from Beechworth Honey.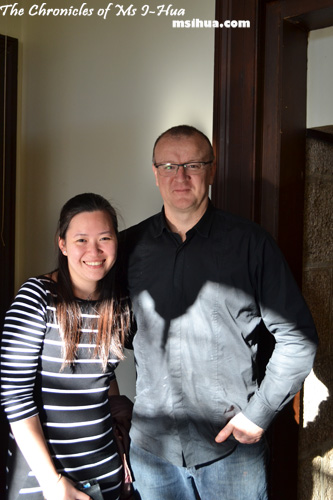 If you are looking for a nice relaxing getaway within Victoria, definitely consider Provenance.
You will be charmed by the accommodation, have your breath taken away by the fine dining on offer, as well as being truly relaxed in the surroundings.
For more information on accommodation pricing and special packages, please visit the Provenance's website.
To find out what you could do in Beechworth, visit Beechworth Tourism.