When I first received the invite to "The Marriage of Food & Wine", I have to be honest, my curiosity was piqued.
It's not everyday you receive a wedding invitation in your inbox in relations to food.
The fact that the event was to be hosted at Papa Goose more than cemented the deal for me as I have been wanting to dine there for over a year.
Let's just say, that when the opportunity arises, I am not one to shun it 🙂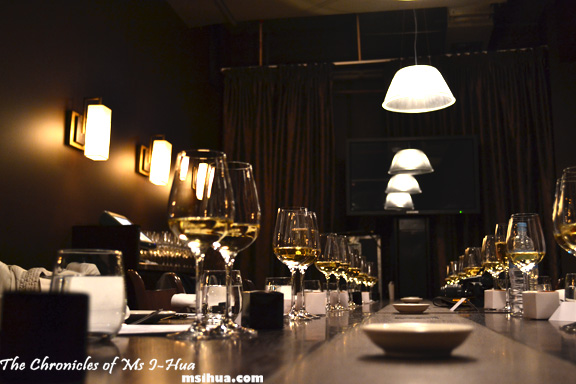 The night of the tasting arrived and I was greeted with a glass of bubbly and smiles upon walking up the staircase.
Chris Barnes, the Consultant Wine Educator (isn't that such a cool job title?) to Wine Selectors, introduced himself and I have to admit, I was completely smitten with the fact that he looked like Kevin Rudd.
Seriously. So as you can imagine, I was quite distracted for a while there and had to shake myself back to reality.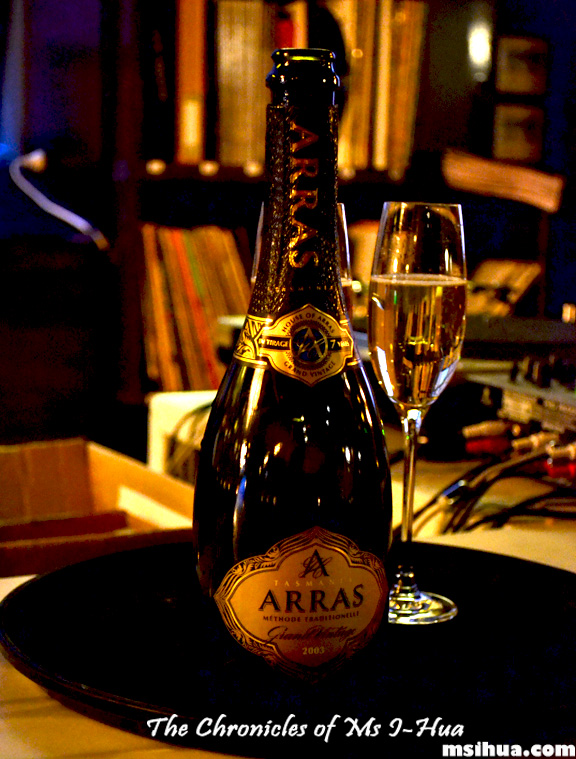 Arras Grand Vintage Sparkling Chardonnay Pinot Noir 2003
Back to my glass of bubbly, according to the tasting notes, it is "Unquestionably Australia's best sparkling wine. It's rich, nutty and still very fresh for an '03. It's also better than many champagnes on the market today."
And I have to admit, it was very lovely and fresh and a great way to open up our palate.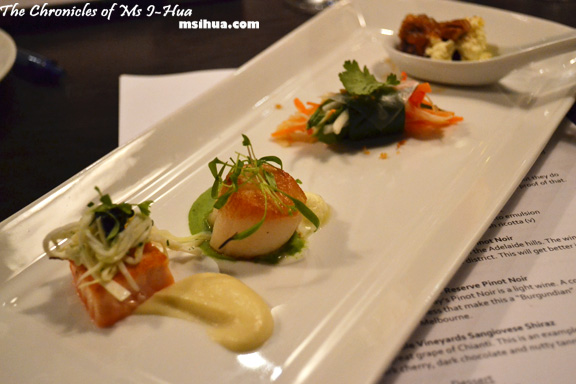 In terms of food, for the Entree, we had an assortment of canapés (to share) of Fresh Fig, Goat Cheese, Candied Pecan; Thai Salad Rolls, Asian Lime Dipping Sauce; Rare Seared Atlantic Salmon, Celeriac Remoulade; and Seared Sea Scallop, Minted Pea Puree, Vanilla Cream.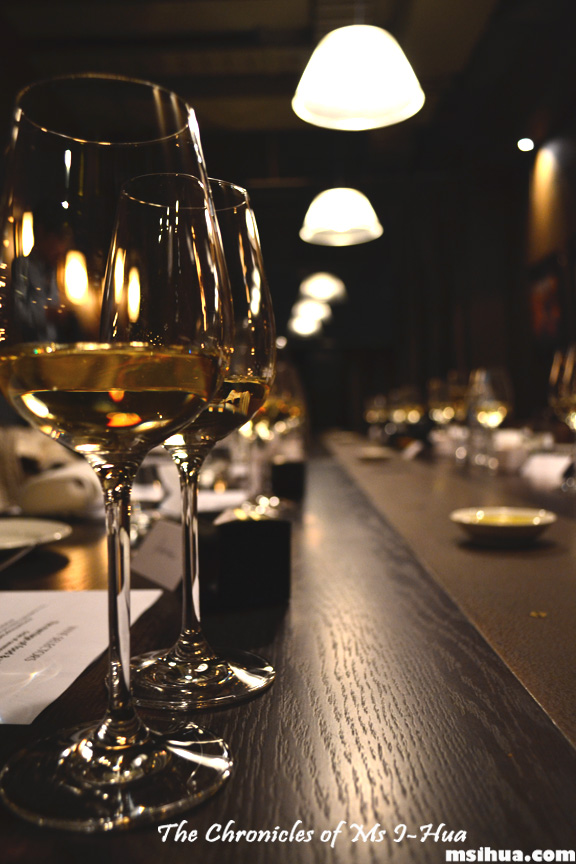 For each of the canapés, we were advised to pair it with the two selected whites which we had sitting on the table.
The "Fresh fig, goat cheese, candied pecan" as well as the "rare seared atlantic salmon, celeriac remoulade" was paired with 2005 Chrismont Riesling. Chris mentioned that most aged wines are always better paired with the heavier types of food. In this case, the 2005 Chrismont Riesling had traces of honey and toast and apparently recommended to have with seafood rather than morning muesli.
Yes, I too wonder who has a glass of wine with their morning muesli.
While the 2010 Dandelion Vineyards Wonderland of the Eden Valley Riesling was paired with the Thai Salad roll and Seared sea scallop dish.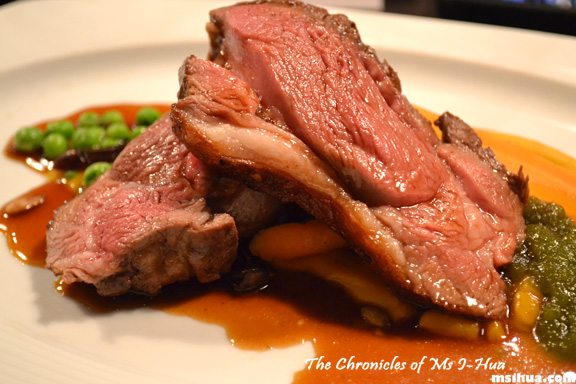 As we moved on to our mains, we swiveled the remaining liquid left in our wine glasses and proceeded to choose between lamb or fish.
I instantly put my order in for the lamb as that is one thing that Papa Goose is famous for (and my loyal readers would know that lamb is one of my favourite meats)! It was a magnificent piece of Roasted Dorper Lamb, Pumpkin, Peas, Dates, Seeds, Mint.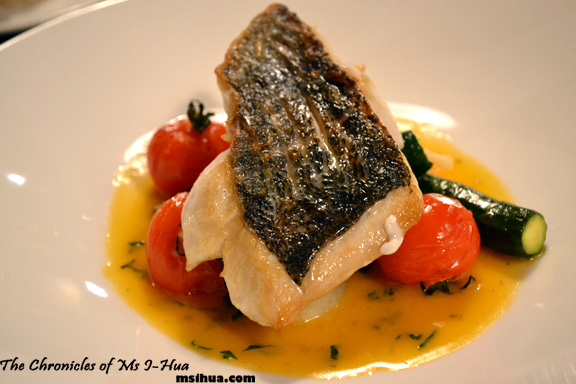 Luckily I was seated next to Penny and managed to grab a shot of her beautiful Blue Eye Cod, King Prawn, Baby Zucchini, Fennel, Smoked Tomato Emulsion, which she said was delicious as well!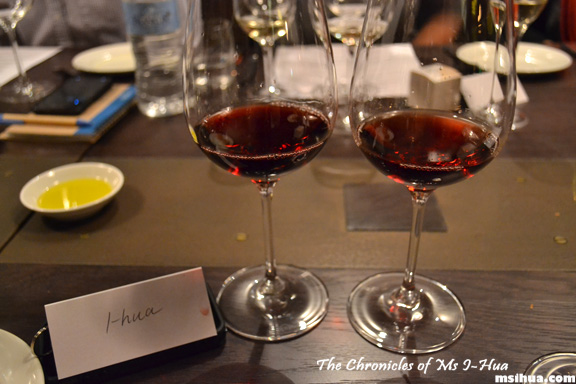 No surprises with the wine pairings here. My delicious lamb was paired with the more "masculine" red wine of the 2008 Tarrawarra Estate Reserve Pinot Noir, and the Blue Eye Cod was paired with the more "feminine" 2010 Riposte by Tim Knappstein No 1 Pinot Noir .
Now I am definitely not an expert when it comes to wine and most definitely not when it comes to red wines, but I did feel that the pairing was a perfect match. Penny and I experimented with tasting our food with the reversed wines and it just didn't work at all.
In the tasting notes provided, it was interesting to see that the 2008 had more depth to the dark fruits due to the age, and hence was a spicier drink, making it a "Burgundian" on the outskirts of Melbourne.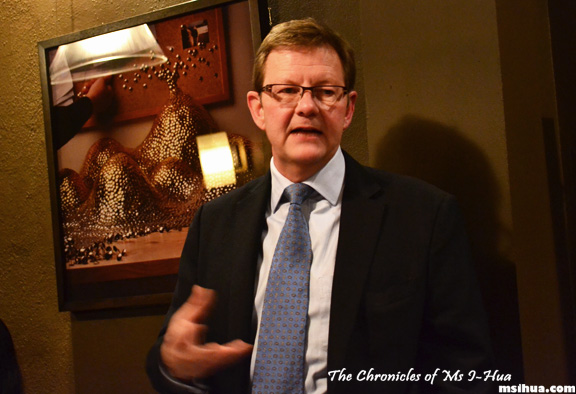 The very knowledgeable Chris Barnes speaking about the process of judging wines and the grading systems from the tasting panel.
Chris has had 30 years of experience in the Australian wine industry and established the Australian Wine Education & Training Co, sitting on the expert Tasting Panel, hosting Wine Selectors events and conducting wine education seminars across the country.
We were lucky to be able to dine with one such as himself and pick his brains in regards to his thoughts, experiences and restaurant choices!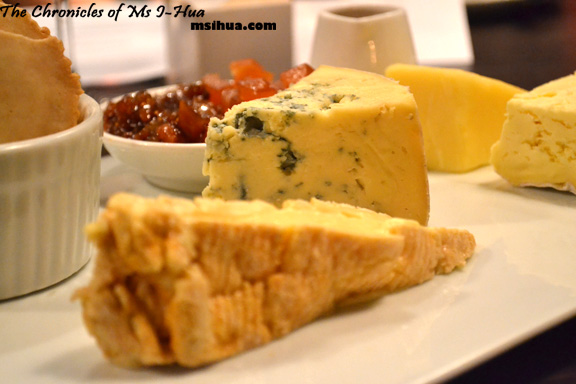 We finished up with an amazing array of Cheese Selections paired with the 2009 Coriole Vineyards Sangiovese Shiraz.
In our notes, Chris mentions that this is THE wine to taste. It had an all-round gold medal award by the entire judging panel and it comes just under $20!
It tasted of black forest cake, "with its dark cherry, dark chocolate and nutty tannins, it's a really good wine".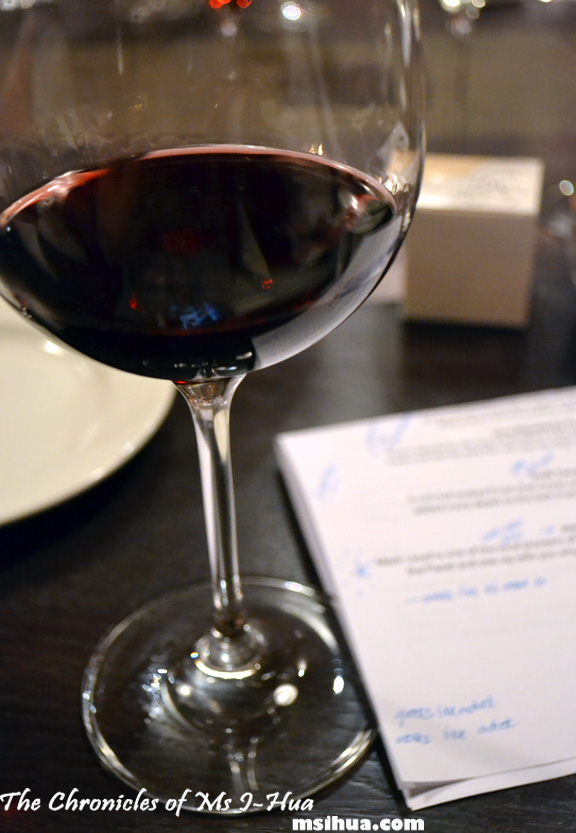 All in all, I had an amazing night.
I learnt a lot that night, but by no means have I become a wine expert.
However, I'll have no doubt that I'll be putting my new found knowledge of wines in my next dining sessions.
Fun Facts:
60% of wines get a medal at the minimum level (e.g.: Bronze Medal)
Out of that, 14% obtain a Silver Medal and only 8% of wines are given the Gold Medal
40% of wines are rejected  simply because it is not up to standards
In terms of the scoring, it is out of 20 points. Anything that scores 13-14.5 points are usually not faulty, but don't stand out either, and these are the ones sold as clean-skins, cask wines or cheaply around the $8 mark
There is no such thing as a perfect 20/20 score
Wine is the second largest agricultural export in Australia
[Ms I-Hua dined as a guest of Keep Left PR and Wine Selectors]
*Disclaimer: All food ratings are purely based on my own experiences and how I feel about the service, food and quality at the time of visit.
Papa Goose details
Address:
91-93 Flinders Lane
Melbourne VIC 3000
Opening Hours:
LUNCH:  Tuesday to Friday, from 12pm
DINNER:  Monday to Saturday, from 5.30pm
Tel: (03) 9663 2800
Website: http://www.papagoose.com.au/
How to get there: