It seems to be happening more and more often that all the new trendy places are located towards the north of Melbourne and that chefs are getting edgier and dare I say it, cooler with the vast arrays of ink across their bodies.
Tucked away on a side road off busy Brunswick Street in Fitzroy, sits the white washed walls of The Brix Cafe & Bistrot. Inside, the words bright, classy and funky comes into mind all at once.
Stepping through the front steps, on your right, a pig greets you. It is possibly the most eye catching decor item in the little cafe, the Moooi Pig table, which everyone has photographed except me.
I wanted to just steal it. Luckily for them, it is a little too large for my hand bag 🙂
Straight ahead, an amazing still life photograph styled by Keir Vaughn and Emma O'Mara in a garage and photographed by Gerard O'Connor.
Who are these amazing stylists you ask? They are the proud owners of this little establishment.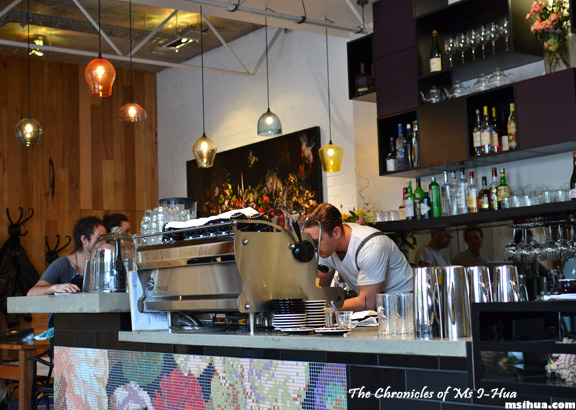 Headlining the kitchen where all things spectacular happen be it hot, cold or simply with tweezers is Joel Alderson with a work history in the Royal Mail Hotel and Attica firmly inked (hehehe) into his resume.
The Boy and I had been there the previous Sunday for a late brunch (see below) and were quite impressed with what we had, and as such we were really looking forward to our dinner the following Wednesday.
Thus, we found ourselves there on a sunny Wednesday evening together with Agnes and Alastair after being told they wouldn't be able to get us in for a seating for dinner for 2 weekends.
We were on a mission and nothing was going to get in our way. We were there to sample their tasting menu (degustation) of 5 courses, priced at a very reasonable $80.
Dinner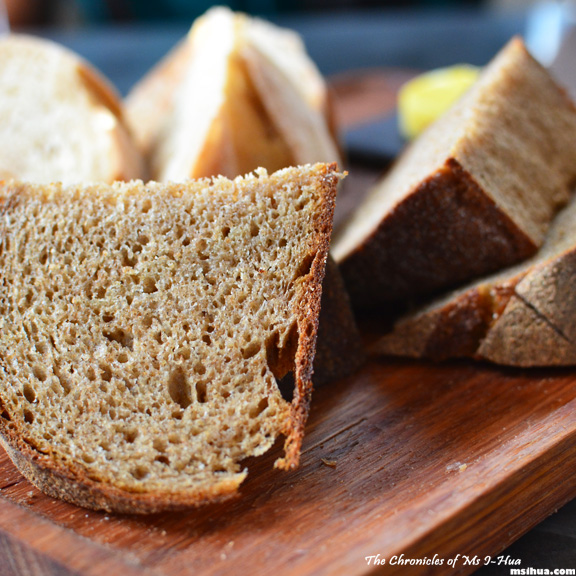 Beautiful warm fluffy sourdough and rye bread was to start us off. Agnes and I decided to try a tiny piece of bread each (we are on Paleo diets) and didn't regret it one bit.
We had a bottle of the 2011 Cos Clare Riesling ($52.00) to start us off for the evening.
After asking the obligatory questions regarding dietary requirements, the dinner began without a hitch.
On offer that night was an optional starter course of fresh oysters ($15 per head) which we decided to skip.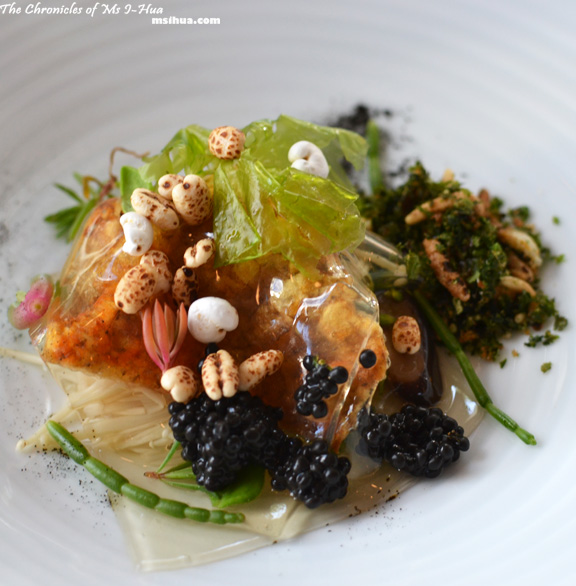 So we begin with what Dubecki describes as a Sea Salad. Smoked Tuna Jelly, Snapper Skin, Avruga Caviar, Enoki Mushrooms, Pickled Mushrooms & Ginger, Puffed Wheat, Seaweeds, Ash.
I can't help but agree with her. As the dish was described to us, we couldn't help but think, that nothing with that many things on it should work. But it did.
And this seems to be the way with all the dishes we tried that night. It shouldn't work. There is a thin line between crazy and genius and I think Brix tends to walk on the line.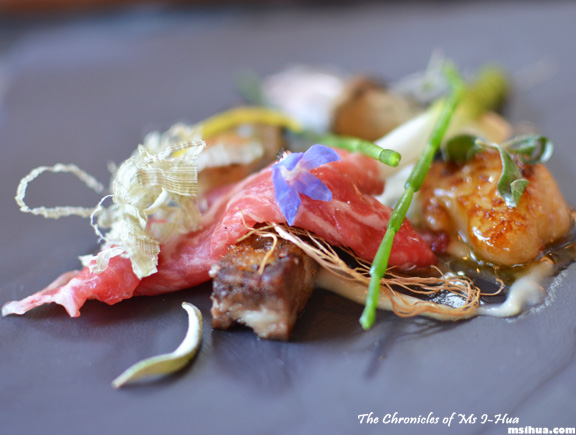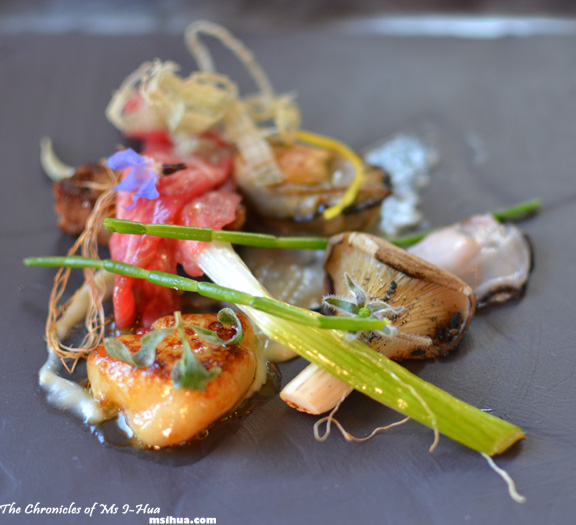 For their second course, my dining companions had the Beef, Oysters, Marrow, Spring Onion, Oyster Mushroom, Sage, Samphire which they declared as superb.
They couldn't decide which of the three beef elements were the best. Tough choices, as they had the beautifully cured beef, ox tail and bone marrow.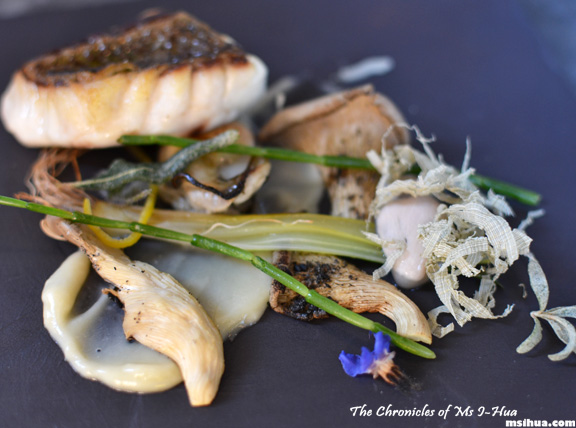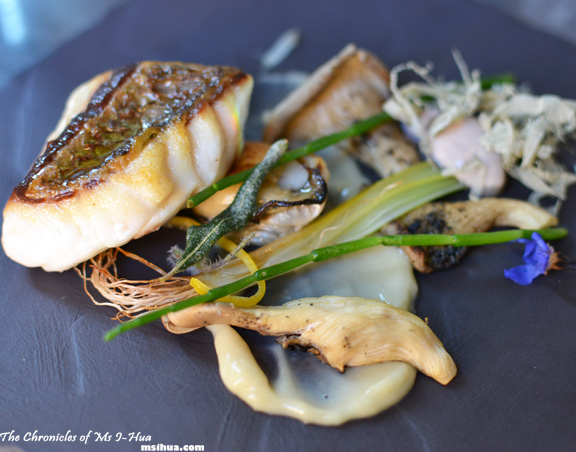 Whilst they dined and debated on the best part of their dish, I dined on my Snapper, Oysters, Oyster Mushrooms, Sage, Samphire, Spring Onion, Lemon Zest.
The stand out for me on the dish was definitely the two types of oysters, cooked and raw. The snapper was cooked to perfection as well.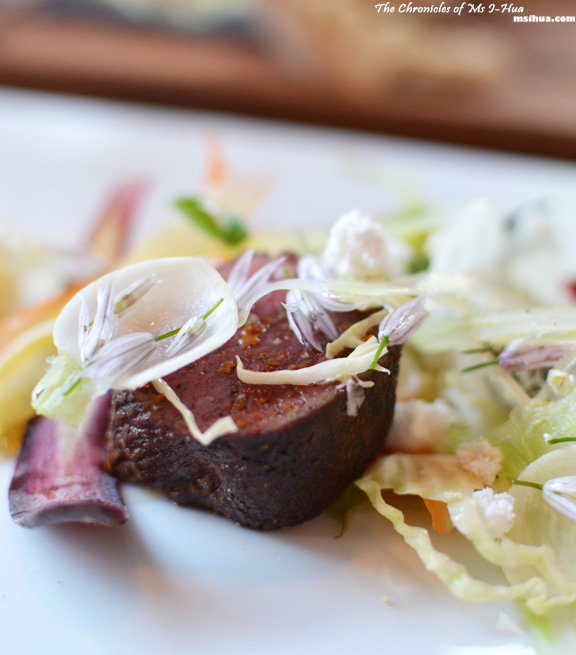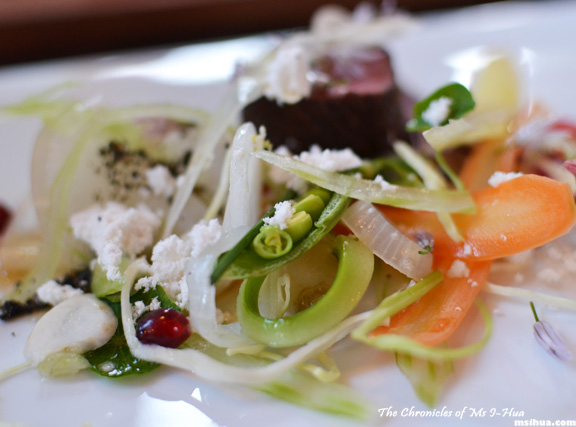 The next dish was the Boy's favourite. Venison, Garlic Flower, Carrots, Celery, Raw & Pickled Baby Radish, Pomegranate, Nasturtium, Clove Powder.
Sous vide the venison and it will have no chance but to taste succulent and tender. Aesthetically pleasing to the eye, the dish came adorned with various vegetables, peas in a pod and clove powder (made with the help of maltodextrin).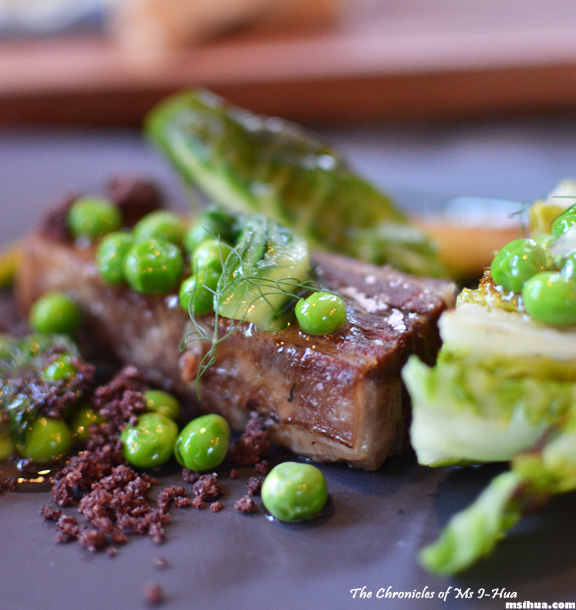 From where I stand (or sit on that night), the winning dish was the extremely tasty Slow Cooked Lamb, Sweetbread, Peas, Baby Cos Lettuce, Roast Onion.
The lamb brisket, with meat so soft and fat melting so invitingly, nearly had me turning my back on pork belly forever. It was a sinfully good dish marred only by the presence of peas (no offence, but this one's personal. I dislike peas). However, with lamb this good, forgiveness and the ability to look beyond is required. The Boy on the other hand, finished all his peas.
Agnes was convinced that the powder decorating the plate this time had elements of hoi sin sauce in it and I was convinced that it was aniseed.
Turns out, it was a combination of anise, almond meal, kalamata olives and brown sugar.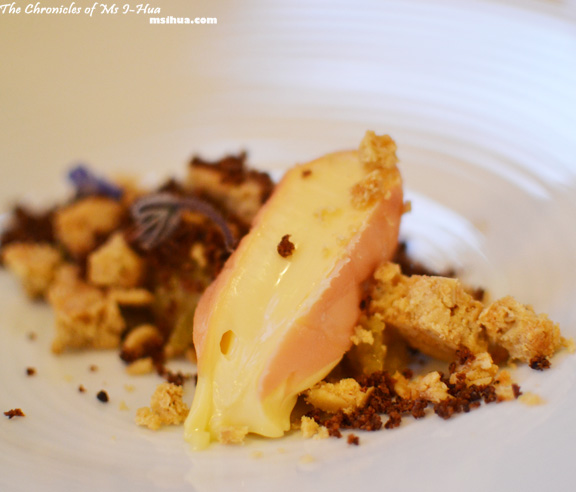 By this stage, I was hankering for dessert. We decided to share out the optional cheese course ($15.00). A pretty gooey mish-mash of Washed Rind Cheese and Onion marmalade.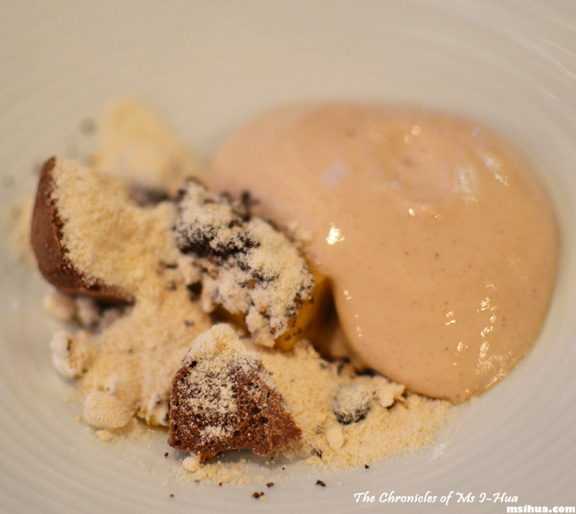 For our dessert course, we were served a concoction of Banana, Chocolate and Rosemary.
There seemed to be a running theme with the food that evening. Raw vegetables, roots, edible flowers, ash and assorted powders were a feature in nearly all the dishes.
The dishes we had that night speak volumes of the quality of food from their kitchen staff. As long as they stay, I'll be back for more outrageous combinations for dinner.
**Five Course Set Menu ($80.00 pp) from Tuesday to Saturday nights and Sunday lunch. Menu changes weekly.
Brunch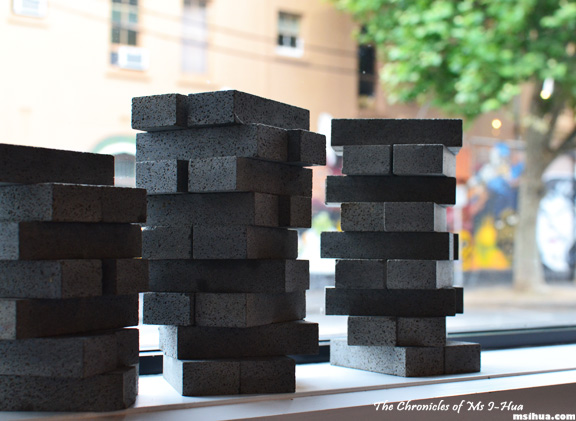 As mentioned, the Boy and I visited The Brix on a Sunday for a rather late brunch.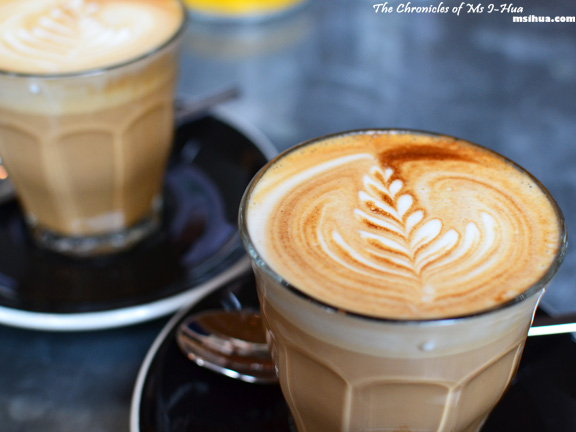 From their Synesso coffee machine, we ordered two strong cafe lattes ($4.00 each)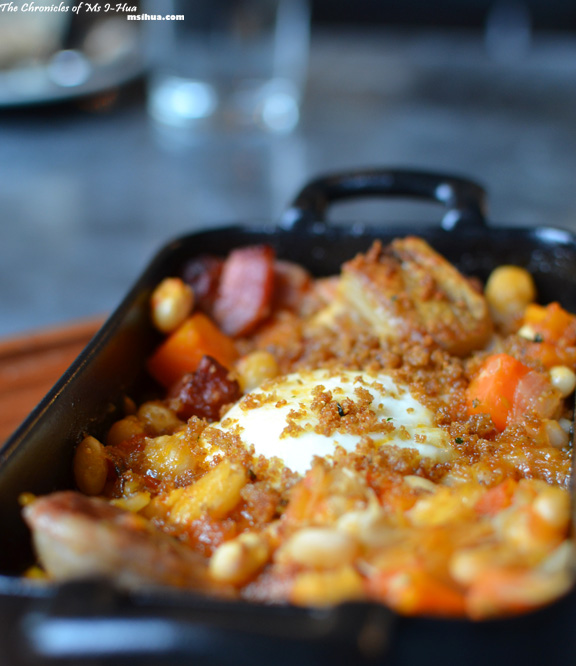 The Boy had a delicious Pork Cassoulet of baked egg, persillade served with rye bread ($19.00)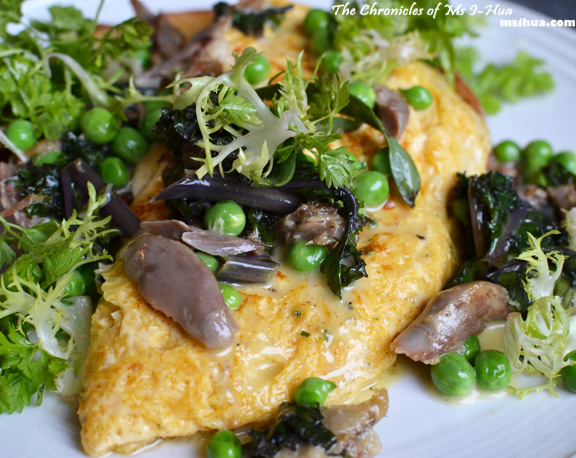 As I was on my Paleo diet, the only thing that stood out for me was the Fine Herb Omelette ($20.00) which had duck confit, peas, cavolo nero and creme fraiche served with Sourdough.
It was very creamy and rich and made me want to curl right up in the corner after finishing the omelette (I skipped the bread).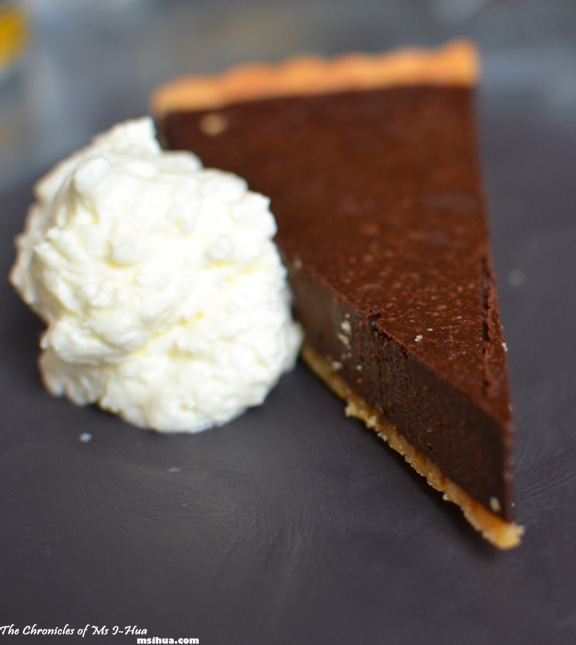 As we weren't quite ready to leave the establishment, we ordered a Seasonal Tart ($14.00) – Chocolate tart and Mandarin cream, another very rich dish for the day which I happily tucked into (quietly ignoring that it was a tart).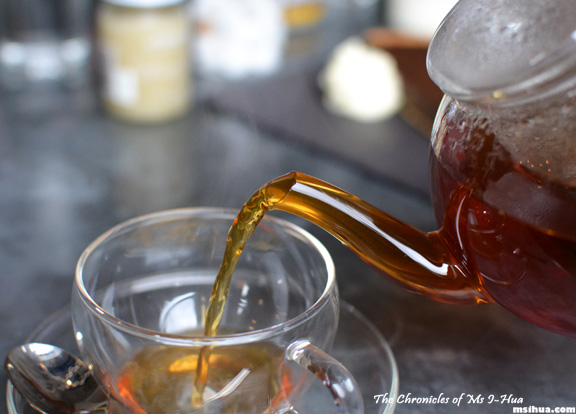 To cap a wonderful brunch, we washed it all down with a strong brew of French Breakfast Tea by Mariage Frères 🙂
For an establishment that looks unpretentious, it has a stellar cast of staff, chefs, and a menu that proclaims loud and clear that it is modern, exciting and definitely here to stay!
*Disclaimer: All food ratings & review are purely based on my own experiences and how I feel about the service, food and quality at the time of visit
Food/ Cuisine: Contemporary (Modern French)
Dining Style: Bistro
Overall Food Rating (Based on the Dining style): 8/10
Restaurant ambiance: 8/10
Service/ Attitude: 7.5/10
Value for money: 7.25/10
Opening Hours:
Tuesday to Thursday, 6pm – late
Friday, 12pm – 3pm; 6pm – late
Saturday, 8am – 3pm; 6pm – late
Sunday, 8am – long lunch (3pm)
Address:
Rear 412 Brunswick Street
(Enter via Westgarth St)
Fitzroy VIC 3065
Tel: (03) 9417 6114
Website: http://www.thebrix.com.au/
Twitter: @thebrixfitzroy
How to get there: