Finding a good decent breakfast and lunchspot in Melbourne CBD can be particularly frustrating, particularly when you are stuck in the Spencer Street and Flinders Street end of the Melbourne CBD matchbox. All the good places are located in the central, north of western part of the CBD.
So when a fresh new eatery opened on the corner of Flinders Lane and Tavistock Place (in between Queen and Market Streets), word got around like wildfire and rumours travelled through the grapevine.
There was a new place and it was good!
I came in to work one day, and someone mentioned that they've just bought coffee from the new place downstairs and they did single origins!
Aghast, that I had missed out on the opening of this new place (I was overseas at the time, you see), I decided that I had to go and pay them a visit, a greeting to a new neighbour if you must.
That is how I met Threefold and how I've fallen truly, madly, deeply with the tiny little foodstore and eatery that has sprung upon my doorstep.
Believe it or not, within the span of 2 weeks, I've visited this little eatery 8 times.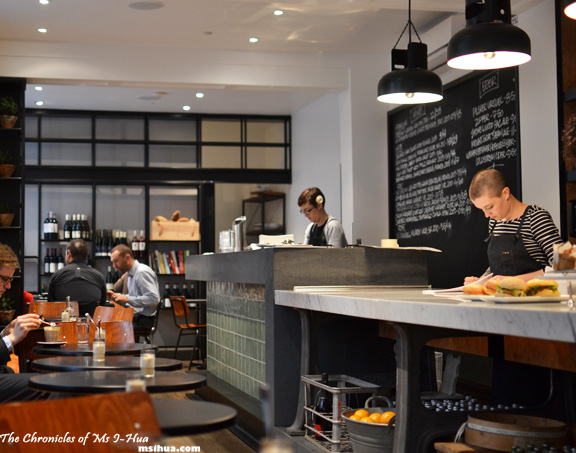 Now when I say it's tiny, it really is. On one side lined up against the wall are padded sofas and round tables. On the other side, you have the bar, salad and sandwich bar, cashier and the coffee machine. But they (and the architect Travis Walton) make do with what little space they have, with their large panelled windows, allowing bright sunlight to cast a spotlight on their food displayed on the long marble table. Towards the back of the store, smart black panels and shelves line the wall, maximising the space available to them.

Simone Moss (left) and Lynn Brown (right) are both joint owners of Threefold and are friendly and charming. When Simone noticed I was snap-happy on my camera, she smiled and asked what I was up to. After explaining to her, she was more than happy to have me continue my happy snaps 🙂
Uncharacteristically for this end of town, Threefold serves a pretty decent cup of coffee and a very good cup of spiced Chai Latte, both available as house blends. They even use Bon Soy! Yayy!

The coffee is sourced from Espresso Syndicate and they change the blend once a month. I was able to sample in all my last couple of visits the earthy single origin San Christobel Mexico as well as the chai lattes.
In terms of the food, I was armed with the knowledge that their head chef, Stephen Black had previously worked at Pearl, and thus I was expecting big things.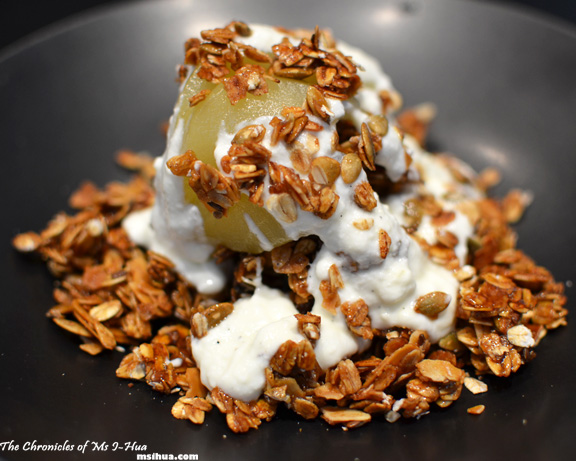 On my first two visits, I got up early enough to get into work so that I could try their breakfast options.
The Honey Granola with Poached Pears & Vanilla-Infused Organic Yogurt ($8.00) was absolutely amazing and to die for. Coming from an all only-bacon-and-eggs-breakfast kinda girl, you best believe me when I say this is good. Oh so good.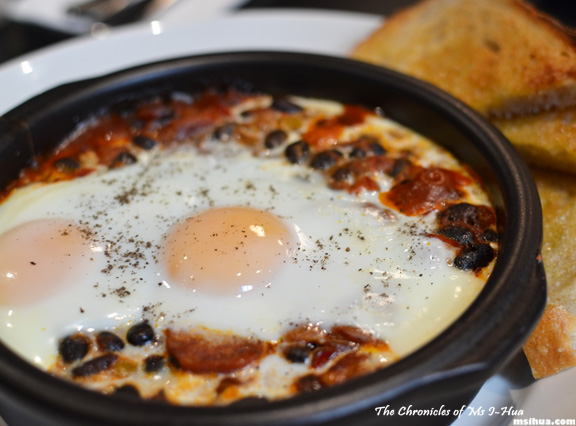 On my second breakfast, I was hankering for something meatier and ordered the Cassoulet with Chorizo, Beans & Baked Eggs ($14.50) and was once again blown away at how delicious and fulfilling this dish was. The eggs were perfectly cooked for me.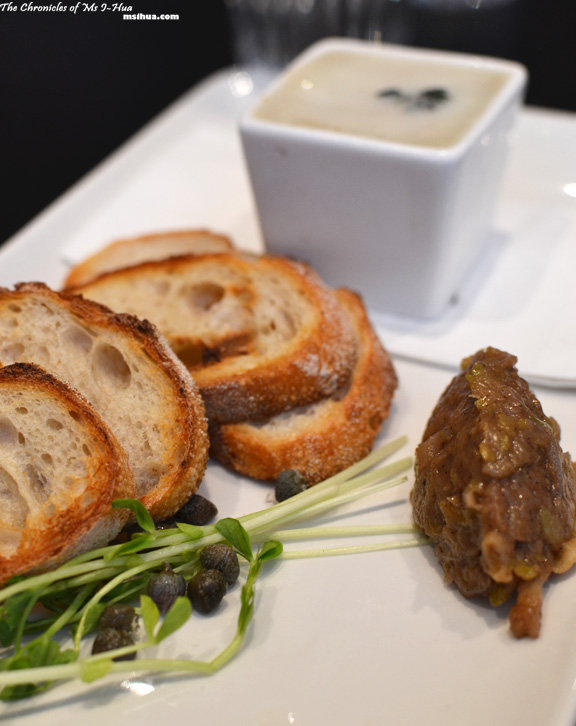 When I arranged a lunch hour with the girls at work to visit Threefold, I decided to go easy and ordered the Duck Rillette with Spiced Pear ($14.50). To be honest, I was a bit astonished with the portion of the serve.
But when I spread the goodness of the duck paté over my warm toasted bread, all was forgiven. I could have done with more bread though 🙂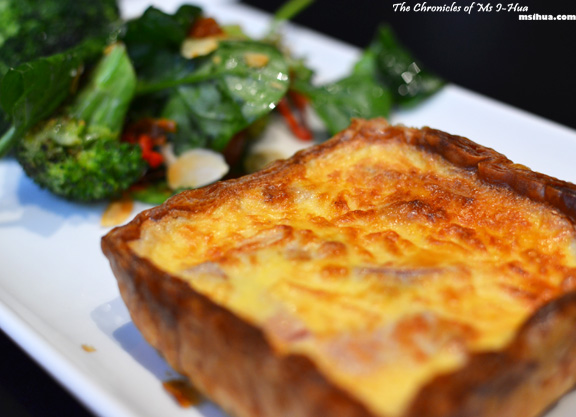 The girls decided to order a Tart each with a salad. Clever choices if I must say so myself, the tarts looked delicious and the salads much the same.

Between them they had the Bacon and Blue Cheese Tart and the Zucchini with Goats Cheese Tart, with their selection of salads (Trio of Asparagus with Parmesan Crumbs, Cous Cous with Peas, Mint, Feta & Olives as well as the Broccoli with Toasted Almonds, chilli & Prosciutto) for $16.00 each.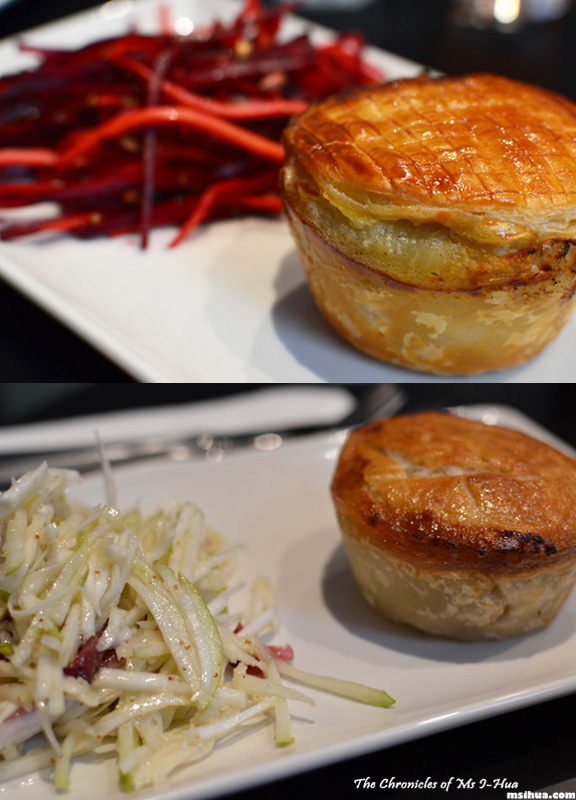 On another visit, I managed to try the very delicious (but again tiny) "Father's Favourite" Fish Pie with a Beetroot, Carrot and Pine nut Salad ($16.00).
During a quick catch up with a Twitter friend and fellow food blogger, Food Glorious Food, who also happens to work in the vicinity, she tried the Veal Pie with an Apple Coleslaw Salad ($16.00).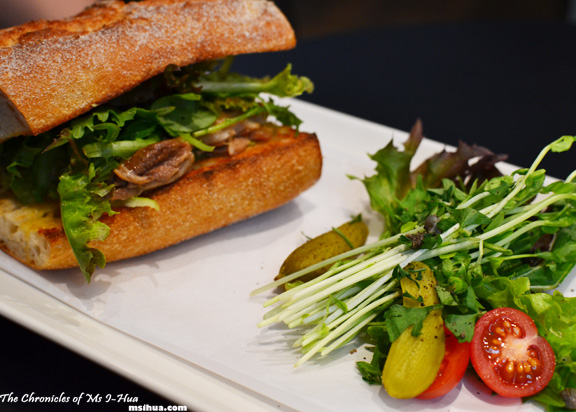 If pies and tarts are not your cup of tea, and you are after something meatier and bigger, why not try the delicious Warm Pork Belly with Apple on Baguette ($14.50)?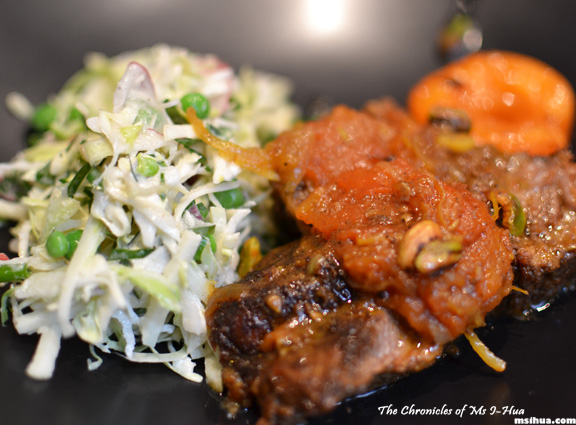 At my most recent visit (which was last Thursday), I managed to sneak in a beautiful Tagine of Lamb with Caramelised Apricots & Pistachios with a salad of Apple Coleslaw with Parmesan Mayonnaise & Chilly ($20.00).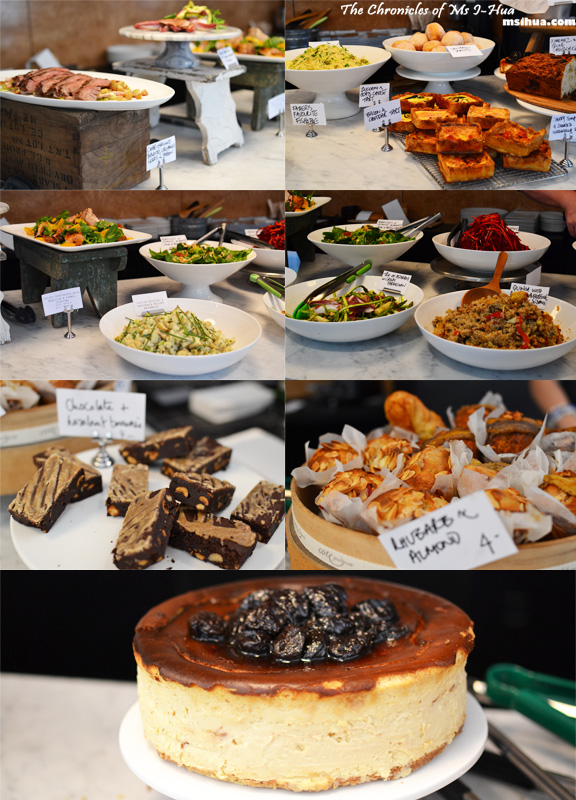 Don't you just love the display of food? Everytime I visit, it's a different variety of dishes in front of me.
They change their menu and options quite regularly, so for folks like me who visit that often, it's a breath of fresh air compared to the usual sandwich and lunch options around the area.
It is slightly on the pricey side of things with their small portions but they make up with the high quality of produce used in their cooking.
Also, all muffins and cakes (apart from the bread and croissant) are made fresh in-house 🙂
*Disclaimer: All food ratings are purely based on my own experiences and how I feel about the service, food and quality at the time of visit
Food/ Cuisine: Breakfast/Lunch, Modern Australian
Dining Style: Cafe
Overall Food Rating (Based on the Dining style): 7.5/10
Restaurant ambiance: 7/10 (It does get cramped up during peak lunch hours and if you are sitting in the pathway, be ready for some jostling from the staff and patrons walking up and down)
Service/ Attitude: 8/10 (The staff and their owners are all super friendly and know regulars by name. They greet you with smiles no matter what time you walk in and are always available when you need more information)
Value for money: 7/10 (Even though I keep saying it is pricey, I do realise that it is sort of catered towards the gourmet-ish style and thus, is sort of justified)
Opening Hours:
Monday to Wednesday, 7am – 4pm
Thursday to Friday, 7am – late
Closed Saturday & Sunday
Address:
381 Flinders Lane
Melbourne VIC 3000
Tel: (03) 9614 8194
Website: http://www.three-fold.com.au/
How to get there: