Monk Bodhi Dharma is a little cul de sac cafe named after the famous Buddhist monk, Bodhidharma. Legend has it that he not only brought Zen buddhism to Japan and China, he even spent some time teaching the Shao Lin monks martial arts in the legendary Eighteen Arhat Hands amongst other famous kung fu.
Another story had it that when he was initially rejected entrance into the Shao Lin monastery, he decided to meditate in a cave for 9 years to demonstrate his sincerity but kept falling asleep. In his annoyance, and to prevent sleep from taking over, he cut off his eyelids. As his eyelids landed onto the cave floor, tea plants sprang up! Tea is used as a stimulant to help keep practitioners of Zen Buddhism from falling asleep during meditation.
The namesake cafe on the other hand, is simpler and a lot less grumpy. Thank goodness!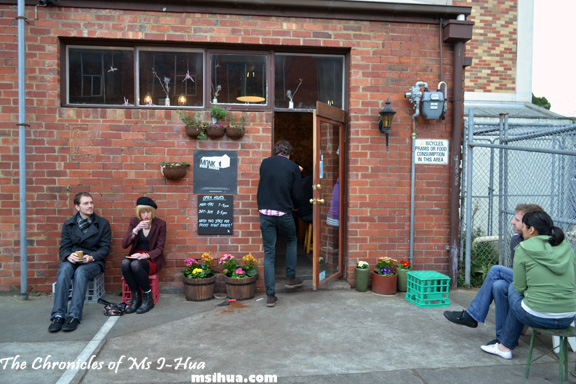 Located in between the local Safeway and the parking lot, Monk Bodhi Dharma serves specialty coffees and teas and take themselves quite seriously on it.
The food is strict vegetarian bordering on vegan for certain dishes. So don't expect a large serving of bacon and eggs here when you visit.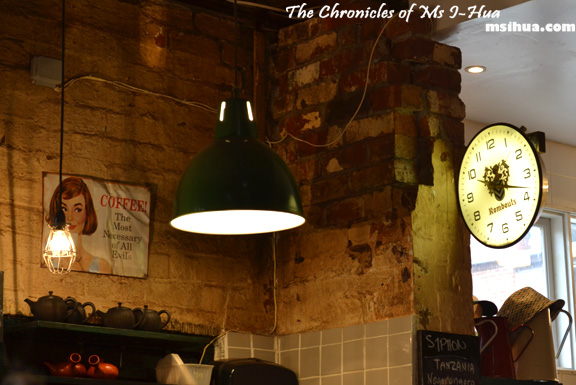 This was the first time I dined with Bryan alone and I have no idea why we don't do it more often! It was fun, we laughed heaps and drank a lot of coffee! We did start rather early though (than usual), and decided to meet at 9.30am to avoid the crowds!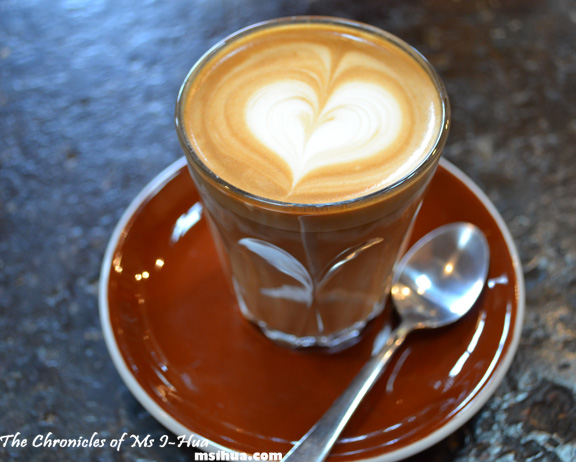 To start us off the day, Bryan had a flat white and I had a cafe latte ($3.80), both using the Monk Bodhi Dharma Zen blend. The tasting notes mentioned notes of figs, caramel and dark chocolate and I did my best to search for them on my palate, and failed. LOL!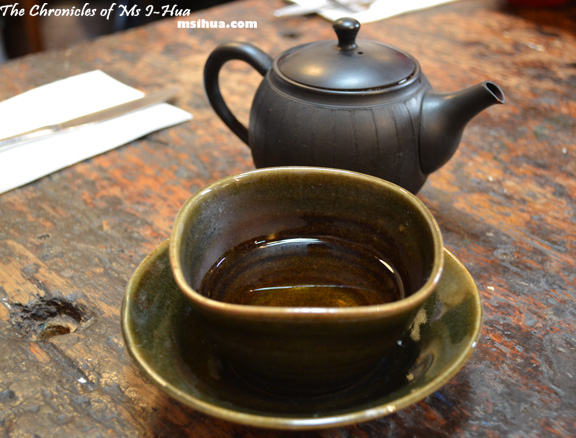 The lady seated next to us was so amused by our photography and antics that she offered up her green tea blend for me to take a picture of as well!
The best thing about dining out with another food blogger is the shamelessness of taking pictures of everything!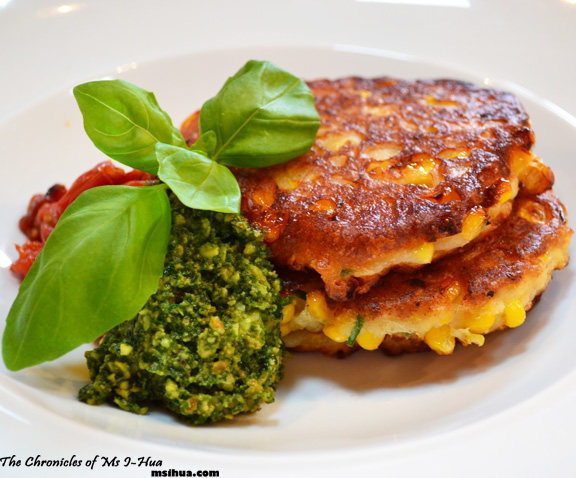 I decided I'd try the Marlo Sweetcorn Ricotta Hotcakes ($15.50) with slow-roasted cherry tomatoes, house made basil pesto and sour cream. So delicious and light!
I think these are the best corn fritters I've had so far (and I've had a fair few). This ranks quite highly in my search for perfection – corn fritters 😛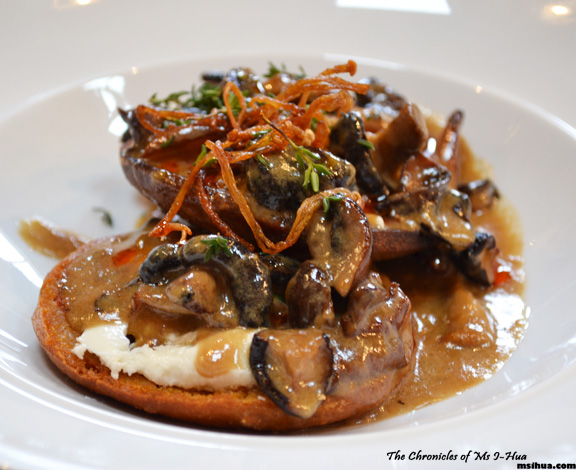 Bryan had the rather heavy and rich Umami Mushrooms ($18.50) – Slow-roasted king oyster, shiitake, oyster and enoki mushrooms on a housemade pumpkin, spinach and sundried polenta bread. Served with goat's cheese, thyme and chilli oil.
Whilst I would normally opt for dishes with my beloved fungi, I couldn't pass up the chance to try my corn fritters. Although Bryan and I did a swap half way through our dishes, I couldn't help but request for my delicious corn fritters back! I felt the mushrooms were a little on the heavy side for the early morning!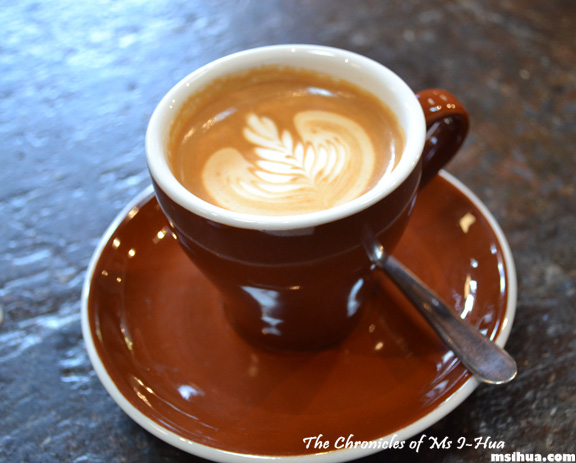 Once our dishes were cleared away, Bryan and I ordered our second coffees for the day.
He had the Zen Blend again, but in a Magic ($3.80) and I had another latte using the single origin blend of El Salvador ($3.80).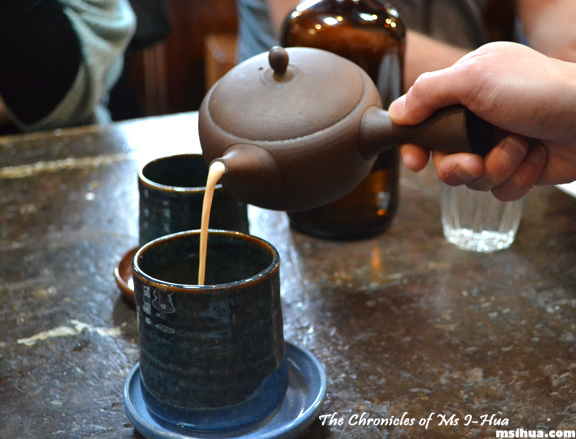 As if that wasn't enough, Bryan and I decided to share a pot of Chai Latté ($5.50), healing house brewed chai steamed with organic milk (or Bonsoy). Spices roasted and ground in-house and blended with honey.
It was indeed smooth, but wasn't spicy enough for me!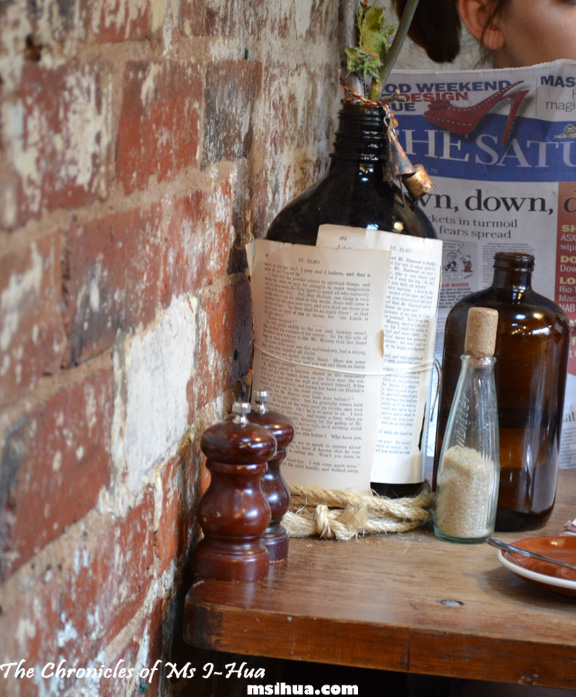 As we walked out the doors, we were astounded to see a group of people starting to form a line to get into Monk Bodhi Dharma.
It's definitely worth the visit!
Read Bryan's version of the story here 🙂
Let's Get Fat Together
*Disclaimer: All food ratings are purely based on my own experiences and how I feel about the service, food and quality at the time of visit
Food/ Cuisine: Vegetarian, Speciality Coffee & Tea
Dining Style: Cafe
Overall Food Rating (Based on the Dining style): 7.5/10
Restaurant ambiance: 6.75/10 (super cramp conditions)
Service/ Attitude: 8/10
Value for money: 7/10
Opening Hours:
Monday to Friday, 7am – 5pm
Saturday to Sunday, 8am – 5pm
Address:
Rear 202 Carlisle St
Balaclava VIC 3183
Tel: (03) 9534 7250
Website: http://www.monkbodhidharma.com.au/
Twitter: @monkbodhidharma
How to get there: