St. Ali fabulous he, Ali Ababwa!
Genuflect, show some respect down on one knee!
Yeah, I sang it. Completely and utterly stole that line from Aladdin.
But if you are a coffee snob like I am starting to become, you must have already paid homage to the amazing Saint in South Melbourne.
Located in the back alleys of South Melbourne in a refurbished warehouse, St. Ali houses quite an impressive number of passionate baristas.
Named after the so-called patron saint of coffee, Ali ibn Umar al-Shadhili, St. Ali was established in South Melbourne in 1999.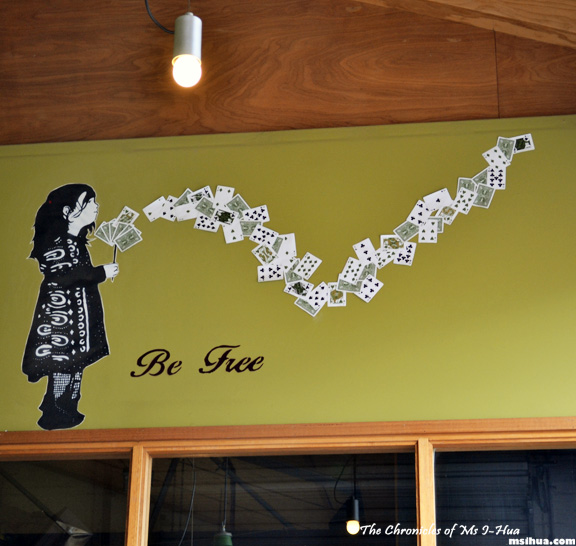 Bought over in late 2007 by Salvatore Malatesta then former lawyer, now almost a Coffee King (think Sensory Lab, Liar Liar, Outpost, and Plantation), from Mark Dundan (Seven Seeds, BBB and De Clieu), St Ali has blossomed and grown with its very own cult following.
It showcases a rather fun and unique menu with quirky names to everyday cafe items. Take for example, in most cafes, the rather boringly-titled "Corn Fritters". At St. Ali, it is known as My Mexican Cousin, which interestingly enough is now a new cafe/restaurant venture of Malatesta at the Melbourne Recital Hall.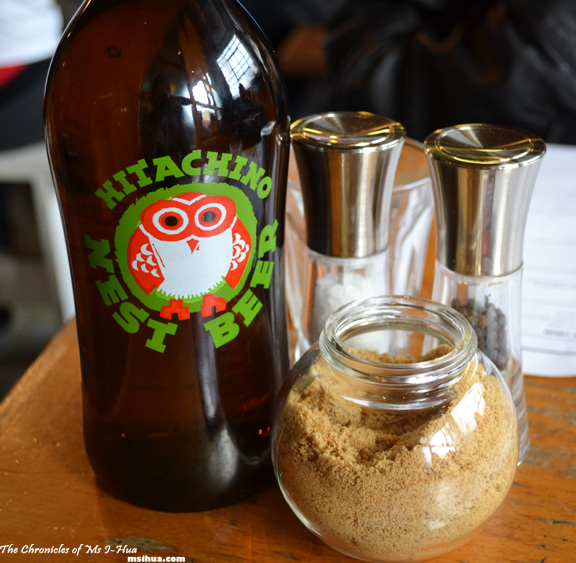 Here at St. Ali, the baristas are indeed serious about coffee. Heck, they get a little bit excited even. Which is great to see, considering they have so many regulars and patrons walking through their doors every day for a cup of fantastic brew.
In my very humble opinion, St. Ali comes to a very close second place right after Seven Seeds in terms of their quality. It is true that I occasionally stray into the playgrounds of others such as Auction Rooms, Market Lane Coffee, Proud Mary and Axil, but in my heart, my two favourite spots for coffee would have to be from either one of Mark Dundan's or Salvatore Malatesta's babies.
Some would argue with my choices, but when it comes to coffee, it's all different and a deeply personal choice.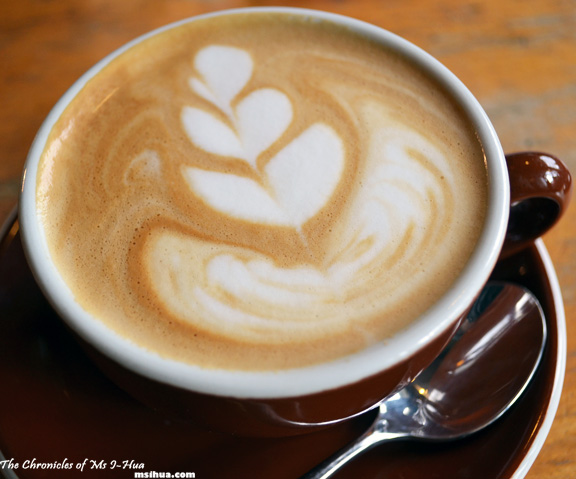 I've been to St. Ali's a few times for coffee but never found the time to wait around for seats. One cold September morning, the Boy and I woke up extra early and trekked to South Melbourne for some good coffee and hopefully hot food. Luckily for us, when we got there, we managed to locate seats for ourselves and we began with a Latte ($4.00) with the Coffee of the Day for me.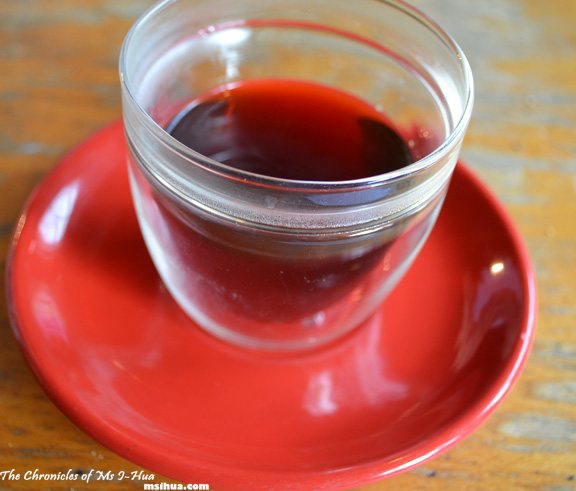 Slightly out of character, the Boy ordered a Pourover ($6.00) – Honduras Single Origin. I stole a sip of his coffee and reluctantly handed it back. It was quite light and sweet and was quite nice to drink.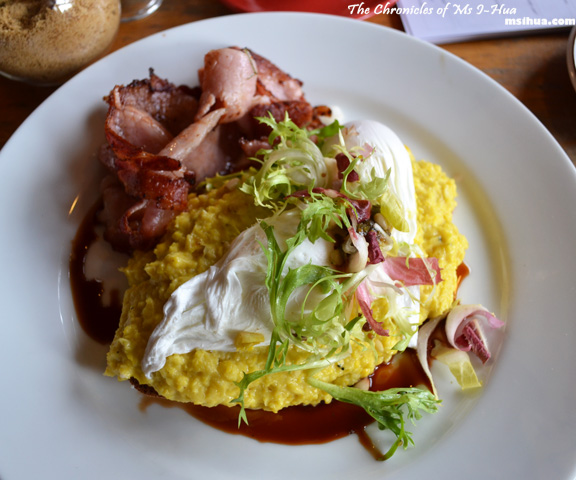 For my breakfast, I felt a bit weak and lame and ordered the Corny Baby ($18.50) (geddit? Geddit??!!)
I think the original menu which I ordered from had this down as the "My Second Mexican Cousin" but in their menu online, the name must have changed 🙂 I rather enjoyed my creamed corn with poached eggs, green chilli relish, pinenuts & witloof/witloaf/wotlof whatever salad on light square tin sourdough.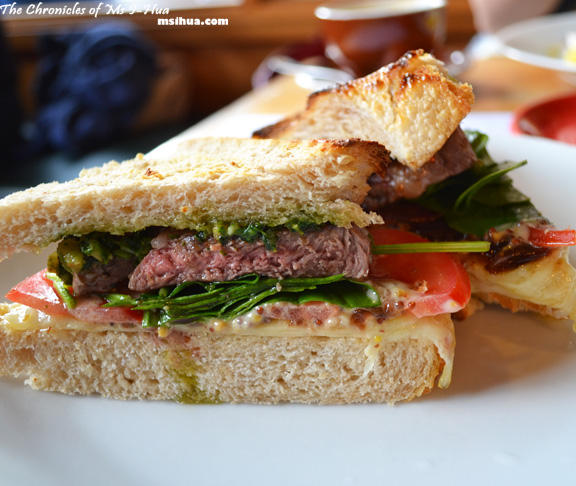 The Boy on the other hand was feeling very macho and placed a request for the The Moo Sanga ($22.50) – Grilled Black Angus Scotch Fillet with gruyere, mustard mayonnaise, rocket pesto and fresh spinach.
Just look at that monster! Such a man size sandwich!!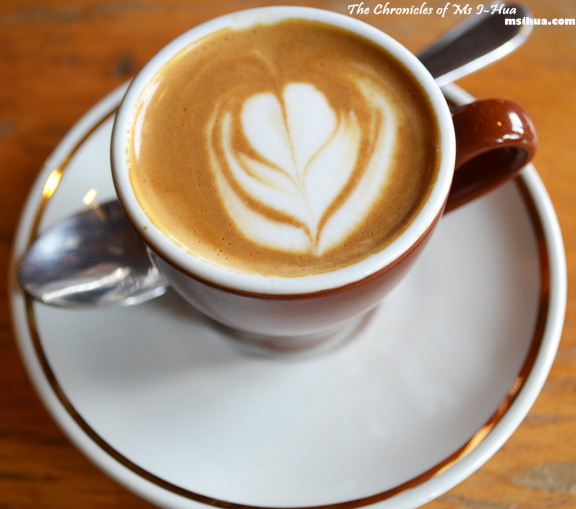 After our dishes were cleared away, I ordered a Piccolo ($4.00) with the same COTD to get me motivated to face the rest of the Sunday working on house chores *bleurgh*. The coffee was good though. Strong, robust with a bitter note.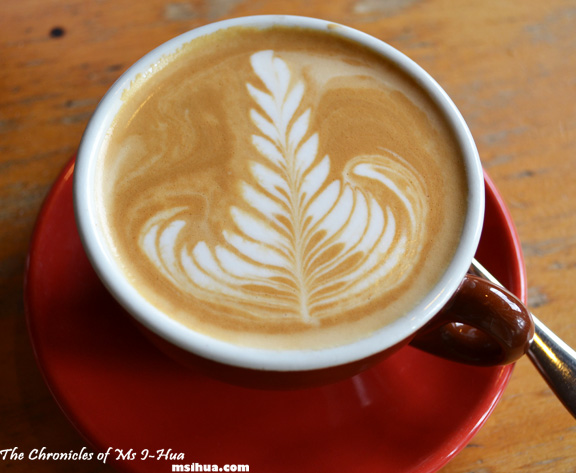 The Boy ended his man-wich with a Latte ($4.00) – House Blend which I thought was silly. He should have opted for another pourover so that I could steal more sips!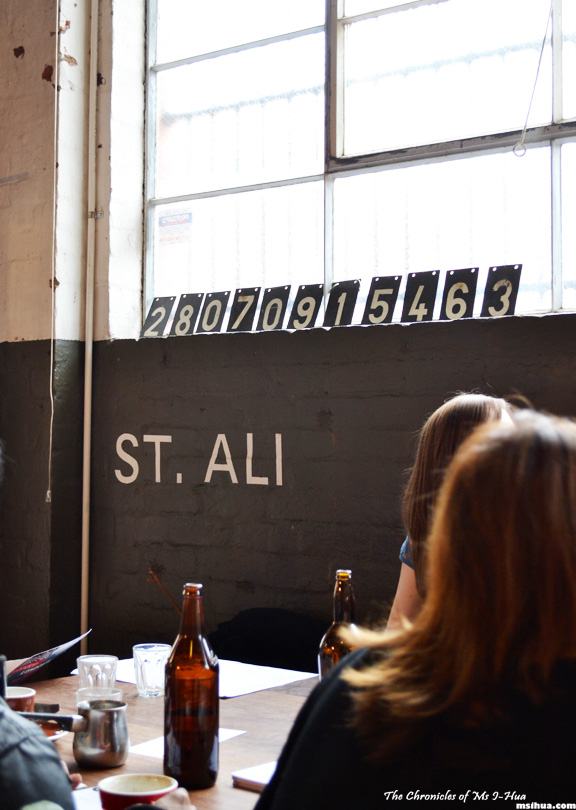 There was no rush for us to leave the premises, but from the queue and crowd that was starting to form on the doorsteps and entrance where we were situated, we thought we'd better leave so that others may get to enjoy and pay homage to the Saint. Not to mention, it was actually Father's Day and there's nothing better than great coffee to start a wonderful Father's Day morning.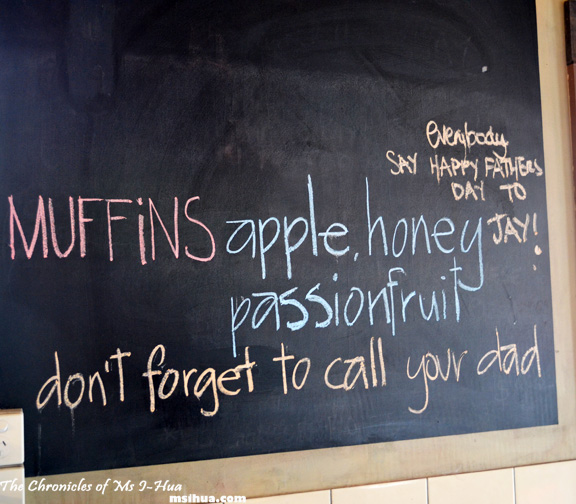 What did I think of St. Ali? I think it's pretty obvious that I like it. So I'll just leave it up to you to venture over to South Melbourne for their coffees and food.
*Disclaimer: All food ratings & review are purely based on my own experiences and how I feel about the service, food and quality at the time of visit
Food/ Cuisine: Speciality Coffee, Breakfast, Modern Australian
Dining Style: Cafe
Overall Food Rating (Based on the Dining style): 7.5/10 (As for coffee, 8.75/10)
Restaurant ambiance: 7.25/10
Service/ Attitude: 7/10
Value for money: 7/10
Opening Hours: 
Monday to Tuesday, 7am – 5pm
Wednesday to Saturday, 7am – 11pm
Sunday, 7am – 5pm
Address:
12-18 Yarra Pl
South Melbourne VIC 3205
Tel: (03) 9686 2990
Website: http://stali.com.au/au/
Twitter: @ST_ALi
How to get there: