Back in November last year (Yes, I can say last year now!), Agnes, April and I were amongst the lucky few chosen to extend our culinary skills in the kitchen with Walter Trupp at Trupp Cooking School in Prahran.
I was ecstatic when I received the invite as I have always wanted to attend a cooking class. I don't think I'm good in the kitchen at all you see. I can't even dice an onion properly 🙁
Anyway, back to my cooking class. This was to be a fun-filled night, hosted by renowned Austrian Chef, Walter Trupp!
His CV reads like an amazing adventure:
Walter's working experiences include:
Crissier – with Frédy Girardet, Switzerland (3 star)
Tantris – with Hans Haas, Munich (3 star)
Aubergine – with Ekart Witzigmann, Munich (3 star)
Le Manoir Aux Quat Saison – with Raymond Blanc, London (2 star)
La Tante Claire – with Pierre Koffan, London (3 star)
Pied A Terre – with Tom Aitken, London (2 star)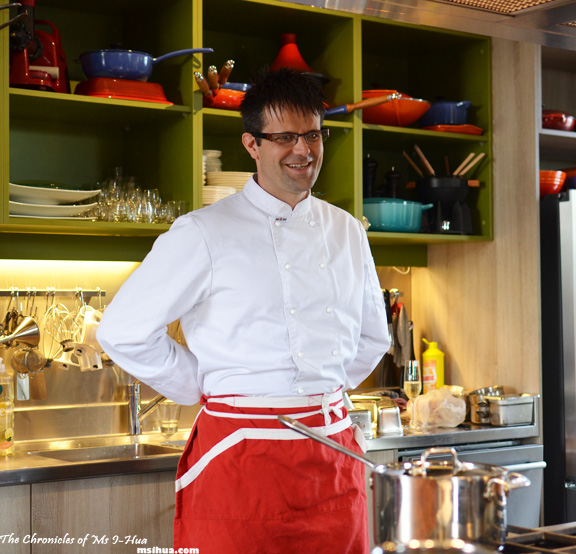 His own restaurant in Austria Gasthof Post in Carinthia was his pride and joy. By the age of 25 (youngest ever), the restaurant was awarded 18 out of 19 points and three Chef's Hats in the prestigious French restaurant guide.
From there he packed his bags and moved to London to work under Michel Roux's 3 Michelin starred "Waterside Inn" in Bray.
If that doesn't get more exciting, he then moved to work with another famous 3 Michelin starred restaurateur, Marco Pierre White, as the Executive Head Chef in his restaurant group.
Walter's Australian journey started off as the Head Chef at Langton's Restaurant and Wine bar for 3 years before leaving in 2005 to gain more knowledge and experience in areas he was interested in such as teaching and writing books.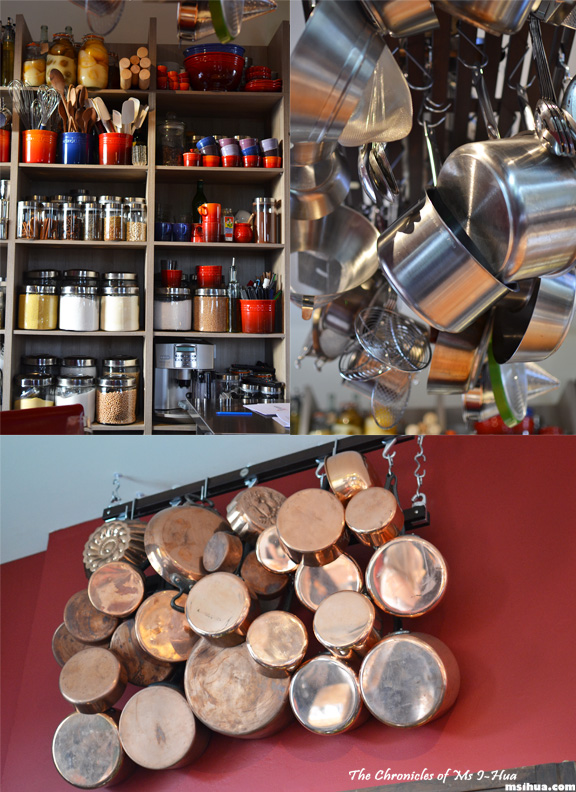 When everyone arrived (the class size was about 9 pax) we couldn't help but exclaim, "Oh I wish my kitchen looked like that" and "Oh! I wish I had 6 Kitchen Aids, and a collection of copper pots too!".
Indeed, it was a dream kitchen. Filled to the brim with any utensil you can think of and high-end cooking appliances fitted out by Electrolux.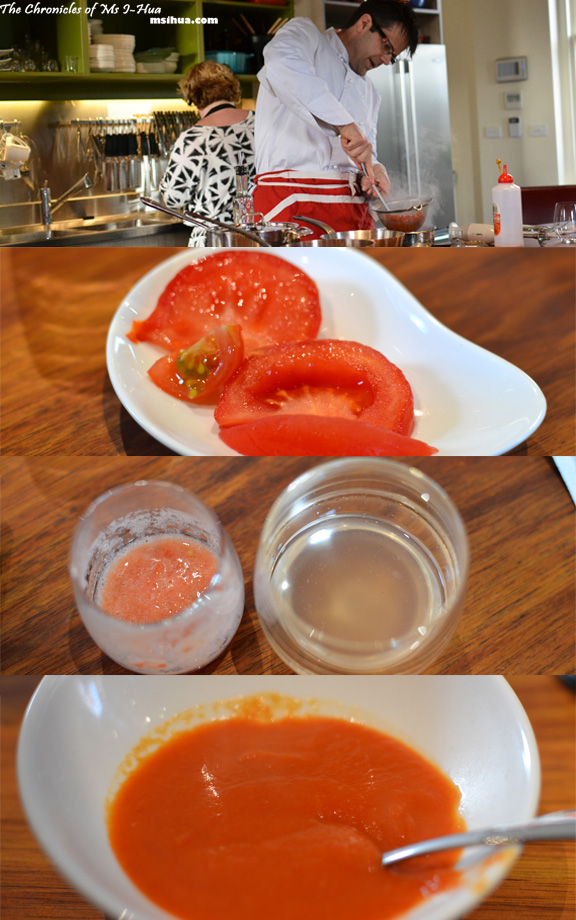 One of the first things Walter taught us was to respect the ingredient, experiment, and know what to do with it once you've gleaned the knowledge.
Take for example the humble tomato.
He made us each try a seeded peeled tomato, an unseeded unpeeled tomato, a seeded unpeeled tomato, unseeded peeled tomato and a cherry tomato. Each one had a different flavour, with the unseeded and unpeeled tomato displaying the highest flavour.
Then, he pureed some tomatoes and made us drink one with pulp and one strained. Interestingly enough, the strained tomato pulp, or Tomato Tea had a very floral note to it, and if I didn't see it with my own eyes, would not have believed it was from a tomato at all.
Next, he moved on to show us how to make tomato sauce, plain, with cream and basil and lastly Trupp's own version with secret ingredients (includes honey, curry powder, tomato ketchup to name a few 😛 )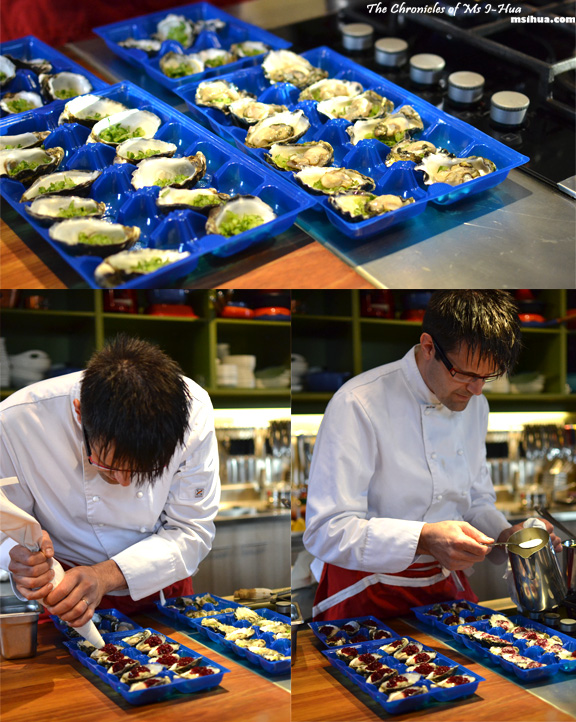 Fun and games aside, it was on to the cooking (and eating!) Hooray!
For our first course, Trupp took out trays of oysters from a secret area. He proceeded to tell us that oysters should be kept fresh at all times until the time for consuming comes.
Then you should shuck your oysters from the back, and never wash it out, as you would be washing out all the delicious juices (a hideous sin!)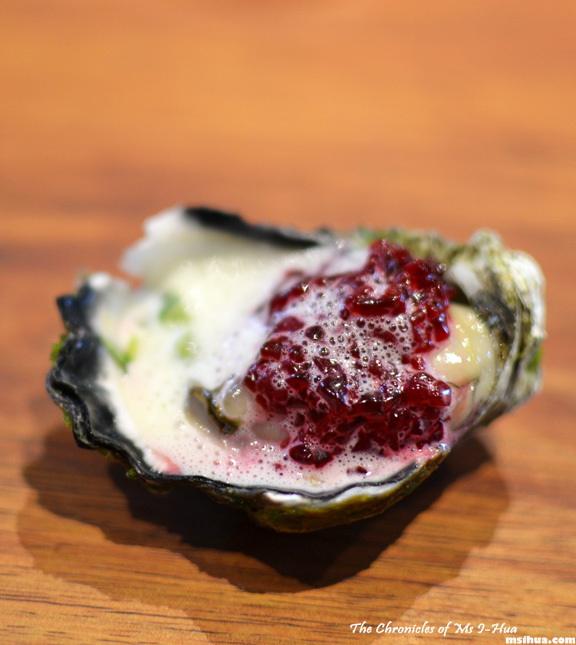 The first oyster we had was topped with a delicious beetroot jelly, diced cucumber and wasabi leaves. The foam you see was made with shallots, fortified white wine, fish stock, cream, and horseradish (don't cook with the horseradish as it gets bitter, just use it fresh).
The result? Deliciousness in a mouthful. April didn't eat any of hers, so Agnes and I called dibs on her next 4 oysters! #WIN
The first oyster we tried was a Sydney rock oyster and the second was a Tasmanian oyster (which was meatier and more robust in its taste).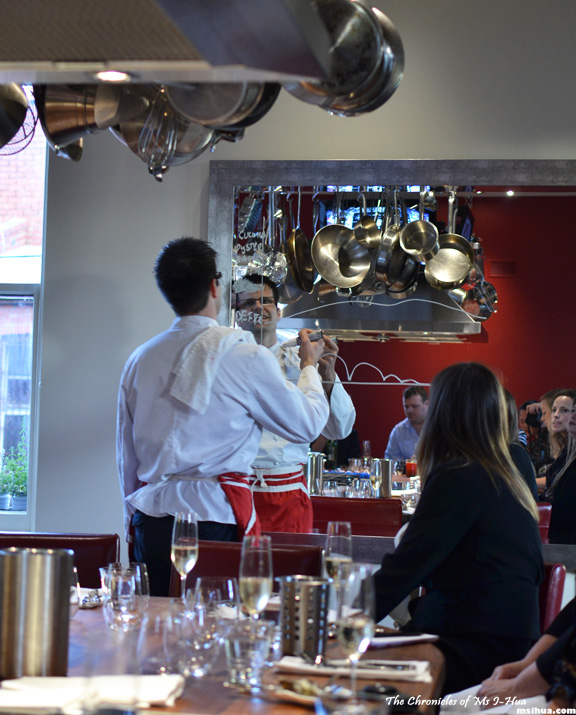 Trupp proceeded to a cool mirror-glass-board (which up to this point, I had thought was just a decorative feature) and drew on it. He drew out the flavour chart of the oyster, together with the key flavours of what we could taste (i.e. beetroot, oyster, cream) and how it matched with the wine.
It was very scientific.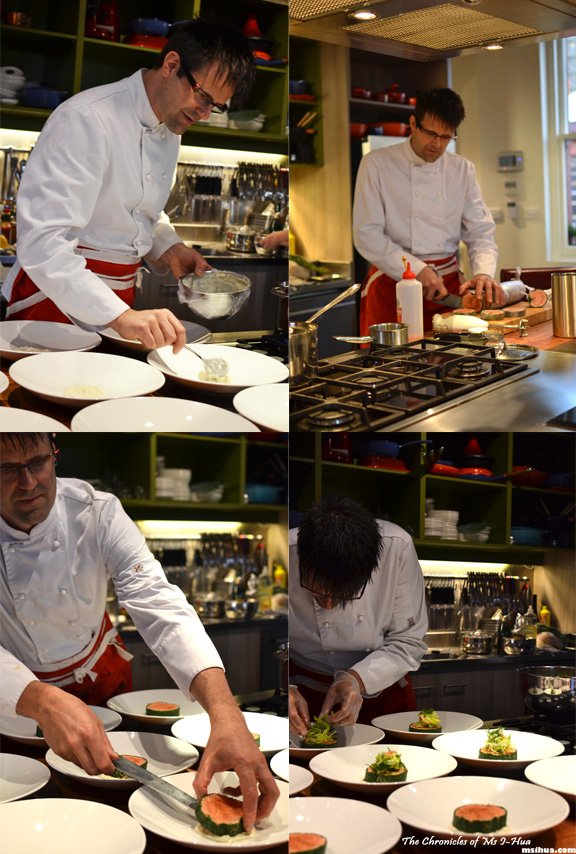 For the next course, Trupp served up a very amazing salmon terrine dish.
Take 2 giant salmon fillets (deboned), place gelatine leaves in the middle of it, and roll in a mixture of herbs (including parsley, dill, chives) before sealing up by rolling in cling wrap. Because of the size of it, to cook it, Trupp uses an interesting kitchen appliance to help him.
The sink. Yes, he cooks the fish in 75 degrees Celsius water in the sink for 75 minutes. The gelatine leaves will melt away during this cooking process and firm up the flesh of the Salmon.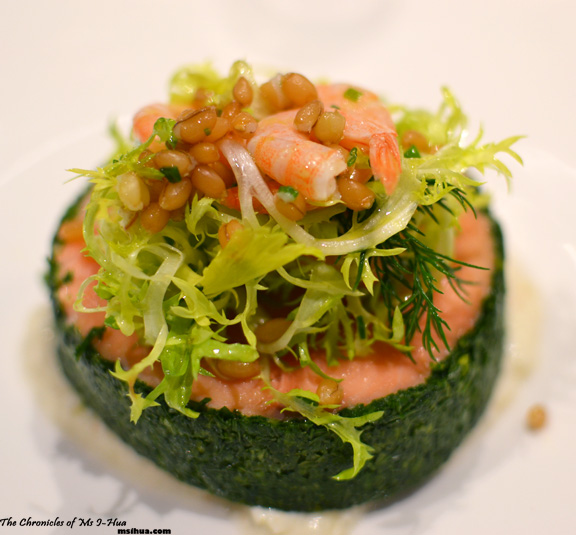 The end result is a delicious and fresh tasting salmon with not much done to overpower the taste other than a few choices of herbs and served on cauliflower cream.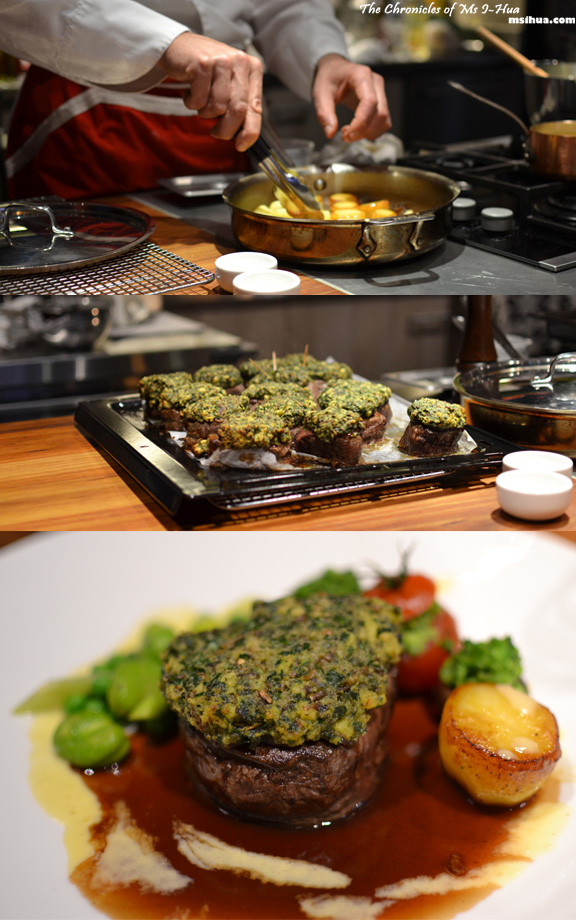 For the mains, Trupp announced that he hoped we all liked beef. At this point, I said, "Damn!" It was so close to being a perfect meal night! And I was going to miss out on the meat dish! Boo!
Apart from being able to tell you it was a filet mignon steak with a red wine reduction, I wouldn't be able to tell you more. Agnes (whom I've stolen notes from) decided to stop writing at this stage and simply indulge in the food 😛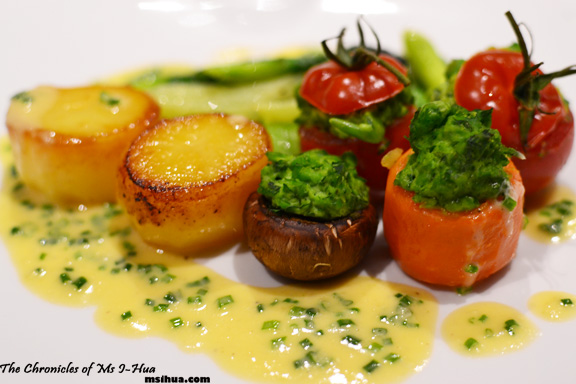 What did I have you ask? I had the vegetables (which were still good), if not for mashed peas stuffed in them! Hee hee… Agnes and I surreptitiously tried to hide our mashed peas on each other's plates and mixing it up in the sauce.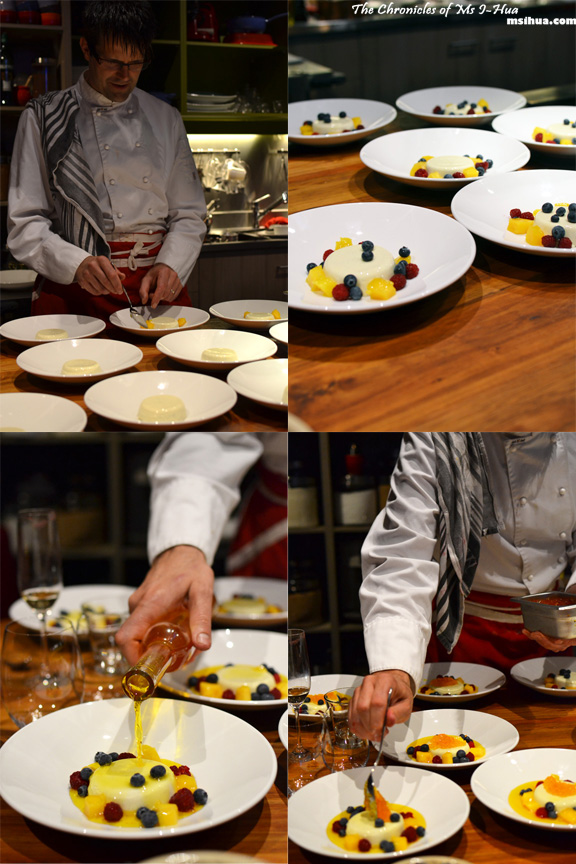 The next thing we knew, it was time for dessert! Someone shouted out if we would be able to try the infamous Sacher Torte (chocolate cake from Sacher Hotel in Austria), but Walter smiled at us and said, he had something better 🙂
From his fridge, he took out a dozen panna cotta molds which he had prepared earlier.
At this stage, he taught us about food styling.
Keep it simple. Use seasonal fresh ingredients and produce. Keep away from the over-used swishes and brushes on the plates.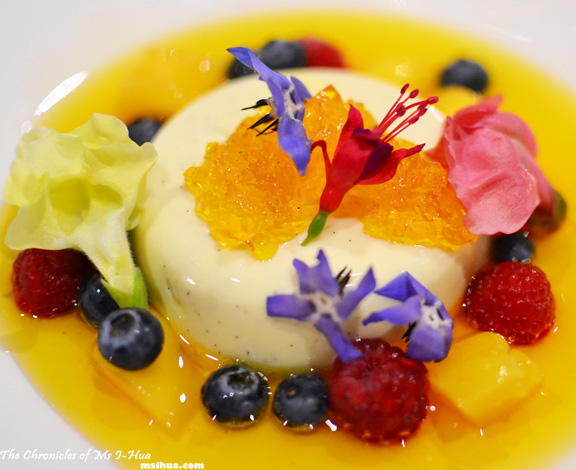 I reckon this is one of the prettiest desserts I have been presented with.
Vanilla and goat's cheese panna cotta with saffron syrup with summer berries and edible flowers.
The flowers were sourced from Prahran Market next door (from Damian Pike OAM).
Trupp also runs a class which starts from the market (how to source good produce/ingredients) to the kitchen (and what to do with them 🙂 ).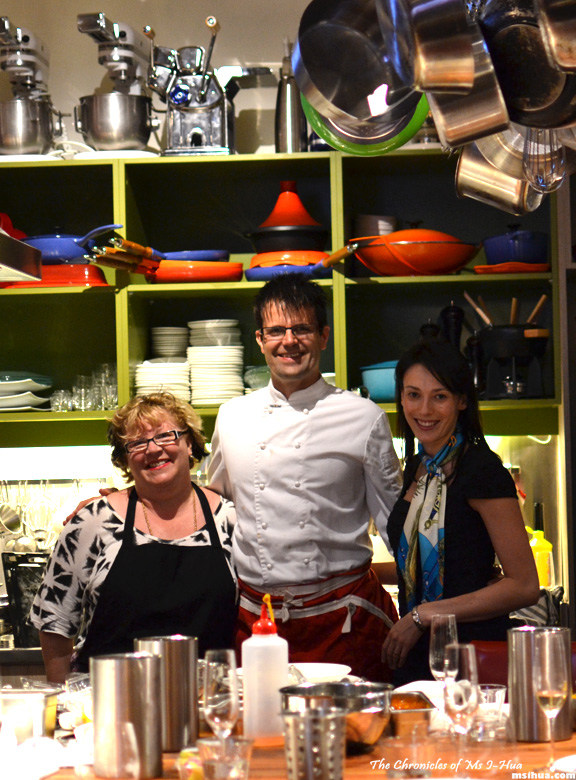 All in all, it was a magnificent night. I learnt quite a lot from Walter Trupp and I am actually going to book myself in for another of his classes, it was great fun!
Did I mention that he likes to write books as well? Walter's book will be out in March this year! Keep an eye out for it 🙂
For a full list of the classes they conduct, it's best to keep an eye out on their website, Trupp Cooking School, for updates.
So if you're keen on learning the basics or even sharpening your existing culinary skills from an international renowned chef, hop on Trupp Cooking School's website for further details. There are also cooking classes for kids!
[Ms I-Hua dined as a guest of Open Haus PR, Electrolux and Trupp Cooking School]
Address:
1/53 Barry Street
South Yarra VIC 3141
(*Trupp Cooking School is located off Barry St, approximately fifty meters to the north entrance from Prahran market and ten meters off Chapel Street, above Colin Moxey hair dressing salon.)
Tel: (03) 9826 9119
Mobile: 0429 650 343
Website: https://www.truppcookingschool.com/
Email: [email protected]
How to get there: