I've often expressed my love for Middle Eastern and Mediterranean cuisines. Our brief interlude to Egypt had both the Boy and I drooling in anticipation on our daily Middle Eastern feasts. I just couldn't understand the people on the same trip that had packed instant noodles and were lamenting that KFC was much too far away!
Truly, as Anthony Bourdain mentioned, why bother travelling if you are not going to immerse yourself in the local culture? God, forbid, you visit Japan, and the first place you go to is not the street side ramen stall, but to a Starbucks. A complete farce throughly.
Back to my love for the aforementioned cuisine. I just can't get enough of it.
My most recent dining experience would be at MoMo where the decor alone brought nostalgia to our hearts.
Recently, the generous folks at Kitchenware Direct allowed me to choose from their product range, anything my heart desired at a budget. I pondered on the offer, clicked through the many items (they have so many!), when all of a sudden, my heart faltered, and I knew that I had found it.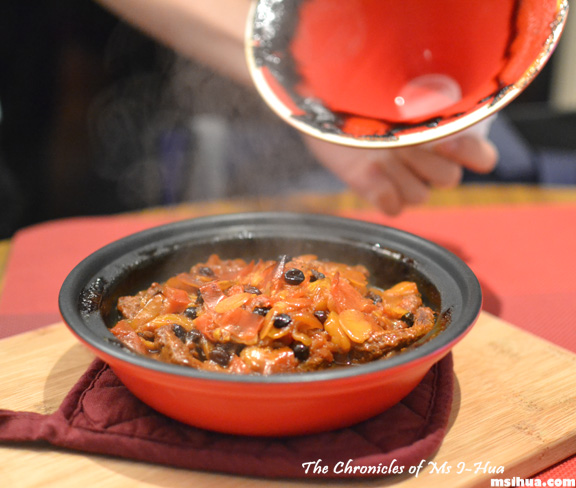 It was shiny. It was red. It was perfect for two. It also looked pretty darn easy to clean and wash (WIN!). Not to mention, you can use it on your cooktop stove, in your oven and microwave.
So I politely asked for the Maxwell & Williams Microstoven Tagine from Kitchenware Direct.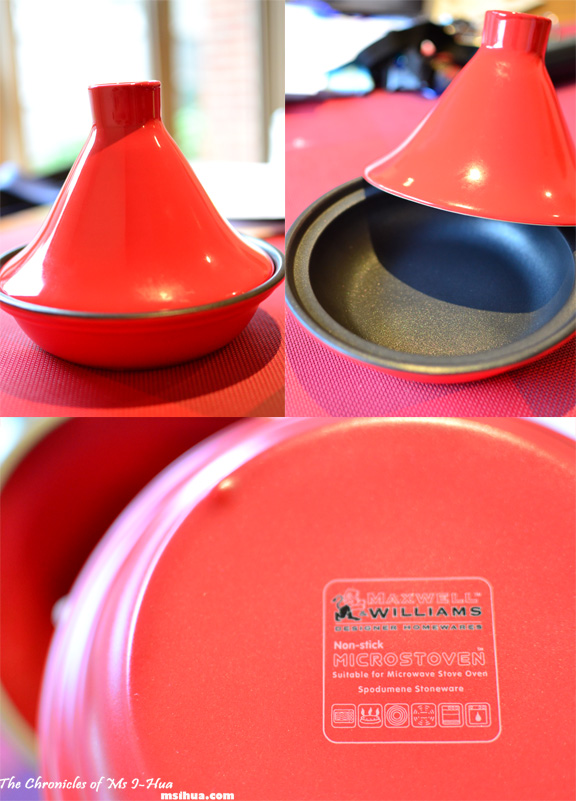 You're wondering, tagine? Isn't that used mainly for Moroccan food?
Well, hotdiggedydang!! It is! And just between you and I (and Wiki), Moroccan food is an entire bazaar of flavours influenced by Berber, Arab, Mediterranean, as well as Moorish!
So, I hereby present to you, a delicious Moroccan favourite, fresh from my oven to you 🙂
Moroccan Lamb Tagine Recipe
Ingredients for Spice Marinade:
2 teaspoons of Sweet Paprika
1 teaspoons of Ground Ginger
1 teaspoon of Tumeric Powder
1/2 teaspoon of Cayenne Pepper
1/2 teaspoon of Ground Cumin
1/2 teaspoon of Ground Black Pepper
1/2 teaspoon of Ground Cinammon
1/2 teaspoon of Onion Salt
Other Ingredients:
250g of Lamb (sliced)
1/2 large Brown Onion (thinly sliced)
1 clove of Garlic (diced)
2 Tomatoes (chopped)
4-5 Saffron threads
1 Bay Leaf
25g of Dried Apricots
20g of Raisins or Sultanas
30g of Flaked Almonds
1 teaspoon of Honey
1/4 cup of Chicken Stock
2 Tablespoons of Olive Oil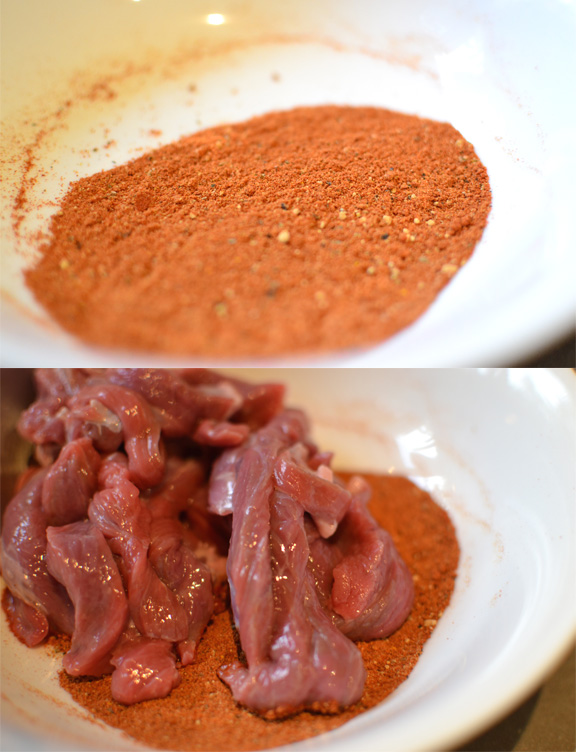 Procedure:
Mix the ingredients for the spice marinade together. Add the lamb and toss to coat meat thoroughly with marinade. Leave covered in refrigerator overnight.
Take the meat out and let stand till it reaches room temperature.
Preheat oven at 160 degrees Celsius.
Heat 1 tablespoon of olive oil in a pan (on medium heat). Add marinated lamb and cook for 1-2 minutes. You just want to brown the sides. Dish the lamb out and set aside.
Using the same pan, add another tablespoon of olive oil on low heat. You might have some residue spice marinade in the pan, which is fine. It'll help in the flavour department.
Add onions into the pan and cook over low heat for 5 minutes, which will help soften and caramelise it. After 4 minutes, add garlic and increase the heat to medium.
Add chicken stock which will help deglaze the pan. Scrape any bits stuck to the pan.
Add in all other ingredients: tomatoes, saffron threads, bay leaf, dried apricots, raisins/sultanas, flaked almonds and honey. Cook on medium heat for a few minutes.
Take the base of your tagine (bowl) and put it on the stove on low heat. You want the bowl hot when you transfer the ingredients later. Generally takes a few minutes only.
Add lamb into the pan and stir with all the other ingredients.
Transfer everything in the pan into the hot tagine bowl. Switch heat off. Put on the cover and carefully transfer into the oven. Use kitchen mitts as the bowl is hot!
Leave in the oven to cook for 1 hour on 160 degrees Celsius.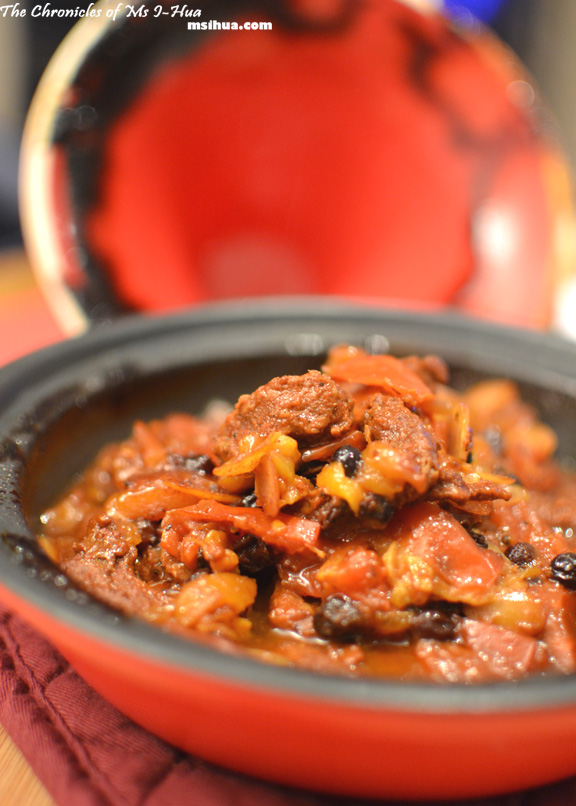 Take tagine out of the oven and serve. You can garnish the dish with coriander leaves.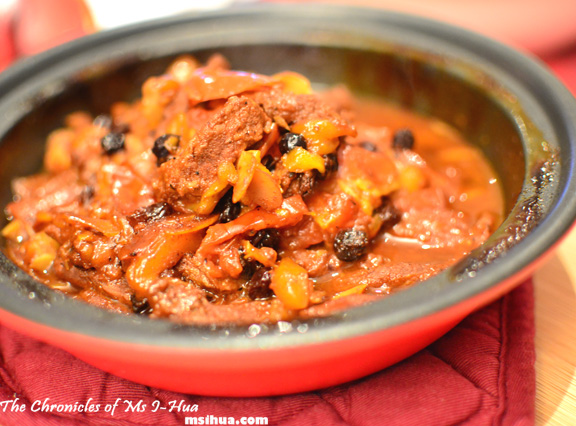 Just in case you wanted to know, to get yourself one of these cool babies from Kitchenware Direct, these are the specs:
Maxwell & Williams Microstoven Tagine available from Kitchenware Direct.
Size: 19.5 cm (Perfect for cooking up dishes for 2 people)
Cleaning: Dishwasher safe. Easy to clean with its non-stick surface.
Suitable for Microwave, Stove and Oven. Available in Red, White or Black.
So tell me dear readers, what has been on your wishlist for the longest time that you always wanted?