[This post is sponsored by Devondale and Nuffnang Australia]
We all know how much I love coffee. Not a day goes by where I don't have a cup of the golden brew. Not a week goes by without a relaxing breakfast or brunch which involves at least 2 cups of coffee between the Boy and I.
Ever since I bought my Nespresso coffee machine and received my Phillips Saeco Exprelia, I have been having a minimum of one coffee a day at home. I love the ease of using these two machines or my coffee robots as I like to call them.
They are easy to clean, easy to use and produce much the same quality of coffees as most places minus the fancy coffee art 🙂 Alright, alright, I kid. I am no professional barista nor do I profess to be one. But I would love to be able to froth milk just like one.
Using our coffee machines, we have been able to froth milk well, but not to the same level as when a professional barista does it.
We have used a few different types of milk as well, from full cream milk to soy milk and to almond milk with the results always the same. It just isn't as frothy or velvety.
So when I was contacted to review Devondale's Barista's Own Frothing Milk, I got a little excited and bought two cartons from my local Safeway. I found it pretty easily in the long life milk aisle. The packaging really stood out and attracted my gaze to it as all the other milk brands surrounding it were light coloured.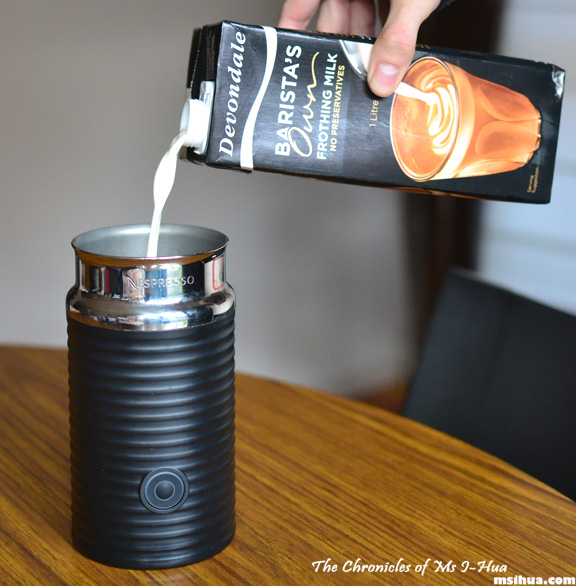 Once I got home, I stored the milk carton in the fridge as chilled milk froths better.
Devondale Barista's Own is specially selected to deliver a consistent smooth creamy froth to any style of coffee at home. I had to test this to see if it was true.
The thickness of the froth using Devondale Barista's Own is also higher and denser when compared with chilled milk.
The texture between the two froths were slightly different with the Devondale Barista's Own creamier and smoother in consistency as opposed to the normal full cream milk.
I would like to clear something up here. I know a few people might say that long life milk taste distinctly "odd" when compared with fresh milk. I can dispel that misconception here now folks and honestly say that  Devondale Barista's Own does not taste as if it has been tampered with nor "funny" in any way. It tastes creamy and clean, just like how milk should taste.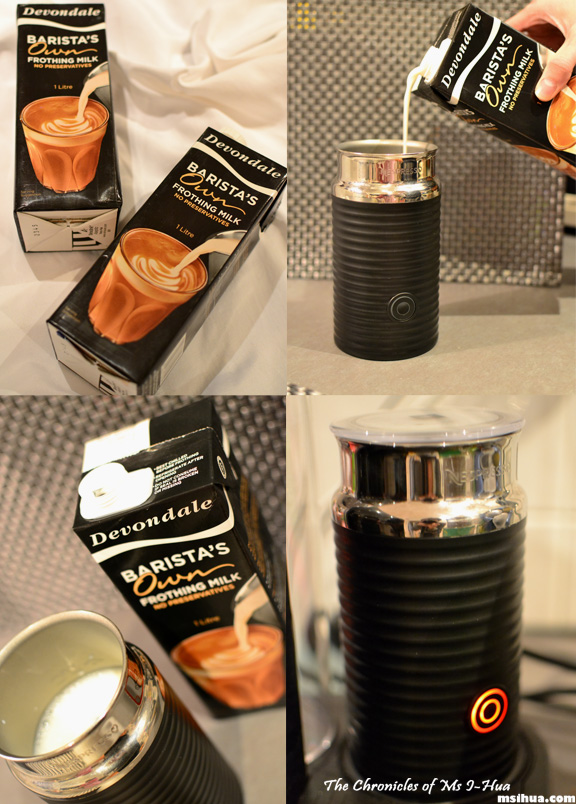 The fat and protein level in Barista's Own is suited for frothing – the right fat & protein level ensures a smooth creamy froth is achieved. If you are concerned that this means there are preservatives, think again. Devondale Barista's Own does not contain preservatives and is with all milk, naturally gluten-free.
The only difference between LLM and milk from the fridge is the heating process. Read more about it on Dairy Australia and don't be misled anymore!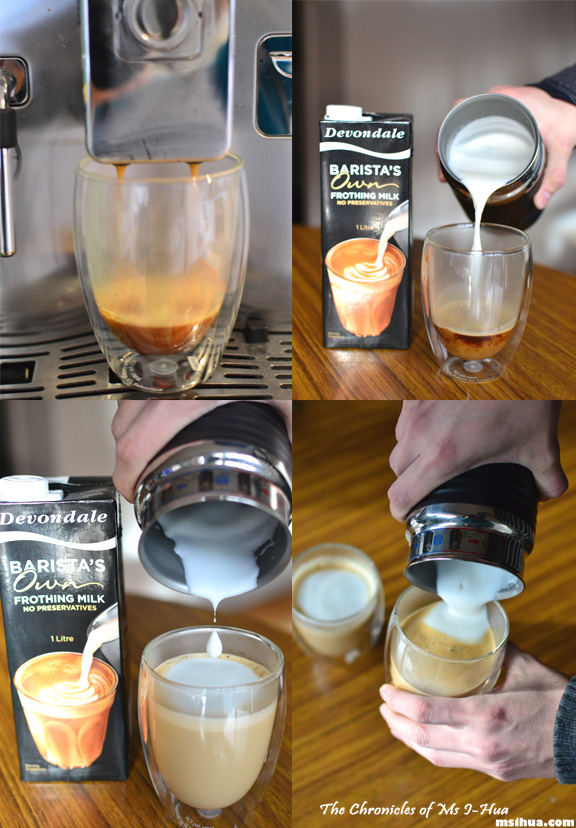 The Boy and I are already thinking of new recipes (not necessarily coffees) in which we could incorporate the use of this frothing milk for. MmMmmmm….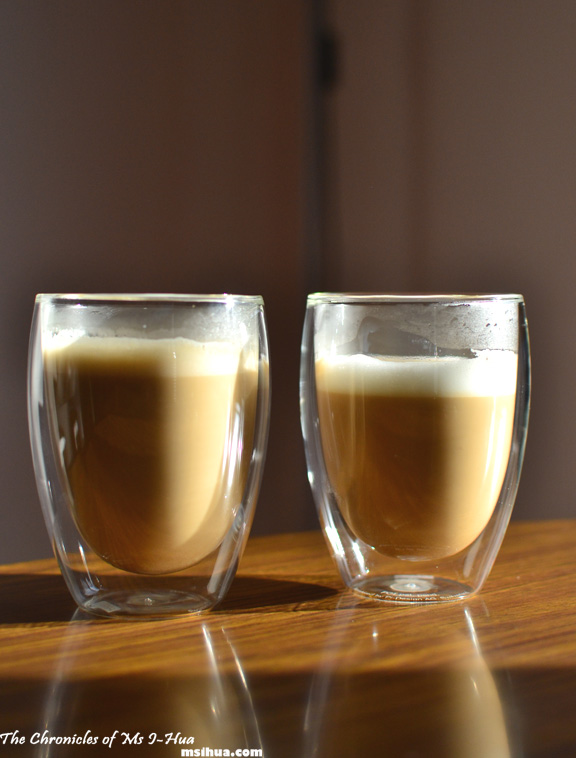 You should be able to source Devondale Barista's Own Frothing milk at selected stockists including:
Woolworths
Coles
IGA
Foodworks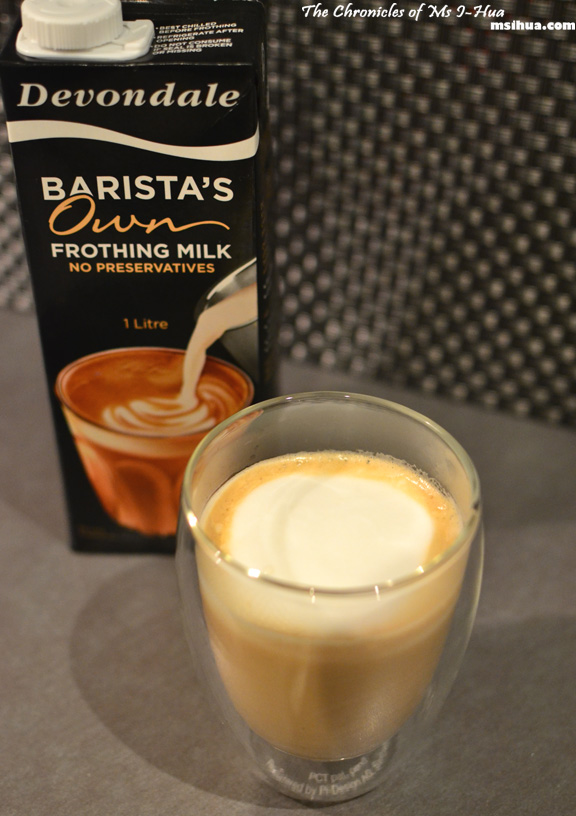 ********************************************************************************
To celebrate the launch of Devondale's new product, the lovely people at Nuffnang Australia are giving away One Set (6 pieces) of Orange Espresso Cups and Saucers from Espresso Italia (RRP$40)
All you need to do, is to:
Like my Facebook Page (if you have done so, you are awesome! If you haven't, what are you waiting for?)
Tell me "What type of coffee would you start making as soon as you got your nifty little hands on Devondale Barista's Own Milk and what meal (or dish) would you pair it with?"
*Please leave a valid email address in the email box (emails won't be published) as a contact point. Competition is open to all Australian residents, aged 14 years and over, other than management, employees or contractors of the Promoter and other agencies, firms or companies associated with the Promotion (including suppliers of prize), and their immediate families ("Eligible Entrants").
The competition closes Thursday, 23rd August 2012 at 6:00pm (AEST). The top three entries will be chosen by me (so be creative!) and the winner will be drawn by Nuffnang Australia. Results will be published on this post.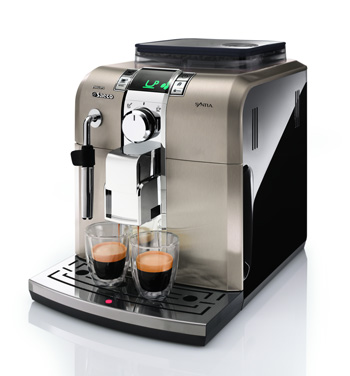 In addition to the weekly giveaway, one of you lucky things will win a PHILIPS Saeco Syntia Class Automatic Espresso Machine worth $1,499!!! (I'm so jealous!)
The most creative answer overall** across the 5 blogs for the weekly competitions will win (leave a creative comment each week to better your chances) this awesome giveaway!
Competition for the major giveaway will run from the 14th August 2012 until 11.59pm Friday 7th September 2012. The winner will be announced and contacted on Monday 10th September 2012.
Terms and Conditions for the Giveaways:
********************************************************************************
[23/08/2012] Announcement: Winner of the Espresso Cup Giveaway for this week
Thank you to everyone who signed up, liked my Facebook page and left a comment here.
My top 3 picks were:
Winnie @ Eat Play Shop
Jenny @ Ichigo Shortcake
Joe @ Lots of Cravings
With no further ado, the competition winner selected by Nuffnang is:
*DRUM ROLL*
Winnie! Congratulations Winnie. I'll be in touch via email soon 🙂
COMPETITION IS NOW CLOSED
********************************************************************************