When one receives an invitation with the words Secret Society Dinner on the subject line, one's curiosity is most definitely piqued.
When one discovers that aforementioned secret society dinner is hosted by Glenmorangie at the posh 55th floor of the Rialto building (where we all know Vue De Monde resides), one can't help but giggle a little by oneself.
And when one takes note that David Blackmore (not to be confused with Australian wagyu beef extraordinaire David Blackmore), Master Brand Ambassador of Glenmorangie is presiding over the dinner, one does what one has to do.
One RSVP's as a YES!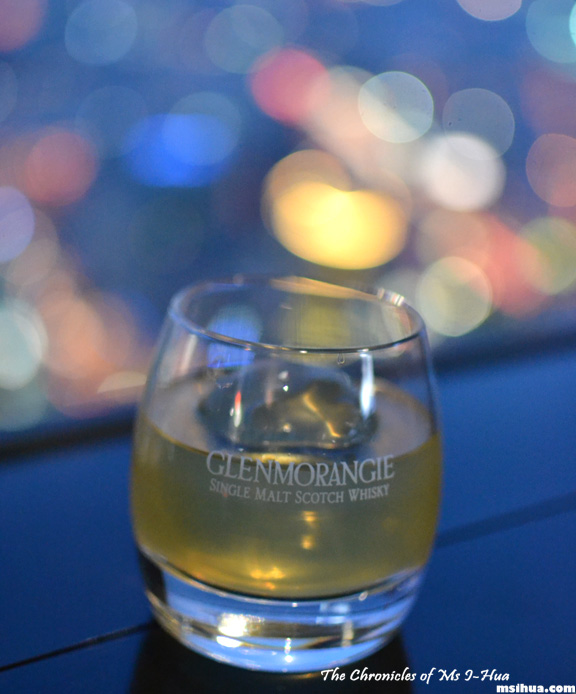 As I walk into the foyer of Rialto and am greeted by VdM's reception, who seemingly seems to have studied my last four posts before engaging on the "What is your favourite restaurant in Melbourne talk" all the whilst very professionally courteous, escorting me to the great glass elevator (okay, so it's not quite, but for those who have used this lift before, you will know what I mean).
I was impressed. Not many PR agencies let alone restaurants conduct any homework on a blogger prior to meeting them face to face.
Walking to the private function room (the other side of the VdM restaurant) to the left of Lui Bar, I am greeted by friendly smiles and the representatives from Glenmorangie itself.
With a Glenmorangie Original Single Malt Scotch Whisky with a little bit of Leatherwood honey and round ice ball, I am escorted to my spot at the long table before engaging in some small talk with the suits around me.
Thankfully, there was a familiar face when Claire showed up *phew*. Whilst we chatted away, we were soon asked to take our allocated seatings at the table where our secret society dinner was to begin. All so very posh and 007, if only 007 took part in secret society functions and drank whisky.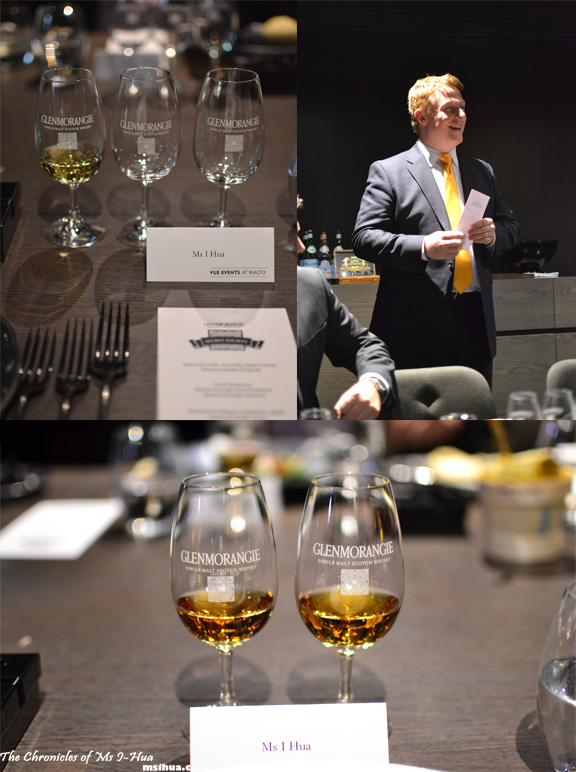 I found myself seated beside two very interesting companions. One writes articles for a men's online magazine as well as produces short films whilst the other runs a bar in Crown Casino. Seated in front of me was David himself! Had to refocus my thoughts and get my drink on!
Glenmorangie (rhymes with oran-gey) in recent years has won more Gold Awards (especially in 2011) than any other single scotch malt whisky from the International Wine and Spirits Competition and as such, is a distinction of high quality and class.
Our first course was a beautiful Spanner crab, avocado, with beach herbs served with the Glenmorangie Original.
The spanner crab course was very light with added touches of creaminess and salty tangs from the sea blight went down really well with the fruitiness (peach and orange) of the 10 year old single malt whisky with hints of vanilla.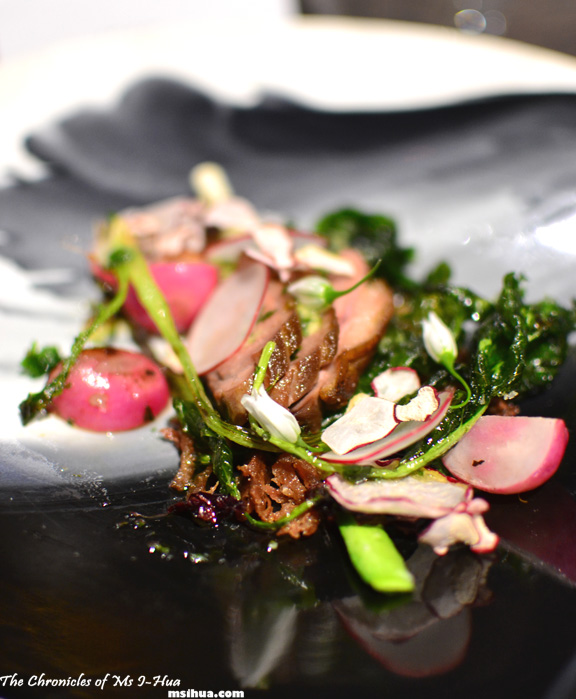 The next course was my favourite savoury of the night. Delicious Duck Gascony served with Glenmorangie Quinta Ruban and Glenmorangie Lasanta. The French did one thing remarkably well when they decided to cook their meats in fat. Mmmmm…. The confit duck was succulent and rich in flavour. Served with radishes, kale, garlic flowers and crispy shallots, this was an interesting fusion of French and Asian flavours on a plate.
I found the pairings to the duck matched really well, although the Quinta Ruban to be better than the Lasanta for this dish in my own tastings. The Quinta Ruban had a lingering taste of dark chocolate with hints of orange whilst the Lasanta (the sweeter of the two) was spicier. Both good, but the greasiness of the duck dish required something strong and dark to lift it up.
That being said though, on its own, the Lasanta tasted really good with a warmth seeping into my veins, with its spices and chocolatey texture.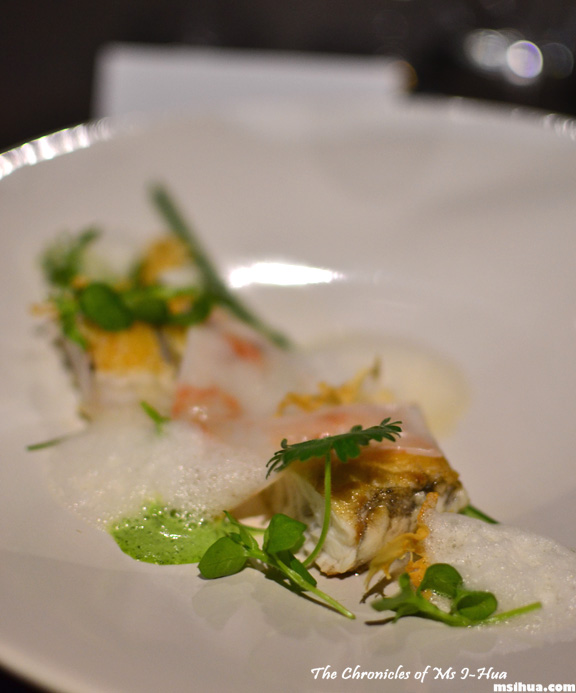 Whilst everyone was eagerly expecting their David Blackmore Wagyu beef dish (an interesting play to tease the David Blackmore presiding over the night's activities), I had a beautiful seafood dish of fish and foam. To be honest, I hadn't been paying close attention to what the waiter was saying as he presented this dish to me. I am quite sure that this is a version of VdM's Barramundi with herb emulsion, prawn and smoked bone marrow.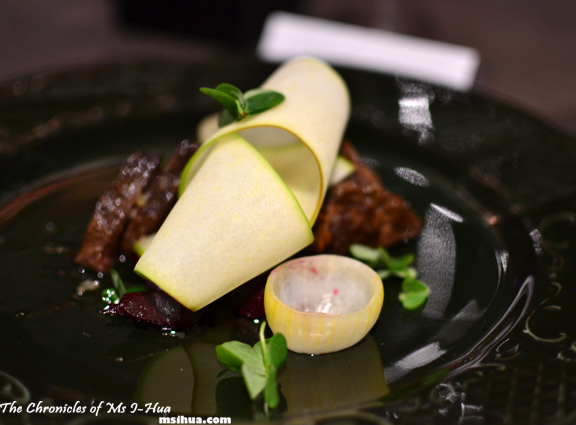 The rest of the group enjoyed a Blackmore Wagyu with beetroot and apple paired with Glenmorangie 18 year old. The 18yo had a sweet taste to it as well as a woody, smoky and oaky flavour which I found too rich when paired with my fish as it definitely was meant to go with a heavier red meat.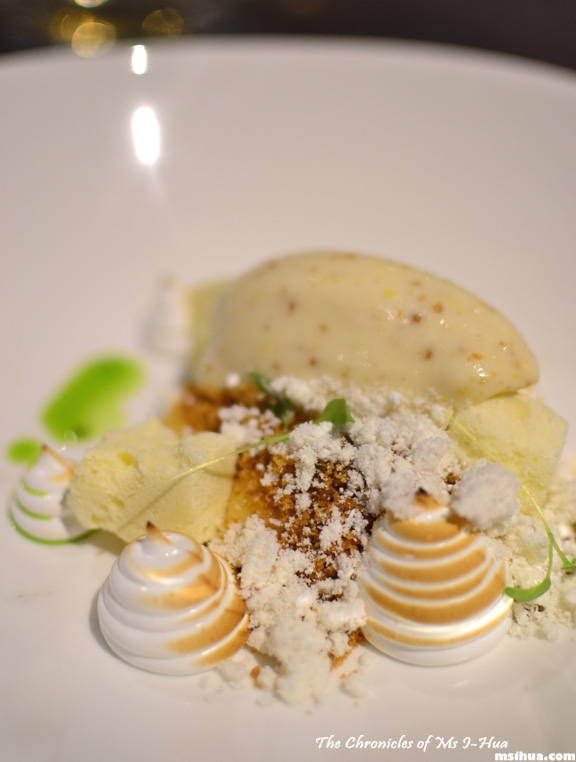 All too soon, desserts arrived! And what magnificent desserts they were too!
We had the Lemon meringue ice cream, white chocolate, lemon curd and parsley to be matched with the Glenmorangie Nector d'Or, my second favourite whisky of the night! It was floral, it was sweet and it was nutty! A bit like me really 😛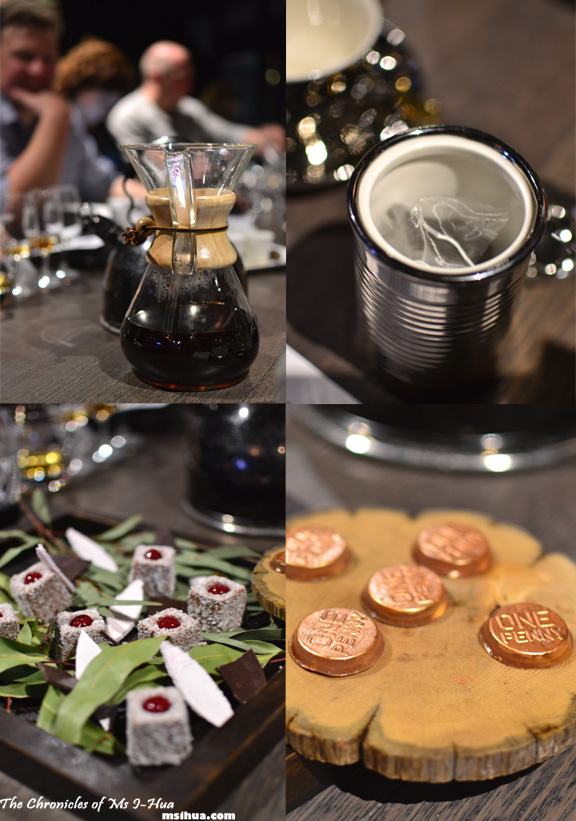 As the teas and coffees were served (self-served style), the petit fours made their way to our table. On a wooden board lay a magnificent array of Cherry Mousse Lamingtons set atop a bed of meringue leaves, dark chocolate shards and eucalyptus leaves.
A bunch of us with dead pan faces told David Blackmore that the gum leaves were part of the edible dessert display to which he seriously considered eating one before breaking out to a grin and laughing at us cheeky sods.
The chocolate shards were really fun to eat as they contained pop rocks! It takes so little to turn grown adults to giggling children!
The one penny gold coated gin jellies were also fun to eat.
All these were paired with the Glenmorangie Signet which as a lover of coffee, I couldn't help but fall in love. Rich, sweet with a strong aroma of Aruba espresso, this whisky was distilled over 30 years ago to attain the perfection it has today. As an added bonus, guests were invited to stay and mingle on VdM's balcony to fully appreciate the Signet with a Monte Cristo cigar.
Throughout the night, David Blackmore regaled us with tales of Glenmorangie, his passion for the brand and his love of whiskies. It's not surprising to note that he has once again won the Brand Ambassador of the Year for Glenmorangie.
[Ms I-Hua dined courtesy of Zing Australia and Glenmorangie Secret Society]
*Disclaimer: All food ratings & review are purely based on my own experiences and how I feel about the service, food and quality at the time of visit
For other recaps of the night:
The World Loves Melbourne
For a different perspective, a night in Sydney:
Gourmantic
Glenmorangie Website: http://www.glenmorangie.com/
More information on the whiskies we sampled: http://www.glenmorangie.com/our-whiskies
_______________________________________________________________________
Vue de Monde Details:
Food/ Cuisine: Modern French / Contemporary
Dining Style: Fine Dining
Opening Hours:
Lunch: Tuesday to Friday and Sunday, reservations from 12:00pm – 2:00pm
Dinner: Monday to Saturday, reservations from 6:00pm – 9:15pm
(Bookings are essential)
Address:
Level 55, Rialto Towers
525 Collins Street
Melbourne VIC 3000
Tel: (03) 9691 3888
Twitter: @Vuedemonde
Website: http://www.vuedemonde.com.au/
How to get there: