It's hard to imagine that we were in España 3 weeks ago and that 2.5 weeks ago we were in Bangkok. I am suffering from a bad case of post holiday blues and FWPs.
In a blink of an eye, it is mid January! Soon I'll be hitting a milestone and feeling age creep up on me.
Where has the time gone?
What hasn't gone away is my love for Bangkok and its wonderful crazy mad busy hot and humid lifestyle.
Having made a crazy escape plan with my BFF on a sudden spur of inspiration, we decided to escape on a double date to Thailand for a few days after Christmas.
I knew I had to drag her and hubbly bubbly back to Thip Samai which the Boy and I discovered last January (oh, how time flies!).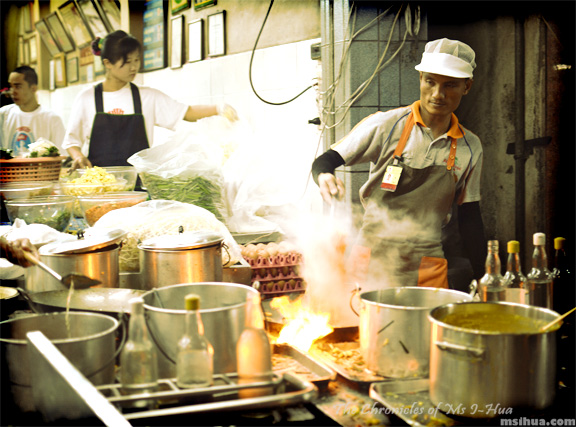 Having been there twice now, I can say that the food does taste better than our first visit.
To get to Thip Samai is a journey in itself as most cabs refuse to pick passengers or will charge a flat price of THB150-200 (roughly AUD$5-7) and a tuk tuk will take you there for THB200 or more.
However, with patience and perseverance (just keep hailing them down – making sure your palm faces down) you will find one to negotiate that will take you there for a decent fare (about the THB150 mark from the CBD). The funny part of our journey each time was that once we got in the cab and showed the cab driver (we usually bring a printout of the address in Thai or get the hotel concierge to write it for you) the address we want to go to, the driver would grin at us and say, "Oh, you want Pad Thai? How you know? It's very good!".
Usually (depending on the direction you're coming from), the cab/tuk tuk driver will drop you off at the intersection right before the restaurant as it is easier for them to head back into the city centre for customers.
Just keep walking along the main stretch of the road until you find the brightest and busiest shopfront with a red signboard (there's a few on this road and food apparently is good all around).
You definitely won't be able to miss the 2-3 woks atop massive stoves with pad thai being churned out plate after plate after plate. For almost 50 years, they still stand by using traditional charcoal stoves instead of gas to fry their pad thai. Some people swear that using charcoal makes a world of difference, giving the dish a unique smokiness and aroma.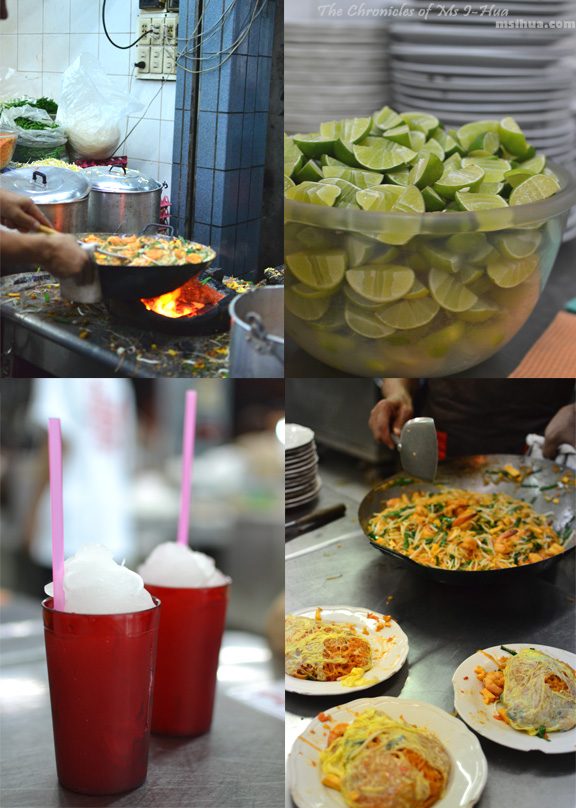 How did it all began? Once upon a time, there was a small stall selling Pad Thai (a normal dish for THB1.50 and a special dish for THB2.00) on a pavement of Samranraj Road in Bangkok.
With more and more customers coming back to her tiny roadside stall, Mrs Samai decided it was appropriate to rent a shop nearby to open her first "Pad Thai" restaurant as her customers were showing up for her Pad Thai in rain, hail or shine!
Little did she know, the landlord of the building where Mrs Samai had opened her shop was jealous of her popularity and business. The landlord had a vested secret and wanted to take over Mrs Samai's profitable pad thai shop! They kept increasing the rent in effort to push her out and open up their own business.
It was after that that Mrs Samai decided to open her very own "Pad Thai Thip Samai Restaurant" just near her former shop on September 9, 1966.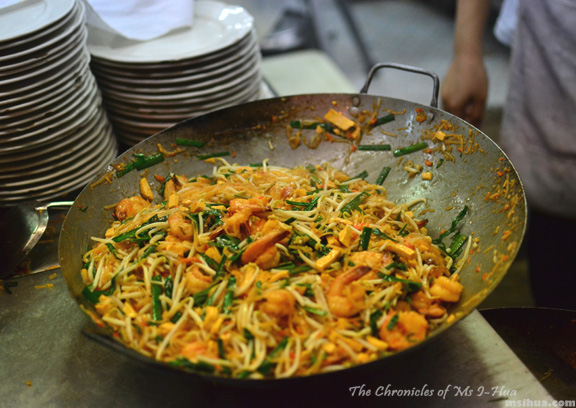 The rest as they say, is history.
Now people from all over the world travel to Thip Samai for a taste of Bangkok's best pad thai.
Foodies, bloggers and journalist all make this trek as one would conduct a pilgrimage for a taste of Thip Samai's offerings.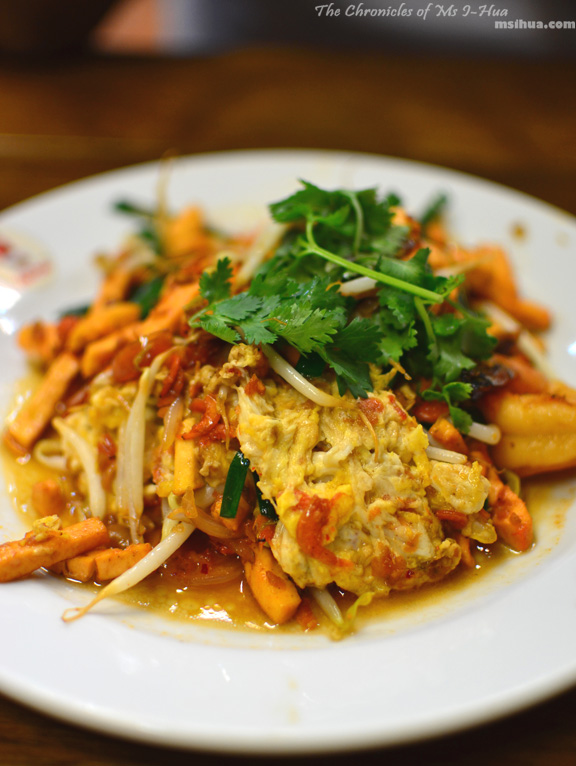 On our first visit, the Boy and I ordered 3 plates of noodles to share between us. We had travelled all the way and we weren't leaving with regrets! Upon returning a few weeks ago we decided to repeat our orders.
Pad Thai without Noodles (70 Baht / approx. AUD$2.25) – Every ingredient from the normal Pad Thai minus the noodles.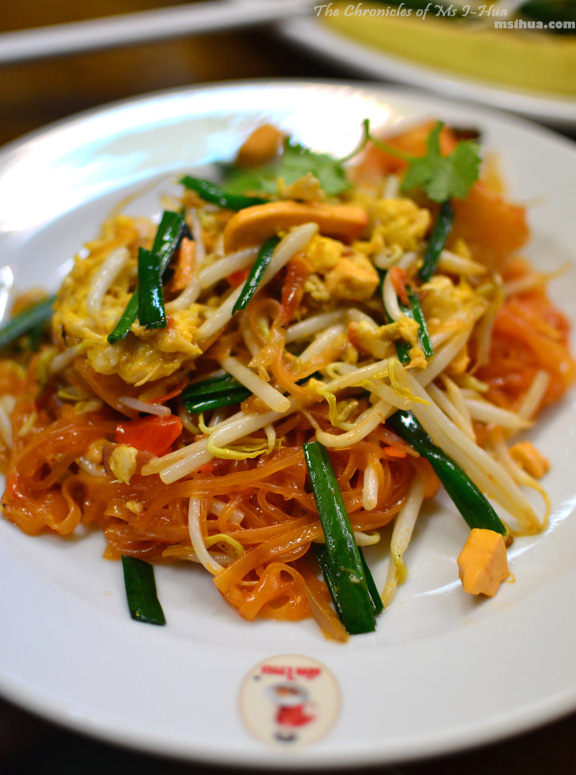 Pad Thai (50 Baht / approx. AUD$1.65) – Original Pad Thai fried noodles with egg.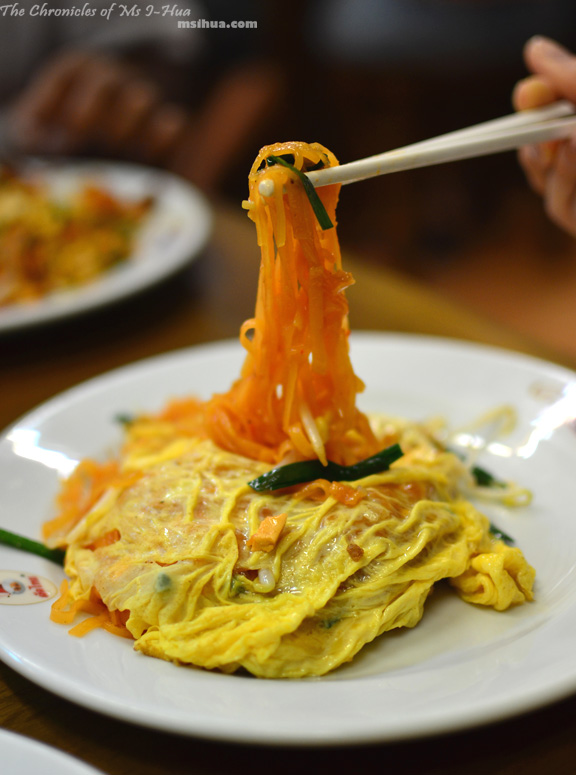 The "Superb" Pad Thai (70 Baht / approx. AUD$2.25) – Thai style fried noodles with shrimp wrapped in an omelette.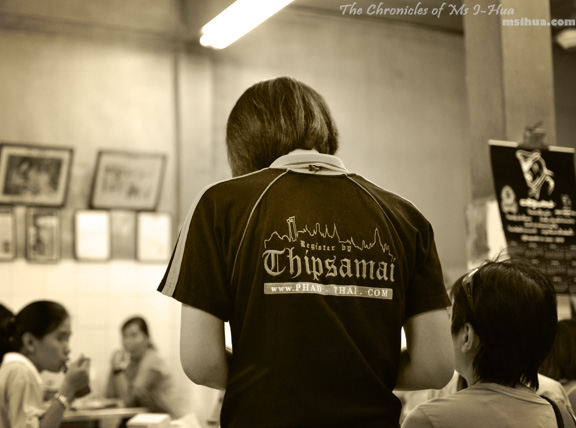 It was lovely to note that the food had actually improved since our last visit.
If you're used to the more common pad thai where it is slightly drier, be warned that you may not find Thip Samai's pad thai to your liking. It also has that slightly pink hue due to the use of dried shrimps in its cooking (which also provides the shrimp flavour).
Their version is wetter, and the noodles they use are called Chanthaburi noodles (quite thin) which are made from freshly-milled rice flour and dried out in the sun. These noodles come from the province of Chanthaburi (translated to Moon City) located in the east of Thailand and have a chewier texture in comparison to normal rice noodles.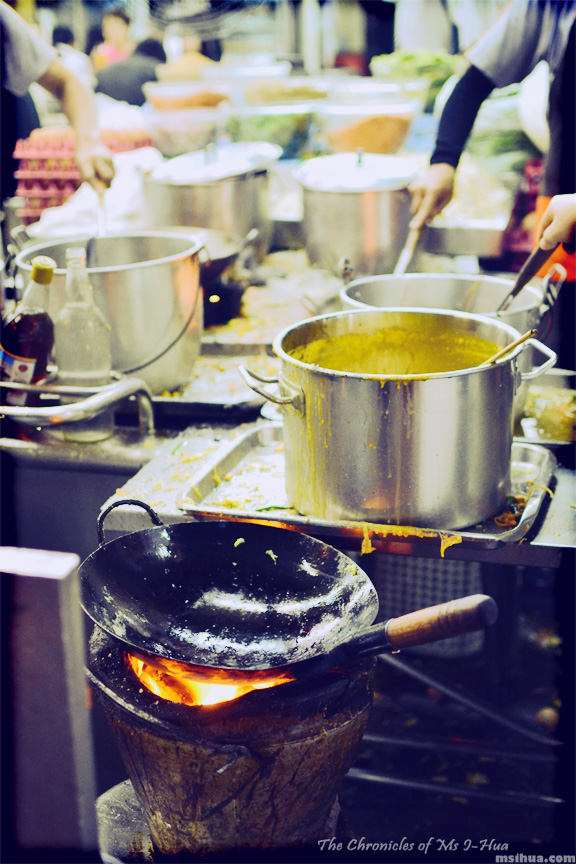 As with all things famous, there are two factions who either agree or disagree that this is Bangkok's best pad thai dish around.
All I can say is, until you've made the journey here and tried a dish (or two) for yourself, don't be too hasty to judge.
What I do know, is that the Boy and I have returned and will be sure to come back once again to feast on the offerings of Thip Samai in the future.
*Disclaimer: All food ratings & review are purely based on my own experiences and how I feel about the service, food and quality at the time of visit
Food/ Cuisine: Thai (Pad Thai)
Dining Style: Restaurant

Opening Hours:
Monday to Sunday, 6:00pm to 12:00am
Address:
313 Maha Chai Road Samran Rat, Phra Nakhon
Bangkok 10200
Thailand
(Address in Thai: 313 ถ.มหาไชย สำราษราษฎร์ พระนคร กรุงเทพฯ 10200)
Tel: (+66 2) 221 6280
Website: http://www.thipsamai.com/
How to get there: