I was having a discussion with Fatboo and The Hangry Bitch during dinner one day about food (what's new, hey?).
Our topic of discussion was, "Is there such a thing as comfort food and what is your comfort food?"
The four of us were harping on and on about how Chinese food makes us all feel relaxed, happy and completely satisfied as it was our comfort food.
Jo's Ang Moh, being the only caucasian in this discussion couldn't quite comprehend what we were going on about. We tried to explain it to him. About the satisfaction and comfort of eating good food and how it makes you utterly relaxed and happy.
It's a different feeling from eating your favourite food. It's more about the food that makes you reminisce about your childhood and gives you flashbacks to a certain period of happiness in your life (a bit like that scene from Ratatouile).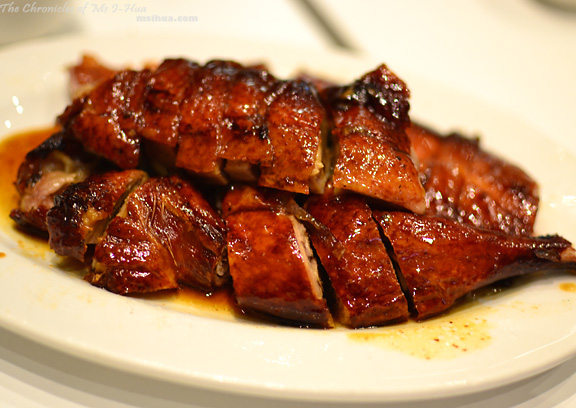 Not surprisingly, we were having this open discussion around a massive dinner at Pacific Seafood BBQ House in Richmond. It was our third time there with a separate group in less than 2 months.
Ever since Winston introduced us to this restaurant via instagram, we just can't get enough of the food in this place.
It's seriously affordable and delicious Chinese food.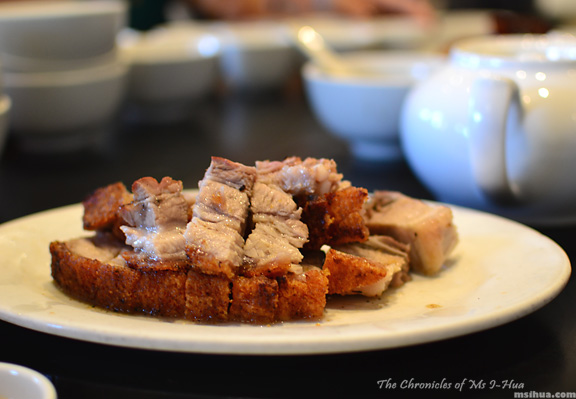 Don't be deterred by the various roast meats hanging out at the front of the shop. If you have not experience this display of food in front of a restaurant, step up, be brave and take the plunge. It's not that different to a rotisserie 🙂 This is a compilation of all the dishes we have tried from all three of our visits (we seem to order the same delicious dishes!).
The Siu Yuk (Crispy Roast Pork Belly) $20.00 is crisp and succulent. Not the best I've ever had but quite good all the same.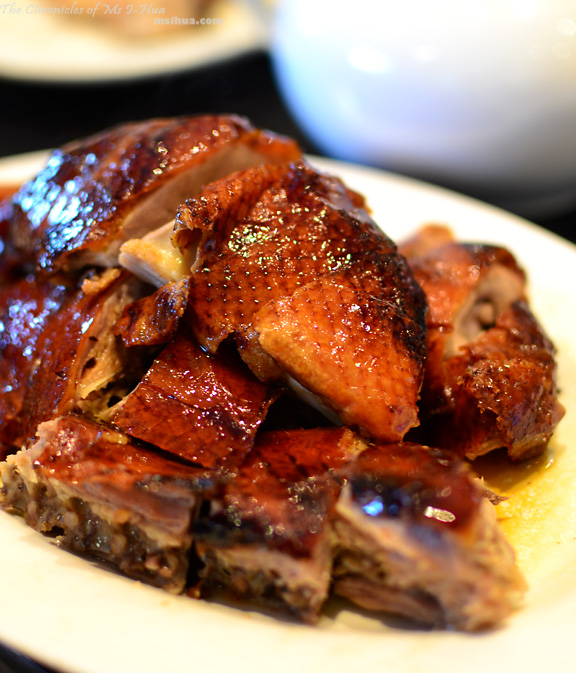 The pièce de résistance of the restaurant and a definite must order is the Roast Duck. Order half $23 or a whole duck $46, the choice is up to you.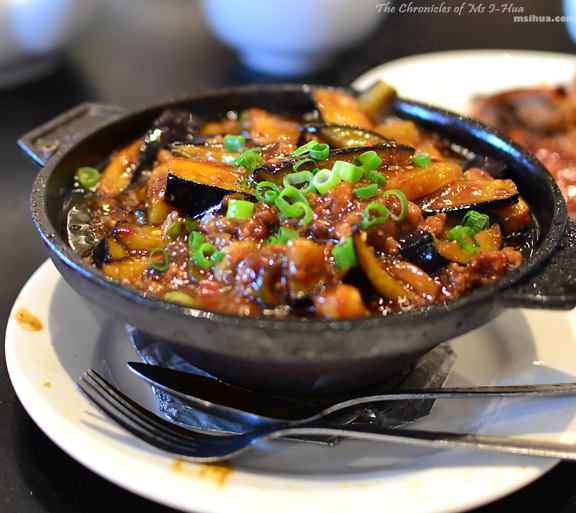 The Eggplant with Mince Pork in Szechuan Sauce ($19.00) is definitely tasty, slightly spicy and very comforting, especially on a cold chilly night. Perfect with rice.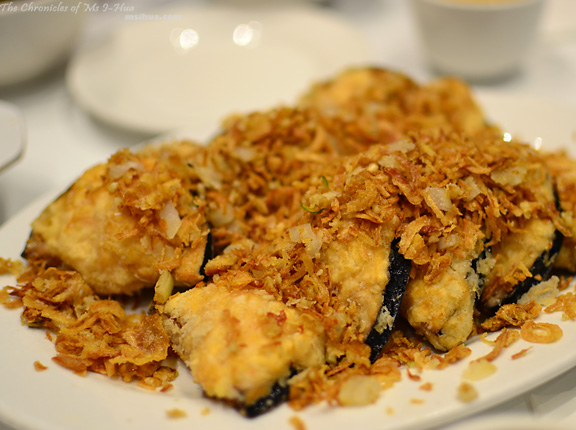 On a separate occasion, we tried their Deep Fried Eggplant with Prawn Paste and Chilli & Garlic ($24.00)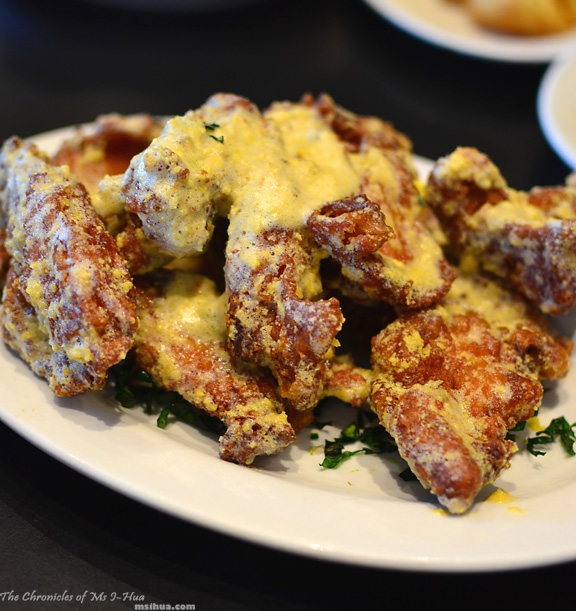 A favourite of ours is the Deep Fried Chicken Ribs in Salted Duck Egg Yolk ($22.00). Its rich yolky coating encases sweet juicy tender chicken flesh which is to die for.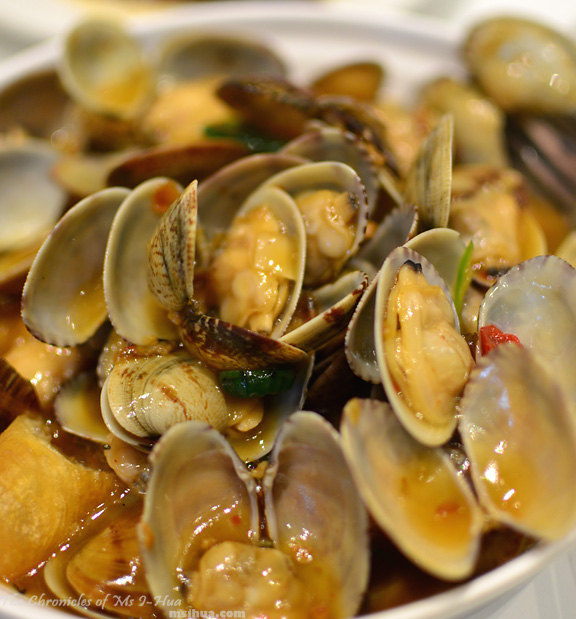 I'd never had pipies with chinese doughnuts before, but I haven't a clue why! I highly recommend ordering a plate of Pipi in X.O. Sauce ($22.00) with added Chinese Doughnut.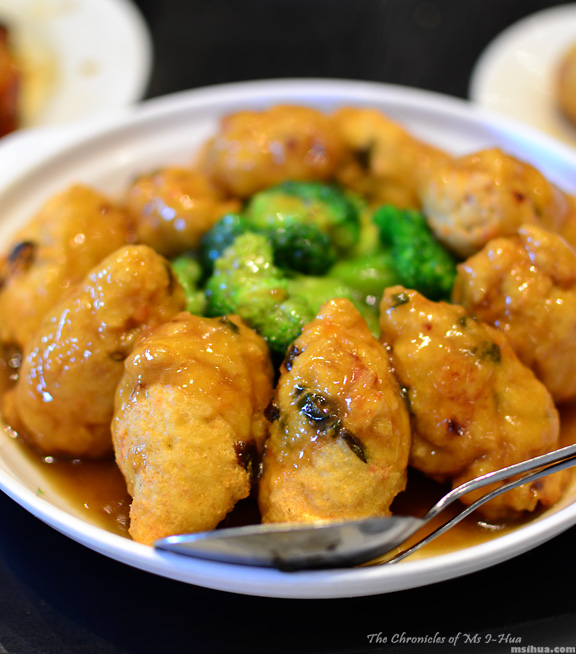 The Boy's favourite type of beancurd is the Pipa Tofu (Beancurd) $20.00 which they do well here. If you would like to know how to make these, look at the recipe we prepared earlier 🙂 (Fried Pipa Tofu).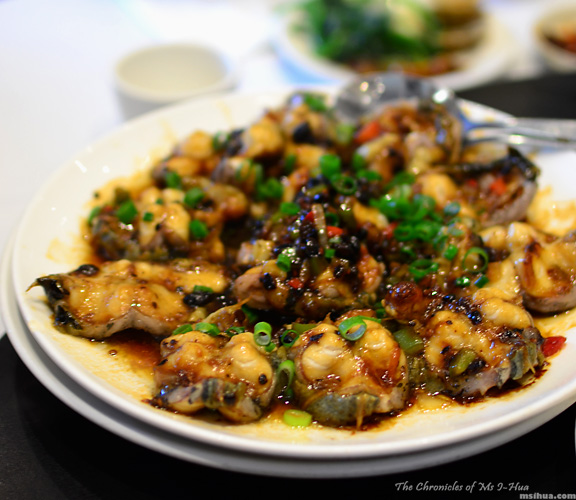 Outside of Japanese cuisine, I have not had eel (unagi) in any other way. I quite enjoyed the Eel Steamed in Black Bean Sauce ($24.00).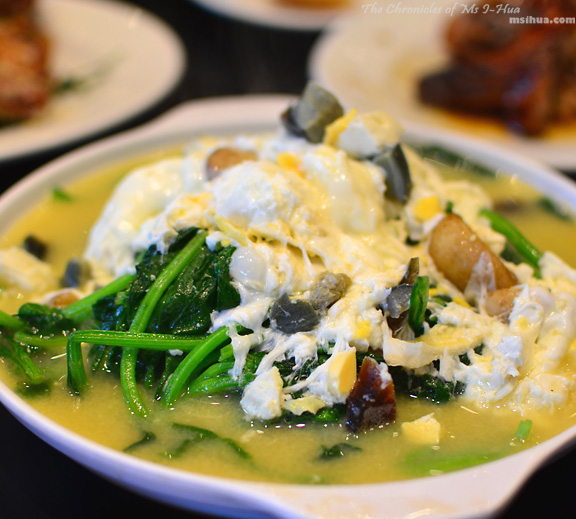 If you can't tell from the above pictures, we often order a little too hard on the meat dishes. So occasionally when questioned, we add in the greens. We like the Spinach with Two Egg Sauce ($21.00).
So if you are looking for a good Chinese restaurant to dine and experience the "comfort food" feeling, look no further than to Pacific Seafood BBQ House in Richmond. It makes me hungry and wanting to plan the next trip there now as I'm writing this post!
This is a typical Chinese restaurant, so expect the same kind of service usually associated to that. But what seems interesting is that the average price for the dishes ordered is around the low $20 mark regardless of meat, seafood or vegetable 😀
In wrapping this up, I'd like to ask, "What is your comfort food"?
*Disclaimer: All food ratings & review are purely based on my own experiences and how I feel about the service, food and quality at the time of visit
Food/ Cuisine: Chinese
Dining Style: Restaurant
Opening Hours:
Monday to Sunday, Lunch & Dinner
Address:
8 / 240 Victoria Street
Richmond VIC 3121
Tel: (03) 9427 8225
How to get there: