If I had to say one thing about Melbourne, is that it is a nation that takes pride in its coffee culture.
Nowhere else in the country (might I say, even the world) do you have such a wide collection of self declared coffee geeks and coffee snobs (myself included).
What's there not to be proud of? We do really good coffee. Thus, it's fairly obvious that the coffee culture should be ingrained into every person that lives and breathes here.
So when I heard about the recent High Coffee (twist on the traditional High Tea, which is my biggest love), I knew I had to be part of it. Take the two things that I really love and merge them into one, there would be no room for indifference to this event.
Originally launched at the Intercontinental in Sydney, it finally made its way down to the Intercontinental Melbourne in time for the Mother's Day celebration. Coincidentally enough, the hotel has an area aptly named Market Lane Bar (no connection to Market Lane coffee) where you can adjourn for an afternoon of High Coffee.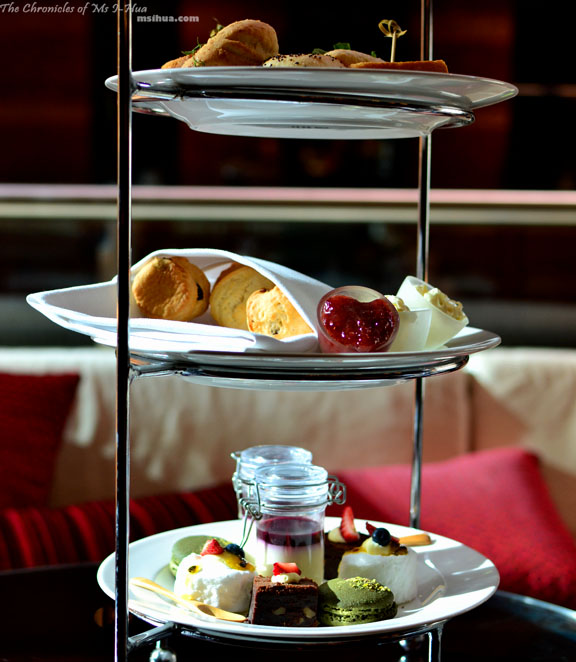 As we arrived at 2pm sharp (the High Coffee experience is available daily from 2pm-5pm), we were greeted by the friendly staff and shown to our table on the balcony overlooking the formerly cobbled lane-way which now joins the two buildings that make up the Intercontinental Melbourne.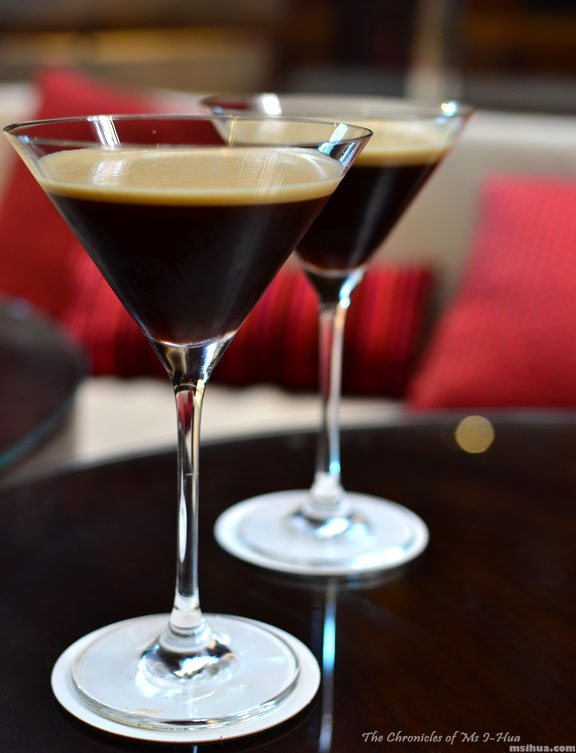 As part of the twist to traditional afternoon teas, we were each provided with a glass of Espresso Martini.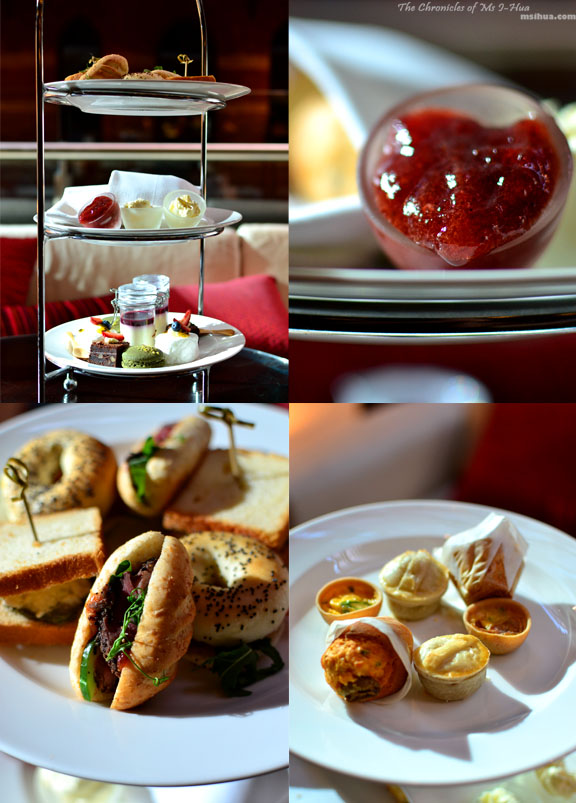 Sandwiches:
Smoked Salmon on Rye with Mascarpone & Lemon Myrtle
Wagyu Beef, Cucumber Relish & Watercress Panini
Roasted Chicken & Avocado with Bush Tomato Relish Roll
Warm Afternoon Savouries:
Prosciutto & Asparagus Quiche
Homemade Beef & Burgundy Pie
Feta & Olive Mini Muffin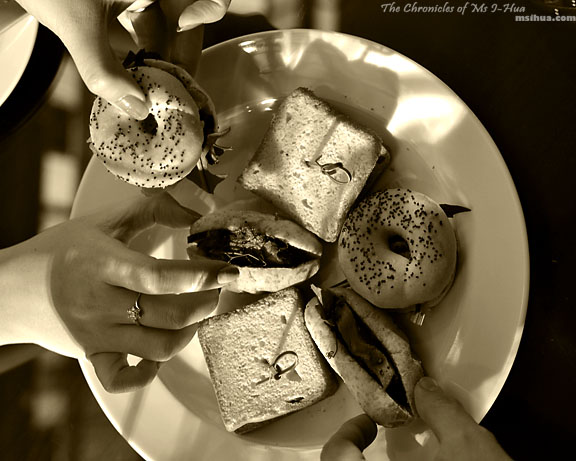 The gourmet experience in itself doesn't differ much from traditional afternoon snacks apart from a few tweaks and twists. Instead of finger sandwiches that so often accompany an afternoon tea, we were offered a selection of sandwiches in the form of bagels, paninis and rolls. I definitely didn't mind this variation and happily munched on all the good things that came lining our three tiered stand.
Once our sandwiches were duly devoured, they were replaced with warm savouries (as listed above).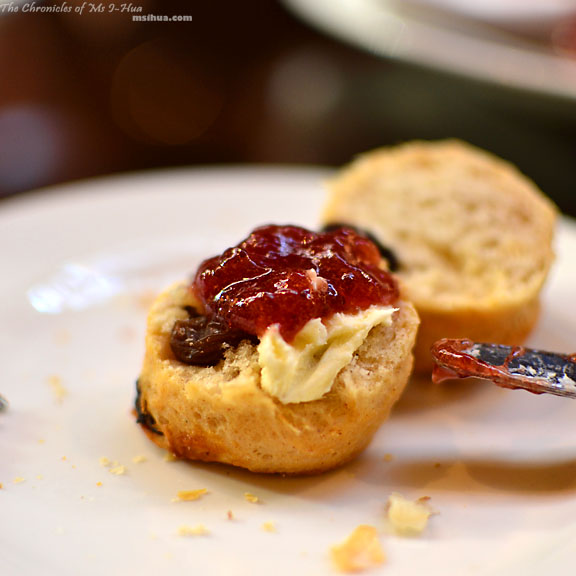 The second tier proffered us with Fruit & Plain Scones served with Double Cream and Homemade Strawberry Jam. We couldn't get enough of the strawberry jam as it was very good.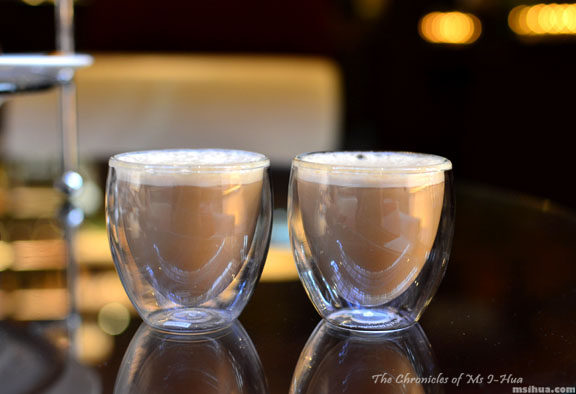 After our Espresso Martini's were cleared away, we were brought little Bodum glasses of Cafè Freddo in continuance of our High Coffee experience.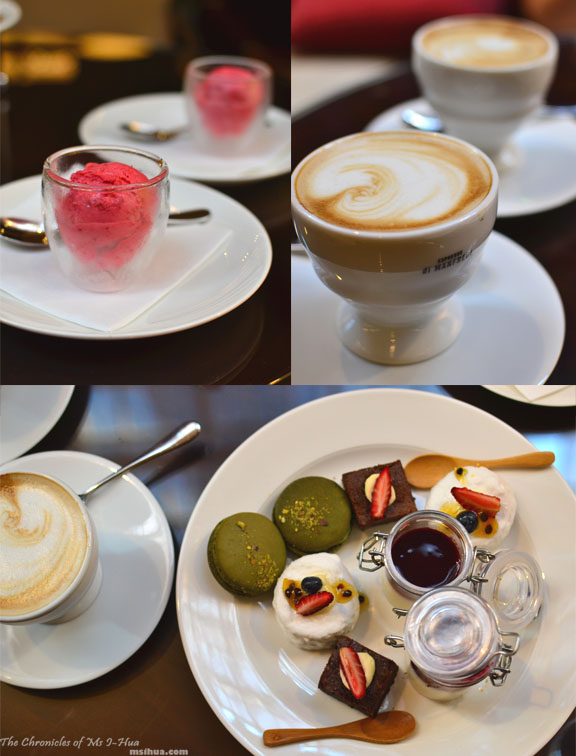 After we had cleared most of everything on the tier, and before we went on to desserts, we were given a palate cleanser of Seasonal Sorbet. We got the raspberry sorbet which was refreshing and tart. Perfect to cleanse the tastebuds before moving on to sweeter grounds.
Desserts:
Vanilla & Raspberry Panna Cotta
Couveture Chocolate & Macadamia Nut Slice with Chantilly Cream
Mini Pavlova with Seasonal Fruits
Pistachio Macaron
To match our desserts, we were offered a choice of coffee or the signature Cafè Corretto (a shot of perfect Espresso di Manfredi 'corrected' with a shot of grappa). However, if by this stage you are buzzing a little too much from the caffeine overload, you can opt for teas.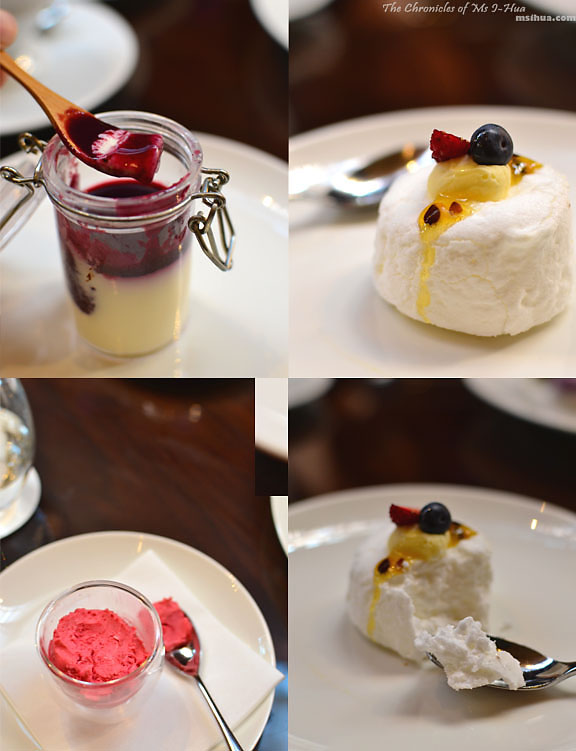 The desserts were scrumptious with our favourites being the Vanilla and Raspberry Panna Cotta and the Passionfruit Pavlova.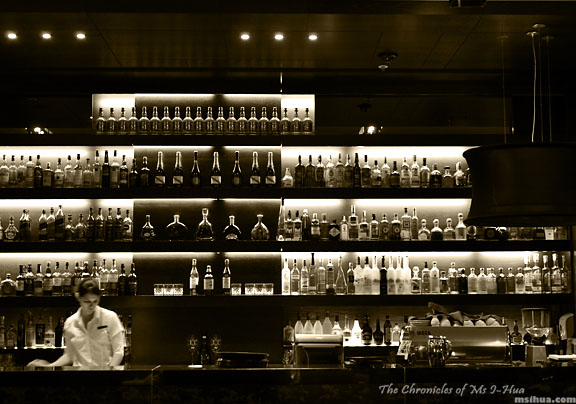 We really enjoyed our first High Coffee experience and loved the twist to the traditional afternoon teas. It's definitely a good outing for your next get together with family or friends. Try something different that is uniquely Melbourne and have your next celebration here.
I'm waiting for our next guests to visit us from out of town as I can't wait to book them in for this.
For other views on Intercontinental's High Coffee experience, visit:
Brunch Addict
Drink Melbourne
High Tea Society
I'm So Hungree
Iron Chef Shellie
Mel: HOT or NOT
Off The Spork
[Ms I-Hua & The Boy attended as guests of Run Forest Melbourne and Intercontinental Melbourne]
*Disclaimer: All food ratings & review are purely based on my own experiences and how I feel about the service, food and quality at the time of visit
'High Coffee' Details:
Price: $55 per person
Time: Daily from 2:00pm – 5:00pm
Venue: Market Lane Bar, Intercontinental Hotel @ Rialto, Melbourne CBD
Bookings: Phone (03) 8627 1568 or Email [email protected]
Website: http://www.melbourne.intercontinental.com/dining/market-lane-bar/high-coffee/
Address:
Market Lane Bar
Intercontinental Melbourne The Rialto
495 Collins Street
Melbourne VIC 3000
How to get there: