One of the best things about my newfound passion for baking is that I get to do #bakeswap activities with other fellow bloggers who bake.
I've had tarts and cakes from I Eat Therefore I Am, cakes from Iron Chef Shellie, macarons from Eat Play Shop, cakes and cookies from Never Too Sweet, cookies from The Bakeanista and more cakes and cookies from The Hangry Bitch. Who else to share the love with if not for your fellow baking buddies?
Given that the first two baked our amazing wedding cakes, I've joined an elite club of #latenightbakers 🙂
More often than not, we inspire each other with our baking adventures and replicate what each other has done. One of these highly addictive baking goodies which I knew I just had to replicate was from The Hangry Bitch.
She gave me these amazing #crackcookies and I haven't looked back. I make a batch probably once a month and hand them out to colleagues, my favourite baristas and friends. I even brought them to Peanut's Party (My Food Trail's baby shower).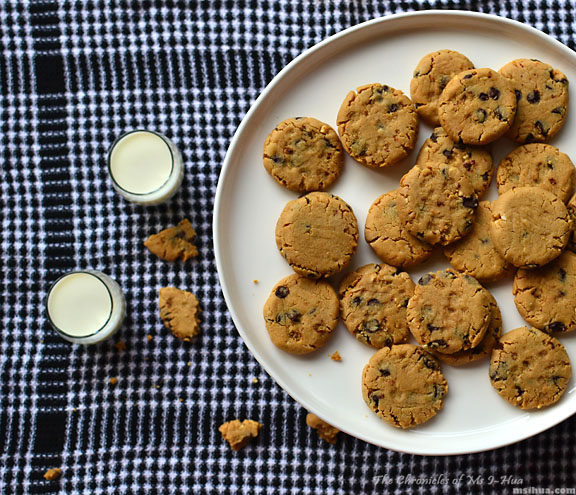 So here is the amazing recipe for said #crackcookies. Recipe has been adapted from Smitten Kitchen (who adapted it from the Magnolia Bakery Cookbook).
Peanut Butter Chocolate Chip Cookies Recipe
Ingredients
1 1/4

cups

All-purpose Flour

3/4

teaspoon

Baking Soda

1/2

teaspoon

Baking Powder

1/4

teaspoon

Salt

1/2

cup

Unsalted Butter (softened)

1

cup

Peanut Butter at room temperature (I mixed 1/2 cup of chunky and 1/2 cup of smooth)

1/2

cup

firmly packed Light Brown Sugar

1

large Egg (at room temperature)

1

Tablespoon

Milk

1

teaspoon

Vanilla Extract

1/2

cup

crushed Peanuts (in lieu of peanut butter chips)

1

cup

Chocolate Chips (I doubled the original; which only asked for 1/2 cup)

Caster Sugar (for sprinkling)
Instructions
Preheat oven to 170 degrees Celsius (fan forced).

In a bowl, combine the flour, baking soda, baking powder and salt. Set aside.

In a large mixing bowl, beat the butter and peanut butter mixture together until it turns fluffy. Add in light brown sugar and continue to beat until it reaches a smooth consistency.

Add in the egg and mix in well. Add in the milk and vanilla extract.

Add in the flour mixture (from the first bowl) and beat thoroughly. Mix in the crushed peanuts and chocolate chips and stir well.

On a clean plate, sprinkle some caster sugar around. To form the cookies, start by scooping out a teaspoon full of cookie dough and rolling it in the palm of your hands to form a ball. Place the cookie ball onto the sugar coated plate. Keep forming the cookie balls until the dough is all used up.

Place each cookie ball onto ungreased cookie sheets or a Silpat (if you have one), leaving several inches between each cookie for expansion. I only have one Silpat mat, so I did about 4 rounds of baking with this.

Using a fork, lightly indent the cookies with a criss-cross pattern. To smooth it out, I lightly patted each cookie after the patterns were made with a flat spatula, keeping in mind to not overly flatten cookies.

Bake cookies for 10 to 12 minutes. Do not overbake. Cookies may appear to be underdone, but they are not. They will harden up when they cool.

You should have roughly 60-70 cookies when you finish (depending on the size of the spoon you used to form the cookie balls).

Leave the cookies to cool on the sheets for 1 minute, then remove to a rack to cool completely.
Notes
Adapted from Smitten Kitchen (who adapted it from the Magnolia Bakery Cookbook).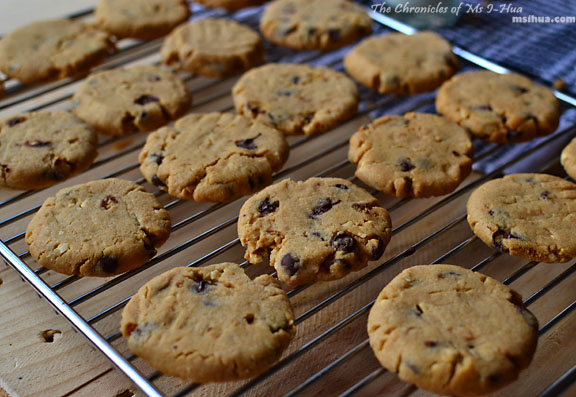 Transfer into air tight containers and distribute to friends, family and colleagues.
Bring it to the next party you attend.
Or keep them all to yourself to enjoy with a glass of milk (or two) 😛