Sometimes I hate winter. Oh, not for the reasons you are thinking of, I imagine.
I hate it because the days are so short and I never get to see daylight. Nor do I get enough time to go home and bake and take photos after. It's always much too dark by the time I get home, let alone for picture taking.
So The Boy and I are constrained to cook and/or bake only during the weekends in winter *SFBS*. This is a lot harder than you think. We are both constantly fighting over the use of the stove/oven in our tiny kitchen as well as the time it takes each of us to come up with our perfect recipe and plating.
Most weekends we aren't even home as we are busy catching up with friends and family or running errands (We have such major first world problems :P).
On one such weekend, I woke up with a plan in mind. Brownies wouldn't take long at all! I ran into the pantry to see what I had and ran back to my trusty Mac for some in depth "googling" and found an easy to follow Nutella and Peanut Butter Brownie recipe to replicate.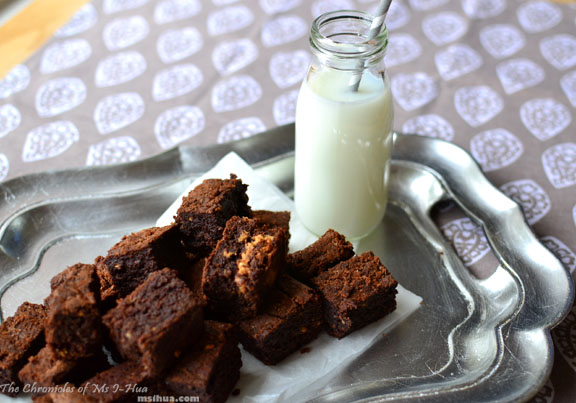 I've since baked this two more times for work mates and the Biggest Morning Tea event which was held at work (much to everyone's delight).
This is a recipe adapted by Craving Chronicles (originally posted by The Hungry Housewife) and is one of the easiest baking recipes I've ever had to follow. Literally, mix (A + B + C ) x bake = Ta-Dah!
Nutella Peanut Butter Brownies Recipe
Ingredients
1/2

cup

Butter

melted

1

cup

Sugar

2

Eggs

1

teaspoon

Vanilla Extract

1/2

cup

All-purpose Flour

1/4

cup

Cocoa Powder

1/4

teaspoon

Baking Powder

Pinch

of Salt

4

Tbsp

(1/4 cup) Peanut Butter (chunky, smooth, whatever you have on hand)

4

Tbsp

(1/4 cup) Nutella
Instructions
Preheat oven to 170 degrees Celsius (fan forced). Line a square cake tin (or a square 8 x 8 pan; which I didn't have) with baking paper.

Mix the flour, cocoa powder, baking powder and salt in a bowl. Set aside.

In a large mixing bowl, beat the sugar into the melted butter. Beat in the eggs one at a time. Stir in the vanilla extract and combine thoroughly. Add the flour mixture and combine well.

In a separate microwaveable bowl, pop the peanut butter and Nutella into a microwave and heat it up for 10-15 seconds (or until runny). Fold this into the brownie mix. I didn't mix this thoroughly as I wanted to keep the peanut butter swirls intact upon baking.

Pour the batter into the lined baking tin and bake for 45-55 minutes (check with the skewer test) in the oven.

Let cool in the tin for 2-3 minutes before removing. Cut into as many or as little pieces as you require and serve warm with a glass of milk.
Notes
To be honest, you could skip the vanilla altogether as I couldn't taste it at all in the end.
Adapted from Craving Chronicles.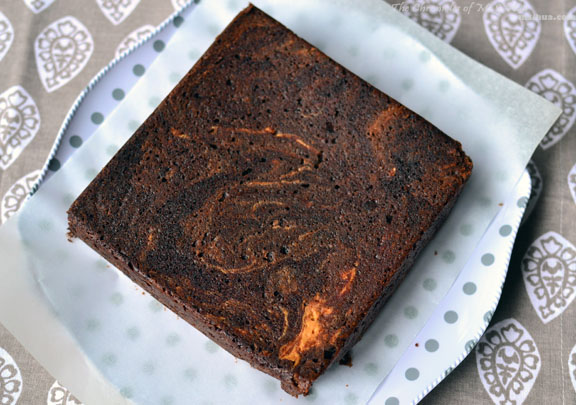 If you need help with the conversions, All Recipes does it pretty well (I've checked and measured to compare).
I might double up on the quantity of the peanut butter the next time I make this so that I get more chunks of salty delight through the brownie.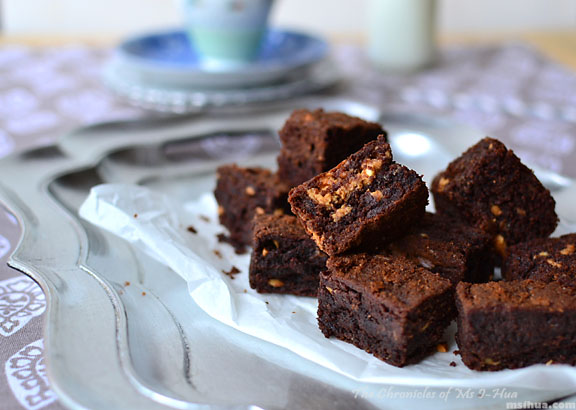 All in all, these are fairly easy to make and very fast in disappearing as well.
Make double batches to ensure you get some!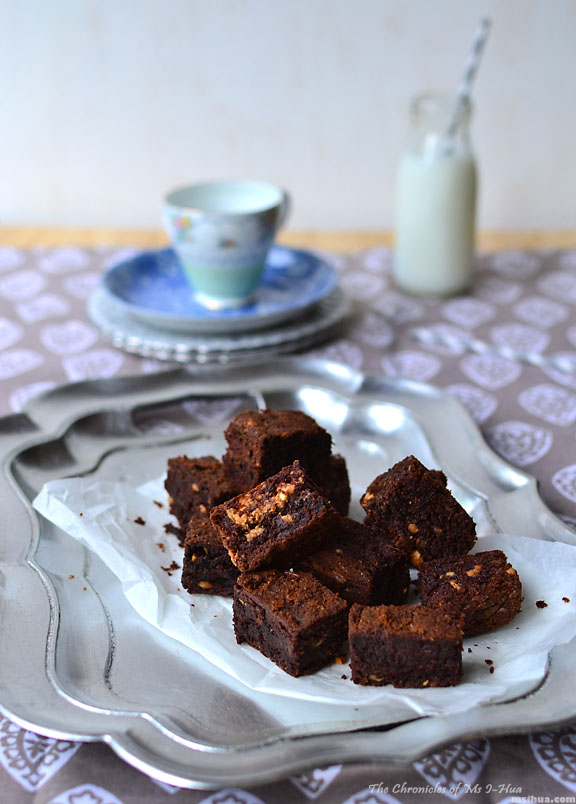 Perfect for a rainy day don't you think?
What do you have in your pantry that you could possibly throw together to bake? Wouldn't mind hearing some inventive answers for inspiration!