An invite that read "… the first La Maison Maille boutique in the Southern Hemisphere will open on January 28th 2014" certainly raises curiosity and many questions.
Firstly, is it an actual boutique? Secondly, why is it in Mt Eliza?
If you know your La Maison Maille boutiques, you will know that there is only three in the world. Paris, Dijon and London (Paddington), so to have such a prestigious name set up shop in the Mornington Peninsula, roughly 1.5 hours away from Melbourne CBD was an interesting move for the brand.
This unique (albeit strange) partnership with La Maison Maille and Ritchies IGA had the Maille global business director Sylvie David, flown in direct from France to Mt Eliza to launch the emporium.
However, not so crazy once Fred Harrison, CEO of Ritchies Supa IGA (the jingle will now commence playing in your head. "Ritchieeeessssss…") explains the partnership. Mt Eliza is an affluent society with locals looking for top drop. Even when it comes to mustard, there is no cutting it.
At $100 for a pot of 100 millilitres for the world's most exclusive mustard, I guess Harrison is in the know. The said pot of gold is no other than the Maille Chablis mustard with Black Truffle, containing wine sourced from Chablis, the renowned Burgundy wine region and black truffle from Périgord in France.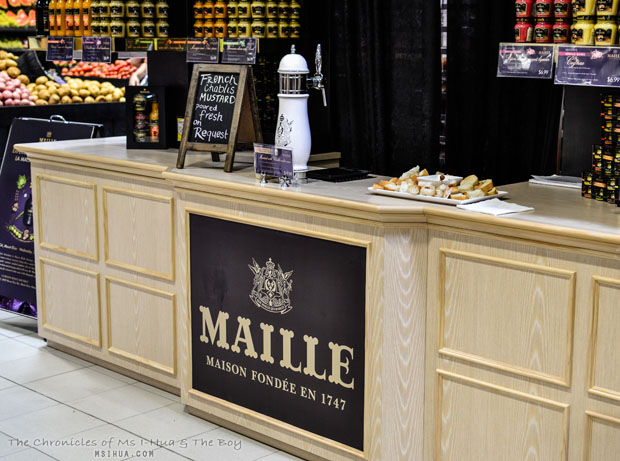 Flown directly from the source in Paris La Madelaine, you will be able to have your very own hand-poured-from-the-tap Maille Chablis in your home. The catch? You will need to drive down to Mt Eliza for it.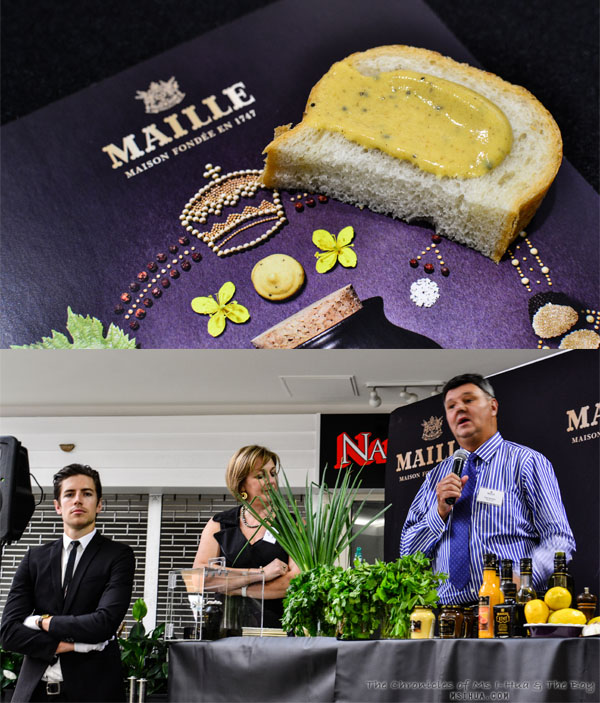 To set the scene and launch this partnership, Australian brand ambassador Chef Adrian Richardson (from Good Chef, Bad Chef and of course, La Luna in Melbourne) was selected to design a mustard masterclass as well as serve a Le Drunch (lunch dinner) event for us lucky ducks.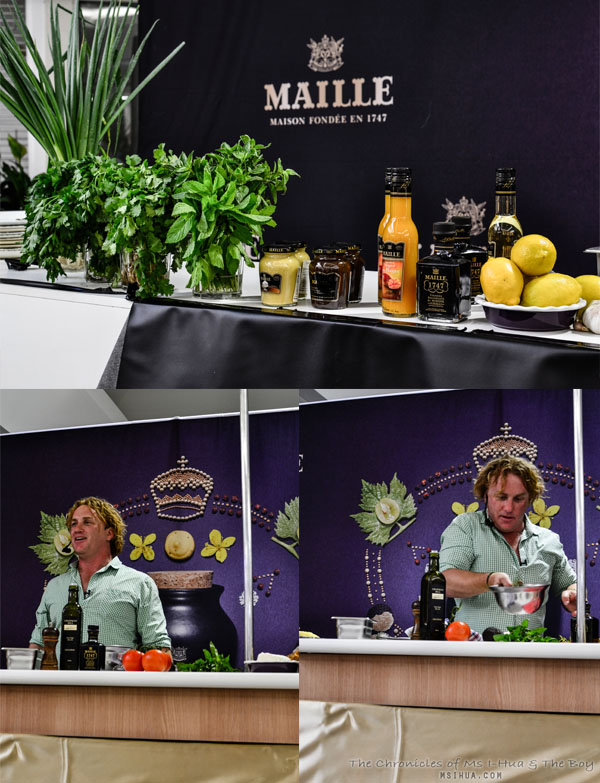 His enthuasiasm and passion for the mustard was great to see. How I've missed him from my years as a free spirit on the couch at home on lazy weekday afternoons with nary a thought as I watch him display his skill on "Ready, Steady, Cook!".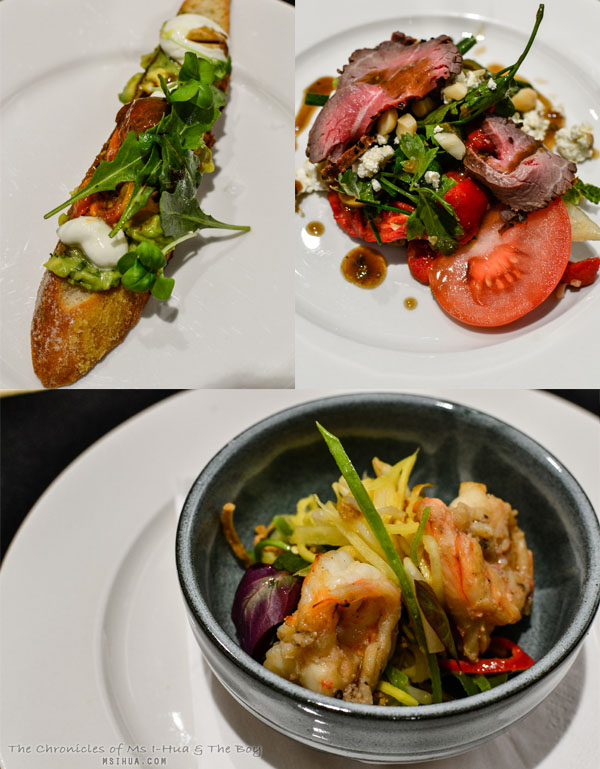 To start us off with the tasting, we had:
Bruschetta topped with grilled avocado, goat's cheese, rocket and Aged balsamic vinegar of Modena
Pepper crusted beef salad, with Danish feta, caramelised onions and Honey and Aceto Balsamico di Modena mustard
Thai style green mango and papaya salad with prawns, Chilli and Sweet Mango dressing
My favourite dish showcasing the mustard had got to be the Beef Salad. Which is surprising, as I don't eat beef! I had the vegetarian version by picking out all my beef and sharing it with Libby who sat next to me (much to her delight).
For the main course, everyone received a Fillet steak wrapped in bacon and blue cheese mustard topped with thyme. I watched on and listened to happy sounds from the guests around me. Incidentally, everyone who was in the food writing business was in attendance.
Dessert, strangely enough was my favourite part of the day. I am not a big fan of sweets, so I was ecstatic to note that cheese and mustard was involved for a more savoury note to the sweet ending planned.
We enjoyed:
Russian strawberries with brown sugar, mint, Aged balsamic vinegar of Modena and double cream
Blue cheese and cheddar platter (consisting of a blue cheese profiterole and a cheddar croquette) accompanied by Honey and Aceto Balsamico di Modena mustard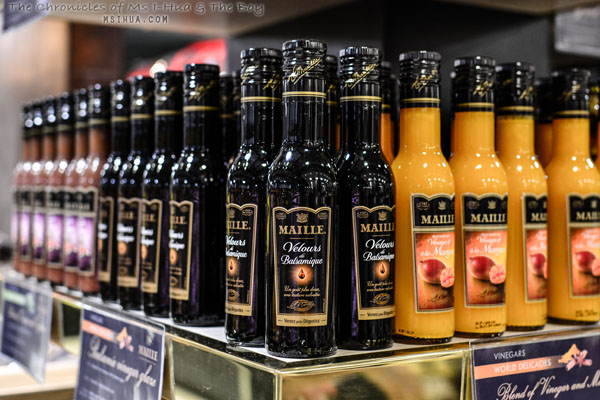 If you are keen to check the La Maison Maille Boutique at Ritchies IGA in Mt Eliza complete with a set of 22 mustards, vinegar and vinaigrette varieties housed within the walls of the building, drive on down to the Mornington Peninsula. You won't be able to get your hands on this exclusive brand (other than the usual retail range) otherwise.
Certainly where the community benefits, in this case.
[Ms I-Hua attended as a guest of AC Agency]
Opening Hours:
Monday to Saturday, 7.30am-9:00pm
Sunday, 8:00am-8:00pm
Address:
La Maison Maille Boutique
Ritchies IGA
20/89 Mount Eliza Way
Mount Eliza VIC 3930
Australia
Phone: (03) 9787 4322
Ritchies IGA Website: http://www.ritchies.com.au/location/mt-eliza

La Maison Maille Australia Facebook: https://www.facebook.com/MailleAustralia