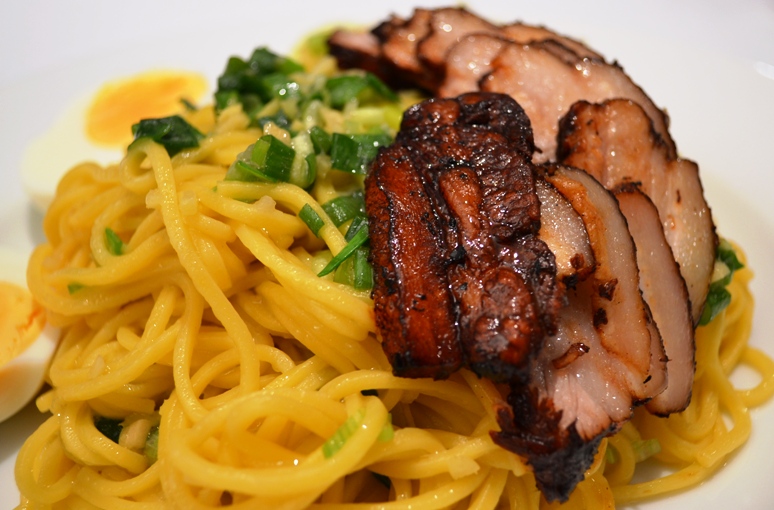 This recipe is adapted from David Chang and Peter Meehan's Momofuku book, the excert can be found here.
I really felt like eating a simple home cooked Chinese meal one night… the Boy immediately jumped online and did a quick research on some recipes from Momofuku (the website seems to be down at time of posting for me) and found this fantastic gem!
You can't get any more Chinese than putting scallion (spring onion) and ginger together… toss in some noodles and Dong Bo Pork Belly… I'll guarantee you a fulfilling meal!
What I like about this dish, lies in the simplicity of it. All that is required? A lot of chopping, mincing, and slicing… and that's pretty much it… Taste factor? Through the roof! Mine at least… there are a few holes in my ceiling at the moment… which is great.. needed the ceiling light fixture anyway.
And I have the noodle dream!!! Cue… scene of a fat Panda being nagged by his father the Chinese Goose… the Noodle Dream! (If you don't know what I mean, I'll kung-fu your ass… *should be enough hints here*)
So back to the noodles… it's all about the scallion and its ginger friend…. and I don't mean the redhead sitting lonesomely in the corner… I do mean ginger as in the actual root… or if you like… Zingiber officinale… *ahem*
Ginger Scallion Sauce
Ingredients
2 and a half cups of thinly sliced scallions (spring onions)
Half a cup of finely minced peeled fresh ginger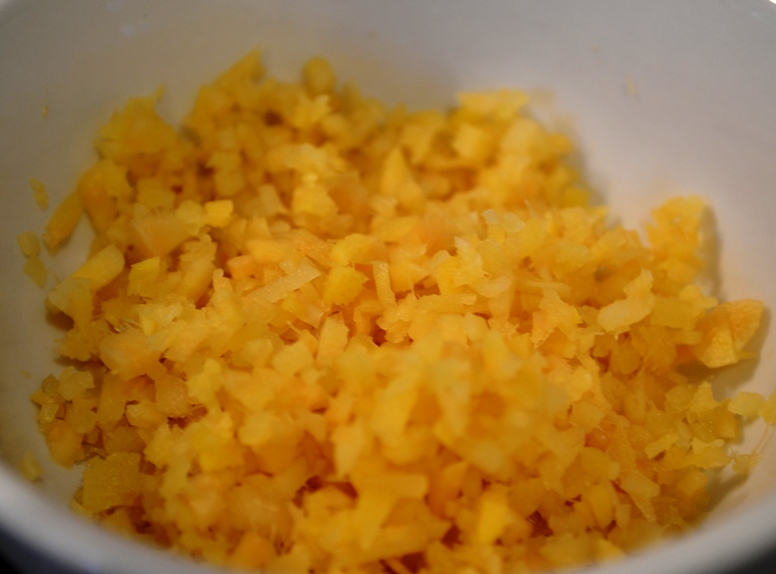 Quarter cup grapeseed oil (or any other neutral oil) –> We did use Grapeseed oil 🙂
One and a half teaspoons of light soy sauce (Momofuku sugggests usukuchi)
Three quarters of a teaspoon of sherry vinegar
Three quarters of a teaspoon of kosher salt, or more to taste –> We used Fleur De Sel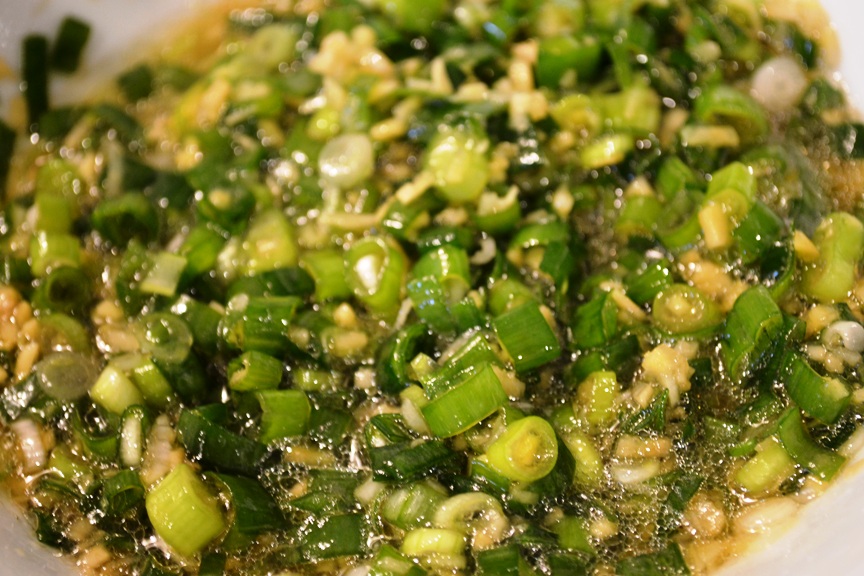 Combine, mix and taste! That is all to it! The recipe suggests letting it sit for 15-20 minutes to infuse… which is fine as you'll be using up that time to cook your noodles or anything you would like to top your dish with this deliciously simple sauce (you may now count how many times I've used the words "Simple" and "Easy")
We bought some packet Singapore Noodles… cooked them (according to the directions on the packet), drained them… and tossed them with around 6 tablespoons of the Ginger Scallion Sauce as directed by the recipe… serving it with delicious Dong Bo Pork Belly freshly cooked from the claypot, hard boiled eggs and some pickled cucumbers.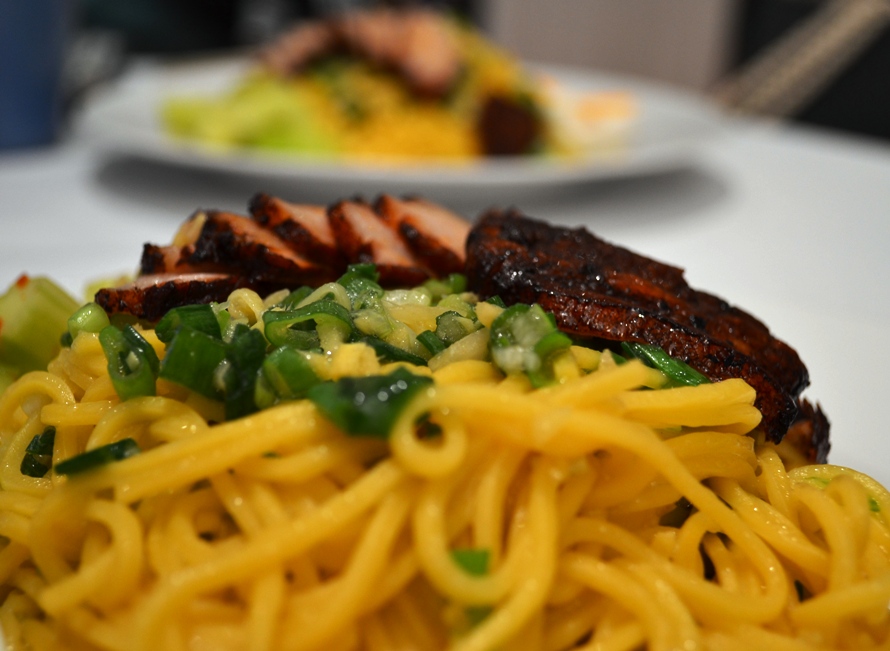 My plate was marvelously cleaned by the end of the meal… I wanted more!
So we did! The very next night, as we still had some of the sauce left, we used it generously on a Pan Fried Barramundi and Steamed Vegetables…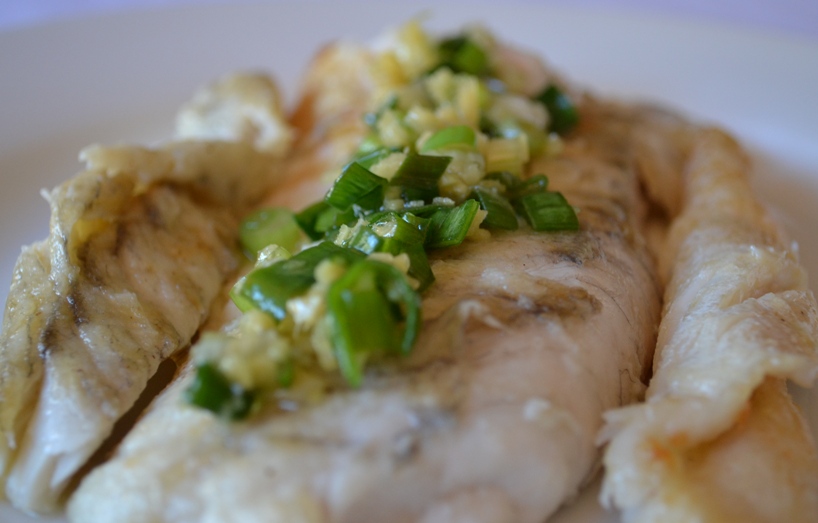 Do what you like with the sauce, it's a guarantee that it'll enhance the dish… it's like a love drug.. only better (I'm assuming, as I have not discovered any sort of love drugs)… 😛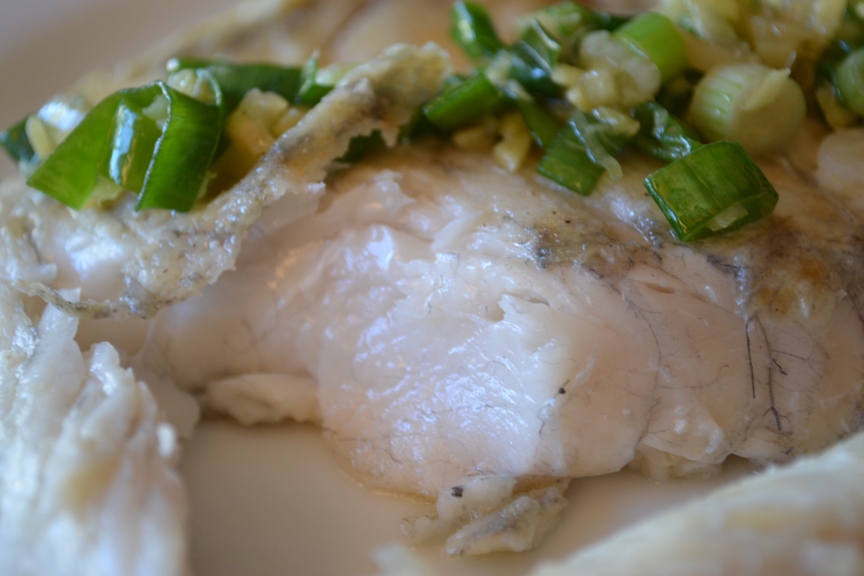 It really doesn't take much to whip something quick and easy (I said it again!) in the kitchen… I could eat this served on its own on a bowl of steamed white rice and be perfectly contented… *bliss*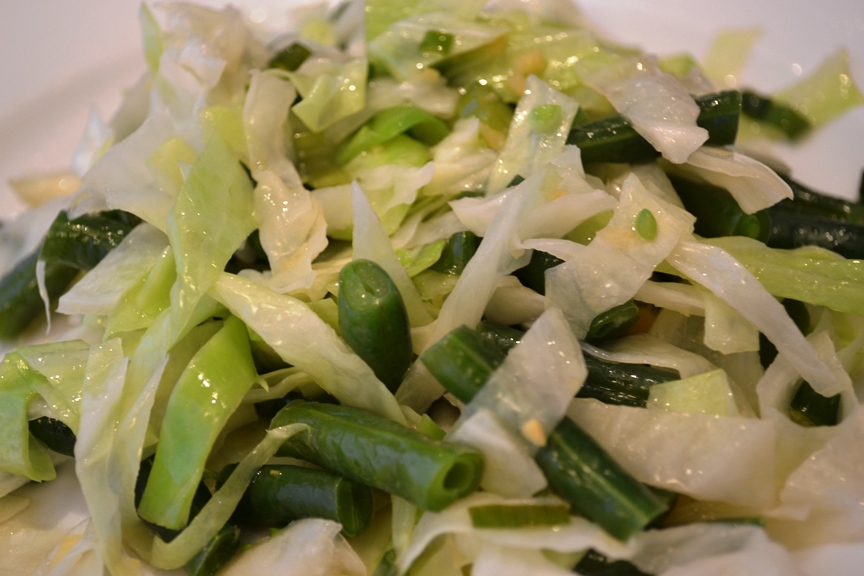 The sauce should last about 1-2 days in the fridge.