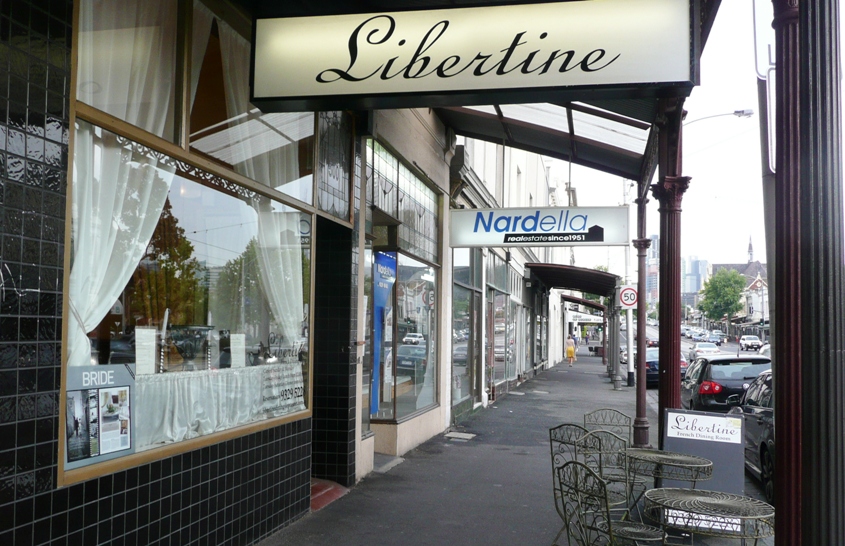 One day,Kitchen Wench had put it out there on Twitter if anyone would be interested in joining her at Libertine's for an 8 course degustation dinner.
Having never been there before, but having read a few reviews on them (particularly about their suckling pig degustation), I was very keen and interested.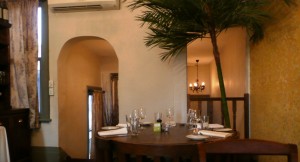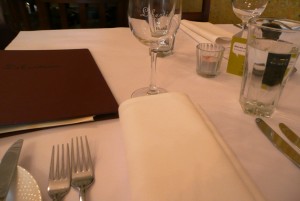 So one very fine evening in November (yes, last November, in 2010.. I did say I was backlogged)… I together with Kitchen Wench and Berrytravels decided to grace Libertine with our presence…
I was the first of the 3 to arrive, and was greeted by friendly staff who showed me to the table (upstairs). Upon everyone's arrival, the head chef Andre came up to introduce himself and was pretty much on hand introducing nearly every dish to us for the remainder of the night. Very VIP stuff 🙂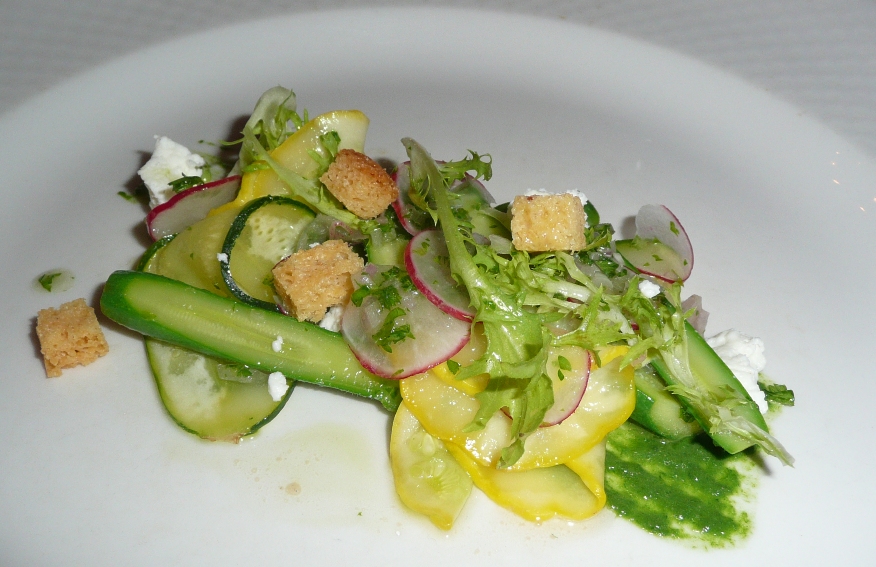 The degustation menu focuses on seasonal produce available on the day of dining itself, so there's never a "set" menu as such. However, they do work around dietary requirments. For the first course, we had a simple salad of courgettes, squash, baby radish, asparagus, freshly made croutons, cheese upon parsley sauce.
Delightfully simple but amazing in taste and texture. I love crunchy vegetables.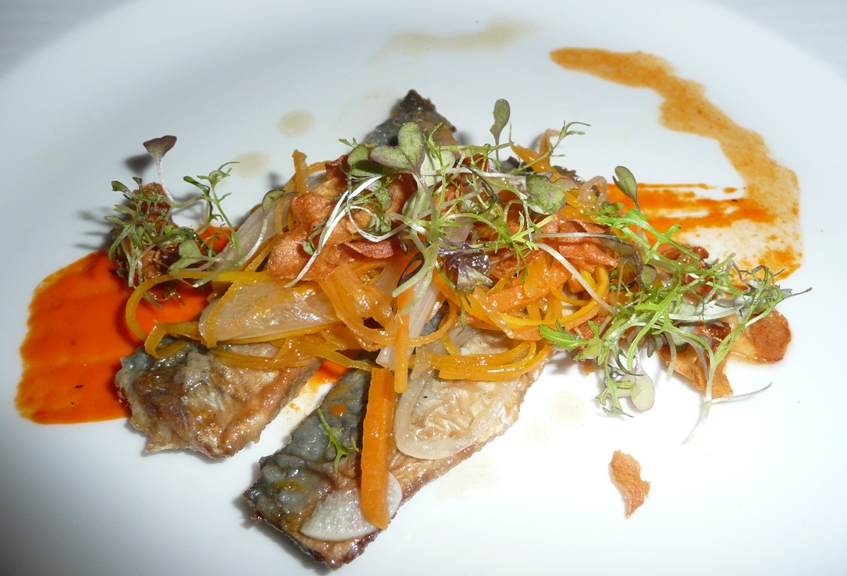 For the second dish, we were served Fresh Sardines from Lakes Entrance, with a capsicum emulsion and garlic chips. The fatty fish went really well with the capsicum emulsion as it cut through the richness of the Omega-3.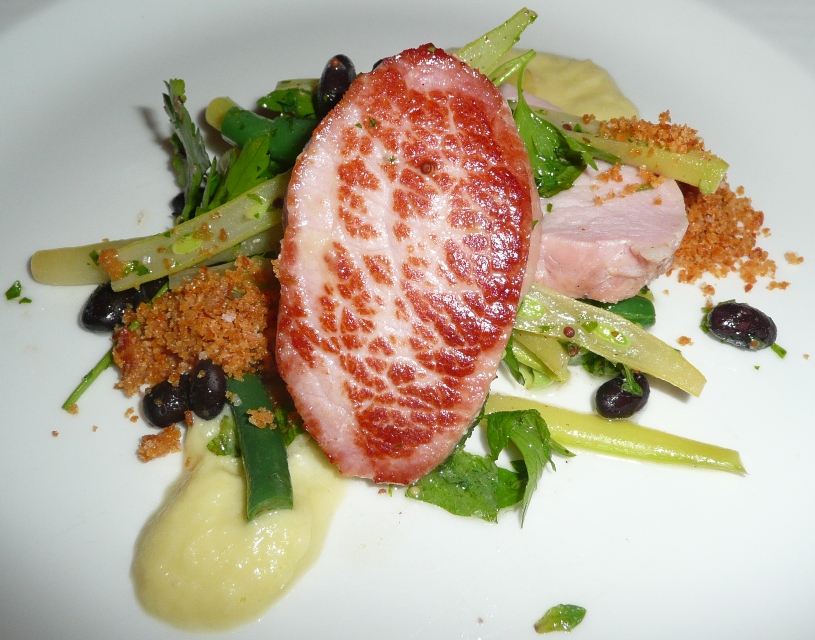 The first of the mains arrived. And I have to say, for the 3 of us, this was my favourite. Ham with crackling, butter beans, turtle beans and a leek ceviche topped with white asparagus. The winner for me was all in the crackling. Grinded to a fine powder, this was the most interesting thing I've seen done to crackling. I want more!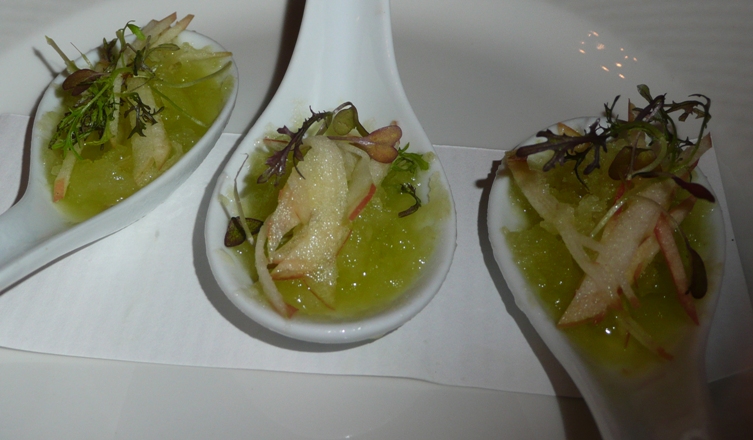 Next to arrive was a palate cleanser. We were asked to taste, then guess what flavours were used in this. We were given two hints… a fruit and an alcohol…Obviously the three of us immediately guessed apple… but to the life of us, we couldn't make out the familiar alcohol taste…
Stumped, we asked our waittress…she grinned, and told us, "It's an apple and champagne granita!"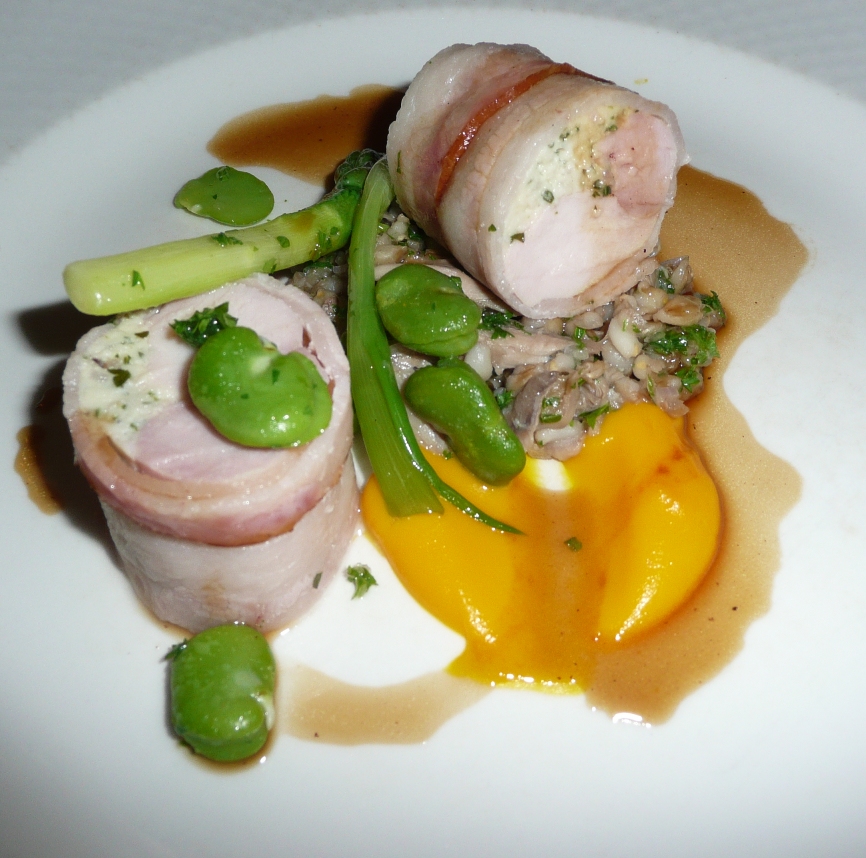 Next to arrive was Ellie's favourite. Wild rabbit farci from Shepparton, pearl barley, broad beans, carrot puree, & Armagnac jus… the fact that the rabbit was wrapped in bacon made it not taste so gamey, which was definitely a win in my opinion 🙂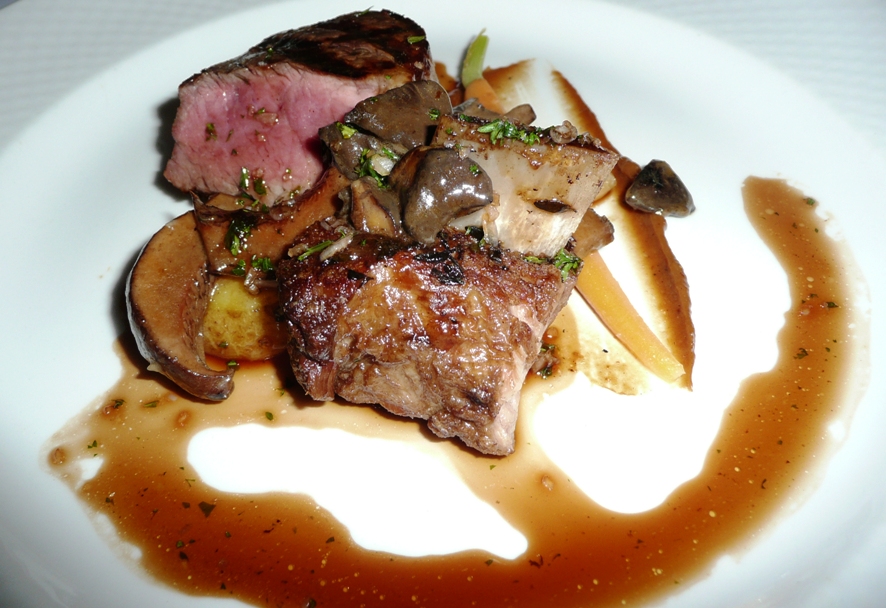 According to Celeste, this was her favourite dish of the night, Grass fed eye fillet from the Macedon Ranges served with pine mushrooms and persillade jus and confit potatoes.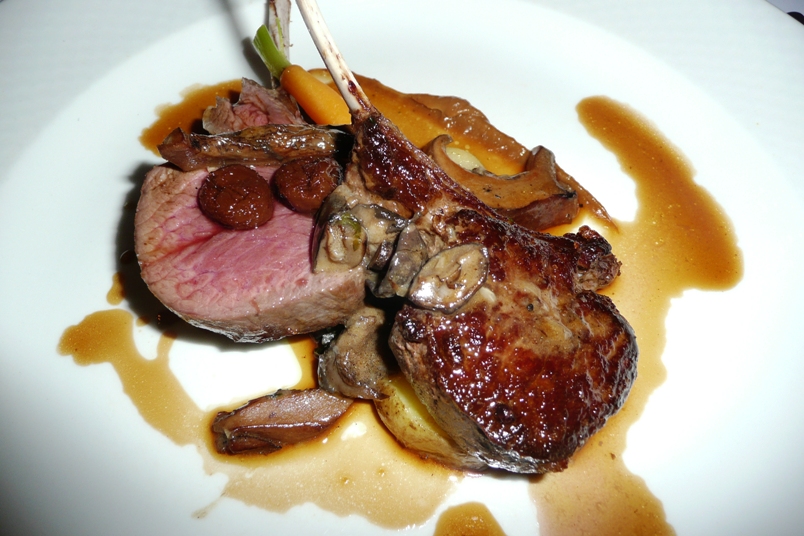 Whereas, I had a different version of this dish with Wild lamb and black cherries. Absolutely divine. The cherries went so well together with the lamb *bliss*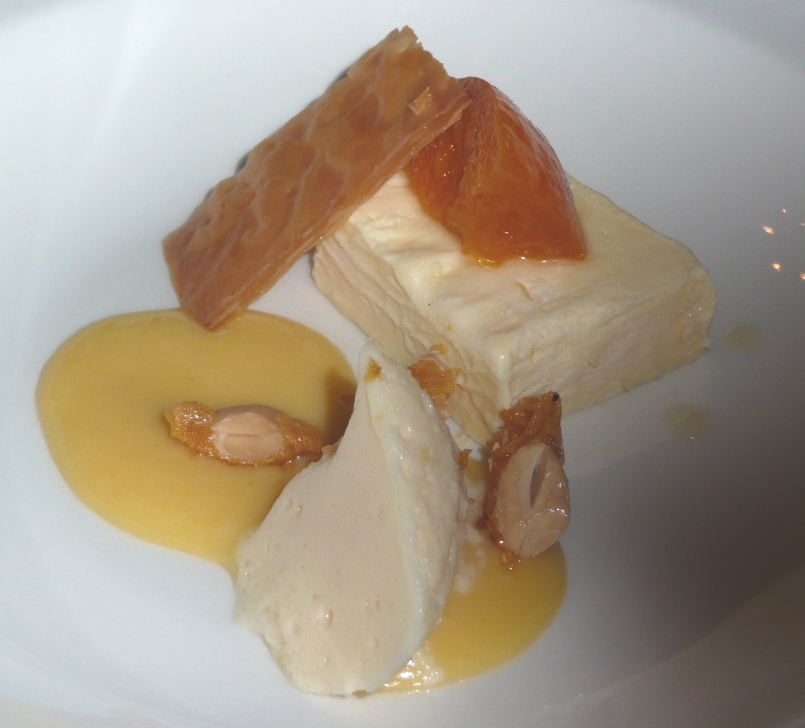 And then came dessert. Ellie was going on and on about this dessert, and I didn't understand why. That is, until I tasted it. Chef Andre tried to get us to try something else… and decided to serve us 3 smaller versions of the fantastic Mandarin parfait, Mandarin butter, honey brittle & almond chiboust.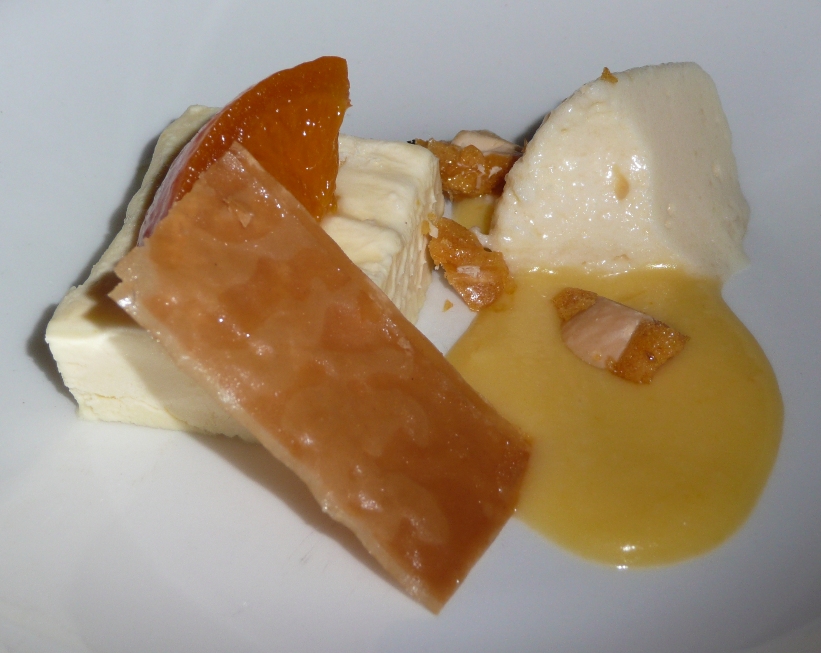 So good that it desserves another picture… Imagine, the head chef of the restaurant having to negotiate with his paying customers to try an extra dessert. I had no problem as I was all for it, after he uttered the magic word chocolate… how was I to resist?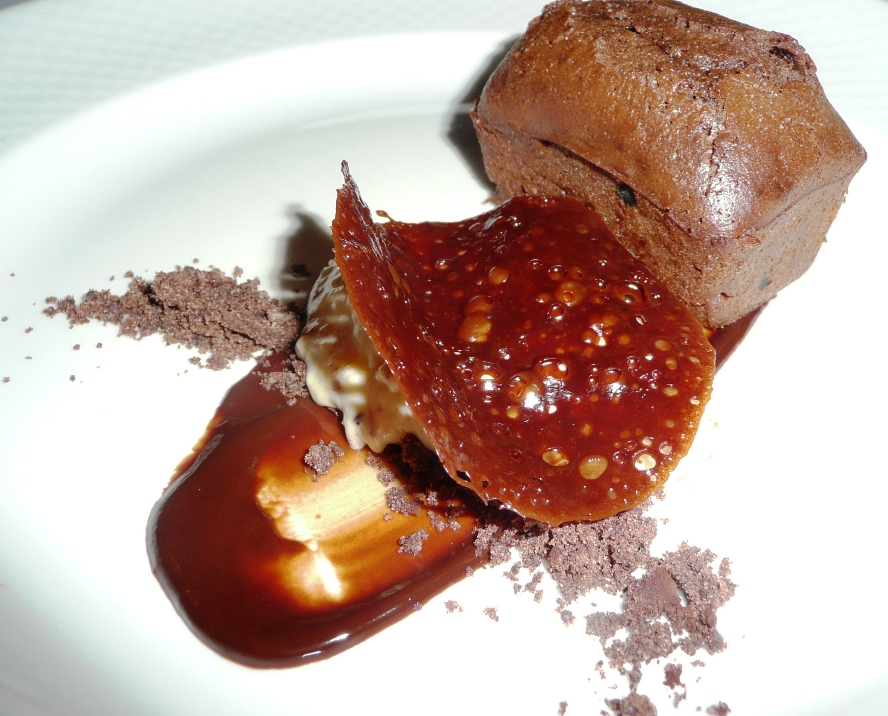 And… amazeballs it was!! (Pardon my French, all pun intended)… the Chocolate & black truffle molten cake, cocoa nibs mousse was just out of this world! An exact opposite to the other dessert. Where the Mandarin parfait was light and refreshing… this was decandently dark and heavy. The cocoa nibs mousse… I could just imagine myself in front of the television eating a whole tub to myself! (A vision which was kindly inspired by one of the waiters who told us that, that was exactly what he did!)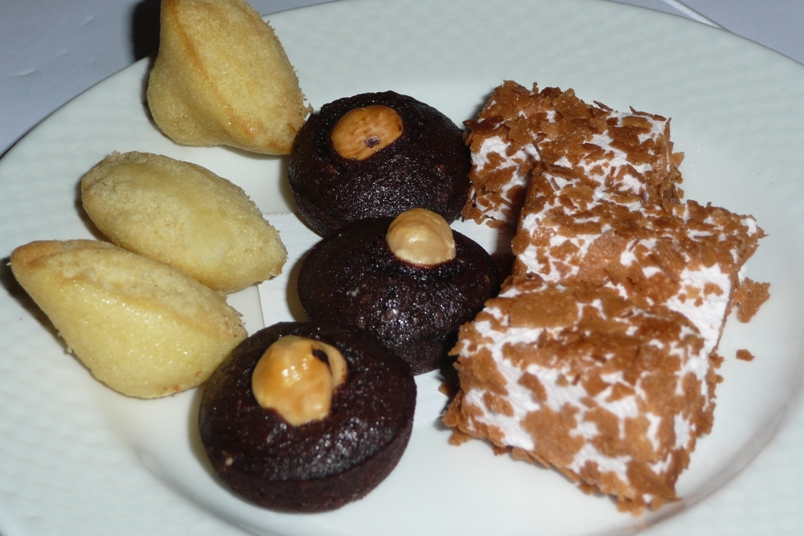 At the end of our meal, as we loosened the belts of our pants (I speak for myself, but I'm sure Ellie and Celeste made similar adjustments to their clothing)… we were served complimentary petit fours as we paid our bill… One of them was a madeleine, another was a hazelnut and chocolate cake and the last, we were quite sure it was a type of marshmallow.
Completely satisfied, we went downstairs, waved our adieus… and promised to return for more magnificence!
It was great that we each had our own favourite dish of the night. Majority of the dishes that we had that night can be found in their ala carte menu on their website (a variation of it as it's based on fresh produce sourced on the dining day).
*Disclaimer: All food ratings are purely based on my own experiences and how I feel about the service, food and quality
Food/ Cuisine: French
Dining Style: Fine Dining
Overall Food Rating (Based on the Dining style): 8
Restaurant ambiance: 8/10 (I think despite us being a 3 girl group, we were the noisiest there!)
Service/ Attitude: 9/10 (It's not often you get the head chef serving and introducing dishes at your table. Not sure if this was just for us though. However, the wait staff were fantastic and friendly)
Value for money: 8.5/10 (Amazingly, we paid for the 8 courses $95 per person; they have a wine degustation option as well)
Address:
500 Victoria Street
North Melbourne VIC 3051
Tel:(03) 9329 5228
Website:http://www.libertinedining.com.au
Libertine is open from
Tuesday to Saturday from
12.00pm-3.00pm  for lunch and
6.00pm-10.00pm for dinner

How to get there: