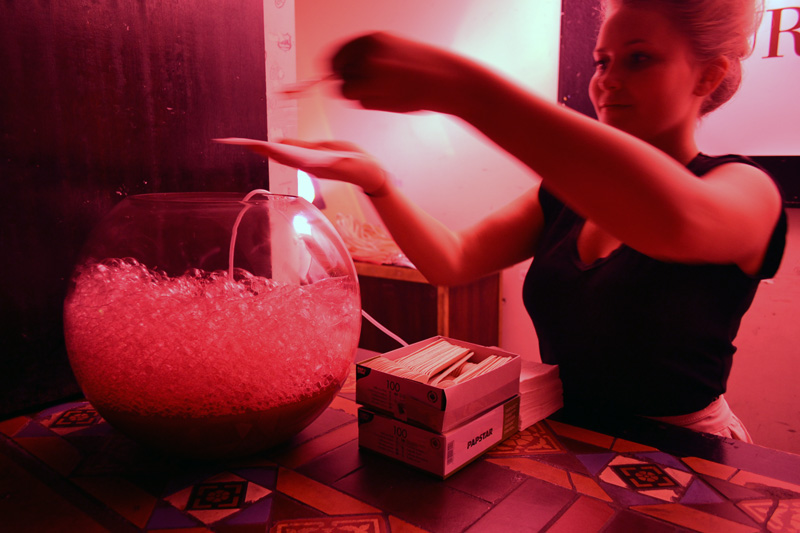 Ever wanted to visit the The Land of Goodies from Enid Blyton's Magic Faraway Tree? I know I've always wanted to.
So when the recent Melbourne Food & Wine Festival 2011 announced that Burch & Purchese would be working together with international jellymongers Bompas and Parr to host a Sweet Architextural event, I knew I had to seize the opportunity!
So sometime in March, the Boy and I visited The Land of Goodies for Adults… *wink*…
And as we arrived, we were served Bubblegum bubbles on a spoon.
And indeed they were full of bubblegum flavour which left you wanting for more!
As we walked through the large welcoming doors of the The Gershwin Room @ the Esplanade Hotel (the Espy – St. Kilda), there were a throng of like-minded people and wonderful staff dressed in period costumes with their hair all done up.
From here on, there are a lot of pictures, so instead of boring you with my usual narrative, I'm just going to let the pictures and descriptions tell you the story!
As we lounged at a nearby table, other familiar faces joined our twosome party … @eatnik, @meatnik, @essjayeff, @tummyrumbles, @injerarufus and the newly acquainted @flickfly
So from being a lonesome twosome, we soon became quite a large group 🙂
There was a free flow of champagne and sparkling water to keep the crowd happy alongside the wondrous concoction from B&P and B&P (geddit?)
We had a serving of the White Swan and the Black Swan, both which were very different as one was sweet and the other a savoury.
The White Swan was made with cream cheese and sweet tomato chutney whilst the black swan was a mixture of apple, chocolate and foie gras…
We were also served two versions of pop corn… one was a BLT (Bacon, Lettuce and Tomato) and the other was a Vegemite and Cheese which tasted strangely like twisties… salty cheesymite twisties…
On the right, you can see that I'm holding on to a cube of something encased with marzipan… I'll call it squares… served on cricket bats, there were two versions of this.. Beetroot and Pineapple  and Mango and Cherry (which I liked)…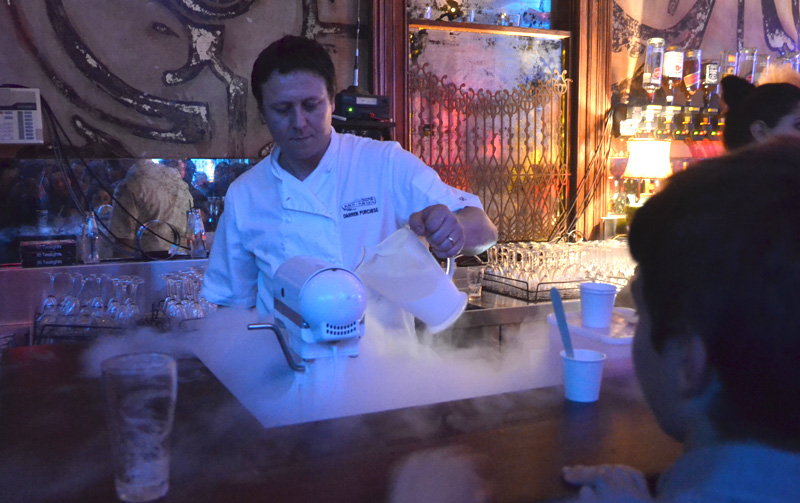 Now back in January 2010, Burch & Purchese blogged about using Liquid Nitrogen to make Nitro Ice-Cream, so I was super happy to see Darren behind the counter with a Kitchen Aid doing exactly that.
There were several flavours that Darren served up… and I had 4 versions of them… I'm not sure if he did any other flavours but I loved them all!
Bubblegum, Violet Crumble and Honeycomb, Crystalised White Chocolate with Banana and Lime and Cucumber… amongst the four flavours, if I'd have to pick one, it'll have to be the violet crumble with honeycomb 🙂 MmMMmMMmmmm
Amongst the other delights served to the crowd before the BIG REVEAL … were the Petrified Cauliflower with spiced crumbs and the Strawberry Ice-Cream Sandwich with Rose Jelly, Crystallised Rose Petal and pink peppercorn biscuits…
Don't you think the Petrified Cauliflower was very cleverly named? Served in a petri dish with a dehydrated pear slice, I actually thought it tasted quite good as well…
And then came the pretty edible chocolate flowers… each colour represented a different flavour…
There were vanilla, blueberry, lime, passionfruit, strawberry… They were so pretty that I didn't want to eat them at first, and wanted to take it home … but curiosity got me in the end and I bit into them… and just as quickly as they had arrived, they were gone…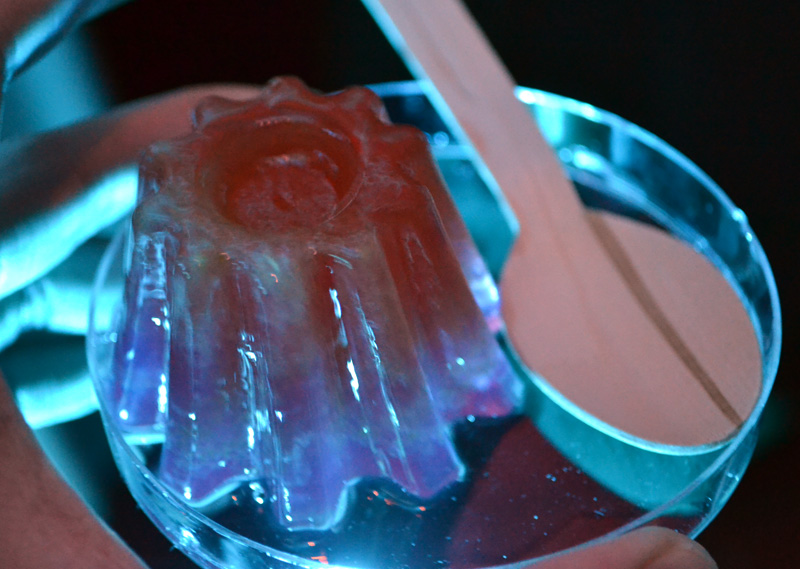 And then came the jellies! Sam Bompas was at the other end of the bar serving up jellies just as Darren Purchese was churning out ice-creams…
We had Gin & Tonic Jellies, Cucumber and Celery Jelly and the very odd Plum and Riesling Jelly which nobody finished… it had a very bitter taste which was amplified as we had been having so many sugary food items!

And then, the time came for the great unveiling of B&P and B&P's hard work… the whole reason of why we were there…
Curtains were drawn to reveal….
Dancing Ballerinas to the tune of Dance of the Sugar Plum Fairy!!!…
Oh so very with the theme…
Lols… we were too far back, so we completely missed the show… but once the ballerinas departed… the amazing dessert feast (buffet) was revealed to all!
There were rows upon rows of cakes, mousses, macarons, jellies…all edible
There was a whole feature of a coconut tree (made with chocolate) and little tiny coconuts (full of coconut flavour!) as well as honeycomb with meringues and white chocolate bees!
We also had from an area which looked like a volcanic eruption… chocolate truffles with real truffles… it was an acquired taste 😛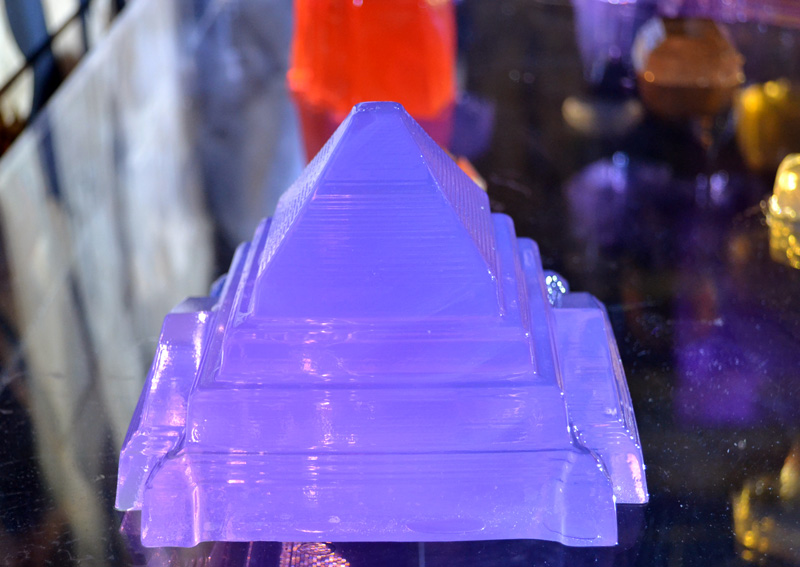 And of course, we were all there to see the amazing replicas of Melbourne's key iconic buildings… recreated in Jelly by Bompas and Parr…
There was the Flinders Street station and the Shrine of Remembrance just to name a few….
If you're wondering right now, how on earth could two Jellymongers recreate buildings so accurately, wonder no more… Harry Parr in another life was an architect…
Wobbly jelly waves…oh so pretty and merry and gay!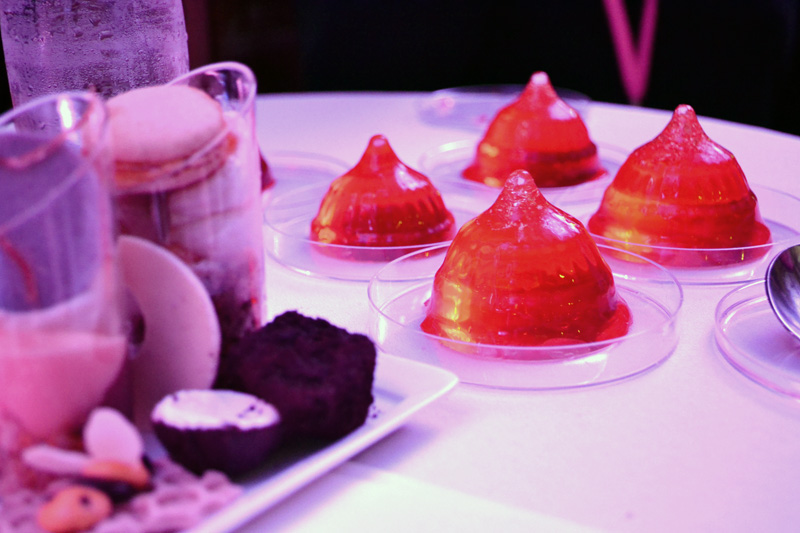 The very famous aphrodisiac jellies… … these didn't have the gold leaf nipples as the ones featured in their book… but if it's the same as the one in the book, then it's a Champagne, Rose and Strawberry Jelly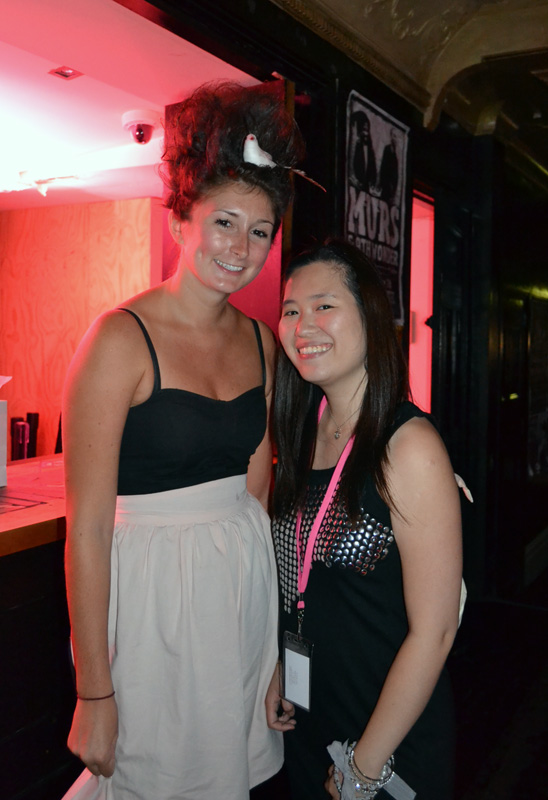 On to the people and the extravagant costumes! There was a lady all dressed up in Victorian period clothing complete with wig and rotating table of jellies… Ballerina's lifting the wonderful chocolate flower cake… and the ever smiling serving staff with big pouffy hair and birds!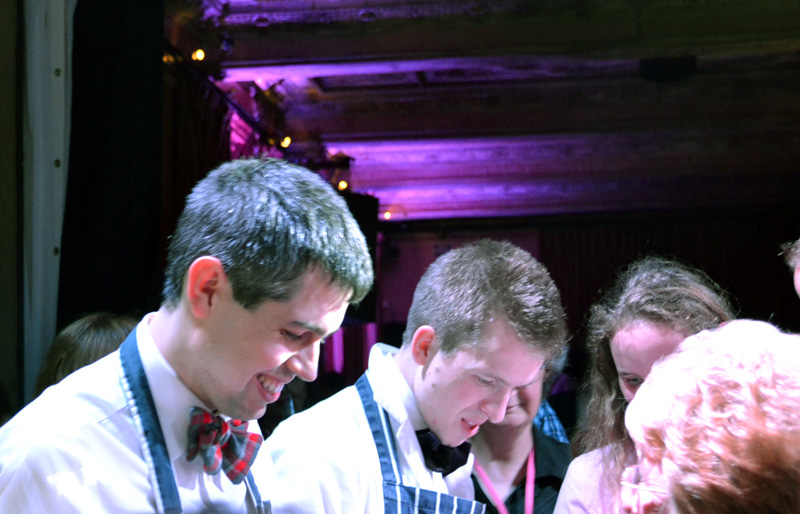 I even got to have Sam Bompas and Harry Parr sign my Jelly book 🙂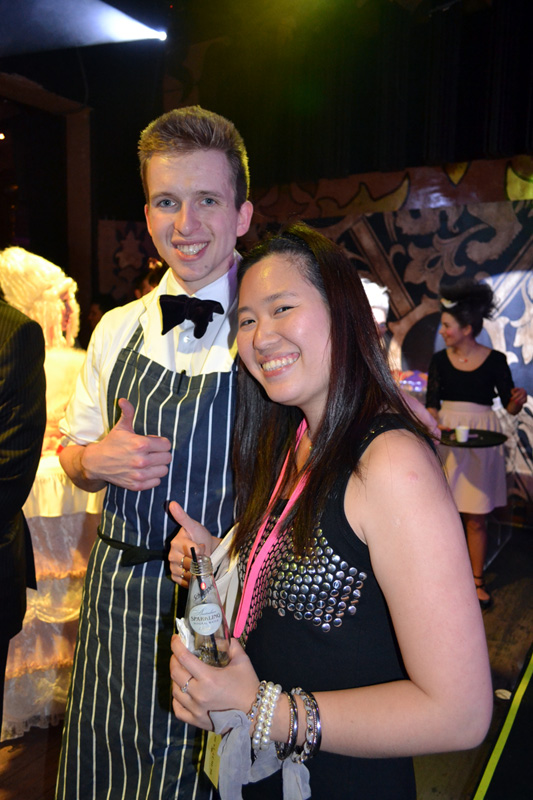 Sam Bompas and I with our thumbs up!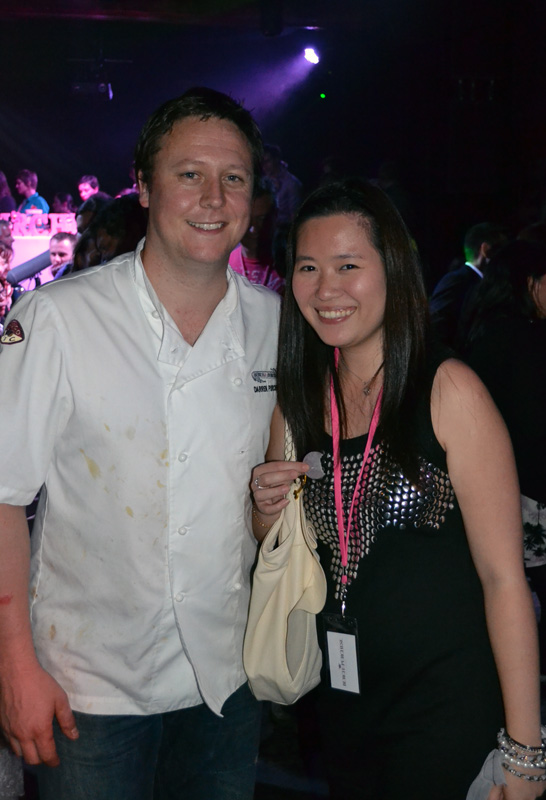 Darren Purchese and I (Hard at work, he was pretty exhausted I think! Notice his poor shirt!)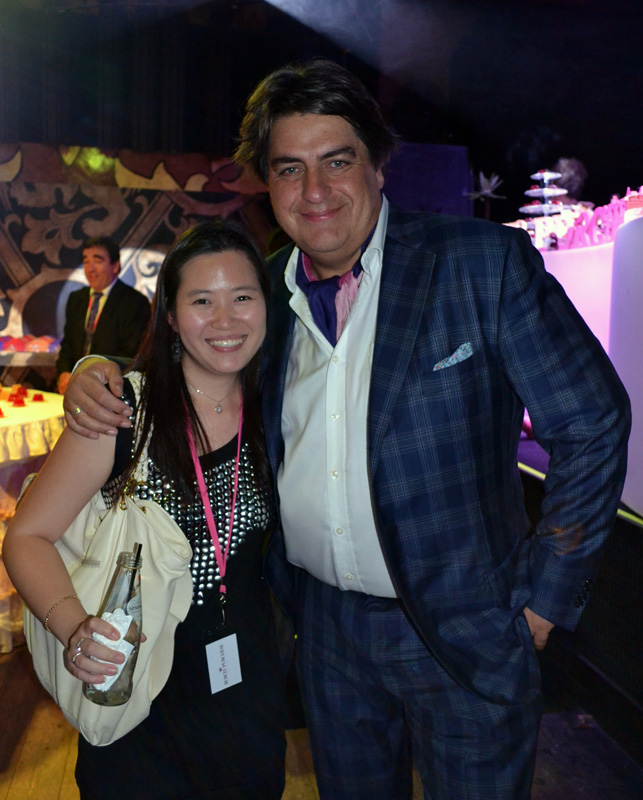 Matt Cravat (*cough*I mean Preston) and I. Matt was in attendance to present the BIG REVEAL (I like calling it that… )
And… I'm sure you'd like to know… he was a very very nice and friendly person. Not pompous or arrogant at all…
What he probably needed was, is a good haircut 😛
All in all, the event was an amazing success! Happy with sugar and alcohol… everyone was in high spirits (hee hee)
To top it off, we were given an amazing array of goodies to take home!!!!
Chocolates from The Cocoa Alliance,  Vanilla syrup from Heilala Vanilla and an amazing voucher for the Burch & Purchese store when it opens in South Yarra this month!!!
Other lucky people even had jelly molds included in their goodie bag!
Burch & Purchese also note their experiments and journey on their blog, and you should visit to view all their wonderful creations 🙂
They are also available on Twitter, and are extremely friendly with everyone… so if you are on Twitter and would like to know more about their work or follow their journey, you may do so here @burchpurchese