When I received an invite from Media Moguls to attend a Chorizo launch event, I was instantly intrigued.
What do you mean a Chorizo launch? Don't we have Chorizos here already? I mean, I always buy them in the markets and delis… what was the big hoo-ha?
Apparently, a hell of a lot. Apparently all the so called Spanish Chorizo which we have been eating and buying all this time were not from Spain!
All the chorizo that had previously existed in Australia, were all home grown (so to speak).
Hailing from the famous mountain region of Asturias in the country's north, Manolete Chorizo is made from the finest Spanish-reared pigs and locally sourced spices and will be the only one hundred percent Spanish chorizo available in Australia.
The chorizo is skillfully made using traditional methods and techniques that have been practised for hundreds of years and uses local expertise during the production process.  Curing the chorizo for five weeks before preparing it in a confit of olive oil retains the authentic richness and intensity of flavour that is so uniquely Spanish.
AND IT IS NOW AVAILABLE IN AUSTRALIA!! (MINE ALL MINE!! MUAHAHAHAHAHA)… *cough* *ahem* *cough*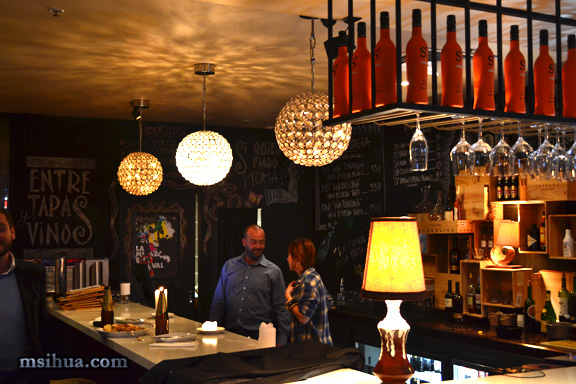 So knowing that, I happily trotted along to the launch event which was hosted at the funky Entre Tapas y Vinos in St Kilda.
Upon arrival, our gracious hosts from Media Moguls greeted us with delicious Sangria!! What a wonderful welcome… and those Sangrias were absolutely spot on!
Owned by sommelier Raul Moreno Yague (ex-Vue de Monde) and Chef Abel Martin Burgos (ex-Spanish gastro-wizard temples El Bulli, Talaia Mar and Comerc 24), Entre Tapas y Vinos was an excellent venue choice as you probably couldn't get more Spanish than that. Read more about them on this review by The Age.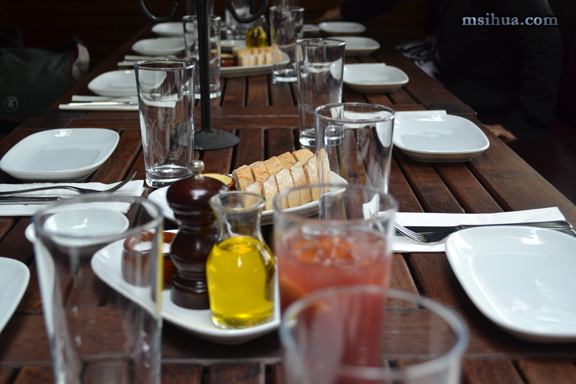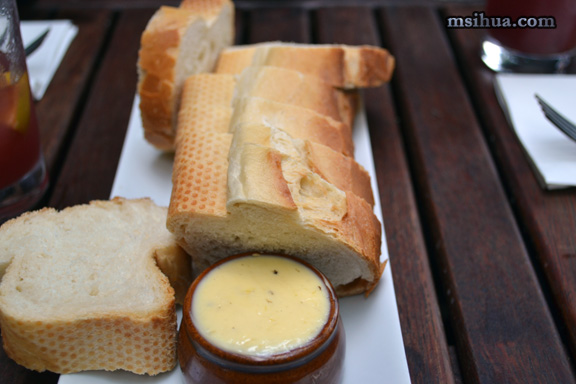 As we waited for everyone to arrive to the party, we were served a lovely warm bread with truffle butter! MmMMm…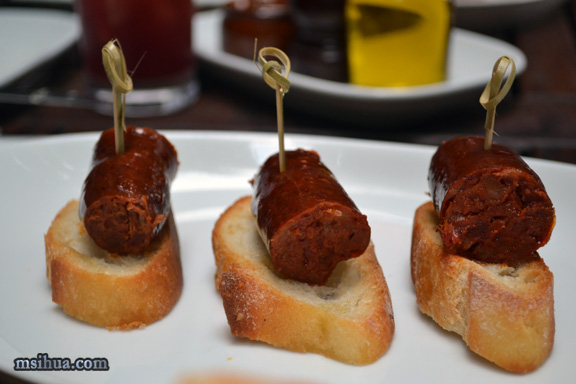 When everyone had turned up, thirst quenched with delicious sangria, we finally got down to business.
The first course was a Confit Chorizo prepared with apple cider.  As a first impression to a real Spanish Chorizo, this was an excellent starter. The full taste of the chorizo really came through. Slightly smoky and sour with a grainy chunky texture, this was absolutely nothing I had expected it to taste like. The texture is very similar to that of black pudding (but not the taste!)
I am so used to the tough, spongy texture of the locally made chorizos, that this was a definite surprise! So good and delicious!
So different it was compared to the normal chorizo served to me, that if I wasn't where I was, I'd not believe that this was real chorizo!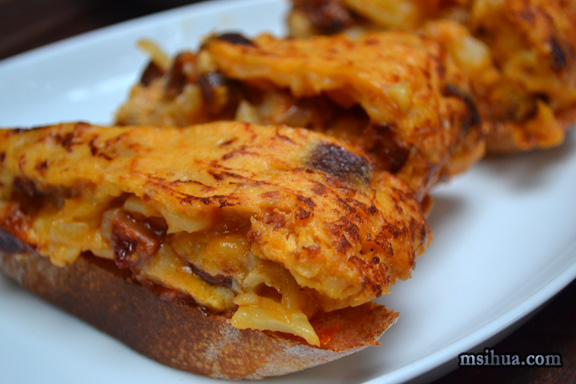 For our next course, we had Tortilla with Chorizo. This was incredibly filling! Look at the amount of cheese and (egg?) on it… it was good, but I think the flavouring of the ingredients masked the taste and texture of the chorizo.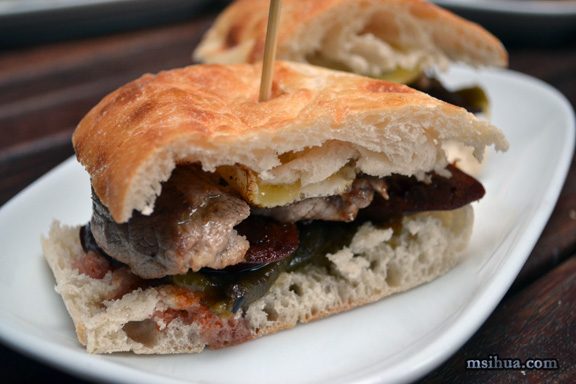 The next course of Chorizo sandwich with fried quail egg, green capsicum and pork loin on the other hand, was superb! I could just eat this for lunch every day of the week and not get sick. What can I say… I love me some Spanish pork!!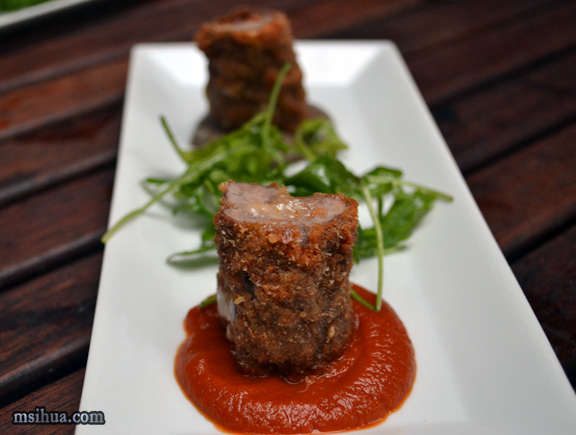 The next dish of stuffed beef tenderloin roll with Chorizo and puree of mushroom and spicy tomato, I skipped, because it had beef. But according to everyone around me at my end of the table (Thanh, Penny, April, and 2 lovely Spanish ladies from the Spanish consulate in Sydney), this was quite nice but not quite sure if the chorizo taste came through at all. I did try the delicious pureed sauces it came with, and really loved the spicy tomato!
By this stage, I was completly and utterly full, but managed to soldier on (although badly). The food was so good, and the company so fun, how could one disappoint the hosts?
So soldiered on I did, with the home-style Penne with Chorizo and Manchego Cheese. An absolutely delicious penne dish. So creamy and so cheesy… Again the winning point for me was that the chorizo was cooked simply by itself and tossed in as the centrepiece.
Hands down, our favourite dish of the night had to be the honey baked Chorizo. The simplests dish are often the best as I am so fond of saying.
The lovely honey worked so well with the chorizo on its own that nothing much was needed except some crusty white bread to mop it all up!
A few of us couldn't help but compare this honey chorizo dish to a similar tasting Asian snack… bak kwa. Which is a type of sweet-spicy-salty pork jerky which is often best eaten with white bread 🙂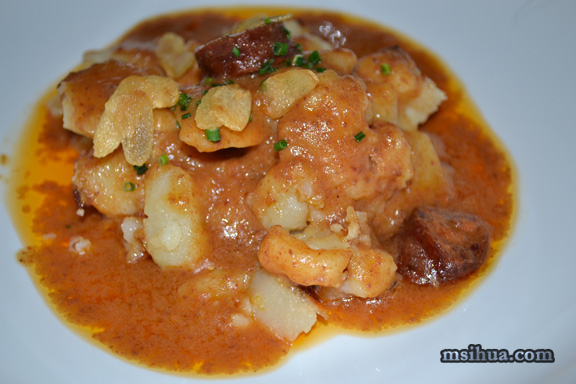 As a finale, with our tummies bursting, we were served a traditional Rioja style potatoes. It was my second favourite dish of the night (and knowing how full I was, and being able to say that, you must know that this must be good). It was such a hearty and warm delightful finish to the night's meal.
Full to the brim, we were all given an option to try a shot of Spanish sherry which has 40% content of alcohol. I put my hand up, had a sip and was instantly drunk. I swear it was the Sangrias!!
So tell me, my wonderful friends… what's your favourite way of eating Spanish chorizo? (And please, get yourself the real thing to taste the difference!)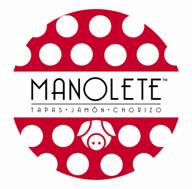 A bit more information about Manolete Chorizo and where you can buy/find/eat it in Melbourne:
Manolete Chorizo is being imported exclusively from Spain by Idea Food.
DELI'S:
Bi Vic Deli- Queen Victoria Markets, Peel St Melbourne             
Emerald Hill Deli- South Melbourne Market, Cecil St South Melbourne
Delicatess- Shop 706, Prahran Market, Commercial Rd Prahran
Psarakos IGA- 2 McLeans Rd Bundoora
Casa Iberica- 25 Johnston St, Fitzroy
Nick and Sues Deli, Camberwell Market
CAFES AND RESTAURANTS:
Pelican- 16 Fitzroy St St Kilda
Simply Spanish- Cecil St South Melbourne Market
World Restaurant- Riverside Quay Southbank
Cafe Bar Sousou- 231 Brunswick Street Fitzroy
Unique Deli and Pasta- Knox Shopping Centre
The Mill- Hardware Lane Melbourne
T'Gallant Winery- Merricks North
The Waterside Hotel- Melbourne
Garcia and Sons- Windsor
AMI Education- Melbourne
The Living Room- Malvern
Lost- Melbourne
Louie's Deli- Malvern
Pillar of Salt- Richmond
Post Office Hotel- Coburg
RRP: $27.00-$33.00 AUD per kilo depending on retailers
 Ms I-Hua dined as a guest of Media Moguls, Manolete and Entre Tapas y Vinos
*Disclaimer: All food ratings are purely based on my own experiences and how I feel about the service, food and quality
Food/ Cuisine: Spanish
Dining Style: Tapas
Overall Food Rating (Based on the Dining style): 8/10
Restaurant ambiance: 8/10
Service/ Attitude: 8.5/10
Address:
2/12 Fitzroy Street
St Kilda VIC 3182
Tel: (03) 9534 4355
Restaurant Website: www.entretapasyvinos.com.au
Entre Tapas y Vinos is open
Daily, from 5:30pm to 11pm
Saturdays and Sundays, from 9am to 3pm
How to get there: