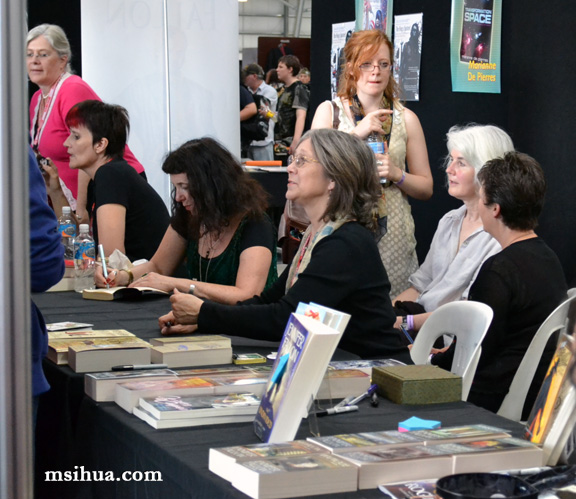 OH MY GOD! I screamed excitedly as I saw the line up for this year's Supanova 2011 event in Melbourne…
You see, it's usually an event for the Boy… he who reads lots of comics and plays lots of games and wears t-shirts with sayings such as, " I AM NOT A GEEK! I'm a level 12 Paladin"!
And I usually tag along because I want to see people dressed up funny 😛
BUT this year… it was going to be MY year….
Let me explain… I usually (9 times out of 10) read fantasy genre books… mostly fantasy, with a few sci-fi thrown in…
Sadly some of my favourite authors are dead, recently deceased or on the brink of committing euthanasia…
But of course, there are several others out there who take up residence in my bookcases as well… chiefly Robin Hobb (yes she's a lady.. and yes she also goes by another pseudonym of Megan Lindholme, and yes.. neither of these are her real names)… she writes about DRAGONS! Who wouldn't love her books??!!!
I also have books from Trudi Canavan, Isobelle Carmody and the lovely Jennifer Fallon…
All of them have new books out too!!! BONUS!
And they were all going to be at this year's event!! DOUBLE BONUS!!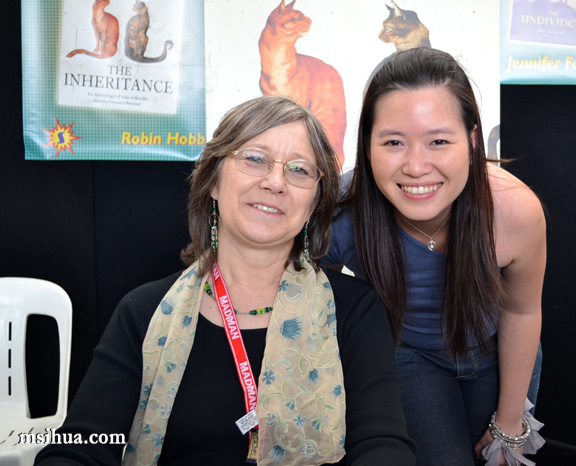 So on I trundled with the Boy in tow carrying my vast collection of mint condition books to have them autographed by the authors themselves!! I'm still in disbelief that I met all these amazing women who write such amazing fantasies..
Fantasies that allow me to take a breather and escape to their world for a brief respite. Worlds with magics, adventure, hope and beauty…
And also, I obviously took the advantage to have pictures taken with each of them 🙂 That's the amazing Robin Hobb with me (pic above)! She was so nice and even remembered me when I came back the second day to stalk  have her sign my other books (which were too many to be brought the day before)… pays to have an unusual name 🙂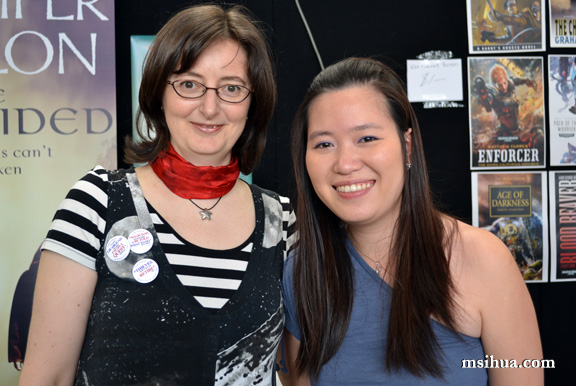 Trudi Canavan (pic above) is also very friendly in real life… I don't know, but I was overcome with such a fan girl moment, I was literally quite speechless speaking to her!
It was fun to hear what she had to say about her next series… currently in her head and about to be discussed with her publishers… SO EXCITING!!
But all that will have to wait!! I can't wait for Rogue to hit the shelves soon! She was also giving away badges imprinted with quotes from her books (she's pinned them to her vest!)
My fave out of the 3 quotes were, "Magicians DO NOT like to be told what to do!"
Trudi's fave quote was, "I can't lie around all day! I'm on a QUEST!"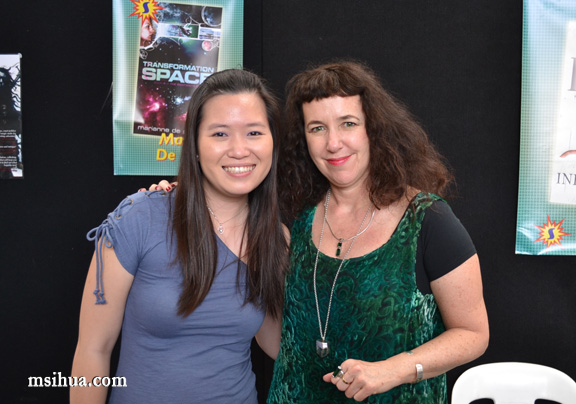 Then on to Isobelle Carmody (pic above)… (Hannah, for you!!)
I must admit, I've only ever read her Obernewtyn series… and until she finishes at least ONE series.. I'll stay with Obernewtyn until it finishes.
She was really quite funny and entertaining…And couldn't remember how many books she had released for the Obernewtyn series… and insisted that she had to autograph the books in order of publication 🙂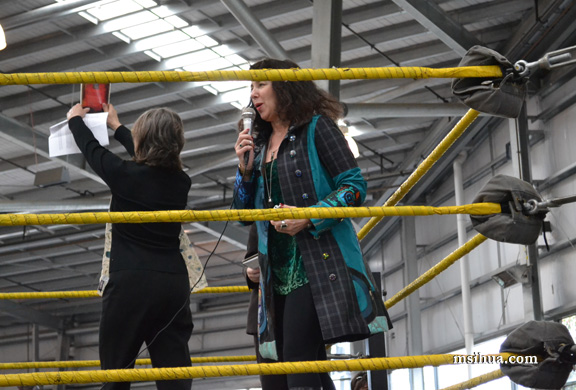 Next book (Obernewtyn) is out in September, but I did get her new short stories anthology (which was oddly launched to us in a wrestling ring and introduced by Robin Hobb!)
The new book, The Wilful Eye is a short story collection from 6 different authors…transforming much loved classics to their own stories…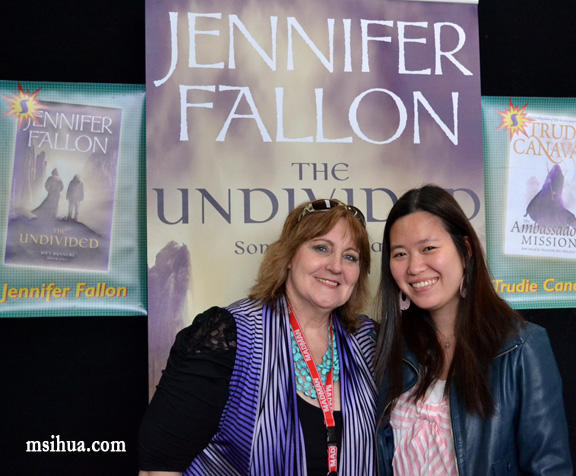 Jenny (pic above)! Whom I first met in 2009, and bought all her books at once (and immediately became a fan!)… still remembered me! Again, my name strikes and scores!!
She also had a new book out – The Undivided from the Rift Runners series.
I'm so excited to have a copy of it!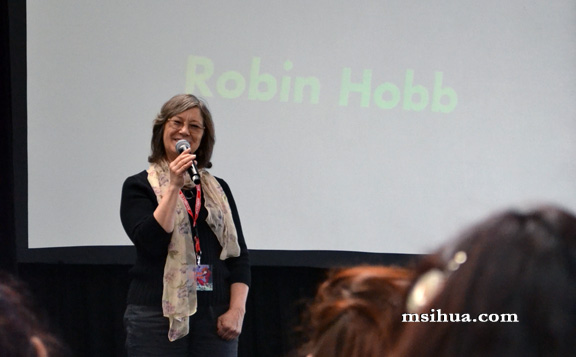 We also attended readings by Robin Hobb… she read from her new anthology The Inheritance a collection of short stories written in both the pseudonyms 🙂 We were very lucky to have attended this!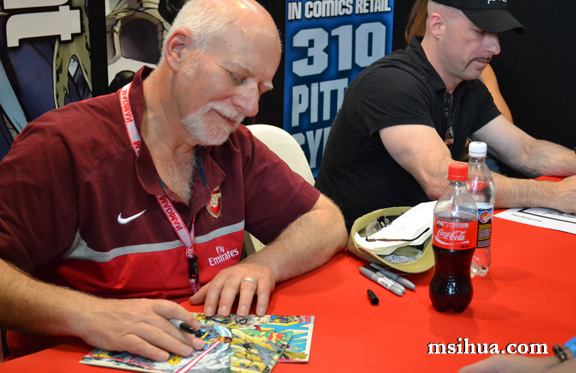 To cap up a wonderful Saturday afternoon, the Boy had his X-Men comics signed by Chris Claremont (pic above on the left).. famous comic book writer 🙂 Very much famous for his work on Uncanny X-Men.
Next to Chris is Greg Capullo (pic above on the right).. a famous artist/penciller.. well known for Spawn, Quasar and X-Force!
Tune in tomorrow for Part II of Melbourne Supanova 2011!!! I'll leave you with a sneak peek (pic below) on what's to come tomorrow! Tee hee hee …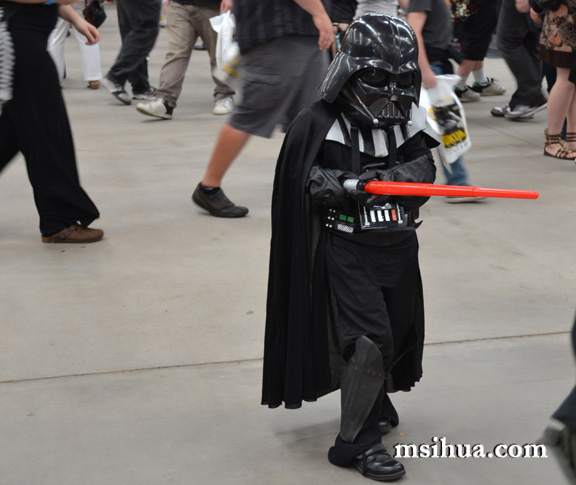 Also, read about previous years below!