There's a saying in Melbourne.
When the sun is out, enjoy as much and as long as you can.
I just made that up.
But I'm sure there's a saying along those lines that mean the same thing.
So one really beautiful sunny Sunday, the Boy and I decided to take a drive down to the local beach, St. Kilda, to pay a visit and slow down *ahem* take it a chill pill and relax. In the sun. Have I mentioned that when the sun is out, you should maximise it?
So we went to Slow Down! @ Harley Court (and no I'm not shouting it excitedly and speaking in new age. That is seriously how the restaurant is titled).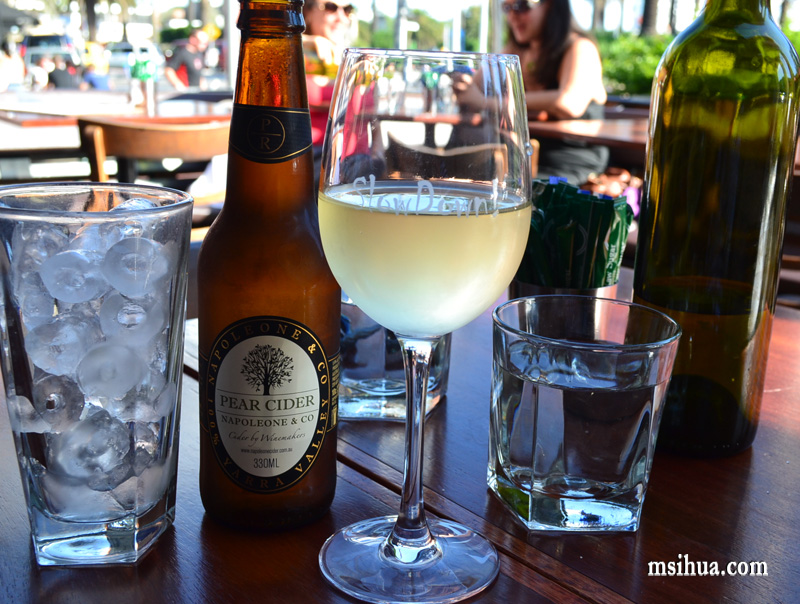 Unknowingly, we had sat ourselves at the bar instead of the restaurant, but were told that we could eat in either side. Which was great, because the view from the bar was exactly what I wanted. The view of the water. And trees… and people running along the beach… sexy people… fit people.
For drinks we ordered a Napoleone & Co. Pear Cider (Yarra Valley) $8 and '09 Chrismont Riesling (Macedon Ranges) $7.
For a hot day like that, I preferred sipping on the pear cider so once I finished my Riesling, I ordered another bottle of cider (all for my greedy self XD )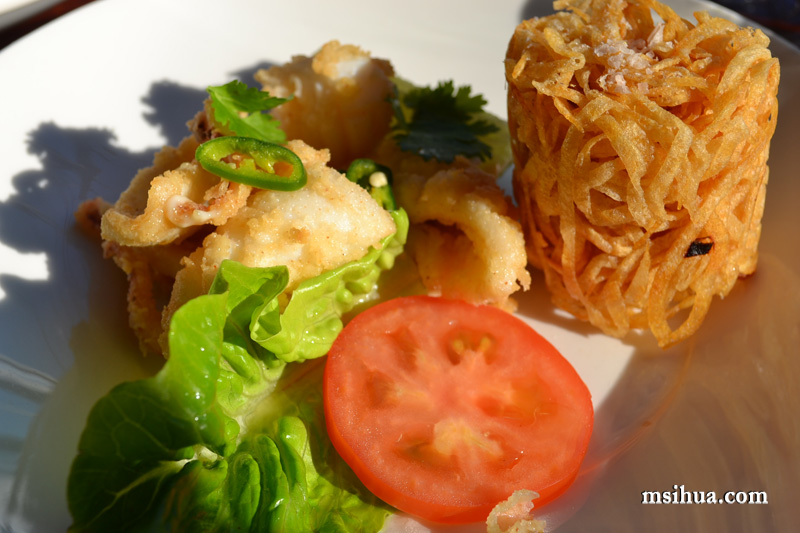 Because this started out as a slow lazy Sunday, we only got here around 3-ish in the afternoon. So a welcomed afternoon snack indeed.
We ordered an entree of flash fried calamari, green chilli, coriander, lime aioli and crispy potato hash ($16).
And I would just like to say… that crispy potato hash… was so super CRISPY! Man, that was some good use of a potato.
The calamari was deliciously fresh as well with a light batter.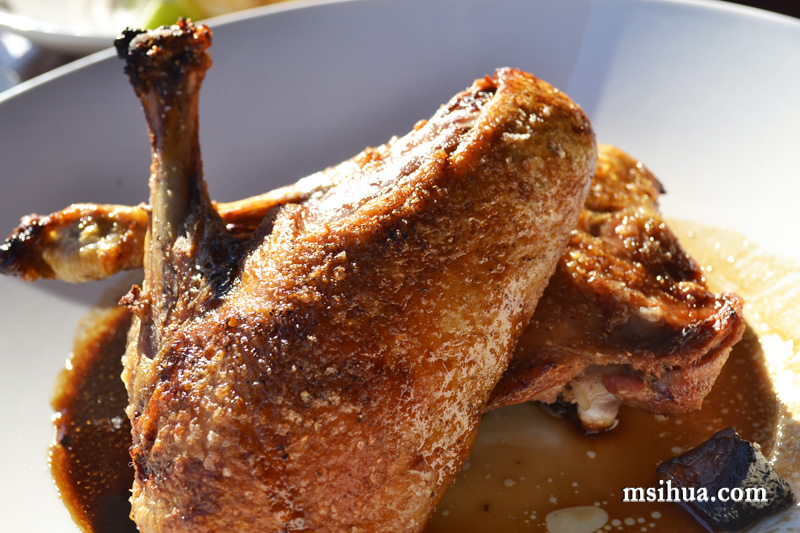 And then our main arrived.
Get ready for it….
Twice roasted corn-fed duck, Victorian mushrooms, thyme and honey sauce ($34)
Looking at the duck, we were both very glad we chose to share it.. such a huge portion!
The thyme and honey sauce was very delicate and wasn't heavy at all. Letting the tenderness of the duck (with its glorious crispy skin) do all the talking for this dish.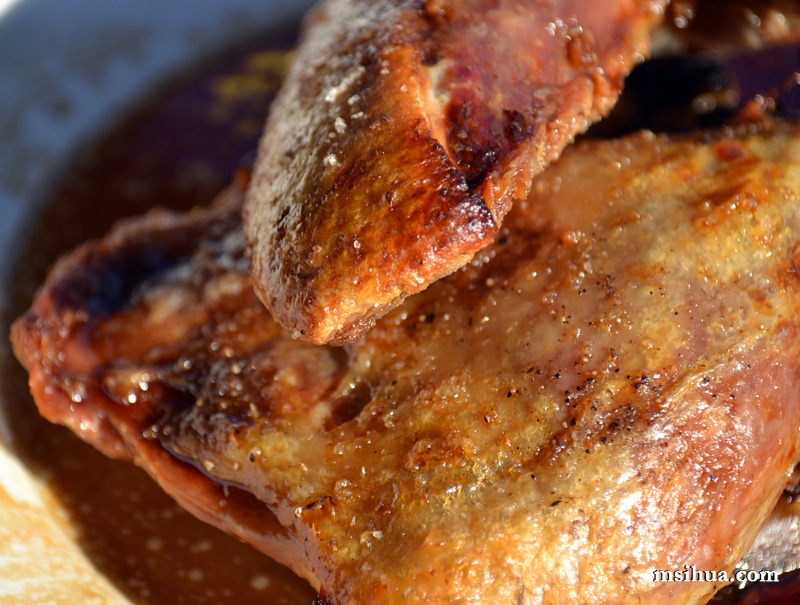 Sooooo crispy!!!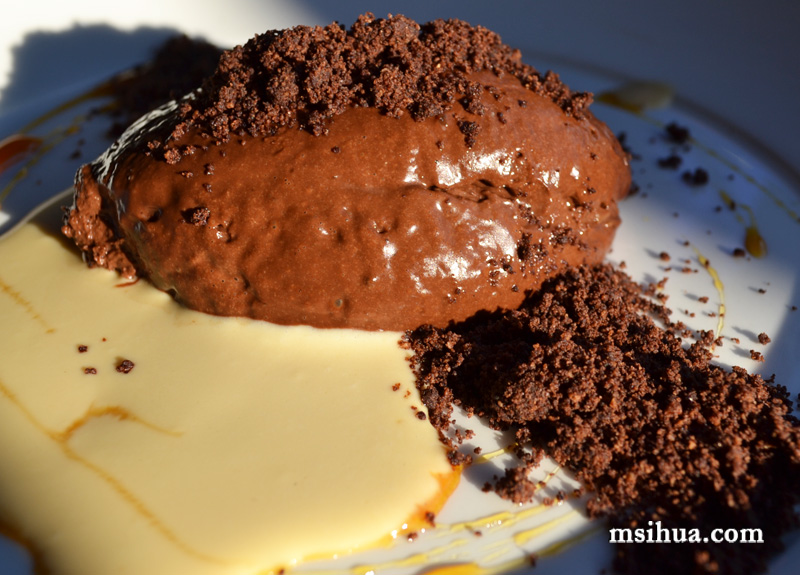 And of course, we had to have dessert. So I chose the Kennedy & Wilson bitter chocolate and olive oil mousse, chocolate soil, rosemary salt and coffee caramel ($11) for us to share.
All in all, this was a fun place to dine in. Very casual and laid back (because we were sitting in the bar section)…
Good honest food, which is really what people are looking for anyway.
My one nitpick with this place? The extremely slow service. If I wasn't in such a relaxed mood on a slow long sunny lazy Sunday…. I would have been completely annoyed.
The wait staff were not all attentive at times but were extremely polite and helpful when approached. Mainly because there were only 2 staff on the floor at that time (to serve and prepare drinks at the bar).
Oh and there was also live music towards the evening! To soothe my troubled soul…
Would I come back? I would… if I really have no plans on the day.
*Disclaimer: All food ratings are purely based on my own experiences and how I feel about the service, food and quality
Food/ Cuisine: Modern Australian (with Mediterranean-European influences)
Dining Style: Restaurant
Overall Food Rating (Based on the Dining style): 7.5/10
Restaurant ambiance: 7.5/10
Service/ Attitude: 6/10
Value for money: 7/10
Address:
56 Acland Street
St Kilda VIC 3182
Tel: (03) 8534 3030
Email: [email protected]
Website: http://www.slowdown.net.au/
Slow Down is open
Daily from 8am to 3pm (Lunch from 12pm onwards)
Sunday: 8am to 5pm
Dinner: Wednesday to Saturday, 5pm to 11pm
How to get there: