When I was a little girl, every Saturday night, Madam Mummy would take Big Sis and I to the local night market in Bangsar, Malaysia.
That would be her one day of reprieve. The one night where Madam Mummy would have a day off not cooking for her girls.
The one night where we could go out and eat "rubbish", as Madam Mummy would call it.
Big Sis and I would look forward to those Saturday Nights. We'd eat on the go, buy back heaps of snacks and hawker stall delights and sit in front of the Television watching the latest episodes of Twin Peaks or the X-Files.
But there were some of those weekends where I'd be allowed to skip the street food for "Mickey Dees". If I was a really good girl, I'd get to stay in there at the play area and make friends (it was a much safer place back then) with the rest of the children playing in Mickey Dees.
As a child, the Mickey Dees cheeseburger of old was everything I wanted. Back then, I could still eat beef (I hadn't made my decision to give it up then). I can still taste the greasy goodness of that meal. The bad cheese coating everything and the wonderful pickles topping it all off.
Fast track 20 odd years into the future, I still frequent Mickey Dees much to the horror and disgusted looks I get from my Aussie friends and colleagues.
They can't understand my attraction to fast food when I obviously respect good food so much.
But there are days, when the body yearns for nothing more than a bad greasy meal. A greasy fulfilling meal from any fast food outlet would suffice.
Although I no longer eat beef, there are still many other options with chicken, fish and desserts. It doesn't faze me when people ask, "Do you know what they put into those nuggets?"
I usually subtly remind them that I'm Asian, and I eat almost anything. Offal is a favourite. Pigs trotters? Anytime.
However, apart from these obviously negative vibes and comments from the people around me (which have fallen on deaf ears), I am always on the lookout for amazing and delicious greasy diners.
So this is where my love for Andrew's Hamburgers come into play.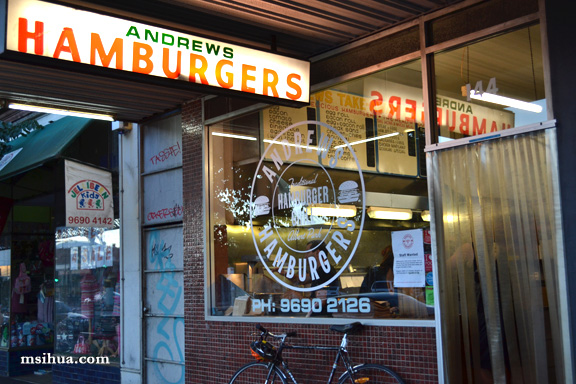 Established in 1939 this burger joint has been serving its fans and loyal customers for over 70 years.
The biggest sin I've committed? Not coming here sooner or often enough in all my years living here in Melbourne.
But it's been over 70 years, so there's no rush and the formula at Andrews has not changed. The menu is pretty much still the same and very standard. Everything you truly want in a burger joint.
The second biggest sin? Starting this post with references to Mickey Dees (and other fast food outlets) thereby alluding that this is in fact similar and of the same vein as the pretentious fast food chains.
It is not. It is better and on a totally different dimension. Mickey Dees burgers would grow up wishing that they would be like an Andrew's burger.
We went there twice. The first time, we arrived too late and it was closing. Two elderly couples were ahead of us and lamenting that they had just missed out. Apparently, they had trekked all the way here upon their arrival from the UK the day before.
Upon hearing that, I knew I just had to come back for a taste.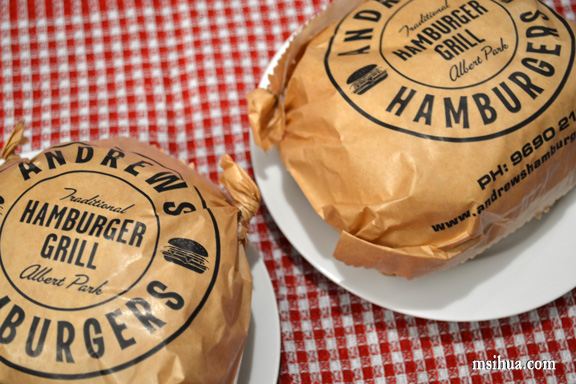 And so, came back we did and ordered two outrageously huge burgers meant for greedy appetites.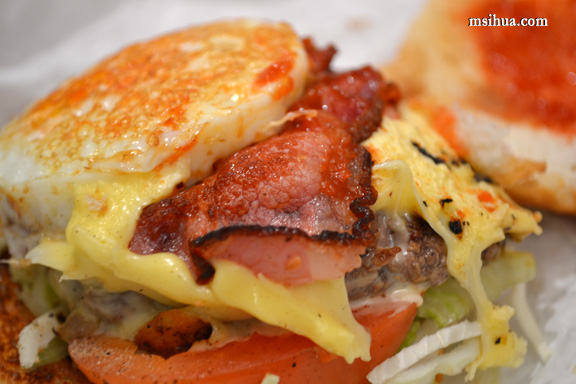 The Boy ordered the Traditional Beef Burger With the Lot (Egg, Bacon, Tomato & Cheese) $10.00 which we had read (from various reviews) that it was the most popular burger at Andrew's.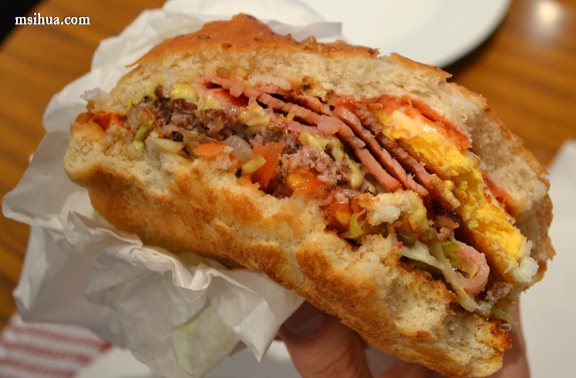 The meat, I've been told was extremely tender. The Boy says, "It's a good hamburger, a good honest burger, what more can I say". He was pretty much speechless throughout the entire meal. He was much too busy paying homage to this burger than to make boring conversation with me.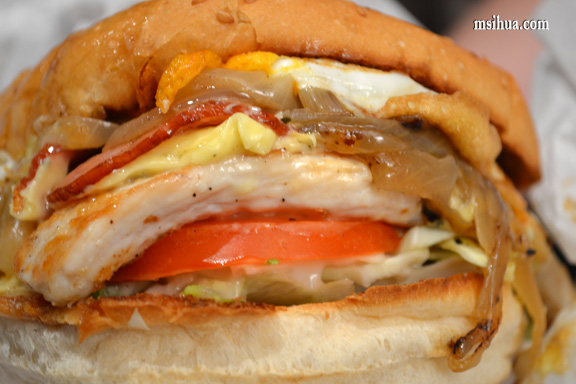 I of course, not wanting to lose out on the calorie scale, ordered the Chicken Burger With the Lot (Egg, Bacon, Cheese, Tomato & Cooked Onions) $11.00.
SO so so so good.
Seriously. The big chunk of tender chicken breast topped with caramelised onions, tomato, cheese, bacon and egg could literally block an artery and kill me, but I could care less.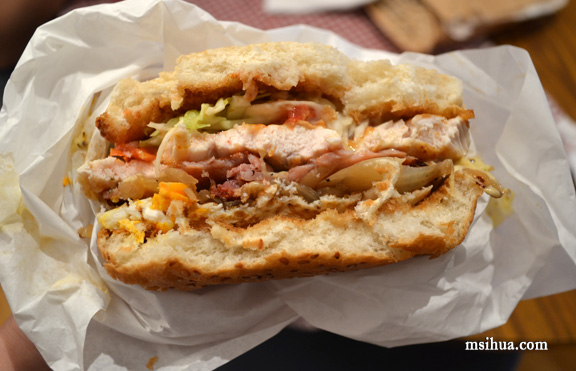 I was amazed that I finished that burger, but less amazed that I didn't eat anything else for the rest of the day.
Would I go back for more? You betcha! If I ate that and died right after, I'd die a happy woman.
*Disclaimer: All food ratings are purely based on my own experiences and how I feel about the service, food and quality at the time of visit
Food/ Cuisine: Burgers
Dining Style: Cafe/Take Away
Overall Food Rating (Based on the Dining style): 8.5/10
Restaurant ambiance: N/A (We opt for take away)
Service/ Attitude: 8/10
Value for money: 7/10
Address:
144 Bridport St
Albert Park VIC 3206
Tel: (03) 9690 2126
Website: http://www.andrewshamburgers.com.au
Andrew's Hamburgers is open
Monday to Friday: 11:30am – 2:30pm and 5:00pm – 9:00pm
Saturday: 11:30am – 3pm and 5:00pm – 9:00pm
How to get there: