I'm sure some of you remember the original #porkfest I attended a while back at The Provincial Hotel.
Time and time again, I've marvelled at how quickly an idea on Twitter becomes a full blown event.
There were a few of my food blogger friends who couldn't attend the original #porkfest and really wanted to try it out.
So we organised one. Brilliant isn't it?
Kim gathered all the numbers together and sent a twitter message to The Provincial Hotel and its head chef Paul Cooper, announcing that we'd all be dropping by to go mad on pig.
He of course, embraced it!
So this is it my little piglets, Porkfest Part II.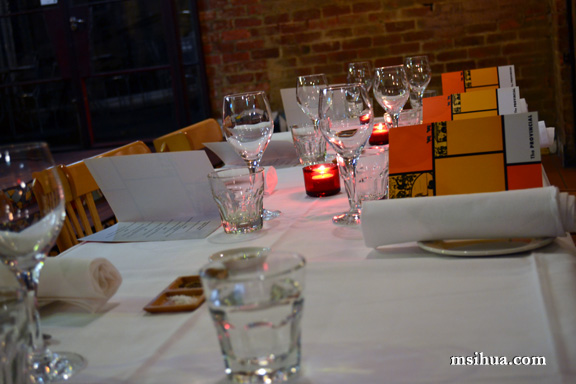 If you're wondering what happened to the picture of the bread and oil, it's because I was too busy eating it to take a picture of it! If you really do want to see it, you should visit Agnes's and Celeste's respective blog posts 🙂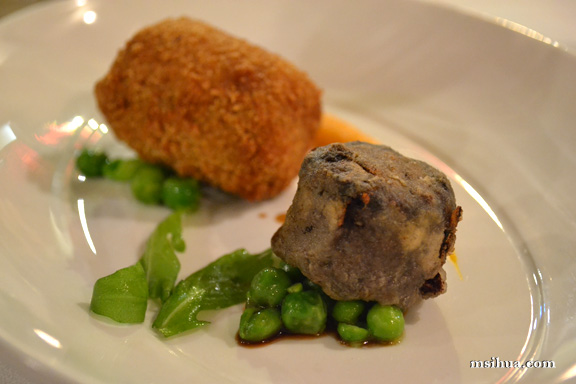 The first dish that we had was a starter course of a Mustard Stuffed & Fried Pig Tails, House Made Black Pudding, Carrot Puree and Crushed Peas. The black pudding was beautiful and I really loved the crispy crumbed texture of the stuffed and fried pig tails. Really, he had me at fried.
Mushy peas? I could have done without. And that's not because it was bad. I just have an intense dislike to peas. I hate peas. And in this case, hate isn't too strong a word.
Strangely enough, I will eat edamame and snow peas, I just really really dislike the normal green peas.
But anyway, back to the meal. The little pig tails was good enough to actually distract me from noticing peas on my plate.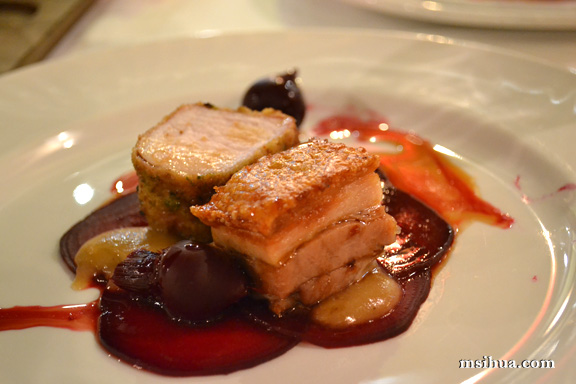 For the entree, we were served Parsley Crumbed Pork Loin, Apple Puree, Salt Baked Beetroot Salad and Cider Sauce which had the crispiest pork crackling ever!
Deliciously tempting… Agnes had to guard hers from attacking hands! Yeah Celeste! Behave *snigger*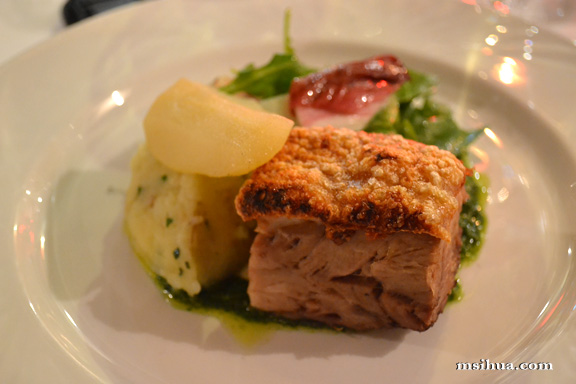 So imagine to my great delight, when the Wood Roasted Pork Shoulder, Olive Crushed Potato, Pickled Pear and Rocket Salad & Salsa Verde was served as the main. ANOTHER piece of crispy crackling!
The pork shoulder we were told, had been braised for 18 hours prior to being roasted. Sadly, that sounded more delicious than it actually tasted.
The meat was much too dry. However, when eaten together with the pickled pear and salsa verde, suddenly the potential of the pork came through. Saved by the sides and condiments!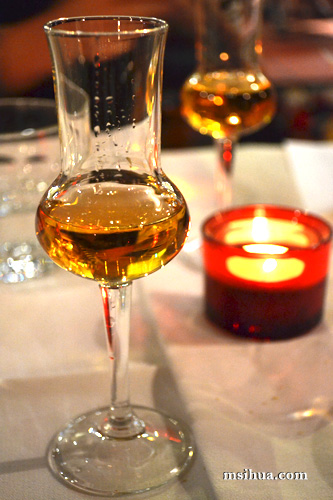 Dear Kenneth, didn't like sweet drinks, so he decided to pass his last paired wine, which was a Dessert Wine: Rymill June Traminer 2007 – Coonawarra SA to me! Yayy! All hail the generous one 🙂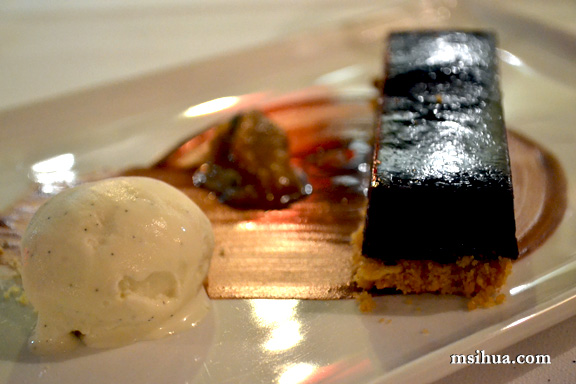 And then, much too soon, the last course arrived.
For dessert, we were served an intensely Bitter Sweet Chocolate Tart, Pistachio Salt Caramel and Vanilla Ice Cream. The chocolate tart was soooooooooo good and soooooooooo rich in its darkness and intensity.
The pistachio salt caramel was a godsend. So different and so genius a twist to the normal mundane salted peanut caramel, the aroma of the pistachio really came through in the caramel.
All in all, a really good feast. Things are always awesome when there is superbly good pork crackling, intensely dark chocolate and amazingly good company.
Oh and the service was excellent too! It's not everyday, you get served by a fun team of people and have the chef come out for a chat at the table at the end of the night!
*Disclaimer: All food ratings are purely based on my own experiences and how I feel about the service, food and quality at time of visit
Food/ Cuisine: Modern Australian (French) – Porkfest II
Dining Style: Cafe/Bar
Overall Food Rating (Based on the Dining style): 7/10
Restaurant ambiance: 7.5/10
Service/ Attitude: 8/10
Value for money: 8/10 ($50 for 4 courses)
Address:
299 Brunswick Street
Fitzroy VIC 3065
Tel: (03) 9810 0042
Website: http://www.provincialhotel.com.au/
The Provincial hotel is open 7 days a week.
For more information please visit their website.
How to get there: