Sometimes, friendships turn up at the most unexpected of places.
I seem to have gathered a whole new bunch of friends. Yes, friends. I won't classify them as other food bloggers anymore. They are my friends.
Heck! I see them more often than I do my own mother (who lives too far away to meet up on a regular basis). We share the same interests (love food, photography and singing in the rain – I may be exaggerating the truth there a little bit, but hardcore food bloggers who like to sing are dear to my heart 🙂 You know who you are 🙂 )
So when the chance came for me to organise a little party together with Robert and Li from Chilipadi Mamak Kopitiam (and Pan Asian), I thought, hey why not? This will be a fun gathering of like-minded people.
When the first Rotifest was organised, a few people missed out. So Robert, Li and I along with a few others got to talking on Twitter (where else) about hosting another one and tagging a Laksa tasting to it as well, hence Rotifest and Laksa Party 🙂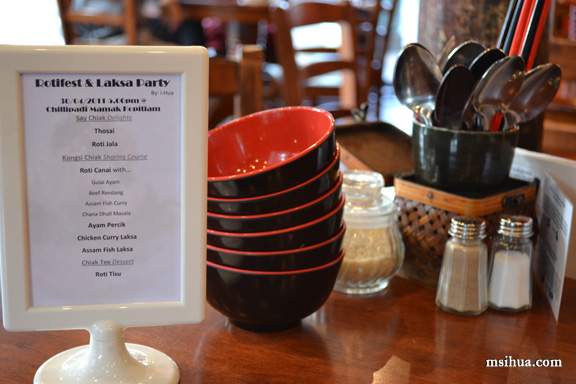 And so the invite went out, and the RSVPs started coming in. I'm still amazed I helped out with organising the whole thing! Mind you, I didn't do anything much. Kudos to Robert, Li and their CMK team in Kensington 🙂
The menu for the evening's event comprised of three parts.
Say Chiak (in the Penang Hokkien dialect for small eats), Kongsi Chiak ( in Penang Hokkien for shared eats) and Chiak Tee (in Penang Hokkien for sweet eats).
And so onward we forged ahead!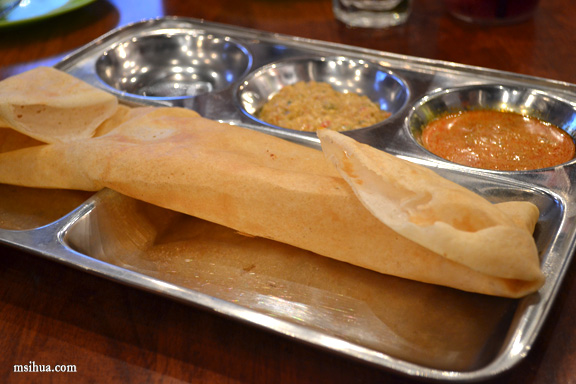 For the Say Chiak we had both the Thosai and…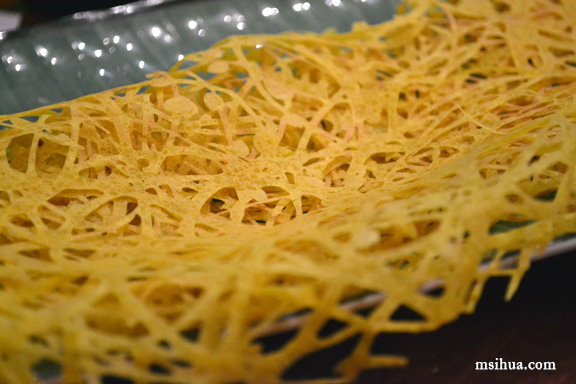 Roti Jala (Roti made to look like a net).
Both were deliciously fresh and the Roti Jala was my favourite of the two. Very light and paired really well with the condiments it came along with.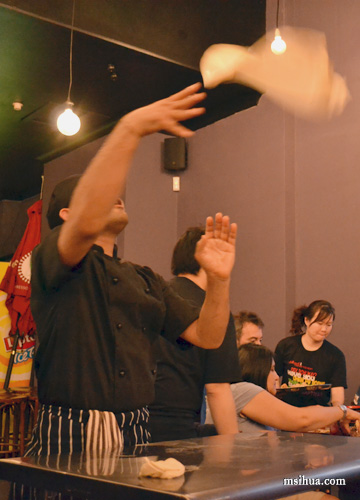 As per the last event, we were treated to a live Roti tossing/flipping show!
However, unlike the last time, this time there were takers when the offer was opened up to the floor! Three fun-loving and sporting guests took centre stage in attempting to toss some rotis. They didn't quite make the cut, but we sure had fun watching them!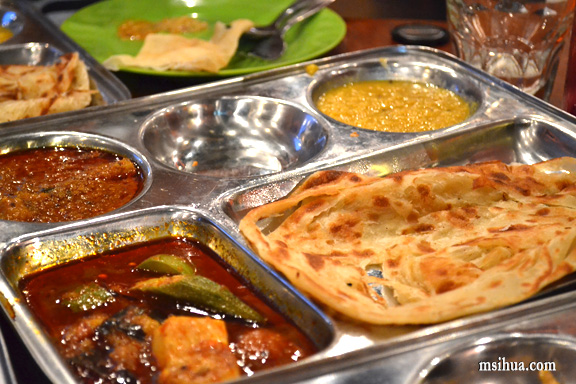 Whilst the show was going on, the Kongsi Chiak (Sharing Course) was served. We had the Roti Canai with sides of Gulai Ayam, Beef Rendang, Assam Fish Curry, and Chana Dhall Masala.
I really liked the Assam Fish Curry but would have really enjoyed it more if we had a little bit of rice to go along with it as it didn't seem to match the roti it came with.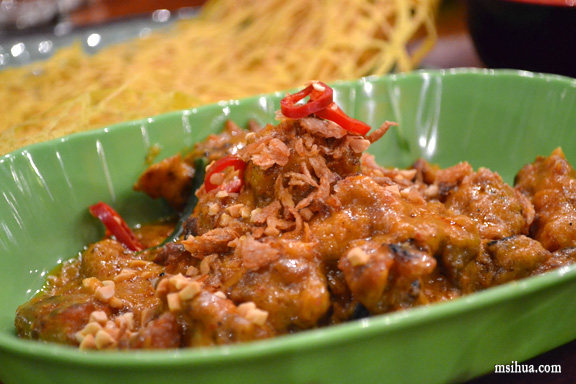 I particularly loved the Ayam Percik and it did remind me of the dish served in Malaysia. Yum!
And then the Laksa broths arrived!! I was scrambling excitedly and providing information to those seated with me on what each of the condiments were to each of the laksas.
For the Chicken Curry Laksa, we were served the noodles and fried bean curd in the actual curry broth. We pretty much then had to DIY our own bowl, which is where the fun began.
I love coriander and fried shallots. So I managed to put in quite a bit. Which was fabulous as the Boy likes neither of those items! WIN!
The second laksa we got to play around with, was the Assam Fish Laksa which is one of my favourite laksa types (there are quite a variety of laksa soups out there and they all belong to different regions in Malaysia).
This came with mint, pineapple, red onions, ginger flower, cucumber, chilli and heh ko (prawn paste). So good, I want more!!
As per the usual norm with these sort of feasting and gluttonous behaviour, by the time the Roti Tisu arrived for dessert, I was ready to burst.
But I managed to finish my meal with a spectacular bang (and loads of condensed milk to boot!)
Hyper (from sugar) and happy (with good company), it was time to call it a night.
*Disclaimer: All food ratings are purely based on my own experiences and how I feel about the service, food and quality at the time of visit

Food/ Cuisine: Malaysian
Dining Style: Hawker/Street
Overall Food Rating (Based on the Dining style): 7/10 (Based on this Rotifest and Laksa Party)
Restaurant ambiance: 7.5/10 (Based on this Rotifest and Laksa Party)
Service/ Attitude: 8.5/10 (Based on this Rotifest and Laksa Party)
Value for money: 9/10 (for this wonderful Roti fest/Laksa Party we each paid $15, excluding drinks)
Address:
295 Racecourse Road
Kensington VIC 3031
Tel: (03) 9376 0228
Website: http://www.chillipadi.com.au/
Chillipadi Mamak Kopitiam is open
Monday to Sunday
How to get there: