Sometimes I wonder if I would ever have gotten into this food blogging business if it were not for the Boy. And what I mean by that is not by my growing appreciation of food which is easily discernible by my expanding and quite rotund waistline.
What I mean, is that if it weren't for him and his modern cooking fascination (I try not to use the words molecular and gastronomy too much here), I would probably have not heard of many chefs and restaurants that emulate modern cooking. And as such, I would probably not be doing much writing or any reviews on this blog.
And that was just a segue for me to bring up the chef by the name of Brent Savage. If I had not heard of Brent Savage from the Boy and listened to him fawning over his cookbook over countless hours, I would probably not have bothered to dine in Bentley.
And that would have been a seemingly idiotic thing to not do when one is visiting Sydney.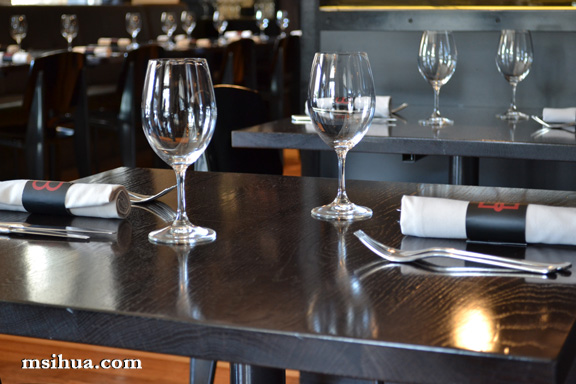 If you are ever in Sydney, and happen to have the time to make the booking to dine at this famous establishment, I urge you to do so. Not only has Bentley consistently maintained their SMH Good Food Guide 2011 – Two Chef's Hats since 2006, Brent Savage (its chef/co-owner) has won the prestigious Chef of the Year (2005) title before as well.
And if that wasn't enough to get you going, the sommelier, Nick Hildebrandt is also an award-winning sommelier.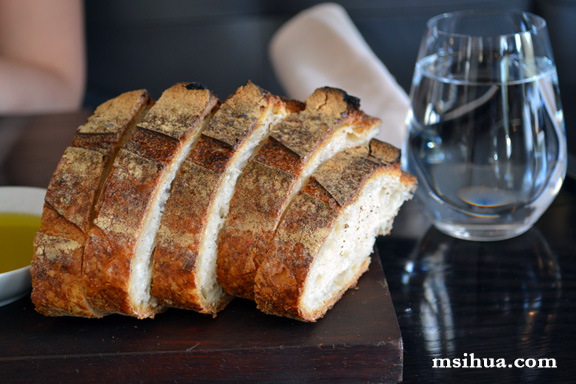 So when we found out we had a spare afternoon to slot in a lunch session at Bentley, the Boy, Big Sis and I just had to be there. A further bonus? Their lunch "Tapas" menu cost just $55 per person for 5 courses! An average of $11 per course at a 2 Chef's Hat? #WIN
We arrived 12pm sharp on a Thursday afternoon and found to our delight, a classy dining room with two other occupied tables. Brilliant, we would be getting attentive service throughout our meal!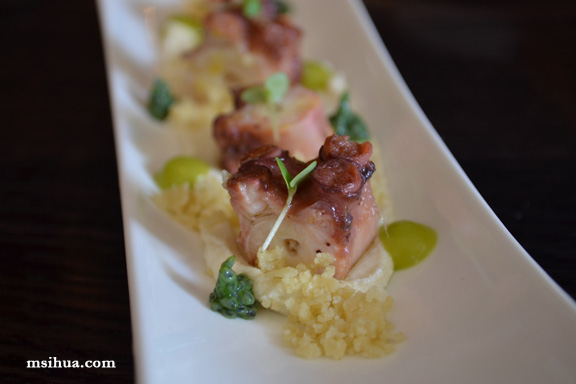 And so we excitedly told the staff that all three of us would be going with the lunch tapas menu. It didn't take long for the food to come flying out of the kitchen. For our first course, we were served a lovely and light dish of Octopus with Almond, Basil and Garlic.
What I found fascinating about this dish was that the flavours of the dish was so light and refreshing. Octopus was creamy and tender. The garlic went just nicely and from memory there was a light zing to it from the lemon.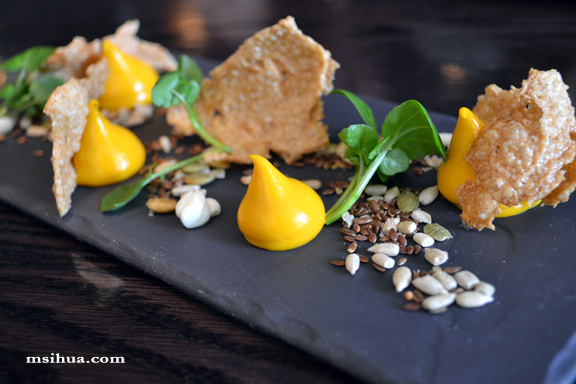 The next dish was declared by the Boy as his favourite dish of the day. It was a Pumpkin Custard with Pumpkin Seed, Sunflower Seeds, Goats Curd & Millet Crisps.
When he told me that, my jaw literally dropped. You see my dear readers, the Boy absolutely hates pumpkin. He won't go near it at all. Seeds? Meh.
So, when he said he loved this dish, I pretty much have to declare Brent Savage a KING!! I have no idea how he did it, but he's managed to convert the Boy into eating pumpkin. But only done this way, and it has to be cooked by Brent Savage.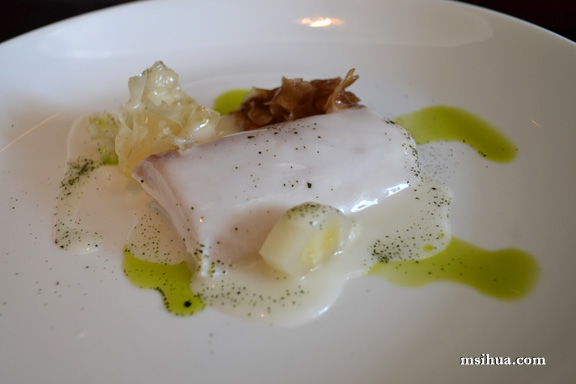 The Poached Kingfish with Fennel Puree, White Funghi, Leek, Parsley Oil and Lemon was up next. And although aesthetically pleasing to the eye, I wasn't quite impressed with the fish. I think the poaching process left the texture of the fish to be quite firm. I'm also not quite sure if the fennel and lemon sauce went altogether that well. We were told that there was some aniseed to this dish as well.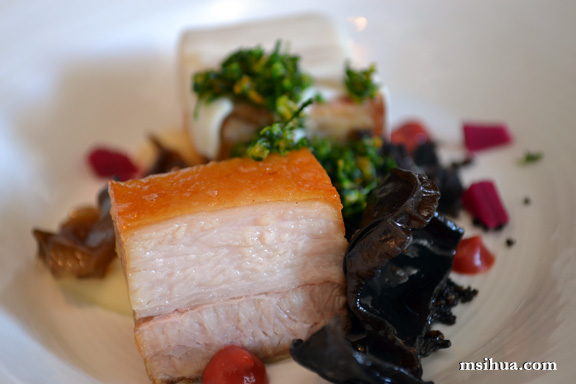 But when the next dish of Pork Belly with Wattle Crumbs, Fried Brocollini Flowers, Garlic Puree, Beetroot, Black Funghi, Garlic Milk and Rhubarb arrived. All was forgiven.
The pork belly was absolutely divine. It melted in my mouth. The rhubarb? I dislike rhubarb! But I ate every bit of it. I also quite liked the idea of using black fungus in this dish as it contrasted with the beautiful snow-white dish served previously with the white fungus.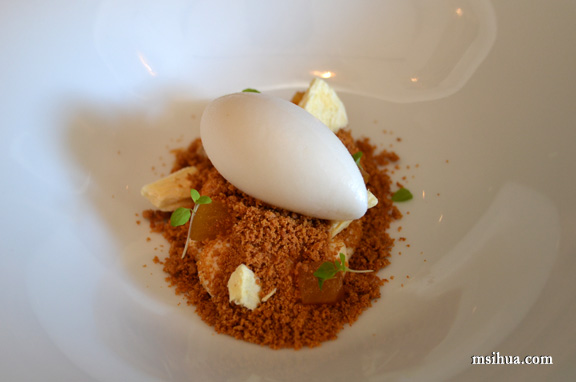 And then…dessert was served. As part of our lunch tapas menu, we were served Caramelised Pineapple with Barley Cream, Malt Crumbs, Dehydrated Pineapple and Beer Sorbet.
It was really quite the perfect dish to end our fantastically tasteful and beautiful lunch.
However, we weren't quite done yet. Whilst we were flipping through the ala carte menu at the start, the Boy noticed a couple of Brent's famous desserts on the menu and insisted we had to order them or else he would go home a sad and unhappy boy.
So we did, and it was at this point of happy-waiting for more desserts, that, Brent popped his head out into the bar area, and all three of us turned around at the same time to stare at him! Awkward! We smiled and waved at him. I resisted the urge to put two thumbs up at him.
Big Sis was urging that I go forth and conquer a picture with him. I suddenly became shy and timid (I actually didn't feel like moving from my very comfortable spot 😛 )
Our additional desserts (we ordered all three on the menu) of a Honeycomb Chocolate Bar ($8.00) – rich decadent bar of chocolate with crunchy honeycomb inside; and the
Hot Ricotta Dumplings ($6.00) arrived. As they were placed on our table, I couldn't help but wanting to pop one of the ricotta dumplings into my mouth, as they look so much like little Spanish doughnut balls. What I found them to be were actually quite eggy and heavy. I think because of what I had imagined, the raspberry puree which arrived with it didn't quite do it justice. I really wanted to dunk it into a rich dark chocolate sauce.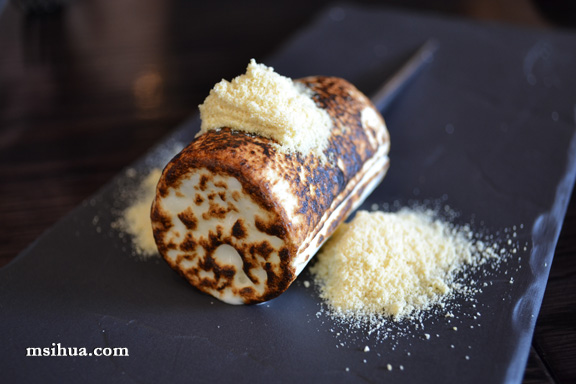 I also couldn't resist ordering the Malted Milk Marshmallow ($3.00), which was a good thing as it turned out to be my favourite dessert. It really reminded me of Horlicks on a stick 😉
What did I think of the food? Absolutely brilliant. It's just so good to see that there's such finesse in dealing with good quality food, yet at the same time with a little fun and art thrown in.
Will we head back? Apparently, I have been told that we have to go back to Bentley every single time we visit Sydney.
So tell me folks, what has been the one thing you have said you'd never eat, only to literally eat your words when it was served in the most magnificent or tasty way to you?
*Disclaimer: All food ratings are purely based on my own experiences and how I feel about the service, food and quality at the time of visit
Food/ Cuisine: Modern European
Dining Style: Fine dining
Overall Food Rating (Based on the Dining style): 8/10
Restaurant ambiance: 7.5/10
Service/ Attitude: 8/10 (only a handful of tables during our lunch visit, hence the extra attentiveness given. Our waitress was very knowledgeable in regards to the dishes served – i.e, cooking process and individual components in each dish)
Value for money: 8/10 (based on the Lunch 'Tapas' Menu)
Address:
320 Crown St
Surry Hills NSW 2010
Tel: (02) 9332 2344
Website: http://www.thebentley.com.au
Bentley Restaurant & Bar is open
Tuesday to Saturday for Lunch & Dinner
How to get there: