Does anyone else out there love nursery rhymes as much as I do?
I remember playing a PC Game once (when I was quite little) about Mother Goose and all the nursery rhyme characters, it was so much fun!
I mean, even Enid Blyton wrote about it in one of her books. She had Little Miss Muppet with Jack and Jill all together in the battle with the big mean spider, who really just wanted his curds and whey!
So when I heard about a little black sheep who had come to town to stay, I was more than eager to see what he had in his Three Bags Full.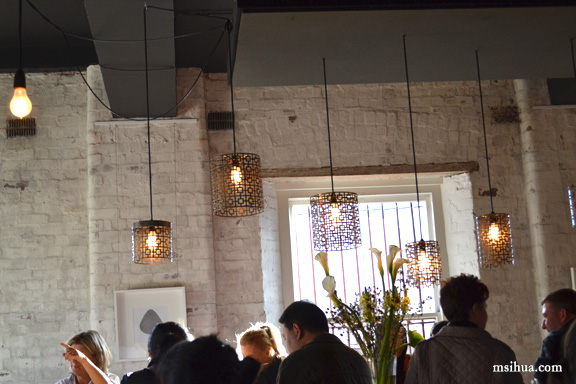 So we woke up early and trekked to the other part of town to find an abundance of people already seated inside and a line that was just starting to curve around an old steam-powered hat factory which is a beautiful red brick building. This was still early morning mind, you! (Well, 9.30am is early, is it not?!)
We finally managed to get a table (with only a 10 minute wait) right by the door, so we had a good view and feel of the very busy place.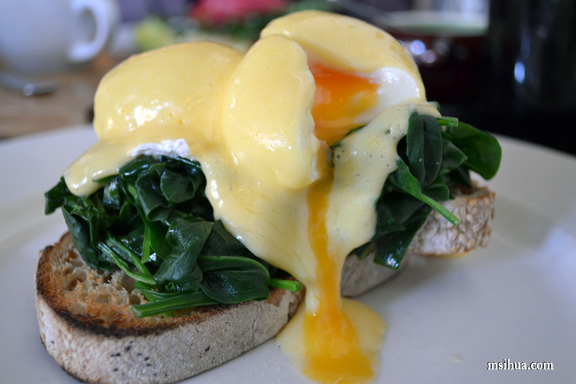 The Boy ordered Eggs on Toast – Florentine: Poached Eggs, Spinach & Hollandaise ($14.50) which he claims was probably a worthy death of good 'ol Humpty.
Eggs were beautifully poached and the hollandaise sufficiently rich and creamy. The only thing that could have been better was perhaps a little more seasoning with the spinach.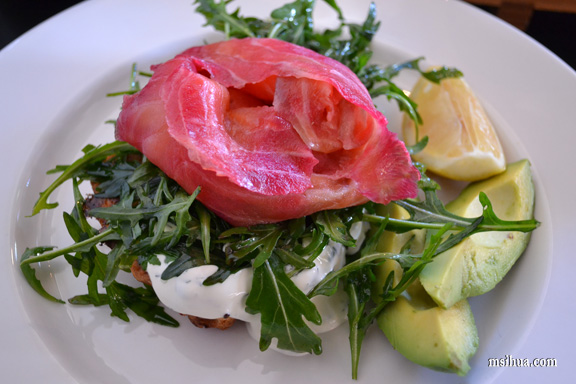 I on the other hand, had the rather magnificent and luxurious Beetroot Cured Salmon – Corn, Pea & Feta Fritter; Avocado, Rocket, and Dill Sour Cream ($16.00) for my breakfast.
The salmon turned up in a bright beetroot pink and was so light and beetroot sweet, that for a moment there I forgot that I was dining on salmon.
I couldn't help it, and found that I was humming happily to myself as I was demolishing this plate of deliciousness. All together now!
1, 2, 3, 4, 5,
Once I caught a fish alive
6,7, 8, 9, 10
Then I let it go again…
Instead of biting me though, this fish ticked all the satisfaction boxes. The corn, pea and feta fritter went really well with the fish and paired together with the dill sour cream, I was swooning for more! It somehow made me reminisce the wonderful Mexican Extravaganza from Q-Eleven, with its fritter and corn pairing.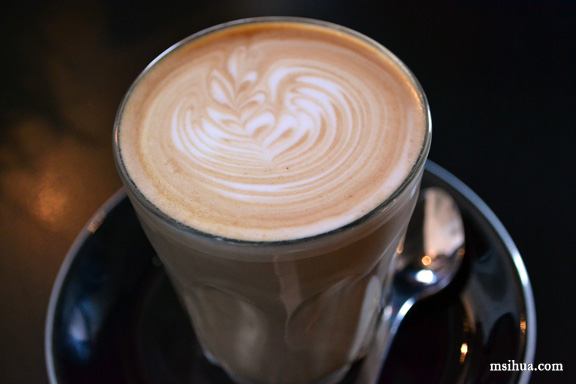 And a breakfast wouldn't be complete without a beautiful freshly brewed cup of latte, would it?
The recent publication of The Age Good Cafe Guide 2011 gave the coffee of Three Bags Full a whopping rating of 3 coffee cups, and I can't help but agree with them.
So which nursery rhyme do you like best my dear readers?
*Disclaimer: All food ratings are purely based on my own experiences and how I feel about the service, food and quality at the time of visit
Food/ Cuisine: Breakfast
Dining Style: Cafe
Overall Food Rating (Based on the Dining style): 7.5/10
Restaurant ambiance: 7.5/10 ( I love the wide open spaces of cafes and restaurants that used to be old factories/warehouses!)
Service/ Attitude: 7/10 (service was a bit busy and you could tell, so it wasn't bad 🙂 )
Value for money: 7/10
Address:
60 Nicholson St
Abbotsford VIC 3067
Tel: (03) 9421 2732
Website: http://www.threebagsfullcafe.com/
Three Bags Full is open
Monday to Friday, 7am to 4pm
Saturday & Sunday, 8am to 4pm
How to get there: