How do you do, folks?
I trust you are well? How has your day been? Did you have a productive day? Good, good, that's very good.
I only ask, as I don't seem to have proper conversations with the people around me these days.
At work, it's usually, "Could you please get back to me regarding…" or "I tried catching you over the phone, but could you please call me back?"
When I get home from work, and the moment my bag hits the floor, the Boy usually starts hankering at me to clean the house, take a shower, help him with dinner, respond to my blog, write a blog post.
I never seem to have time off, and everyone is always on my case. Nobody ever really asks, "How are you?" and stay on to listen to what you're really not telling them. They're really not listening anyway.
Please don't get me wrong, I absolutely love what I do at work and at home. I love working on my blog.
But there are days, when all I really want to do is have a conversation with someone about things totally unrelated to work or food *gasp*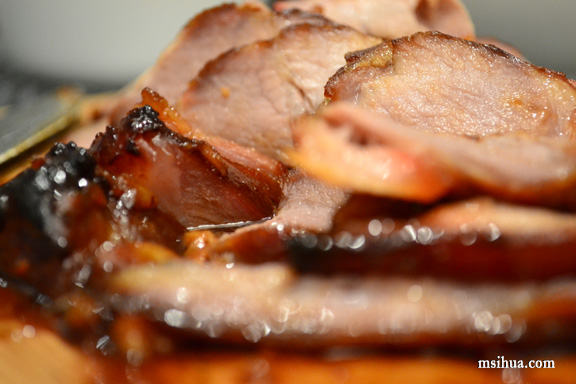 That's one of the reasons why I love socialising on Twitter so much. The people I talk to on Twitter, usually have conversations around really random things.
And it was during one of these many conversations that @finicalgal and I decided to make Adam Liaw's heart a trending topic. "WHAT?", you ask?
Yeah… uhm.. we did. And it was all because, I posted a picture of the raw marinating pork neck on Twitter, which did look quite like a heart.
And so, for the night, we had a whole conversation around #adamliawsheart which I think scared the poor bloke a bit, as he did ask us to please not eat him.
Trust me, Adam, I much rather be eating this char siew. Delicious!! Absolutely perfect on a cold wintry night as well!
Barbeque Pork (Char Siew)
(Recipe adapted from Adam Liaw's Two Asian Kitchens Cookbook)
Ingredients:
1kg of Pork Neck (you can cut them into 5cm wide strips)
8 Garlic Cloves (chopped roughly)
2 Tbsp of Ginger (grated)
2 Tbsp of Caster Sugar
4 Tbsp of Honey
1 Tbsp of Maltose (optional; this wasn't part of the recipe but we added it for that extra sticky-sweet taste)
2 Tbsp of Shao Xing wine
125ml Soy Sauce
Few drops of Red Colouring (optional)
1 1/2 Tbsp of Five Spice Salt
(Note: For the 5 Spice Salt, Adam Liaw dry roasts & grinds (into powder form): 3 Star Anise, 12 Cloves, 2 Cinnamon Quills, 1 Tbsp of Fennel Seeds, 1 Tbsp of Sichuan Peppercorns and 2 tsp of Sea Salt Flakes. Alternatively, we used ready-made 5 spice powder and mixed it with some ground sea salt)
Procedure:
In a mortar, combine together the Five Spice Salt, chopped Garlic, grated Ginger, Caster Sugar, Honey, Maltose (if using), Red Colouring (if using), Shao Xing and Soy Sauce. Grind together to form a loose paste-like consistency. Marinate the Pork Neck all over with the paste and leave in the refrigerator preferably overnight.
Once marinated, transfer the pork with marinade to a roasting dish. Preheat the oven to 200 degrees Celsius. Bake the pork for approximately 10 minutes and turn the pork over to coat with the marinade. Continue to bake for another 25 to 30 mins. You should get some nice shiny glaze and caramelisation happening, and your pork should be just cooked through. I love bits of charred edges on a char siew and therefore, tend to leave it a couple of minutes longer in the oven.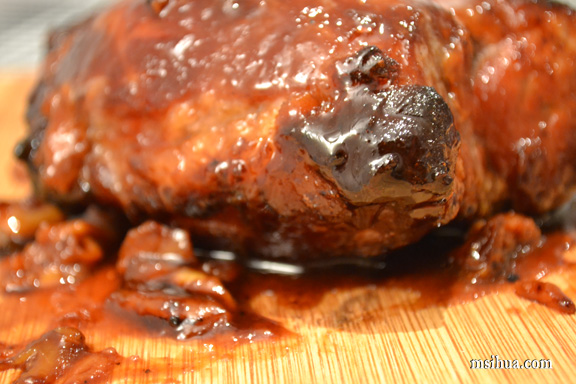 Take the char siew out of the oven and let it rest for about 10 minutes before slicing into 3 to 5mm thin slices.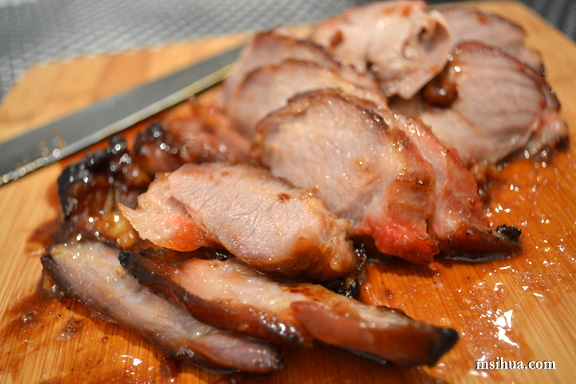 You can serve with rice (or noodles, buns, or almost anything) and freshly sliced cucumbers (or any vegetable really).
What I really loved about this version of char siew, was that the balance of flavour in the marinade was just perfect. Also because we had it marinating for quite a while, the entire meat was infused with the flavours.
I really wanted to polish off the whole board and keep topping up my rice bowl, but the Boy was growling at me 🙂
So my friends, do you find that you don't have conversations any more as well?