Much has been said about the coffee culture in Melbourne. Much has been written.
I love the coffee culture in Melbourne. One could literally walk down any given laneway or alleyway in Melbourne and be assailed by freshly made sandwiches and the rich fragrant aroma of freshly brewed coffees.
And us Melburnians are quite picky about our coffees. I am definitely nowhere near the league of Coffee Connoisseurs in this big city, but I do know good coffee when I taste it.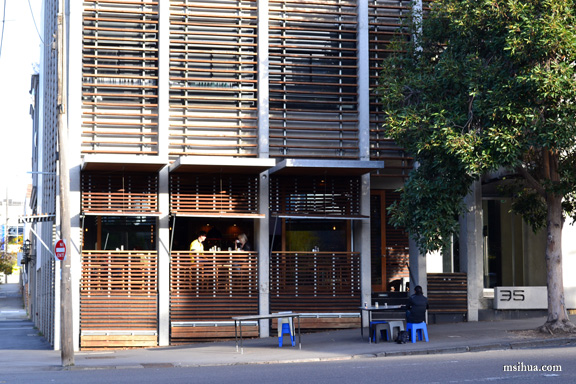 So when BFF and her caffeine addict Hubbly Bubbly came for a visit, I had to throw in a coffee tour of the famous coffee bars in and around Melbourne. As we didn't think we would be up for 7 shots of coffee in one sitting, I had to break up the tour quite a bit. After a couple of caffeine hits at the famous Seven Seeds, we headed down to South Melbourne.
And ended up at Dead Man Espresso. The sun was shining, there was ample parking, clearly we had arrived at a non-peak Sunday period of 3.00pm. There were a few patrons sitting in and around the cafe, but nowhere near as busy as the morning sessions.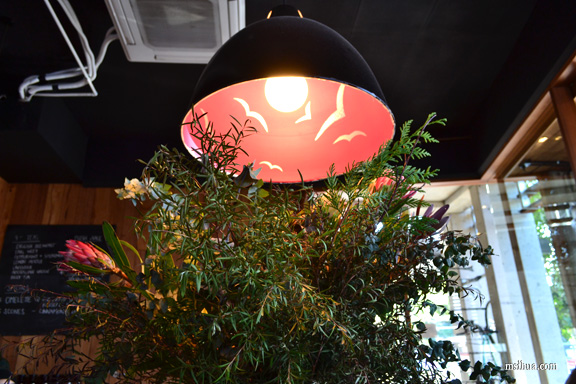 From the moment I stepped into Dead Man, I was in love. I liked the really cool undertaker tools hanging off the walls. I loved the giant lampshade that was above our table. I loved the little coffee cups with the undertaker tools. I WAS IN LOVE.
Based on the fittings and decor alone, I would have happily awarded them a 3 coffee cup rating 😛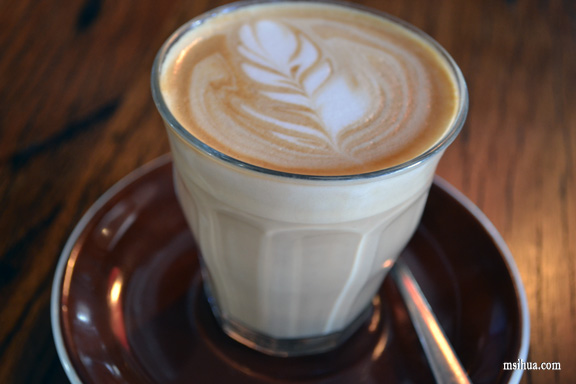 However, if you were thinking I was of sound mind to taste-test coffee in its truest and blackest raw form, you must be somewhat deceived. This was my 4th cup of coffee in 3 hours. I was hitting the walls babeh. So instead, I ordered a Cafe Latte to try *gasp* (I can hear the distant shattering of a Coffee Connoisseur's coffee cup). I did. And let me tell you why I did.
It's because that's the only thing I could order and compare quality with. At every cafe I've been to, I've ordered a serve of their cafe latte (more shattering), which makes it a lot easier for me to compare (with one another). The blend, funnily enough was a Seven Seeds blend. Apparently they used to do their own roasting, but have decided to go with getting their beans from Seven Seeds. It was very smooth, with a slight Oakey hint (I did say I was no coffee expert!)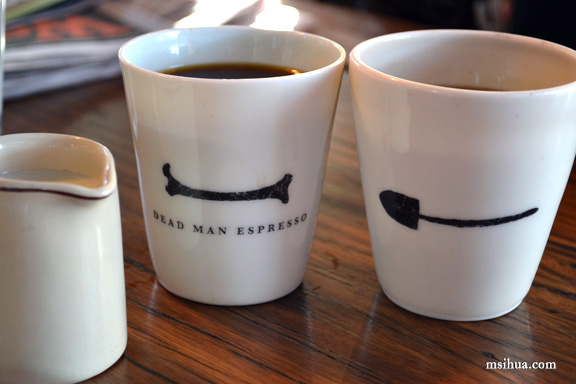 My guests ordered the Pour Over: Panama Esmeralda ($5.00) and Fazenda Cabo Verde (Honeycomb, Hazelnut and Chocolate Notes) ($5.00).
Which they seemed to like very much. The Fazenda more than the Esmerelda (which is also from Seven Seeds) with its more exciting blend.
I could have happily sat there for hours, but we had another appointment to make! We were going to get ourselves to Golden Fields!
All too soon, we drained the last of our coffees (I had ordered a second cup as I hurriedly finished my first latte), waved a sad farewell to the barista, and walked out the door.
I can't wait to come back for more!
*Disclaimer: All food ratings are purely based on my own experiences and how I feel about the service, food and quality at the time of visit
Food/ Cuisine: Breakfast & Coffee
Dining Style: Cafe
Overall Coffee Rating (Based on the Dining style): 8/10 (based on Coffee only)
Restaurant ambiance: 7.5/10
Service/ Attitude: 8/10 (The staff were more than happy to speak to us about each blend and put in their recommendations)
Value for money: 8/10 (It's pretty much on par and standard pricing with other coffee establishments)
Address:
35 Market Street
South Melbourne VIC 3205
Tel: (03) 9686 2255
Website: http://www.deadmanespresso.com.au/
Dead Man Espresso is open
Monday to Saturday, 7am to 4pm
Sunday, 8am to 4pm
How to get there: