Many people who know me tend to think I have an adverse hatred to fruits and vegetables.
Although, I must admit, I am partly to blame. I do not quite fancy these healthier alternatives of edible type.
I love meat. It's as simple as that.
Give me the option of bacon or an apple at any part of the day, and I'll take the bacon.
It's not that I hate fruits and vegies, I just prefer not to have them as often.
I do like french beans, pea sprouts, assorted leaves, oranges, pears, etc.
What I would rather like to eat though, is another matter altogether. I can go on for the next couple of paragraphs on this topic, however I won't bore you with that.
I would much rather entertain you with how the Boy has me craving for persimmons and quinces!
Yes, indeed! You have not misread that at all. I do want to have a plate of this decadent dessert so bad, I would give away a portion of my bacon (no puns intended 😛 )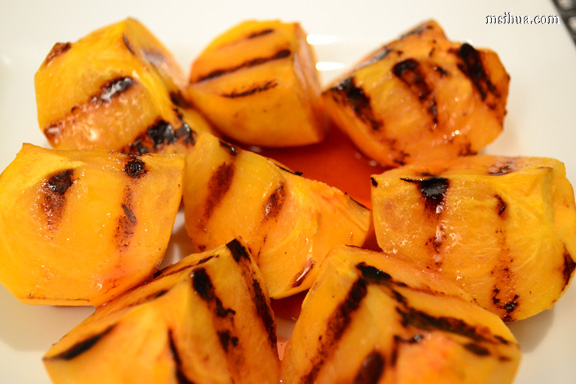 How has he worked this miraculously change in me?
Quite easily really. With applying certain cooking techniques, such as grilling and poaching, he couldn't have me begging for more fruits on a platter.
And here's how he did it!
For the Quince Syrup, by using a recipe for Poached Quinces
(syrup can be made earlier and kept refrigerated)
Ingredients:
4 Quinces
5 cups of Water
1 cup of Sugar
1 Vanilla bean (split lengthwise)
1 Lemon (cut in half)
Procedure:

Place water, sugar, lemon and vanilla into a heavy-based saucepan and bring it to a boil under a medium-high heat. While waiting for your poaching liquid to reach boiling point, peel your quinces. Quarter and core the fruit and immediately add them into the poaching liquid. Place a cartouche with a small hole in the middle over your poaching quinces. Cover your saucepan with the lid.
Reduce to a simmer and cook for around 1.5 hours or until the quinces are cooked through and turns ruby red in colour.
Reserve 1/2 cup of quince syrup (poaching liquid) produced for the Grilled Persimmons. The poached quinces can be kept (with the remaining poaching liquid) and be eaten with ice cream or as a breakfast accompaniment.
Add the 1/2 cup of quince syrup into a small saucepan on low-medium heat. Leave it on a gentle simmer and reduce the syrup by half. Careful not to burn it. If my maths are right, you should be left with 1/4 cup of concentrated quince syrup 😀 Transfer to a glass beaker or serving glass and leave to cool.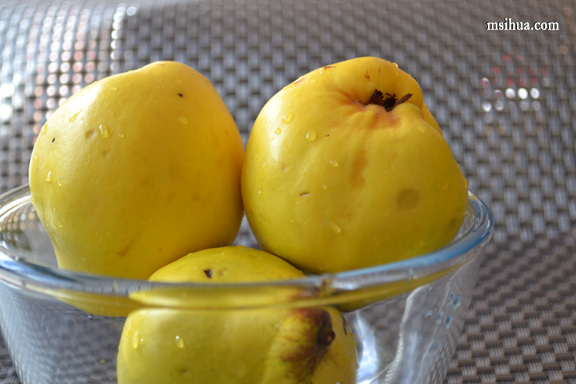 For the Grilled Persimmons
Ingredients:
3-4 Persimmons (riped) -*this really depends on how many persimmons you are willing to serve.
Procedure:
Peel the persimmons and cut them into wedges. Lightly brush/spray your griller with a neutral-flavour oil like grapeseed oil (very little oil, just to prevent sticking). Heat the grill up. Once it gets hot enough, place persimmons into the griller and grill each side till grill marks appear on them (this should give it some nice caramelisation). Try not to overcrowd the griller (grill in smaller batches). Do not over-grill them, you want the persimmons to have that crunchiness when you bite into them.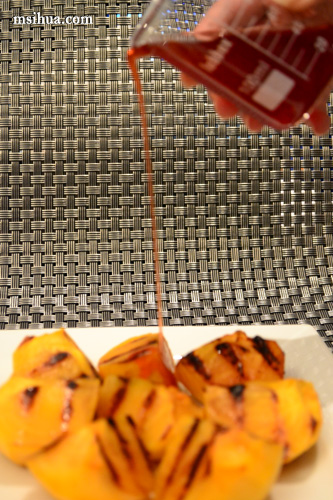 Once the grilling is done, place them on a serving platter and pour your quince syrup (prepared earlier). Crunchy sweet persimmons paired with beautifully perfumed syrup. MMmMmmm….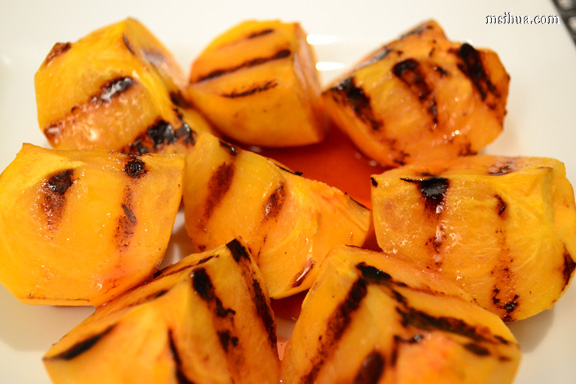 So what are your favourite foods, and what do you least like to eat?
I still wouldn't do brussels sprouts or bitter-gourds though. Not even if you wrapped it in bacon.