There's nothing more I dislike (when I'm busy during lunch hour) than having to queue in line for ages to place an order and then spend another 10-15 minutes waiting for my lunch to be cooked.
During "lunch-hour", I usually only have a spare 10 minutes to run down, grab a sushi roll or a sandwich, run back up and get back to work.
Sometimes, the lure of the big fast food chains prove to be too much and I cave in. More often than not, I feel quite sleepy or ill, due to the high amount of salt/fat/sugar content in the food, which obviously is a big irony to my very busy schedule. I can't afford to rest at work!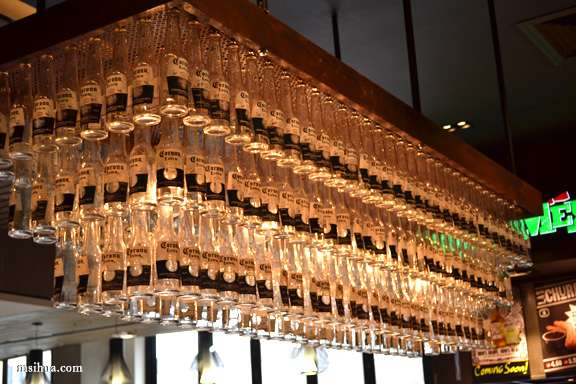 So when I heard Mad Mex was coming to town (literally) and were going to be based in the newly renovated Melbourne Central dining hall, I couldn't help but be a bit sceptical. "Not another fast food chain!", I groaned loudly.
But I was soon proven to be quite wrong. Mad Mex is not another fast food chain. It is in fact a fast casual restaurant, joining the likes of Nando's, Grill'd, Crust, and so forth in their quests to put restaurant quality food in a fast paced dining capacity.
You'd be forgiven if you were to walk by the Mad Mex outlet (in the newly refurbished Level 2 Melbourne Central dining hall) and thought, "Not another fake Mexican joint in Melbourne!"
However, you would not be forgiven if you decided to forego tasting their food. They do allow you to taste-test their fillings before deciding what you'd like to go into your burrito, tacos, enchiladas, etc.
Mad Mex is certainly not fake. It actually does a pretty good and authentic Mexican meal. Even Jimmy, another foodie attending on behalf of Celeste, who was part of this media launch was impressed. Rightly so, Jimmy grew up in Texas baby! That's a hell of a lot closer than I've ever been to Mexico. And if Jimmy says it's authentic, it is. It was quite funny really, watching the flow of conversation between Jimmy and Clovis Young, the founder of Mad Mex. Each time Jimmy reassured the group that a certain ingredient or drink was what he had in Texas, you could see Clovis' eye twinkle with satisfaction.
Clovis had mentioned, "The people of Melbourne really do appreciate fine food and prioritise quality over pure convenience more than other cities."
Hell yeah! As well as using the freshest produced sourced from the region and cooking it fresh on location, Mad Mex tries to incorporate as much of the true Mexican flavours into their menu. Even their tortilla chips were made by a Mexican family (living in NSW)! The guacamole is freshly made and seasoned onsite as well. For an extra $2, it may seem pretty steep, but trust me, until you've tried it, please don't judge. It's the best tasting guacamole you'll find in the area.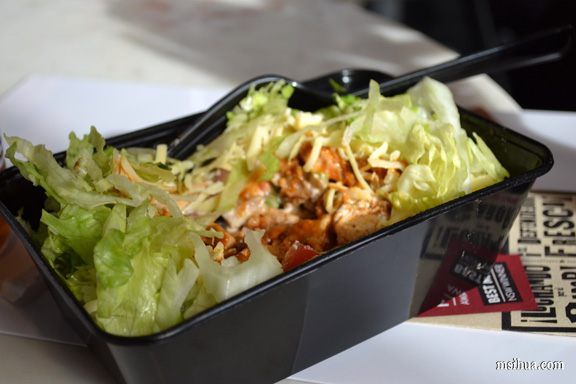 So what did a bunch of us managed to try? We had the chance to go through the whole motion of ordering our food, taste-testing some of the fillings and then placing our orders. The assembly line worked pretty similarly as a Subway outlet and is really just as fast. It took about 10 minutes when we were there but Clovis assures us that they could be faster once their training was completed (We were there for the opening week).
To order, you go through a simple 3 step process. Step 1: Choose your Mad Mex style (i.e. tacos, burritos, quesadilla, etc). Step 2: Choose your filling (i.e. Chicken, Pork, Beef, Steak, or Veggies). Step 3: Add fresh salsas!
Once we'd ordered, I happily took pictures from those lucky enough to be seated by me (*wink*). Pictured above is the rather popular Naked Buritto $9.90. Served in a bowl, it makes a perfect salad for those looking for a wrap free option. It has black beans, cheese, rice, lettuce, sour cream and a choice of your filling.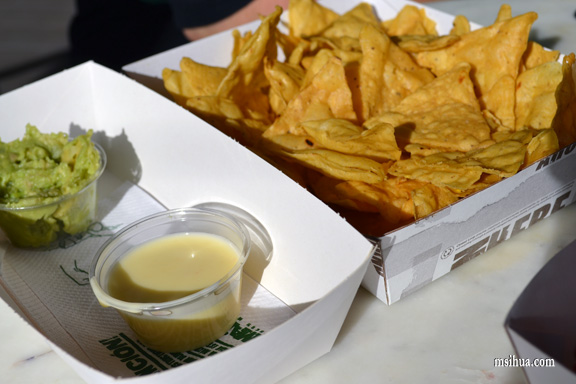 Later, Clovis brought us some Tortilla chips with melted Queso cheese and fresh guacamole to try. So so so good. You can really taste the difference of freshly made Tortilla chips as opposed to the packeted ones you usually get served with.
I myself, ordered the Mad Mex famous Burrito $10.90. You can actually choose a smaller burrito for $7.90, which I highly recommend as I could only get through half of mine. The regular is huge and would suit a really hungry person. My burrito came with the standard salad filling, but with the added guacamole and my choice of slow roasted pork (carnitas) filling. I also chose the hottest salsa available on the menu to top my burrito off. It was called Picante which has some exciting habanero chilli. However, I didn't find it spicy enough but Clovis was happy to accomodate and came back with a whole bottle of habanero chilli sauce! Awesome!!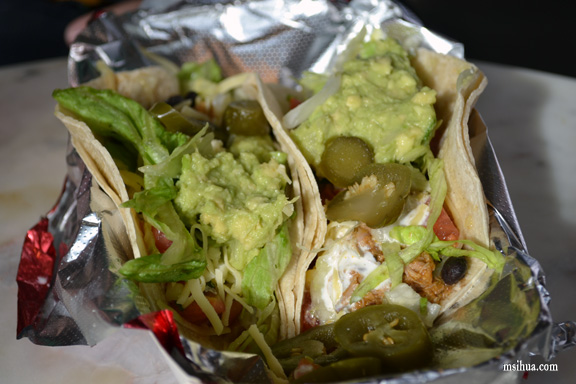 From memory, Claire had the Soft Tacos $8.90 but I can't seem to remember what filling she chose to go with it.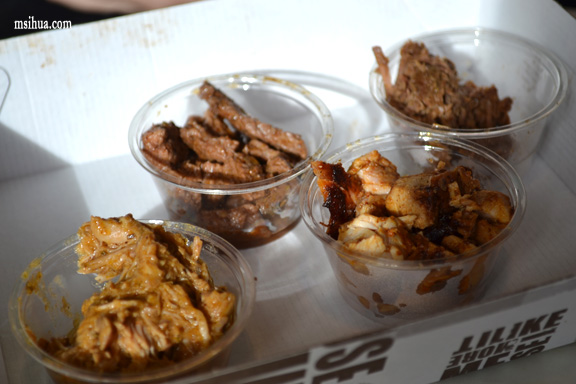 One of the great things I liked about dining at Mad Mex, is that they actually let their customers sample the fillings prior to ordering. So if you're standing in line and can't decide whether to have the beef or chicken, just ask for a taste test.
The staffs are friendly and happy to accomodate (and this really had nothing to do with us being part of the launch, we were lining up together with everyone else, so they wouldn't have known!).
Would I come back for more? Sure thing. I'm actually craving for some of that pulled pork right now. So good! MMmmmm…
One other important thing I figured I should mention, is that Mad Mex is quite open in serving good and healthy food to their customers. In December 2010, they launched the revolutionary online nutritional calculator, allowing customers to customise and calculate the nutritional value of their meals. This is available via their website on http://www.madmex.com.au/nutrition and is also optimised for smart phones, so you can pretty much whip out your phone and calculate to your heart's healthy content 🙂
For other recounts to this Mad Mex invasion, please visit:
Berrytravels
Eat, Drink, Stagger
[Ms I-Hua dined as a guest of Mad Mex and 6dc Public Relations]
*Disclaimer: All food ratings are purely based on my own experiences and how I feel about the service, food and quality at the time of visit
Food/ Cuisine: Mexican
Dining Style: Fast Casual Restaurant
Overall Food Rating (Based on the Dining style): 8/10 (It really does rank quite highly IMHO with their deliciously fresh ingredients)
Restaurant ambiance: 7/10 (It is after all located as part of the dining hall)
Service/ Attitude: 8/10
Value for money: N/A
Address:
Level 2, Dining Hall
Melbourne Central
Melbourne VIC 3000
Tel: (03) 9663 7010
Website: http://www.madmex.com.au/
Mad Mex (Melb Central) is open
Sunday & Monday, 11am to 7pm
Tuesday, Wednesday & Saturday, 11am to 8pm
Thursday & Friday, 11am to 9pm
How to get there: