I have mentioned before that on a cold wintery day, noodle soups are one of my favourite comfort foods to have.  Really, what's there not to love?
Give me a delicious hot bowl of noodle soup and I'll love you forever *puppy dog eyes*
In my last post, you would have read about the steps we took to make the beautiful Momofuku Ramen Broth. I mentioned that the broth was used for two other recipes. Today, we shall have a look at the first.
Ramen Cup Noodles.
We served this up during the most recent "Cooking the Books 5: Momofuku". For some reason, I had my numbering mistaken and wrote on all the cups that it was CTB6, instead of 5.
I think we did well. There weren't any leftovers and the sounds of pleasurable slurping that ensued from the cups were a guaranteed hit!
The recipe for this is pretty simple (provided you have the said Ramen Broth and the other ingredients), it's simply a matter of matching everything together and serving it all up 🙂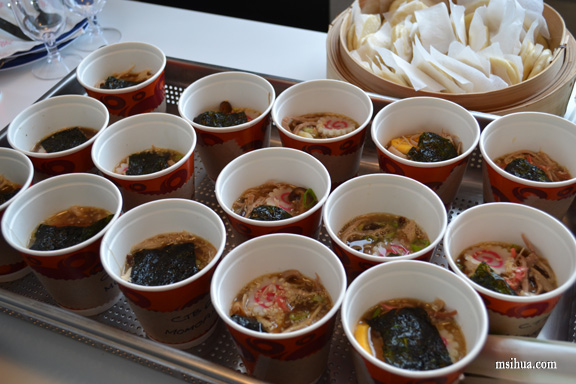 Ingredients/Items:
[Recipes adapted from David Chang's Momofuku Cookbook for "CTB5: Momofuku"]
Ramen Noodle (kudos if you managed to find fresh ones, if not, the packet ones are fine)
Ramen Broth (with tare added) [click for recipe]
Pork Shoulder (shredded/pulled pork) [recipe below]
Spring Onions (thinly sliced)
Naruto (Japanese fish cakes – from the local Japanese grocer)
Pickled Bamboo Shoots (we bought ours from the local Japanese grocer)
Nori (dried seaweed) sheets (cut into smaller squares to fit cup)
Eggs (sliced into quarters – we had ours hard boiled while the cookbook uses Slow Poached Eggs)
Pickled Shiitake Mushrooms [recipe below]
Sesame Seeds (white) (optional)
Slices of Japanese Pickled Ginger (optional)
*feel free to add or substitute any toppings.
Cups (we used Disposable Coffee Cups – check that they are thermal-safe (avoid plastic). Remember, you are adding piping hot soup)
———————————————————————————————————–
Pork Shoulder Recipe (based on 1kg Pork Shoulder (boneless)):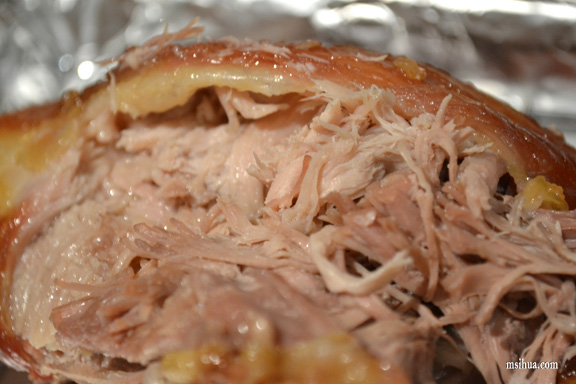 Mix about 25g of Coarse Sea Salt with 40g of Sugar and rub all over Pork Shoulder. Leave to marinate overnight in refrigerator. Remove from refrigerator (discard any liquid) and place in a preheated oven of 130 degrees Celsius for 6 hours to cook. Baste your pork with the rendered fat every 1 hour. Once done, take pork out and rest for 30 minutes before shredding the meat (similar to pulled pork) with two forks. Reserve some for your Ramen Cup Noodles while the rest can be kept in the refrigerator (with a few spoons of rendered fat added to keep it moist).
———————————————————————————————————–
Pickled Shiitake Mushrooms Recipe: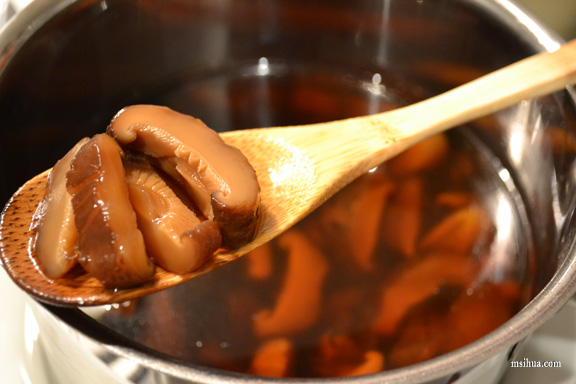 You will need:
80g to 90g of Dried Shiitake Mushrooms (or use the Shiitake mushrooms from the Ramen broth recipe)
200g of Sugar (we used raw sugar)
225ml of Sherry Vinegar
225ml of Usukuchi (Japanese light soy sauce – available in most Japanese grocers)
2 knobs of fresh ginger (peeled)
Add Shiitakes into hot water and steep for 10-15 minutes. Remove mushrooms from the water but reserve about 450ml of the steeping liquid. Discard the mushroom stems and slice caps into 3mm thick slices.
Add steeping liquid and all other ingredients including mushroom slices into a saucepan. Bring saucepan to a gentle simmer for 30 mins under medium heat, stirring occasionally.
Remove ginger knobs and let pickled mushrooms and liquid cool before transferring them into pickling jars (or set aside some for your Ramen Cup Noodles). These pickles are absolutely juicy and addictive!
———————————————————————————————————–
Procedure for Ramen Cup Noodles:
Bring the broth to a boil, then reduce the heat to a gentle simmer (keeping it warm while you fill the cups with other ingredients)
Boil some water in a stockpot (making sure it's well salted) for your noodles. Cook your noodles until they are tender/al dente (or follow manufacturer's instructions if using packeted noodles). Drain your noodles and portion them out into your cups.
Slice the Naruto fish cakes thinly and blanch in boiling hot water (it usually comes frozen from store).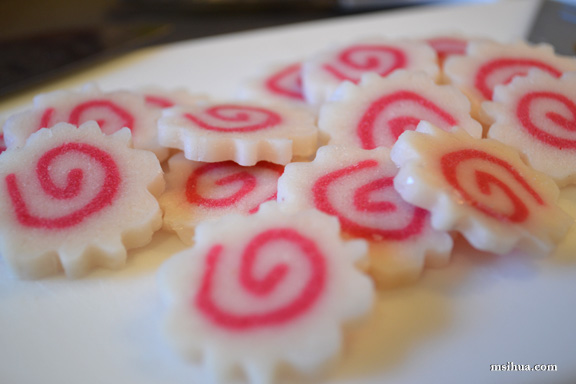 Dress each cup with some Pork Shoulder, Pickled Bamboo Shoots, Pickled Shiitake Mushrooms, Pickled Ginger, Spring Onions, Naruto and Egg. Amount required depends on the size of your cup.
Add your ramen broth.
Finish it off by placing a Nori sheet at the edge of each cup and sprinkle some sesame seeds over the noodles. Serve your Ramen Cup Noodles hot.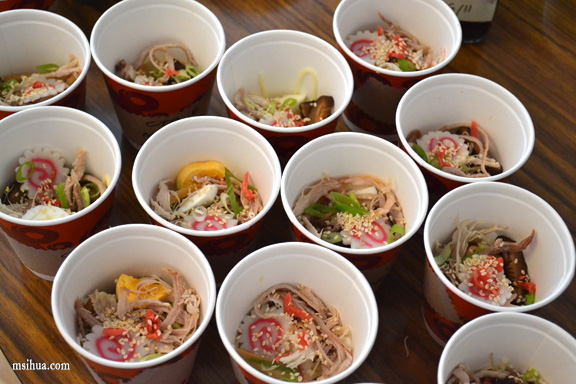 Tip: If you're planning to have this outside of home (i.e, picnic, road trip, etc..), shock your noodles in ice water immediately after cooking to stop the cooking process. Drain them well and place into cups. You can add all other ingredients except the broth. You should only add the broth when you're ready to serve. Broth should also be kept hot in a good thermal container/flask (or kudos if you're able to heat the broth up at your destination).
On the day we decided to serve Ramen Cup Noodles at the Cooking the Books: Momofuku, I had prepared the noodles 1.5 hours before by following the above tip.
When it came to serving it up for our guests, the hot broth woke the sleeping ingredients up into a delicious taste frenzy.
So tell me, have you had to pack noodles for a road trip or a picnic before? What methods have you used?