It's amazing to me whenever the Boy gets super gung-ho about something. Amazing may not be the right word, but he amazes me.
That's right, babe. You amaze me. Astonish and surprise me on a daily basis. As I sit here and write this, I'm wishing you were here right now to tell me to stop embarrassing you on my blog 😛
Anyway, remember when the Boy and I served up the Momofuku Ramen Broth recipe?
Our initial and main reason for cooking it at the time was for this recipe. We needed 4 spoonfuls of it.
Yup! Not 400 millilitres or 4 litres. Just 4 spoonfuls.
He had it in his head that we had to serve this dish up (on top of everything else) for the Momofuku feast we had with the other bloggers.
Talk about hardcore craziness. However, as I usually do, after debating with him for a while, I stood aside and let him go through with his plan (the act of a very clever woman 😛 *smug* )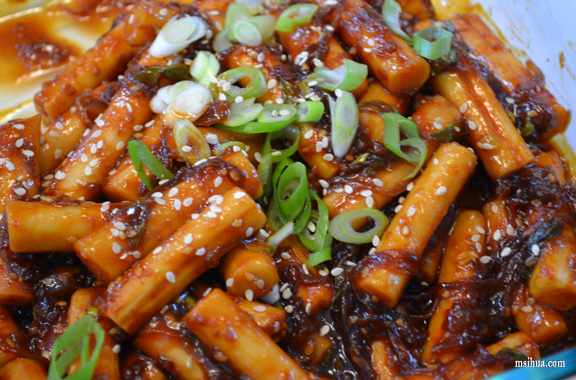 So this is how we ended up with our third and final dish to serve up during the Cooking the Books: Momofuku.
The ingredients themselves aren't that difficult to source and we had most of it in our pantry. So enjoy serving this dish up to your guests 🙂
Ingredients:
(Recipes adapted from David Chang's Momofuku Cookbook for Cooking the Books 5: Momofuku)
125ml of Korean Red Dragon Sauce [recipe below]
4 Tbsp of Ramen Broth [recipe from previous post]
4 Tbsp of Mirin (sweet rice wine)
3 Tbsp of Grapeseed oil (or any other neutral flavour oil)
1 large Onion (thinly sliced)
1 Tbsp of Sesame Seeds
50g of Spring Onions (thinly sliced)
15-20 short (or 6 long) Rice Cake sticks (usually available frozen from your local Asian grocery)
Coarse Sea Salt
————————————————————————
Recipe for Korean Red Dragon Sauce
Ingredients:
185g of Ssamjang (fermented bean and chilli sauce – usually comes in a green container – we bought ours from the local Asian groceries)
125ml of Water
100g of Sugar (we used Raw Sugar)
2 Tbsp of Usukuchi (Japanese light soy sauce – we bought ours from the local Japanese grocer)
1 tsp Sesame Oil
1 tsp Sherry Vinegar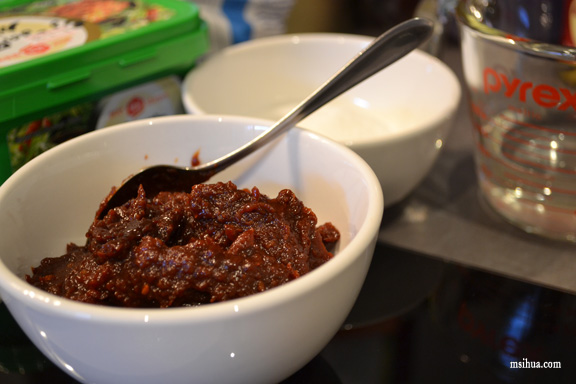 Procedure: Bring water to a boil in a small saucepan. Add sugar and stir until dissolved. Remove saucepan from heat and let cool (for about 5 minutes). Add ssamjang, usukuchi, sesame oil and sherry vinegar and stir until ssamjang dissolves in the mixture.  Taste mixture and adjust if required (there should be a nice balance of sweetness, heat and saltiness). Reserve 125ml of sauce for the rice cakes and keep the rest in the refrigerator.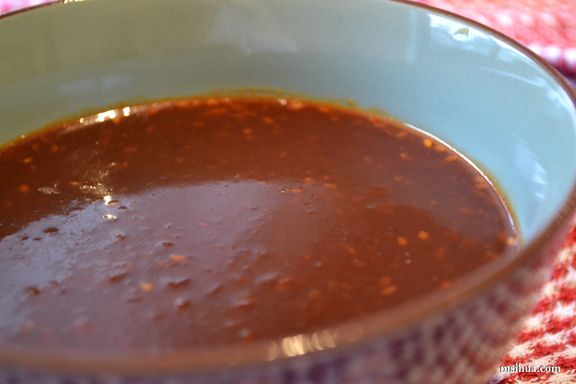 ————————————————————————
Procedure of Roasted Rice Cakes: 
Heat 1 Tbsp of Grapeseed oil in a cast-iron frying pan (on medium-high heat) for 1 minute and add onions into the pan. Leave for 1 1/2 minutes undisturbed. Use a spatula to toss the onions and season with salt while doing this. Cook for 10 minutes (turning the onions every few minutes). After 10 minutes, reduce the heat to low and cook the onions for a further 20 minutes (turning the onions every 5-1o minutes) to avoid burning and drying-out. Leave them aside to cool.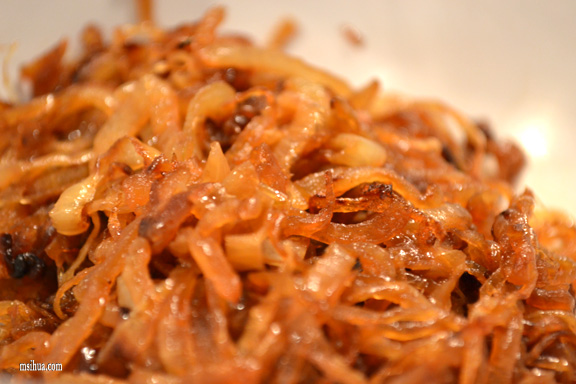 If your rice cake sticks are frozen, take them out to reach room temperature before cooking or they might split in the very hot oil.
In a medium-sized saucepan, heat mirin and ramen broth over high heat for a few minutes until slightly reduced. Add the Korean Red Dragon Sauce prepared earlier into the saucepan and reduce the heat to medium for 5 to 6 minutes until a nice glaze develops. When that happens, add in your onions and stir to mix thoroughly with sauce. Cover saucepan and keep warm (careful not to burn the sauce).
Take a cast-iron frying pan and heat over medium-high heat. Add 2 Tbsp of Grapeseed oil into the pan. When the oil is just about to smoke, add the rice cakes sticks and reduce the heat to medium. Cook the rice cakes for about 2 minutes each side until light golden brown but careful not to dry them out. Remove rice cakes from pan. If you are using long rice cake sticks, cut them into 5cm sticks.
Bring your sauce back to a boil and add the rice cake sticks into the saucepan. Switch the heat off, add sesame seeds and stir to evenly coat the rice cake sticks. Serve your rice cake sticks warm and garnish with sliced spring onions.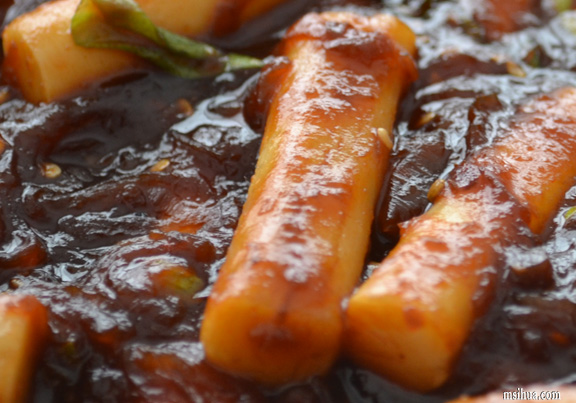 So what did we think of this? I absolutely loved the Korean Red Dragon Sauce. It was just so delicious and made me want to eat as much rice cakes as possible.
Were we able to taste the 4 tablespoons of Ramen Broth? Nope, so you can (and have no crazy people insisting that you must) skip it.
I can't wait to try this recipe again.