A while ago, at my workplace, we had a team building activity around becoming better leaders in the workplace and how we can best maximise our potential within the team.
And what better way to bond and share our journey than with food!
That's just really me talking. I know the team would just be happy with my stupendous and wondrous self, but I couldn't let them live in wanton admiration 😛 (I would probably be getting paper balls whizzing in my direction once they read this!)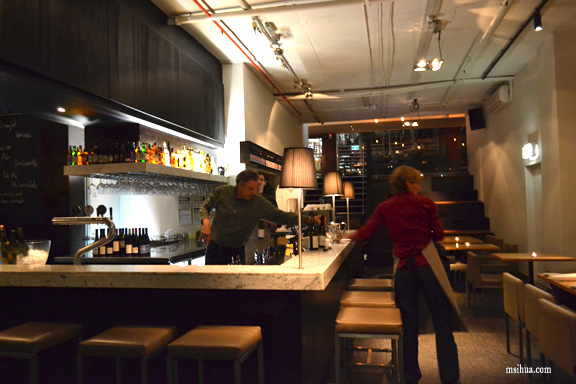 Towards the end of our long and mind numbing training day, we walked to The Deanery where a reservation was made for us. Now, I must have walked past this place a dozen times and not paid any attention to it. Oops!
And don't beat yourself up too hard either, if you have no idea where this place is. It's off Flinders Lane in a little alley between Elizabeth Street and Queen Street.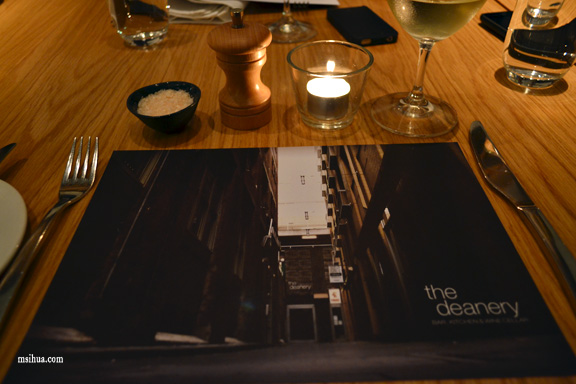 During dinner, the topic of conversation usually ends up being steered in my direction on what my thoughts are about the food and place.
I've learnt from past experiences and previous work places that you should never ever give an honest opinion to the person who does the asking, especially if it's the General Manager and more so if he or she is paying the bill.
Undeniably however, when I was asked this question on the night, I couldn't help but be more than honest. The food was really good and the staff were really attentive.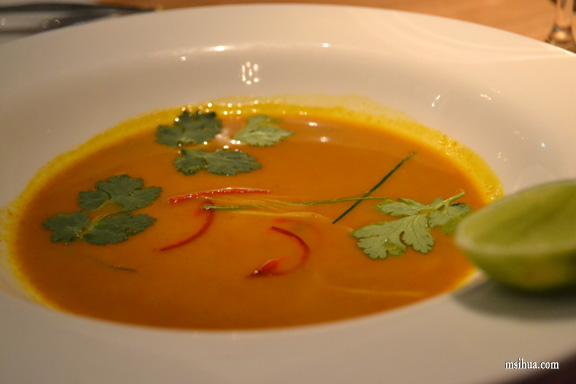 A few members of the team decided to take it easy and have a really light meal (WHAT THE?!)…
So they chose the rather simple sounding Salt and Pepper Tofu with Carrot Reduction $13.50 (pictured in the above and below).
When it arrived, I couldn't help but taste a spoonful of the carrot soup and a piece of the tofu. And my, this dish was packed to the brim with flavour and character. It may have sounded simple in its description, but I had a full blast of kaffir lime, chilli, carrot, salt and pepper. Utterly delicious. I know! I'm a carnivore!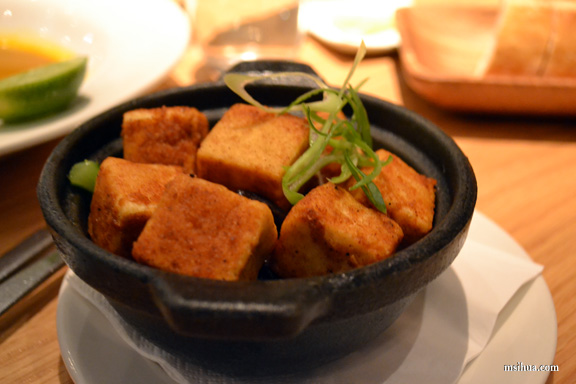 We also had some Spiced cauliflower, onion, sultanas and yoghurt $11 to share among ourselves.
Unfortunately, I must have been too busy chatting as I can't really remember putting this in my mouth, and yet I must have, as I took a picture of it!
Whilst we were happily sipping our wines, and snacking on the shared dishes our mains started to arrive.
Chardy and I decided to go halves with our mains, as we couldn't decide. One of the mains we shared was the rather simple but delicious fish of the day (Market Fish) which from memory may have been a Snapper. It came  served simply with some mussels and a lemon slice, but it was so tasty.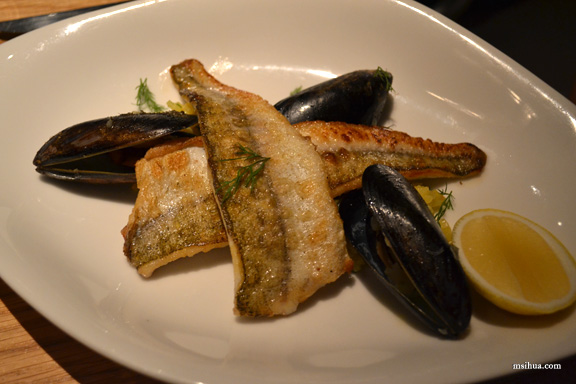 Another item we had ordered to share among the team was the Beetroot, Goat's cheese, Walnut and Dill $13.50 which doesn't seem to be on their menu anymore (must be seasonal).
This, I can remember eating, as I loved the combination of how the goat's cheese accentuated the sweetness and tartness of the beetroot. Yum!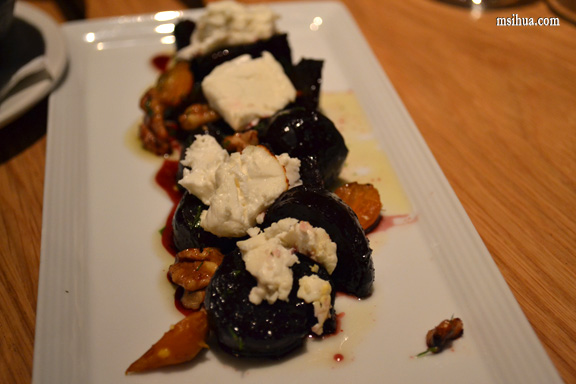 Of course, when it came to my main, it had to have lots of meat on it. None of this healthy choices with tofu and carrots (even though it tasted awesome).
I ordered the Chargrilled lamb shoulder with spiced Autumn vegetables $25.50. The lamb was tender and crispy at just the right edges. The Autumn vegetables which it came with happened to be beetroot. That was another win for it! Seriously, for $25, the serve on the plate was generously portioned, and if I had happened to be dining anywhere else, that dish would have costed a lot more!
What did I think of The Deanery? Definitely a hidden gem in this bustling metropolitan city. The food was really good, and I'm really glad I was introduced to this place.
At the end of the night, I for some reason or order, passed on dessert. My GM and my Direct Manager didn't pass on dessert and ordered for themselves a, Chocolate Tart with Rhubarb and the Knickerbocker Glory (both priced at $12).
Unfortunately, I declined their persistent invitation to document their dessert, but was rewarded by their happy and satisfied, "MmMM"s and "That's really tasty!" comments.
*Disclaimer: All food ratings are purely based on my own experiences and how I feel about the service, food and quality at the time of visit
Food/ Cuisine: Modern Australian
Dining Style: Restaurant & Wine Bar
Overall Food Rating (Based on the Dining style): 7.5/10
Restaurant ambiance: 8/10
Service/ Attitude: 7.5/10
Value for money: 8/10
Address:
13 Bligh Place
Melbourne VIC 3000
Tel: (03) 9629 5599
Website: http://www.thedeanery.com.au/
The Deanery is open
Monday to Friday, 11:30am till Late
Saturday, 5pm till Late
How to get there: