I have a clear distinct memory from when I was about 5 years old and living with my grandparents. They used to "babysit" me during the week whilst Madam Mummy went to work and Big Sis went to school. I would live with them during the weekdays and return home to Madam Mummy and Big Sis on the weekends.
Those were great years as I think I was pretty spoilt by them and could potentially get away with murder. Potentially. I have never tested out that theory.
Anyway, back to my story. There was one day when I followed my grandparents out to the local kopitiam (literally translated as coffee shop) with their friends for coffee. Being only very little, I wasn't allowed to drink any tea or coffee, but was instead offered choices of Milo or Horlicks.
However, this one very special day, Grandpa decided that I would be allowed to have tiny sips out of his coffee cup which he spooned out onto the saucer. I think, he fully comprehended what he was doing, which was keeping a little 5 year old occupied whilst he and his mates talked about the English Premier League. Boring…
I of course, totally oblivious to the on-goings and cunning-ness of the adults around me, happily sipped my sweet black coffee and fell in love. From that day onwards, I have always had an attachment to coffee. The blacker it got, the more sinful it became.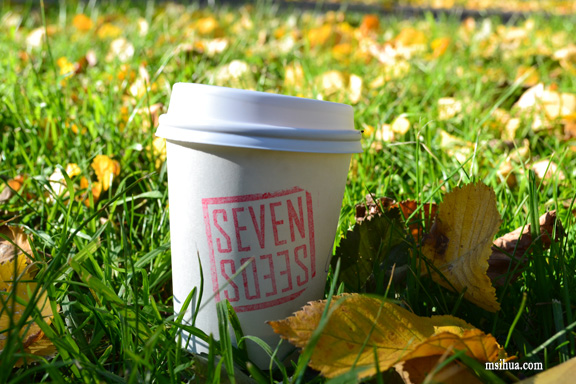 Coffee tastes different around the world. I've had coffee in many a places, but have never found the rich smooth blend of South East Asian coffee. Especially those served in kopitiams in Malaysia or Singapore. Rich, black coffee beans, generally tossed in a big wok with butter or margarine and sugar to roast, bringing out that distinctive burnt flavour found in Malaysian or Singaporean kopi.
On the other hand, I find the coffees in Melbourne to be a stark contrast. The coffees here are sweeter and cleaner in taste. It doesn't have the sharp bitterness from the roasted coffee beans which I grew up with. But I love it just as much and embrace it altogether more as it signifies a different part of my life.
One of my favourite places to enjoy a good cup of coffee is  at Seven Seeds. Now I've been here a few times, but I'd never had the opportunity to dine-in.
[Latte & Piccolo]
One Sunday morning, the Boy decided to drop by as I was dying for some good quality coffee.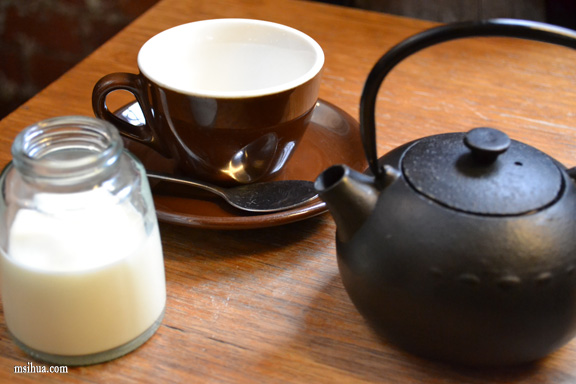 [English Breakfast Tea]
What started out as a coffee pit-stop, ended up being a full-blown breakfast for two 🙂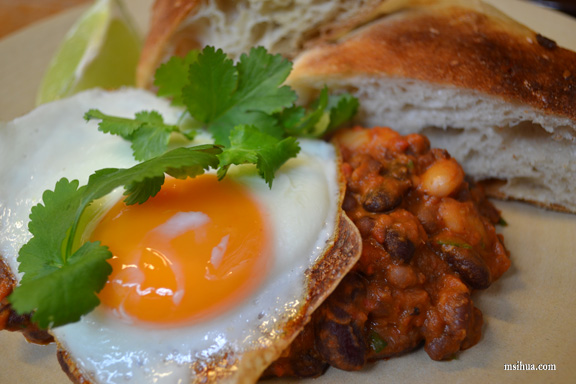 The Boy ordered the 7 Seeds Smoky Baked Beans, Fried Free Range Egg, Turkish Bread ($13.50) which he quite seem to enjoy.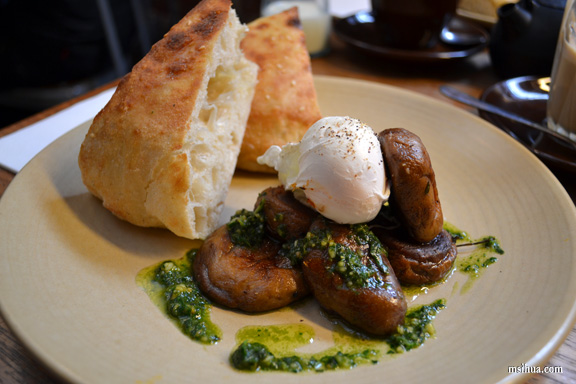 Whilst I ordered the Sautéed Mixed Mushrooms, Basil & Pinenut Pesto, Poached Free Range Egg, and Turkish Bread ($13.50). I love mushrooms and this dish was just delicious. It reminded me of the earthy forest floor.
Quite amazingly, with those mushrooms, I very nearly forgot that I was eating a vegetarian breakfast, with no bacon!
So what did I think of their breakfasts? Pretty simple fare, nothing overly complicated on their menu. I would probably dine-in again if seats/tables were available immediately. Service tended to be a little slow at times, but it was understandable with the incredible amount of people walking in (we were there on a weekend morning).
Some folks sitting with us at the giant communal table were lamenting that some of their favourite items on their menu had disappeared (I think it was something to do with the French Toast, but don't quote me on that). However, I was happy enough with my mushrooms and coffee and didn't really bother much about what I was potentially missing out on.
In terms of their coffee, it's pretty much a no brainer there. It's easy to see why they recently won the Best Coffee Award from The Age Good Cafe Guide 2011.
*Disclaimer: All food ratings are purely based on my own experiences and how I feel about the service, food and quality at the time of visit
Food/ Cuisine: Breakfast & Speciality Coffee
Dining Style: Cafe
Overall Food Rating (Based on the Dining style): 6.75/10 (As for coffee, 9/10)
Restaurant ambiance: 8/10 (I still like how airy and big it is)
Service/ Attitude: 7.5/10 (Occasionally you get superb service and other times slightly lacklustre but hospitable service. When they're great, they are fabulous and the baristas' will take up your challenge to make you your special request)
Value for money: 7/10
Address:
114 Berkeley Street
Carlton VIC 3053
Tel: (03) 9347 8664
Website: http://www.sevenseeds.com.au/
Seven Seeds is open
Monday to Saturday, 7am to 5pm
Sunday (and Public Hols.), 8am to 4pm
How to get there: